Welcome to the STEM Newsletter for Secondary Schools in Wales
Find out more about what's happening, competitions, new educational resources, events, new rounds of grants and more…
There are larger versions of some (but not all) of the photos in this newsletter - click the small photo to view.
Back to top Links to See Science teacher information pages

Lots of new events have just been posted - and new items are continually being added to our other teacher information web pages. You can check them out by following these links:
Changes to CREST Award funding
The grant funding for CREST Awards has now ended, and this has several important implications for schools. Full information about this is on our CREST Awards web page
If you have any views or comments which you think might be useful as we seek possible alternative sources of funding please email us at crest@see-science.co.uk.
With the aid of the National Science Academy, See Science will be hosting Electronics CPD for teachers in Wales during January and February. The aims of the project are to give teachers an insight into industry and increase the number of pupils studying electronics as a GCSE subject and choosing electronics-based careers.
These goals will be achieved by introducing electronics to pupils at KS3 level and stimulating an interest in the subject by providing resource materials appropriate to STEM Clubs (including Makey Makey) software. Each resource box will be worth £250. In addition we aim to link businesses/industry to a local school through STEM professionals who are part of the STEM Ambassadors Programme. These links between schools and the world of work will promote the interest of both teachers and pupils in electronics studies, apprenticeships and further degrees.
We are keen to:
Develop an understanding of the range of opportunities within the electronics industry
Encourage disadvantaged pupils to engage actively in developing STEM skills and considering apprenticeships and further education
Provide an opportunity for all pupils and teachers to meet STEM professionals from companies across Wales who are part of the Wales-Wide (and UK-wide) STEM Ambassadors Programme
Encourage teachers and schools to build up relationships with these professionals and arrange further visits to the schools or site visits to the companies
Increase the number of pupils and teachers studying and teaching GCSE Electronics by providing CPD and support
Forge closer links between schools and industry through STEM Ambassadors.
Details and registration
The venues and dates of the workshops are:
Places are limited – full details, directions etc will be sent to everyone who registers.
Follow-up
After the workshop schools will be encouraged to complete at least one project (with at least 6 pupils) during the school term, and bring the project and the participating pupils to a celebration event during the following term. (Staff cover expenses will be paid.)
Following the celebration event teachers who wish to embed the study of electronics at their school will be offered further training (3 days), resources (including Circuit Maker) and support during their first year.
Further events are planned in Swansea and North West Wales – for more details please visit the See Science events web page, or to register interest please contact cerian.angharad@see-science.co.uk.
Back to topZoo hosts STEM networking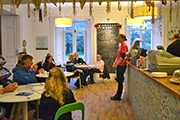 Teachers and STEM Ambassadors joined together at a useful networking event held at Manor House Wildlife Park (aka Anna's Welsh Zoo) in November. The Park's development manager Dilys Burrell led a tour of the grounds, explaining the educational links offered by a visit. The tour was followed by a networking meeting indoors, where Dilys gave further information about resources that she and her team provide for schools.
Teachers discussed ways in which they felt the STEM Ambassador programme and teacher networking could help enrich lessons. The Ambassadors spoke about what they could offer as individuals to schools. There was an appetite to share information about how best to prepare pupils for working life in future, and for further meetings to exchange more ideas.
Back to topDyffryn Taf Maths Challenge success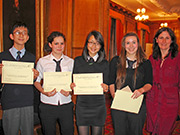 Students from Ysgol Dyffryn Taf in Whitland will be flying the flag for Wales in the National Senior Team Maths Challenge Final in February. The team of four won the regional final in Cardiff, and now go on to face other regional winners in London.
The competition is aimed at students from years 11-13. They are tested on their communication and teamwork skills in addition to mathematics. Rounds include a group competition, a type of relay race, and a cross-number (similar to a crossword, but with digits).
Dyffryn Taf's team included Year 9 pupil Harvey Yau, pictured with his older teammates Phoebe West, Corinne Yau and Martha Walters.
Back to topGirls take part in exciting Industrial Cadets Airbus programme

72 girls aged 12-14 from schools across North Wales took part in the launch of the Industrial Cadets Programme at the Airbus plant in Broughton. The event was also attended by Edwina Hart AM, the Minister for Science, Economy and Transport.
The programme with Airbus will provide participants with an insight into manufacturing, and aims to inspire the girls to follow STEM (Science Technology Engineering and Maths) subjects. Over the 10 weeks the girls will have the opportunity to work alongside Airbus mentors on a Go4SET environmental project, taking part in sessions with their project teams to study, research, develop solutions and present ideas as well as gaining first-hand workplace experience.
On completion of the programme, each student will take part in a celebration and assessment day hosted by Airbus in which each student will graduate from the project based work-experience as an 'Industrial Cadet'.
The Industrial Cadets initiative piloted in 2011 by Tata Steel was inspired by HRH The Prince of Wales. The programme creates links between schools and local business aims to raise aspirations, enthuse and encourage young people within the UK about industry. Industrial Cadets runs in conjunction with education charity Engineering Development Trust (EDT) and has support from the Department for Communities and Local Government for the roll out in England.
Back to topEngineering Team Challenge helps success of
Tomorrow's Engineers' Week in Wales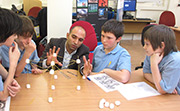 The Institution of Civil Engineers (ICE) Wales Cymru successfully delivered the Engineering Team Challenge to schools across South Wales as part of Tomorrow's Engineers' Week (4-8 November) highlighting the diversity, opportunity and reward on offer from a career in engineering.
An amazing total of 450 pupils from 29 schools were involved in the Challenge, which was held at University of South Wales; University of Wales Trinity, St David; Swansea University and Cardiff University. In addition to the 430 year 9 pupils and 20 year 8 pupils, the team also reached 40 teachers and parents who influence subject and career choices. The Challenge was organised by a team from ICE Wales Cymru's Graduates and Students (G&S) Group and run by 50 STEM (Science, Technology, Engineering and Mathematics) Ambassadors, engineering graduates and university students.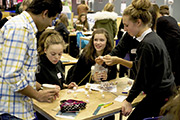 The G&S Group asked the pupils to design a marshmallow and spaghetti structure, at least a metre high, and then test it to destruction on seismic shakers within a 90 minute period. Each day over the week the G&S Group's tasks required participants to apply a combination of theory and practice to achieve an economically and sustainably sound design. The judges awarded marks for the most aesthetically pleasing, best planned and most structurally stable structures.
The Challenge ended with a tour of the hosting university. At Cardiff University the pupils were also shown a Severn Estuary model, while at Swansea University they had the opportunity to see the BLOODHOUND Supersonic Car.
Overall, the Challenge aims to give pupils an insight into the work of civil engineers and how they are instrumental in today's' design and building process and for teachers to see the competiveness, opportunity and diversity of the global engineering industry.
Thanks to Engineering Team Challenge Chair Kishan Patel; the team of 50 volunteers STEM Ambassadors and their companies for their support; the hosting universities; plus of course the sponsors Atkins, Alun Griffiths (Contractors) Ltd, IMechE, Skanska, Constructing Excellence Wales, SWIEET, and CH2M HILL Foundation for its grant. Support was also gratefully received from See Science and Science Made Simple, ARUP and Hyder Consulting.
Keith Jones, Director ICE Wales Cymru said: "Events such as the Challenge help pupils to consider engineering as a potential career choice. We encourage them to 'think big and think civil engineering'. Working in partnership with organisations such as See Science is essential for schools to receive the best experiences we can offer."
For more information on how schools can get involved in the Challenge 2014 please contact wales.cymru@ice.org.uk.
Back to topAberystwyth teacher wins IOP physics teacher award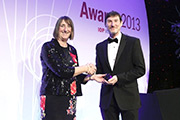 In an event organised to celebrate the success of scientists, teachers and leaders of high-tech businesses, physics teacher Stephen Jones was awarded the Institute of Physics (IOP) Teacher Award by Dr Frances Saunders, President of IOP.
Stephen Jones, of Penglais School in Aberystwyth, has been recognised as an exceptional teacher who has developed the talents and interests of pupils across a wide ability range, achieving outstanding results.
His award citation reads: "He has worked tirelessly to develop the introduction of the BTEC Applied Science course, and has introduced the CREST awards scheme for special needs pupils, which has helped enormously with motivation and given pupils a great sense of achievement". The citation also highlights the strong links Mr Jones has built with Aberystwyth University, which have given his students a chance to develop their investigation skills in the undergraduate laboratories.
As Matthew Brown, Headteacher at Penglais School, explains, it took a courageous career change for Mr Jones to fulfil his classroom calling. "Steve Jones is an asset to Penglais School. He is also an excellent role model for those people considering changing careers to become a teacher. After 14 years working as a postman, Steve took the brave step of enrolling as a full time student at Aberystwyth University to study physics."
Employed by the school in September 2006, he became Head of Physics in 2008 and is attracting more than 30 students each year to study A-level Physics.
As one former pupil, who is now studying engineering at Cambridge University, writes: "During the two years that Mr Jones taught me physics he was a fantastic teacher. Mr Jones was an inspiration both within the classroom and outside, where he ran extra-curricular activities, such as involvement in Engineering Education Scheme Wales, which was a key part in my decision to study engineering."
Back to topElectricity generation by the next generation of engineers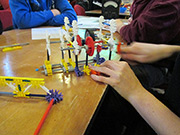 Mathematics and Physics A level students from schools and colleges across North and Mid Wales have been taking part over the past few months in an Engineering Challenge organised by the Engineering Centre for North and Mid Wales (ECNMW).
Working in small groups, the students are given the task of building a hand-powered electricity generator using the kit of parts provided. Constraints found in 'real-life' tasks in industry are imposed on the groups – such as time allowed, cost of components, and extra consultancy or repair charges – to ensure the task is as realistic as possible. There are extra marks for generating higher voltages and for engineering elegance. STEM Ambassadors from a range of organisations and companies are on hand to assist with the tasks and offer advice.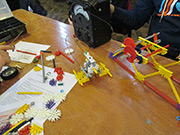 At the Bangor University event in November a total of 141 students took part, working in more than 30 groups. The winning team – made up of students from Ysgol David Hughes, Denbigh High School, Ysgol Friars and Coleg Llandrillo – managed to sustain a voltage of 3.9v for over 10 seconds!
After the awards ceremony Rory Jones, an engineer from Welsh Water / Dŵr Cymru (and a driver in the recent Wales Rally!) gave an inspirational, illustrated presentation on a 'Career in Engineering'.
The Engineering Centre for North and Mid Wales is supported by the IOP, IMechE, ICE and IET, with these Engineering Challenge events receiving additional support from Careers Wales and Magnox.
Back to topMathematics 'counts' at Ysgol Uwchradd Tywyn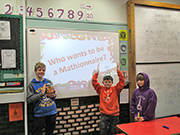 Students and teachers at Ysgol Uwchradd Tywyn believe that Mathematics 'counts', so were keen to take part in the national Number Day on 3 December to further raise the profile of Maths in the school and, at the same time, raise funds for the NSPCC.
As well as taking part in special number activities during lessons, and wearing a number to school, year 8 and 9 students organised various number-themed stalls and activities during morning breaktime. These included selling number-shaped snacks, estimating how many fruit sticks would reach the top of the science block, and attempting to bounce balls into numbered cups.
Planning their stalls and activities gave the Key Stage 3 pupils the opportunity to work together in groups, discussing and estimating the chances of winning, and deciding how to promote their activity to other students. It also gave them the experience of dealing with customers and handling money in what was a very busy 15 minutes!
All agreed this was a 'fun' way to do Maths, and at the same time raising over £300 for the NSPCC and Childline.
Back to topThe STEM Discovery Days at Aberystwyth University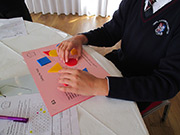 The STEM Discovery Days at Aberystwyth University in December saw year 9 students solving hands-on mathematical puzzles, identifying different sugars using an IR spectroscope, simulating volcanoes, and dropping water-filled balloons from a 3rd floor window!
Organised by Aberystwyth University's Centre for Widening Participation and Social Inclusion together with STEM Cymru, the days aim to give year 9 students the chance to take part in a variety of fun STEM-based activities, whilst offering them a glimpse into university facilities such as the teaching laboratories and specialist equipment.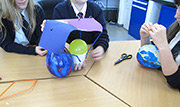 Students from four of the Ceredigion secondary schools (Ysgol Tregaron, Ysgol Dyffryn Teifi, Ysgol Penglais and Ysgol Uwchradd Aberteifi) took part in early December, with the remaining three, Ysgol Penweddig, Ysgol Aberaeron and Ysgol Bro Pedr, due to visit in January.
A group of Aberystwyth University students, all STEM Ambassadors and known as the 'Physics Buskers', led one of the five sessions during the day. The task was to build a structure which would protect a water-filled balloon as it was dropped from high in the Physics block onto concrete below.
Designs were varied and imaginative, involving plastic straws, more balloons (this time filled with air), paper and sticky tape. Ideas and working together were much in evidence and, as the final testing came to an end, everyone agreed that with more time, and by trialling ideas, it could be done!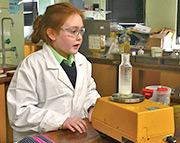 Year 8 pupils at Ysgol y Strade in Llanelli have been investigating ways of reducing carbon emissions. They tested a number of different chemicals, to see which was best at absorbing carbon given off from burning ethanol.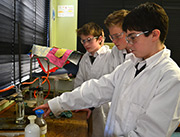 Teacher Hilary Cotterell introduced the topic by discussing combustion, and carbon emissions. The pupils then carried out research before donning lab coats and protective goggles for their practical work.
The students were doing the project as a means of earning a CREST bronze award. Ms Cotterell values the CREST award as a means of encouraging the pupils to think through their work from research to results and evaluation. She says they acquire necessary skills to further their interest and activities in science.
Working in small groups, the students tested various chemicals to see which absorbed most carbon dioxide. This involved keeping accurate records of all the changes in weight of the substances.
Back to topWelsh rivalry in Greenpower Challenge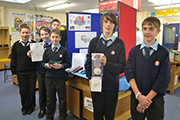 A second Welsh team will be competing in the Greenpower Challenge in 2014. Team Dragon from Dyffryn Taf School in Whitland will be joining the Aberteifi Tigers from Ceredigion who have been taking part since 2011.
The Greenpower Challenge involves students designing, building and racing an electric car. All teams have the same motor and six batteries, and they're then free to design their car within fixed regulations.
The Aberteifi Tigers, from Cardigan Secondary School gained a top ten place in the regional heats in October and go on to the final next June. The event will see teams competing from all over the UK, USA and Poland. The Tigers car was on display at the launch of the Wales Rally GB in Llandudno in November.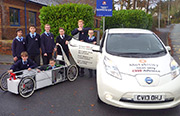 Meanwhile, over the border in Carmarthenshire, members of the Team Dragon Young Engineers Club are busy working on their car. They meet every lunchtime in the Design and Technology department, and part of the project involves raising money to compete. The team has come up with an innovative 'Buy a Bolt' scheme for sponsors, which lists the cost of various parts needed to make the car competitive.
They have received support from local firm J & J Motors, who lent the latest model of the Nissan Leaf for the students to test and evaluate to help with design.