Welcome to the STEM Newsletter for
Secondary Schools in Wales
Find out more about what's happening, competitions, new educational resources, events, new rounds of grants and more…
Congratulations to the finalists attending the National Science + Engineering Competition Finals at The Big Bang Fair 2013. More details about the finals can be found here, including details of last year UK Young Engineers of the Year 2012, Jessica Jones and Wasim Miah, St David's Catholic College.
Are you running activities at your school during National Science & Engineering Week from 15-24 March? If so, it is not too early to contact us and request a STEM Ambassador to support these events.
Find out about the NSEW grant scheme for Wales of £200 for schools in challenging circumstances – closing date 11 January – to support activities during NSEW. This year's theme is Invention & Discovery.
Are you looking to inspire your students about science, technology, engineering and maths? Then look no further than The Big Bang Near Me… to check out what's happening in Wales.
If you're planning a project of any kind or an event at your school and need speakers, workshops, links with the real world, or an extra pair of hands, contact See Science and request for a STEM Ambassador to come and help. The STEM Ambassadors Programme is FREE to schools. Email ambassadors@see-science.co.uk or go to http://networking.stemnet.org.uk and click on 'REQUEST A STEM AMBASSADOR'.
Don't forget to fill in our teacher feedback form if a STEM Ambassador has visited your school.
NSEW grant scheme for Wales
Funding available to engage and reach out with National Science & Engineering Week
£200/£350 – easy application – free support – Closing 11 Jan 2013.
What is the grant scheme for Wales?
The British Science Association has received funding from the Welsh Government to distribute grants to Welsh schools and organisations to run events and activities to during National Science & Engineering Week (NSEW). We are offering a £200 grant to schools and £350 to organisations.
Are you eligible?
All schools and organisations based in Wales can apply. Preference will be given to certain schools and event types. Selection preferences can be found online at www.britishscienceassociation.org/welshgrant.
Four-step application
Look at our free online resources to help with activity planning.
Fill in the online form before the closing date, 11th Jan 2013.
If you need help, contact Liz Terry, Regional Officer for Wales on 029 2080 1644 or wales@britishscienceassociation.org.
For further updates about the grant and resources for NSEW please sign up to www.britishscienceassociation.org/user/register?type=event-organiser.
Links to See Science information pages
Because there are now so many STEM stories in the monthly newsletter it's no longer possible to include abbreviated lists of activities, resources, competitions, grants, cpd opportunities and events in the body of the newsletter.
New items are continually being added to these web pages – check them out by following these links:
Society of Biology Competitions

There is still time to register! If you're a school teacher, you may be interested in the Society of Biology competitions that we run for school students:
The British Biology Olympiad is open to all post-16 students in the UK and aims to challenge and stimulate further interest in biology in gifted students.
The Biology Challenge is an online competition open to all pupils in Y9/10 in England and Wales, with gold silver and bronze award certificates posted to schools and top scoring students presented with prizes at an awards ceremony at the Royal Society.
CREST Awards in Wales Grants 2012/13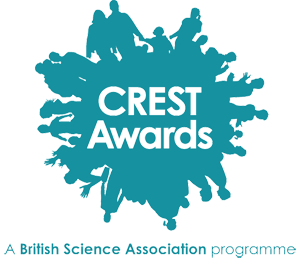 Schools and colleges can apply for a grant of up to £250 to support CREST. All schools and colleges in Wales are eligible to apply. The application form captures information regarding the type of school, but applications will be assessed only on how the money is proposed to be used.
The CREST Award programme is run by the British Science Association, which is being funded by the Welsh Government – through the National Science Academy – to coordinate and increase activities in Welsh schools.
Deadlines
The 1st round deadline will be 21 January and successful applicants accepted will be informed before 31 January
The 2nd round deadline will be Monday 18 March and successful applicants accepted will be informed before 30 March
Lewis Pengam School winners of the STEM Club survey – prize draw
Congratulations to Lewis Pengam School for winning the STEM Club survey – prize draw. Thanks go to Data Harvest, who sponsored the draw and provided the school with a K'NEX computer control kit.
The school values the benefits of after school clubs and sees them as an important part of the school day. David Eyles (physics teachers) and Neale Watkins run the Astronomy and Robotics clubs. "The astronomy club has enabled pupils to explore physics beyond the curriculum. The enthusiasm for science in the school has increased greatly due to the opportunity that the pupils have. The sky really is the limit!" David Eyles. The school is now planning how to spend the £250 cash prize on resources for the STEM clubs. "We will assess how the money can be best spent over the holiday break Thank you once again."
To market, to market to transport tomatoes…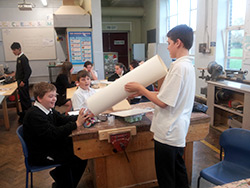 So, when you live at the top of a mountain in Nepal and you want to get your tomatoes to market at the bottom, how do you do it without squishing them? This was the problem set to Year 8 pupils at St David's High School in Saltney, when teachers decided to bring together sustainability, product design and problem solving on their Activity Day this November.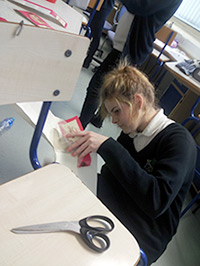 Having held many successful off-timetable events in the past, St David's decided to approach their local STEMNET Supporter to bring in some fresh ideas and to help them be prepared well in advance of the day. The Supporter drew their attention to Practical Action's Squashed Tomato Challenge, a hands-on, brains-on activity based on a real transportation problem facing farmers living on the mountains of Nepal, challenging students to learn about and take on a real life engineering problem. As the teachers had already decided on a sustainability theme, an activity from Practical Action's school resources was bound to work out as a perfect fit.
Students leapt to the challenge of solving the difficulties of getting soft fruit and veg to market without losing any, without damaging it and using materials in a creative and innovative way. The activity worked really well to give students a focus for the design process which was fun but which also had an important purpose.
The school also invited a STEM Ambassador to join the day – volunteers from local industry bring an extra dimension to schools events by contributing their own career experience and offering a different perspective. In this way students get as many opportunities as possible to engage with people from work of all kinds.
"This was just what we all needed for really motivating day – everyone took part to make an exciting final to our competition to make the fastest, sturdiest tomato transport device with some really innovative designs and clever problem solving. It was a really successful day and the kids loved it." Dawn Ellis, Technology Teacher.
The Squashed Tomato Challenge is all set up to be used within class or as part of a special event, is totally flexible and comes with videos, images, certificates, extra facts about tomatoes, (including jokes!) and works brilliantly as a CREST in A Day project. There are more challenges for schools on the Practical Action website, including bilingual resources.
Sprechen Sie Wissenschaft?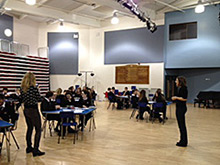 Yet more media interest came when Ambassador Jana Witt visited Cowbridge Comprehensive to deliver her brilliant session as part of our partnership project with CILT Cymru.

Jana had developed a schedule lasting an hour and a half which after her introductory profile engaged the pupils asking her questions in German, followed by two interactive practical challenges.
ITV Wales and BBC Wales attended and filmed the session which was highly praised by everyone. Pupils had a great time and the teachers of both science and language departments felt it opens up a spectrum of career insight for both them and the pupils.
All Ambassadors involved in this project are to be congratulated, and as with all our Ambassadors the quality and impact is now being profiled more widely than ever.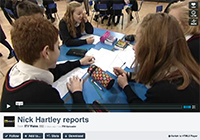 The TV correspondents have featured this and will be following up with other Ambassador stories. You watch the ITV News clip here.
Cilt Cymru and teacher Emma Green said: "Jana – I would like to congratulate you on your fantastic session today. It was such a varied session that it engaged the pupils so well. I truly felt privileged to be there! The morning was extremely well delivered and thought provoking for the pupils. Thank you so much for the work and time that you invested into this session. It definitely paid off! Without a doubt, the session achieved its goal of making the pupils realise that they were capable of communicating in German and French for use in a real context."
Maths isn't the End of the World
December 21 2012 marked the end of the Mayan Calendar, heralding the appearance of Bolon Yokte Kuh, the Mayan God of War.
However, as we're all still around in 2013, you might want to start planning your activities for National Science Week in early March. We can't guarantee the appearance of a Mayan War God, but the SciEnts troupe of science entertainers will be happy to appear at your school or event and includes several who can explain why the Mayans got their maths wrong.
Behind every great scientist stands the Queen of Sciences, mathematics, and the SciEnts troupe includes five performers with a specifically maths-oriented show. Rob Eastaway can show you mind-reading tricks based on maths from his numerous books, Colin Wright demonstrates the maths of juggling, and Bubblz the Maths Clown introduces maths to younger audiences. Finally Ian Dunne and David Hall use the power of theatre to tell a story of maths which charms and engages audiences of any age or ability.
Bringing a maths entertainer to your school is an incredibly cost-effective way of enhancing a subject which students sometimes find it difficult to engage with. You do the maths!
Stargazing at Coed y Brenin
Deep in a forest somewhere in North Wales – Thursday 20 December 2012
If you went down to the woods that night … you were sure of a BIG surprise, as at the Coed y Brenin Forest Park near Dolgellau, Forestry Commission Wales was hosting Stargazing sessions led by members of the University of Aberystwyth's Physics Department.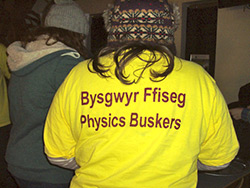 As well as bringing along a range of high definition telescopes, the lecturers and undergraduates set up their portable Stardome in the visitor centre's cafe, in which the students presented a conducted tour of our Solar system and beyond. Open to all, the evening attracted a wide range of eager stargazers of all ages, including a pupil from Ysgol y Gader, Dolgellau and a group of Yr 11 GCSE Astronomy students from Ysgol Uwchradd Tywyn.
Another highlight of the evening was an illustrated talk by Dr Huw Morgan of Aberystwyth University, who outlined his ground-breaking research into tornadoes emerging from the surface of the sun. Huw mesmerised the fascinated audience with video clips of tornadoes taken by a telescope on the Solar Dynamic Observatory satellite, pointing out that some of the tornadoes were several times the size of the Earth!
As for the stargazing … well, as is often the case, the cloud cover was rather dense and only one star was spotted, albeit fleetingly. However, the evening proved to be a great opportunity for the local school pupils to meet, and chat with, the university students – several of whom are STEM Ambassadors – about their plans for future studies and careers once GCSEs were over!
For more information about how to arrange your own stargazing event go to the BBC's Stargazing LIVE webpage.