Welcome to the STEM Newsletter for
Secondary Schools in Wales
Contents
Happy New Year! Hope you all had a good Christmas break.
Many of you will be starting to prepare for National Science & Engineering Week which this year will be held between 9-18 March. To support your events visit the British Science Association website (www.nsew.org.uk) to register your event, download activity packs and quizzes, order FREE promotional materials, enter competitions, win prizes and apply for an event award. Last year's event winner was Tre Uchaf Primary school, Loughor, Swansea.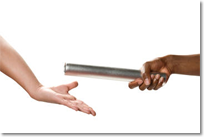 There are now less than 3 weeks left for schools to register their team details for STEM Challenge 9: The Paralympic Torch Relay Challenge! School teams have the chance to win exclusive access to a Paralympic Torch Relay Challenge plus cash prizes to buy equipment for their STEM Club. The deadline for team registration for STEM Challenge 9 is Monday 23 January at 5pm. Local Judging sessions will be from 20-28 February and the Challenge final will be on Saturday 17 March at The Big Bang: UK Science and Engineering Fair at the NEC in Birmingham.
STEM Ambassadors are available to support school events during NSEW and the STEM Challenge to find out more contact Sian Ashton on ambassadors@see-science.co.uk or go to http://networking.stemnet.org.uk/ and click on REQUEST A STEM AMBASSADOR. We have had requests from STEM Ambassadors who are interested in linking up with Welsh Medium Schools.
Big Bang Finalists 2011-12


Held at The NEC Birmingham from 15 -17 March, the Big Bang free event is a great opportunity for your students or children to experience science, technology, engineering and maths up close in a fresh new way. You will be able to get hands-on with a huge range of activities, enjoy theatre shows and be inspired by meeting some of the country's leading science, technology, engineering and maths talent.
All finalists in the National Science & Engineering Competition who attend The Big Bang Fair will receive a personalised certificate and a goody bag in recognition of their achievements. Once the judging has been completed, there are many prizes available to the lucky competition winners.
Congratulations to the following finalists from the Big Bang Regional Fairs. A full list of finalists will be available soon.
Individual finalists:
Corwyn Davies, Ysgol Gyfun Llandbedr Pont Steffan,

Hedgelighthog

Nick Foster, St Albans School,

Handbrake Aid – Twist Grip Brake

James Phillips, Coleg Sir Gar,

Hydraulically Operated Tine Harrow

William Shackley, Gower College,

Twin-Hulled Personal Water Transport

Stephanie Spowart, Amman Valley School,

The Secret Garden (Fantasy and Fiction Textiles)

Jake Wrefford, Ysgol Uwchradd Aberteifi,

Revolver
Teams Finalists
Lowri Howard, Jodie Barnard, Amy Matthews, Beth James, Ffion Harrie, Ysgol Gyfun Cwm Rhymni,


Mascara Investigation

Hannah Jenkins, Geraint Sibley, Ross Cooper, Catrin Davies, Alex Curtis-Evans, Cynffig Comprehensive School,

Ergonomic Workstation for Sony Manufacturing

Wasim Miah, Jessica Jones, St David's Catholic College,

Contraction Optical Monitoring System

Matthew Reece, Ethan Jones, John Clayton-Hughes, Ysgol Uwchradd Glan Clwyd,
Fibre Optic Laser Speckle Breathing Sensor
Dean Saif, Shannon Horrigan, Daniel Giernalczyl, Michael Stitfall, St David's Catholic College,


Air Pressure Monitor

Loren Snowdon, Kateryna Zhyvitska, Ellie Stanton, Glenmoor School,

Misfire
More details at www.thebigbangfair.co.uk/teachers.cfm.
Maths Inspiration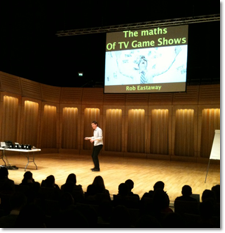 Nearly 500 teenagers (Year 11s and Year 12s) attended the Maths Inspiration event in Cardiff on 7 December. The show was held in the stunning new concert hall at the Royal College of Music in Cathays Park, a stark contrast with the classrooms where most maths talks take place. The aim of Maths Inspiration is to demonstrate that there is far more to maths than just passing exams, and that maths has diverse applications in the real world and can even be entertaining. The students heard Paul Shepherd describe the maths used to design the London Olympic stadium, and then author Rob Eastaway explaining the maths behind TV gameshows such as Million Pound Drop and Deal or No Deal. The host of the event was Matt Parker, who combines maths with comedy and has performed regularly with stars such as Professor Brian Cox and Simon Singh. The organisers wanted to excite even those students who don't expect to enjoy maths, and it seems to have worked. A teacher from Port Talbot commented: "All our students who attended it enjoyed it, and have mercilessly crowed over some of their friends who had initially said that they would go and then changed their minds. They all said that next year we should encourage more students to attend." Maths Inspiration will be returning to Cardiff at the end of 2012. Make sure your school doesn't miss out next time. More information at www.mathsinspiration.com.
Jaguar Cars Club

"I'm 17 seconds ahead" roars Matthew, "and only two laps to go!" His over-confidence turns to tragedy however, as his car runs out of fuel on the final lap. Fortunately, no one can hear his cries of anguish as his opponents scream delight at his misfortune and a competitor celebrates an unlikely victory. Breathless!
Welcome to Jaguar Cars Club at Cardiff High School. The club, open to all Key Stage 3, allows pupils to build and design a Formula 1 car and race each against each other in a computer simulation. Pupils work in teams of two with success underpinned by mathematics and a strategic mind. To enter each race, pupils must analyse the actual race circuit and specify their car to meet its demands. Using percentages, angle calculations and a degree of science, teams fuel their cars and design a race strategy, including pit stops and tyres, to maximise their chances of victory.
The software that underpins the club is produced by Cambridge Software House and allows pupils to compete against teams in other schools. In 2011, Cardiff High School had a sensational year. In March, our top team (Year 8) won our LEA heat to qualify for the UK National Semi-Final. This fantastic achievement was then exceeded by the efforts of two Year 7 pupils whose semi-final entry won through to the UK National Final. The boys attended the National Final on 30 June at The Heritage Motor Centre in Warwickshire, finishing an impressive 5th out of the UK's top 12 teams for their age group.
The club is an excellent way of engaging both the most talented and enthusiastic mathematicians. Pupils enjoy working with and against each other to develop the fastest car. The real excitement however, is race day. Who would have thought a basic software package and maths could generate so much excitement.
Science for young people – reading, reviewing and doing it on the radio
As an exercise in encouraging young people to experience science outside the classroom and to see it as part of their leisure culture, our See Science representative in NE Wales found a challenging project for Brynteg Youth Forum in Wrexham. The forum applied to take part in the judging process of this year's Royal Society Young People's Book Prize and were lucky enough to be one of the 75 chosen panels. More details at http://royalsociety.org/awards/young-people/dorion-young/.
Through this competition, the Royal Society aims to encourage the writing, publishing and reading of good and accessible books that communicate science to young people. This year, the young people for whom the books are written are deciding which they think should win.
The Youth Forum enhanced their own judging project by appearing on Wrexham's local community radio station, FM where they discussed the books and the judging process on Calon Talks Books. They made more of the whole experience by promoting their group, taking a tour of Glyndŵr University's radio and library resources and – not least – taking on the daunting task of radio presentation.
The young people of Brynteg Youth Forum are aged 12-14 and attend Ysgol Bryn Alyn and St Joseph's schools in Wrexham but also meet weekly at the forum to discuss issues that affect young people, support the community with local events and promote a positive image of young people in their area.
The judging panel has submitted its verdict to the Royal Society and results from all groups across the UK will be combined to determine the overall winner, to be announced at the end of the year.
Tregib pupils hop, skip and jump to London 2012 win
Pupils from Ysgol Tregib in Carmarthenshire have triumphed in a national competition and won their school tickets for London 2012.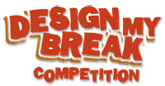 After hundreds of schools from across the UK were whittled down to just eight finalists, the five pupils took the first prize in GE's 'Design My Break' competition for coming up with a ground-breaking idea on how to spend their breaktime.
The competition was open to pupils aged 11 to 14, who were asked to work in teams to dream up inspiring and innovative activities for the mid-day school break and make it a healthy and happy time in the school day.
Students had to consider three elements; food, activity and emotional well-being as part of their break solution. They also had to think about how the Olympic and Paralympic values were reflected in their idea, in particular those of inspiration, friendship and leadership.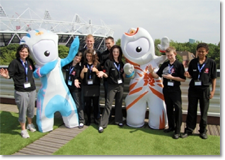 Ysgol Tregib were represented by five Year 7 pupils, Hannah Doel, George David, Siriol Richards, Daniel Davis and Carys Jones. They won with their idea of a points system to reward students depending on how healthy their lunch choice is and how many extra-curricular 5x60 sport and physical activity sessions they take part in. Their idea impressed the judging panel, which included former Olympic triple jump gold medalist Jonathan Edwards.
As winners of the competition, the Ysgol Tregib team will receive six tickets to an Olympic event during the London 2012 Games, and will also win £1,000 to turn their break idea into reality.
School PE teacher Simon Davies commented: "The pupils were fantastic. For such a young group of individuals, they took the whole occasion in their stride and it was awe-inspiring to see them conduct themselves so professionally on the day.
"Seeing young people rewarded for their hard work in such a way is priceless, and thoroughly deserved. As a school and team we hope we can inspire others within our community to lead a more wholesome lifestyle. It was an extremely proud moment to see them become UK champions, especially as they were commended for their approach and maturity on such a grand occasion."
The school was able to enter the GE competition as it is part of the Get Set Network of schools around the UK. Get Set is open to all schools in Wales. For more on the competition visit www.designmybreak.co.uk.
How you can help us
You can help us by telling us about STEM activities you have organised and provide us with an insight into what the pupils gained from the experience by filling in our online feedback form. All feedback forms will be entered into a prize draw each term.
Activities
Mission X: Train like an Astronaut
An international challenge for students that brings the excitement of space exploration to learning about a healthy lifestyle. More…
'Survival': a free mobile game to raise awareness about the world's most endangered animals
Immersive, interactive and educational, 'Survival' is a great way to encourage children's curiosity for the natural world. At home, in the classroom or on-the-go, kids and adults alike will have a whale of a time as they race against the clock to tap, pinch, drag, scroll and swipe their way through a series of mini-games whilst learning about the world's endangered species. More…
Dark Sky Wales
Dark Sky Wales is a team of enthusiastic educators and astronomers. Our range of exciting workshops and strong industrial partnerships enforce one simple aim: to inspire young minds. More…
Grants/Bursaries/Awards
Schools Grant Scheme
The Schools Grant Scheme is an IOP/STFC funded scheme which aims to provide schools with grants of up to £500 for projects or events linked to the teaching or promotion of physics. Projects linked to astronomy, space and particle physics are particularly encouraged. More…
Institute of Physics in Wales funding opportunity
The Institute in Wales's grant scheme is designed to give financial support of up to £1,000 to individuals and organisations running physics-based events and activities in Wales. More…
Teacher Awards
Anthony Waterhouse Fellowship
The Anthony Waterhouse Fellowship is worth £2,500 over two years and provides an opportunity for teachers to access funds to help them develop a dormant or nascent idea that will be useful in the classroom. More…
RSC Education Awards
The RSC honours teachers for their dedication to inspiring the next generation of chemists. Each year the RSC honours teachers who have made a significant, high quality contribution to the teaching of the chemical sciences by awarding the Schools Education Award. If you know someone who is inspiring their students and sparking a lifelong interest in the chemical sciences through their teaching award their excellence and dedication by nominating them. More…
Competitions
Nuffield Council 'Box Office Bioethics' – Student film competition
Produce a 3-5 minute films which explore contemporary bioethics issues in medicine and the life sciences. The competition is open to students in the UK and Republic of Ireland, and there are some great prizes up for grabs – winners will receive £200 in gift vouchers and their film will be shown at our annual public lecture in London in spring 2012. More…
Biology Challenge
Encouraging an interest in biology beyond the school curriculum and stimulating curiosity about the natural world. Open to all pupils in Y9/Y10 in England and Wales. More…
British Biology Olympiad 2012
This competition aims to challenge and stimulate further interest in biology in gifted students. Registration closes 17 January 2012: Round 1: 6-10 February 2012. More…
NSEW School Competition – The Great Global Adventure
This out-of-the-box poster competition is a simple way to take part in National Science & Engineering Week, either as homework or a class project. The British Science Association is launching an ideas challenge for 5–14 year-olds asking them to invent a multi-terrain global racer that uses renewable power. Pupils will need to invent one method of transportation that can carry themselves and two friends across a range of challenging terrains in their global adventure! More…
International Cansat Competition 2012
The International Cansat Competition 2012 will be held in Madrid in April 2012. More details… http://cansat.leem.es/
Cosmic Futures Competition
With tips and advice from experts, you are challenged to create your own article, poster or photo essay that tells the general public that: The British Space Industry is going places. You will need to create an exciting and interesting poster, article or photo-essay that best describes how the British are at the forefront of Space science. More… www.cosmonline.co.uk/cosmic-futures
Woodland Trust
This is a good website with activities and competitions, suitable for children under 13. More…
Events
January 2012
The Faulkes Telescope workshop
Suitable for secondary school teachers; Bangor University 20 January 2012
This one-day workshop will serve as an introduction to using robotic telescopes and astronomical images in the classroom, and also covers a variety of FREE astronomy/space resources suitable for KS3-KS5 science and GCSE Astronomy students. More…
'Inspiring Young people in Maths, Physics and Chemistry' conference
Swansea University; 20 January 9-6pm & 21 January 9-1pm
A conference run by the Wales Institute of Mathematical and Computer Sciences (WIMCS) for teachers of science and maths that aims to provide a forum for experienced to consider the kind of CPD required to enable Maths Physics and Chemistry teachers to enhance the student experience. More…
Think, Learn, Challenge training course
ESIS Conference Centre 25 January
Our next training course is How to assess science enquiries; two lively, interactive days for Key Stages 2 and 3 teachers to develop skills in assessing science enquiries. More…
The Salters' Festivals of Chemistry 2012
Closing date: 31 January 2012
The Salters' Festivals of Chemistry will be held in partnership with The Royal Society of Chemistry in 2012. Students can look forward to hands-on practical Chemistry challenges in University labs, exciting chemical demonstrations, a Prize-giving ceremony with prizes for winning schools and fun prizes and certificates for all participants. More…
Maths is Your Future
Swansea University 8 February
A free one-day conference for BLE Year 11 students. For more information go to www.mei.org.uk or email infofmspwales@wimcs.ac.uk.
Free CPD for teachers of chemistry
Thanks to funding from the Wales Institute of Mathematical and Computational Sciences (WIMCS), the Royal Society of Chemistry (RSC) is offering a series of continuing professional development (CPD) opportunities in South Wales. Session: Redox. More…
First Campus STEM workshops
First Campus is offering your Able and Talented Year 9 &10 pupils in Science and Maths the opportunity to attend five STEM workshops during February half term. These workshops will give pupils a taste of undergraduate STEM degree study at University and open their eyes to the opportunities available to them in STEM related careers. More…
Think, Learn, Challenge training course
ESIS Conference Centre, 24 February
Our next training course is How to assess science enquiries; two lively, interactive days for Key Stages 2 and 3 teachers to develop skills in assessing science enquiries. More…
National Science and Engineering Week
9-18 March 2012
Why all schools should register their NSEW events and activities… all schools who register events will be entered into our fantastic prize draw. We have some great prizes this year from a range of generous sponsors including Lego Education, Timstar. More…
Free CPD for teachers of chemistry
Thanks to funding from the Wales Institute of Mathematical and Computational Sciences (WIMCS), the Royal Society of Chemistry (RSC) is offering a series of continuing professional development (CPD) opportunities in South Wales. Session: Structure and Bonding. More…
Enterprising Science
All UK schools are eligible to apply for Enterprising Science – www.enterprisingscience.com/. However applications are being handled in regional groups of schools to visit during the year. Apply now for this free Science, Maths and Enterprise two-part programme from BP. More…
Enterprising Science
All UK schools are eligible to apply for Enterprising Science – www.enterprisingscience.com/. However applications are being handled in regional groups of schools to visit during the year. Apply now for this free Science, Maths and Enterprise two-part programme from BP. More…
NPL Water Rocket Challenge schools competition
Wednesday 20 June, 1.30-4.30 pm
Aim for the sky in our annual Water Rocket Challenge, which sees hundreds of participants, from school teams to adults, battling it out to become champion. For more details go to www.npl.co.uk/educate-explore/water-rocket-challenge/
Resources
Nuffield Council on Bioethics – biofuels teaching resources
Based on the Council's report, 'Biofuels: ethical issues', which was published earlier this year, these resources aim to help students consider the advantages and disadvantages of different types of biofuels that are being produced or may be produced in future as renewable sources of energy for transport. More…
2050 debating toolkit
2050 debating toolkit has now been launched by the DECC to support the 2050 simulation tool. It includes resources for activities and workshops – example lesson plans, curriculum links (including some interesting maths ideas linked to sustainability). For more details go to www.decc.gov.uk/en/content/cms/tackling/2050/2050.aspx or contact david.pugh@g24i.com.
Practical Action D&T Activities
Our new website aims to be a one stop shop for sustainability resources across all D and T material areas and age ranges. For starter activities, ranging from exploring products through to sustainability terms and definitions, visit our new site. More… http://practicalaction.org/d-t-starter-activities?dm_i=6WS,MNK3,2QTKV4,1U1LQ,1
Try CC4G now, free
CC4G is a club designed for girls. Discover the exciting ways technology is used in music, sport, fashion and more through games and challenges. More…
Courses/CPD
The European Hands-On Universe Project
The European Hands-On Universe project is offering new 5-day training sessions on 'Bringing Frontline interactive astronomy to the classroom' and 2-day seminars on radio astronomy to all interested teachers. More… www.faulkes-telescope.com/EUHOU