STEM Newsletter for secondary schools in Wales
February 2016
The monthly e-newsletter that's an essential source of information and inspiration for teachers – and anyone with an interest in STEM (Science, Technology, Engineering and Maths) engagement – across Wales.
Contents
Links are to the online version.
Ask a STEM Ambassador to visit your school
A STEM Ambassador's involvement can engage and enthuse both students and teachers. If you are interested in asking a STEM Ambassador to visit your school you can make your request here or contact See Science directly at ambassadors@see-science.co.uk.
Give us your Ambassador feedback
If an Ambassador has visited your school, or if you have met an Ambassador at an enrichment activity, we would be very grateful if you could fill in our teacher feedback form. Please encourage colleagues to respond.
Teacher information pages
Events, competitions, grants and resources are regularly added to our teacher information web pages. You can check them out by following these links:
STEM Opportunities for teachers and pupils
Science Enhancement Experience (SEE) – STEM Challenges
STEM Challenges are designed to facilitate learning, team working and encourage pupils' curiosity to find out how and why things work. By taking part in the challenges, pupils develop their problem solving, communication and innovation skills. All secondary pupils who complete a STEM Challenge can register for a Discovery CREST Award.
Science Enhancement Experience (SEE) resources have been produced thanks to generous support from the Welsh Government's National Science Academy. Secondary schools in Wales are able to book ONE STEM Challenge FREE. Places are limited so early booking is recommended.
There is a choice of three challenges for teachers to book:

Emergency Communication Challenge
Space Challenge
Marble Roller Coaster Challenge

Dates:

South Wales: until March 2016
West Wales: 25-30 April 2016
North East Wales: 27 June – 1 July 2016
North West Wales: tbc
To register interest email enquiries@see-science.co.uk.
Back to topSTEM Challenge Teacher CPD – FREE
STEM Challenge CPD is available FREE to schools in Wales with funding from Welsh Government National Science Academy. The CPD, delivered by See Science, will provide teachers with training on how to use the toolkit and run a suite of science challenges with KS3 pupils. Teachers will be linked with industrial partners to provide an insight into the real-world of work through the STEM Ambassadors programme.
Each teacher attending the CPD will receive a toolkit to tailor the delivery of the STEM challenges to their pupils. In addition, the toolkit contains information on setting up and running a STEM Club together with eight STEM Club fun and interactive activities. To book a place, email enquiries@see-science.co.uk.
Dates:
Monday 29 February 4:30 – 6:30 pm, Cardiff
Wednesday 16 March 4:30 – 6:30 pm, Swansea
Tuesday 22 March 4:30 – 6:30 pm, Cardiff
Turn your pupils into space biologists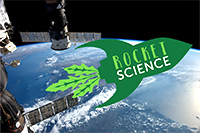 Two kilograms of rocket seeds are now on board the International Space Station. The British Astronaut Tim Peake is asking schools to sign up to this space experiment to grow the seeds when he returns to the UK.
Find out more and apply for a teaching pack and seeds here.
The Vikings are partying too!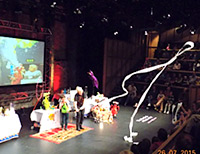 Join Scientific Sue on this most historical and creative journey of discovery. Sue's fire and icy fog breathing dragons are celebrating the hatching of their latest baby – but there is just one problem; this little dragon doesn't have any wings yet.
Available FREE to all primary and secondary (Year 7) schools in Wales in 2016 with funding from Welsh Government National Science Academy.
North East Wales: May 10-13
South Wales: June 13-17
West Wales: June 20-24
North West Wales: July 4-8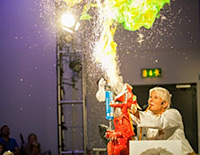 Scientific Sue will need lots of volunteers to help her investigate and explore the science of how dragons fly and then, using some of the science behind the different dragon fire types (steam, icy fog, explosive gases, flammable liquids and of course big flames and tornado type fire!) plus dragon's disgusting digestion processes. She hopes to engineer a way which will allow the baby dragon to fly and join in with the celebrations!
The science can focus on: chemical reactions, combustion, states of matter, flight, buoyancy, forces, energy, digestion, and respiration, tests for oxygen, carbon dioxide and hydrogen. Length of performance: 1 hour
To book, email See Science at enquiries@see-science.co.uk – schools will need to book for half day per show.
Spring 2016 Science planner for teachers

As part of the Welsh Government science campaign Learning Wales has worked with science providers and organisations in Wales to produce a series of planners for each school term. The latest Spring 2016 Science planner for teachers includes information on resources, events and competitions.
Free one-day CPD workshop at CAT
On 3 March, the Centre for Alternative Technology in Machynlleth will be holding a CPD workshop for Welsh Baccalaureate and secondary school teachers who are interested in developing global citizenship in their teaching. More information here.
Connecting Classrooms course: Teaching critical thinking and problem solving
Connecting Classrooms is offering a new course for teachers in Wales to develop their practice in relation to teaching the core skills of critical thinking and problem solving. The training package helps teachers anticipate changes to the Welsh curriculum by following the recommendation in Successful Futures to embed the Wider Skills across all Key Stages. Book places here.
Back to topBritish Science Week: 11-20 March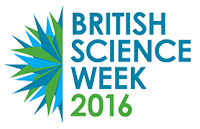 Science in Spaces Activity Packs (Primary and Secondary) are available for free online. This year the theme is all about the different spaces where science can be found and done, with a focus on 5 different types of space: open space, outer space, digital space, built space and personal space.
Demo Day 2016: Thursday 17 March. Thank you to those that have pledged so far, and to those who haven't yet, you can still pledge here. Keep checking the British Science Week website for the most up to date information.
People Like Me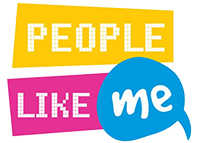 The People Like Me pack is a revolutionary approach to engaging girls with careers in Science, Technology, Engineering and Maths (STEM). People Like Me uses the natural tendency of girls to articulate their self-identity using adjectives, to show them that people like them are happy and successful working in careers in STEM.
This pack equips teachers and STEM Ambassadors with materials that can show girls from a diverse range of backgrounds that, if they continue with at least one STEM subject post-16, they are likely to have better prospects and more career choice. The pack contains a quiz to show girls where people just like them are happy and successful in their work, which can also be downloaded as a free app from the Apple store.
The feedback from the girls has been overwhelmingly positive: "I have learnt that it is very important to keep my options open… and that I can combine many other subjects with Science to find something I am passionate about doing in the future".
The Biochemical Society Scientific Outreach Grants are open!
The Biochemical Society has grants of up to £1,000 available to help fund activities that communicate the excitement of molecular bioscience, or more general biology, to young people and the community. The deadline for the next round of applications is 29 April 2016.

Age 4-11 – ages 4-11 need to have a "science focus", without the emphasis on biology
Age 11-14 – support for biology within a balanced science curriculum
Age 14-18 – support for biology, with increasing emphasis on molecular biology
Post-18 – support for biomolecular sciences in their own right.

Gopher Science Lab Grants now available
Gopher Science Lab supports students' transition from primary to secondary school with peer to peer learning across age groups. Grants are now available to enable UK schools to run a Gopher Science Lab day followed by sharing their experience via a teacher led twilight training session for other teachers. The deadline to apply is 31 March 2016.
Competitions
The Royal Society of Biology's Biology Challenge competition will take place online in schools from 7-22 March 2016, inclusive. It is open to all students who were born between 1 September 2000 and 31 August 2002. Students/schools need to be registered by a member of staff at the school.
New Pinhole Photography competition for 11 to 14s. Build a pinhole camera and send in your pictures to win a prize! The Light and Pinhole Camera resource and Build a Pinhole Camera video are available. More details and how to enter here.
Focus on Science Competition. A science competition through the medium of Welsh, £500 worth of Bright Sparks Prizes to be won for your school. More information here. Closing date 1 March 2016.
Minister sees Lead Creative Schools in action at Ysgol Ty Coch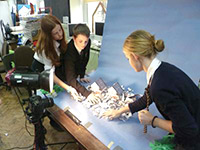 On 8 February the Minister for Education and Skills visited Ysgol Tŷ Coch to see a Lead Creative School project in action.
The Lead Creative Schools Scheme aims to promote new ways of working, with innovative and bespoke programmes of learning designed to improve the quality of teaching and learning. It's about you, the school, and the particular learning challenges that you might be facing. The Lead Creative Schools Scheme works with you to provide the creative people, skills and resources that are needed to help you address these challenges.
The application window for year 2 of the programme is currently open and will run until 29 February – apply here.
Back to topWhat's the Grey Matter with Gregory?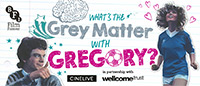 What's the connection between a 1980s romantic comedy and students learning science today? The British Film Institute – which is running a series of events based around Bill Forsyth's 1981 coming-of-age film 'Gregory's Girl', which explores the biology and psychology of human attraction.
The project 'What's the Grey Matter with Gregory' has been designed with Cinelive and supported by the Wellcome Trust. Pupils who are following courses in biology or psychology work alongside professional scientists to explore the influence that psychology and hormones have on human behaviour. They study cases of flirtatious behaviour at the fictional Abronhill High School and scenes played out by young actors. The project has visited venues across England and Wales.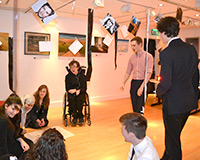 In Milford Haven, around twenty members of the Torch Youth Theatre, students from schools around the county, played roles of students and staff, while GCSE and A level students from Tasker Milward School discussed the issues raised. They considered how hormones affect behaviour, what makes people find others attractive and which attributes were important in finding a life partner. Scientists from NHS Wales and Swansea University supported the day. The event finished with a showing of the film, aimed at reinforcing what the students had learned.
Photo: students discuss what qualities they would seek in a life partner, assisted by psychologist Matthew Hodder.
Back to topPupils learn about sea life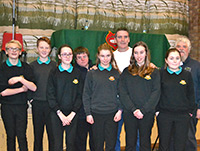 Television presenter and wildlife watcher Iolo Williams has been telling schoolchildren around Fishguard of the importance of the seas around Pembrokeshire. He was speaking as part of a presentation by the Sea Trust Community Interest Company, of which he is Patron. Iolo told the 500 plus primary and secondary schoolchildren that it was up to them to care for the environment and the animals in it.
Sea Trust director Cliff Benson showed video of some of the animals seen during observation voyages by volunteers, and Iolo gave further information about some of the species.
A fin whale, seen in Pembrokeshire waters occasionally, is one of the biggest creatures that has ever lived, Iolo told the pupils. Its heart was so big that eight people could fit inside it. He said that to see a fin whale you needed to watch for its "blow" which could be 20 feet high. He said Strumble Head in Pembrokeshire was one of the best places to see Porpoise, and Common, Bottlenose and Rissos Dolphin were all seen regularly in Pembrokeshire's waters.
On birds, Iolo told the pupils that the region was important for various breeding seabirds; more than 36,000 pairs of Gannets breed on the island of Grassholm, and half the entire world population of Manx Sheerwaters breed in Wales – many of them in Pembrokeshire.
The children inundated Iolo and Cliff with questions until the end of school – and even then were reluctant to leave.
Photo: Pupils from Ysgol Bro Gwaun with Iolo Williams and Sea Trust director Cliff Benson and volunteer Steve.
Pembrokeshire pupils win award for app which keeps young people safe online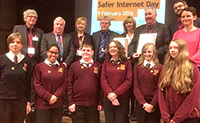 Pupils at Ysgol y Preseli in Crymych have won an award for developing a social media app to keep young people safe online. The competition was organised by the Welsh Government and South West Grid for Learning (SWGfL) Trust, co-ordinators of the UK Safer Internet Centre as part of Safer Internet Day. The My Username Generator phone and tablet app prevents youngsters from disclosing personal information online.
NSPCC Cymru/Wales has used Safer Internet Day to call for action to be taken as soon as online hate messages are reported by children. Des Mannion, Head of Services for NSPCC Cymru/Wales, said: "In recent years online abuse has inevitably surged and it's crucial that the internet industry plays its part in stamping it out. Safer Internet Day provides Wales, the UK and the world with a clear opportunity to highlight positive use of technology and to explore the role we all play in helping to create a better and safer online community."
Wales' Children's Commissioner, Professor Sally Holland, said that young people needed to learn to navigate relationships "in the modern context", which included social media. "The online world presents opportunities for children and young people to access education, to express themselves and to socialise. We need to listen to young people's experiences and provide the right support and education for this environment, ensuring their safety online and offline so that they can access their rights as digital citizens of the modern world."
The wet and windy weather has been a major talking point of the winter months, but have you ever stopped to think what causes the weather? STEM Ambassador Bruce Moffett has – he's a biometeorologist looking at how biology directly impacts – and controls – the weather.
Dr Moffett, who works in Pembrokeshire, is a leading authority on bio-precipitation – the study of clouds and how they form rain. He has recently contributed to a paper published in the one of the world's leading journals Proceedings of the National Academy of Sciences of the United States of America (PNAS).
In the simplest of terms, he explains that rain in temperate regions is created by the formation of ice in clouds. What people generally don't know is that the pure water in clouds doesn't freeze at 0°C, but at around -36°C. So how can the ice be formed to make the rain? It's because of tiny particles (or ice nuclei) being picked up into the air which promote freezing at higher temperatures, so causing rain. The PNAS published paper shows sea spray is a source of these rain-making particles.
Dr Moffett has measured particles in air sampled from aircraft above the ocean, and also from a lab experiment using his own unique instrument which he says is portable enough to use in a classroom. He says children enjoy gathering lichens, seaweed, and moss, and then see how these influence the freezing temperature of water. He says despite all his research he still finds it weird to see water still liquid at -12°C.
Dr Moffett's work could influence the way we deal with climate change. The rain-making particles also have the power to influence the reflective properties of clouds, which in turn affects global temperatures.
Dr Moffett will be giving a talk on biometeorology in Fishguard during National Science Week – more info here.