Welcome to the STEM Newsletter for Secondary Schools in Wales
An essential source of information for teachers and anyone with an interest in STEM (Science, Technology, Engineering and Maths) engagement across Wales.
Read inspiring stories, discover new opportunities and find out how a STEM Ambassador's visit to your school can engage and enthuse both students and teachers. There are details of current events, competitions, grants, CPD, awards and more at our teacher information pages.
Chance to win a M&S Gift Hamper
We would be very grateful if you could fill in our teacher feedback form if an Ambassador has visited your school or you have met an Ambassador at an enrichment activity. Please encourage colleagues to respond. Each half term we will provide one teacher who has provided feedback with a M&S Gift Hamper.
STEM Club update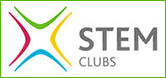 Ideas, activities and competitions that will bring practical and real-life contexts to your Science, Design and Technology, and Maths clubs:
Your Life. STEMNET supports Your Life – working with government to show young people how maths and science lead to exciting, successful careers.

"Your (pupil's) life has huge possibilities. Do you dream of big things? Want to be in charge? Be creative? Travel? Have a look at the amazing possibilities that will open up to you if you decide to take maths and physics, and be inspired to start your future."

Follow the link to the site and find out more …
IET database of award-winning curriculum resources that use real engineering case studies Download free resources here.
FIRST® LEGO® League competition that uses robot technology to encourage an interest in real world issues and develop key skills. Find out more about entering the competition here. Next season's registration will open around Easter 2015.
Back to topLinks to teacher information pages
New events, competitions, grants and resources are regularly added to our teacher information web pages. You can check them out by following these links:
National Urdd Eisteddfod Science Competition (Welsh Medium) Scientific project

An opportunity to create a scientific project in the field of Science, Technology, Engineering or Mathematics through the medium of Welsh. The focus of the project can be in the form of research, inquiry or a presentation. Competitors can choose any theme and can if they wish use a CREST project/profile – some ideas here. The work should be presented in electronic or paper format as a report of 1,000 words (Year 7-9) or 2,500 words (Year 10 and under 19 years of age).
The project must reach the Eisteddfod Office, Gwersyll yr Urdd Glanllyn, Llanuwchllyn, Bala, Gwynedd LL23 7ST by March 1 2015. To compete in the Eisteddfod you need to be a full member of Urdd - which means that you must have paid the registration fee and have received a 2014/15 membership card & number. You can apply for membership via our website.
The Bill Bryson Prize for Science Communication 2015
The Bill Bryson Prize for Science Communication is open to students around the world from ages 5–18. Entry can take absolutely any form you want: videos, songs, sculptures, posters, poems, press articles, cartoons, games, magazines – even plays and podcasts, and you can choose to enter individually or in a team. The theme for 2015 is Chance. From the Big Bang to evolution, from probability to penicillin… Deadline for submitting entries is 31 March 2015.
Iota World Forum Young Women's Innovation Grand Challenge
How do you think life could be made better by connecting everyday things together using the internet? Open to women from ages 13-18. Prizes vary from £13,000 to £5,000 for the team or individual with the best entries. Deadline 25 March. Cisco mentors will be on hand. There's more information here.
National Women in Engineering Day (NWED)
National Women in Engineering Day (NWED) is designed to break down the barriers of gender-marked careers and aims to enhance gender diversity and equality within the engineering and scientific sector. If you are interested in a resource pack please send your postal details to nwed@wes.org.uk. The Resource Packs are available in pdf format here.
Back to topTata Steel Apprenticeship opportunity for students
We would like to let you know about the exciting apprenticeship opportunities available in Tata Steel. Tata is looking to recruit approximately 90 apprentices in the South Wales area this year. They will be looking for apprentices to join programmes for Mechanical Engineering, Electrical Engineering, Fabricators and Welders, Technical (chemistry and metallurgy) as well as Riggers and Higher Apprentices. If you would like more information on the courses available please check here.
We are keen to make as many students in the local area aware of this opportunity. If you have any questions about the scheme or are holding any events at your school that a representative from Tata could attend please contact james.drake@tatasteel.com.
Engineering Foundation Programme with Scottish Power
With energy skills in high demand, we grow our own fresh talent and are delighted that we can offer exciting sponsorship opportunities through our Engineering Foundation Programme. Find out more here.
British Science Week (BSW)
13-22 March 2015

This year Demo Day falls on Thursday 19 March 2015! We want teachers and technicians across the UK to pledge to take part in Demo Day and to put their school on the map. Pledging is quick and simple with only basic details being required to join the science demo movement.
Demo Day is an annual campaign supported by the Gatsby Charitable Foundation to inspire secondary school teachers and technicians to explore new concepts, provoke discussions and generate excitement through running science demonstrations. By pledging to take part you will be part of a free prize draw with prizes kindly donated by Tim Star, including a wifi microscope!
Demo Day also provides inspiration with a variety of resources including the new Demo Insights resource, Demo: The Movie and a whole range of great online video resources at www.getsetdemo.org
BSW School Poster Competition
This year's theme is 'Science on your doorstep'. The school competition asks students to look around them and produce a poster about any aspect of science that happens in or around where they live. Open to any students from reception to Year 9. Deadline Friday 17 April.
Back to topLampeter leads the way to the Big Bang!
A group of pupils from Ysgol Bro Pedr in Lampeter are heading to Birmingham next month to take part in the Big Bang, the largest celebration of science and engineering for young people.
The pupils have been chosen as finalists at the finals of the National Science and Engineering competition. Four of the students worked as a team to try to solve a problem at the Felinfach factory of international dairy company Volac. They used their knowledge of chemistry to engineer a method of removing the build-up of calcium from production equipment. Other students won their places for individual 3D design projects.
Ysgol Bro Pedr is the only school to have more than one representative in the finals. Its students are among 15 entries from Wales who will be taking part in the Big Bang Fair at the NEC in Birmingham from 11 to 14 March.
Book your place at the Big Bang Fair here.
Faraday Challenge Days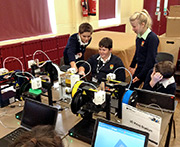 Run by a team of STEM professionals – your 12-13 year olds will research, design and make prototype solutions to tough engineering problems. Pupils from Ysgol Gyfun y Strade are among those from six schools across Wales who've been taking part in this year's Faraday Challenge. Sign up now here.
STEM Ambassadors connect at John Summers High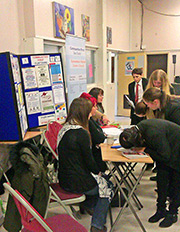 While the initiative to encourage STEM Ambassador visits to primary schools has been gaining a lot of momentum over the last three months. secondary school engagements remain high on the aims of the STEMNET programme. Accessing employment is a challenging prospect for many young people. One of the most important roles that STEM Ambassadors take is to introduce new professions and relevant skills to pupils.
At John Summers High School, Flintshire, STEM Ambassador Nigel Davies attended an 'Employability Skills' event on 29 January. Nigel is a Manager West Flintshire Connects, and kindly provided photos of the session.
The format of these events is informal – employers from different sectors talk to small groups of young people. It allows open questions and removes barriers of speaking in a classroom setting. The aim is for young people to build confidence and enquiry skills in order to make critical judgment on their career path and life journey.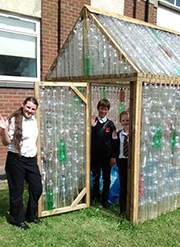 Stanwell School was awarded the last Green Flag award this month. This places the school in the top 20% of secondary schools in Wales to be recognised for the environmental awareness and commitment to make the school and local area a greener one. Congratulations to all pupils and staff supporting this initiative and in particular to the members of the Eco-Stanwell committee who have worked enthusiastically and with determination throughout the last two years.
Ysgol Coedcae Eco Club have made a bottle greenhouse and built a high-rise eco bug hotel.
Send your club's stories to enquiries@see-science.co.uk
STEM Family Challenge events in Anglesey schools
Can you build a rollercoaster from paper straws, card, wooden supports and a roll of masking tape? This was the challenge set to teams of year 8 and 9 students and their parents in a series of STEM Family Challenges in Anglesey secondary schools this academic year.
Developed by a partnership between the Engineering Development Trust (EDT), Reaching Wider, Llwyddo'n Lleol and Techniquest Glyndŵr (TQG), these two hour sessions aim to engage and inspire students together with their families in the STEM subjects, by focusing on how they fit in the 'real' world of work, and giving participants the opportunity to work in teams on a fun family 'hands-on' STEM activity.
Ysgol Gyfun Llangefni hosted the event on 27 January and following a presentation about STEM career opportunities on the 'Energy Island' of Anglesey, the student/parent teams were given the task of designing and constructing a rollercoaster for a marble to roll down. Prizes would be awarded for the best constructed the most innovative, and the best working models.
Everyone set to work with great enthusiasm, collaborating in their groups to design their rollercoaster, 'purchasing' construction materials from the 'shop', and building their model in the time given. The sense of competition and anticipation was intense as the groups put the finishing touches to their models and prepared to demonstrate the working of their rollercoaster!
As the prizes were awarded and the student participants received their certificates and information pack, all agreed that the session had been tremendous fun, and they had learned a great deal working together on this exciting STEM-based construction task.
Interested in arranging a similar event in your school? Contact Dawn Pavey at Techniquest Glyndŵr dawn@tqg.org.uk.