Welcome to the STEM Newsletter for Secondary Schools in Wales
Contents
There are larger versions of some (but not all) of the photos in this newsletter - click the small photo to view.
Find out more about what's happening, competitions, new educational resources, events, new rounds of grants and more…
Links to See Science teacher information pages

New events, competitions, grants and resources have just been added to our teacher information web pages. You can check them out by following these links:
Back to topWales teams move closer to 'F1 in Schools' World Finals in Abu Dhabi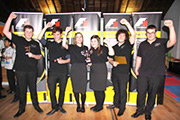 It was success for Team Unknown, from Pen Y Dre School, Merthyr Tydfil, in the  F1 in Schools South Wales Regional Final at the Maritime Museum Swansea. Team member Luke Allen said: "Today has been pretty intense, but we've loved every minute of it. We've learned the value of teamwork and it's been pretty awesome – we can't wait for the next stage at the National Finals. We're definitely looking to improve our presentation for that event and we'd like to win."
Bangor University's School of Education hosted the North Wales annual Regional Final. Transmission from Ysgol Glan Clwyd were runners up in the F1 Class. The team comprised of Laura Hughes, 16, Hannah Hughes 15, Matthew Jenkins, 17, Stanley Montgomery, 16, Josh Hills, 17.
Josh said after the event, "We're really happy with the result. It was quite unexpected but we're very pleased to be going through to the National Finals. We've come very close as a team over the last few months as we've been making the car and creating our team identity. We're now looking forward to the National Finals."
Back to topGopher Science Lab comes to Wales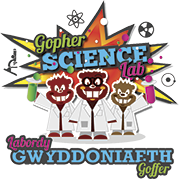 Research shows that most primary students enjoy science at school, yet very few aspire to become scientists and their interest in science often fades. The Gopher Science Lab will help change this. The Lab is a new transition phase initiative in Wales sponsored by the Welsh Government through the National Science Academy.
250 resources kits are being developed for use by secondary schools and their feeder primary schools. These kits contain seven easy-to-run thought provoking and exciting hands-on practical activities and three longer classroom activities for curriculum enhancement.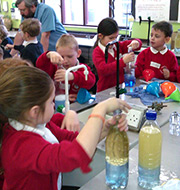 During the summer and autumn terms school clusters (minimum of three primary schools and one secondary school) will be able to apply for a FREE Gopher Science Lab or attend a CPD on the Gopher programme and familiarisation with the kits. All schools attending either the Gopher Science Lab or CPD will also be provided with a fully resourced kit FREE.
Secondary schools in the programme will then host Gopher Science Lab events by inviting their feeder primary schools to take part in exciting experiments in the lab where secondary pupils will engage the primary pupils with the activities.
As well as gaining valuable experience, the secondary pupils will make an important contribution to the day by passing on their enthusiasm to the younger children. This will help support transition.
The benefits will be felt well beyond the children who attend the lab sessions: the primary schools will be supplied with equipment to perform these experiments back in their classrooms.
To find out more email enquiries@see-science.co.uk.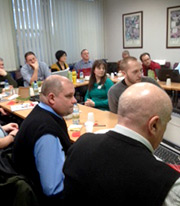 Teachers from secondary schools in Wales have been participating in twilight 'Easy Electronics' workshops in order to stimulate and interest in the subject at KS3 level.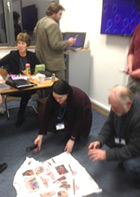 With the support of the National Science Academy, See Science has developed a CPD workshop for teachers, and resources worth £200 will be provided for each school at the workshop. The resources could be used for Club activities within school or as a project within the classroom. Gareth Ritter, Head of Performing Arts from Willows High School Cardiff, presented the workshop and provided an insight into how he has integrated 'Makey Makey'into lively music lessons. You can see more examples of his work here.
To help teachers gain an insight into industry, the workshops were held at locations where STEM Ambassadors provided support and links to the world of work.
After the workshops, schools will be encouraged to complete at least one project during the school term (with at least six pupils) and bring the project as well as the participating pupils to a celebration event during the following term.
After the celebration event teachers who want to embed Electronics within their school will be offered further training and resources. Teachers noted that the project was "very interesting and had unlimited uses".
Back to topToyota rallies the crowds!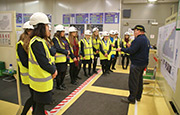 More than 700 students from schools across Wales and Cheshire visited the Rally of Wales Service Park at the Deeside.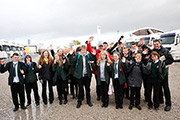 At the Rally, students had an exciting and memorable experience to inspire and motivate them to continue with the study of Science, Technology, Engineering and Maths (STEM). Companies and professional bodies taking part included: Toyota UK, Airbus, I.Mech.E. Bangor University, JCB, Techniquest, UPM, Institute of Physics, Boxford, HJ Motor Sports, DRB, and Glyndwr University, Engine Plant.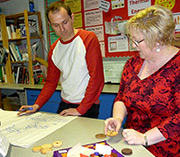 Science Enquiry is a Primary Science Teaching Trust project. It supports scientific enquiry and the transition between primary and secondary schools in Wales through improvement in learning by working in collaboration with secondary schools and their feeder primary schools. The cluster schools, St Cyres Comprehensive School, Cogan PS, Fairfield PS, Much Junior school, St. Andrew's Major C/W Primary School and Llandough Primary School, attended a Continuing Professional Development (CPD) course. The aim is to facilitate the integration of STEM across the curriculum and phases, improve knowledge and understanding of each other, aid the transition between year 6 and 7 and improve the confidence of (non-science specialist) Year 6 teachers.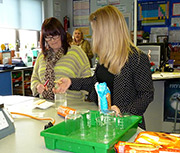 The first year is a pilot. Evaluations from the teachers will be used to develop and improve the project. A toolkit has been developed that can be used by both primary and secondary teachers to support teachers after the end of the project to ensure sustainability.
During the CPD, the teachers started to develop a transition phase programme by sharing, planning and exchanging good practice, relating the science curriculum to the real world context and the world of work.
Teachers from the clusters and STEM Ambassadors are planning classroom activities together with support from See Science. The STEM Ambassadors aim to excite young people about STEM, give teachers a unique perspective on how the STEM curriculum can be demonstrated in the world of work, encourage young people to consider STEM careers and qualifications and develop other employability skills including confidence, team-work, presentation and creativity.
The initiative will culminate in the pupils coming to a celebration day where they will present their individual projects. Find out more about the Primary Science Teaching Trust and how they can support teachers at www.pstt.org.uk.
Back to topStories from behind your mobile
Do you know which chemical elements are used in manufacturing your mobile phone? Have you any idea where these materials come from, and under what conditions they are mined or extracted from the Earth?
Students aged 14-19 and their teachers, from across Wales, have been investigating and discussing these issues in three ChangeMakers conferences held in Newport, Carmarthen and Bangor during February. These innovative events were jointly organised by; Oxfam, Christian Aid, Fair Trade Wales, CEWC (Council for Education in World Citizenship), Wales International Dimension in Education (WIDE) Network, the Centre for Alternative Technology and funded by the British Council (Wales).
During a keynote address by Bandi Mbubi, originally from the Democratic Republic of Congo, delegates learned that although mobile phones have improved communications for people in remote communities, some of the materials used (such as tantalum and tin) are mined in dangerous, hostile and unsustainable conditions.
The students were led through presentations and discussion groups, while their teachers and lecturers met together to explore issues involving ESDGC (Education for Sustainable Development and Global Citizenship), and to discuss ways in which numeracy, literacy and cross-curricular approaches could be developed back at their schools and colleges.
In the final session the students shared their action plans on how awareness could be raised in their own schools and colleges, perhaps in assemblies, quizzes, school links, and even through fundraising gigs!
'Fairphones' – smartphones whose mining and construction processes are 'conflict-free' – are already available in the UK. It is hoped the conference delegates will take the messages discussed back to their schools and colleges, and further afield, helping the next generation of engineers, scientists and others to seek sustainable solutions when developing new technologies.