Welcome to the STEM Newsletter for
Secondary Schools in Wales
To find out more about the STEM Ambassadors Programme join us on Monday 5 March at Ysgol Bryn Alun, where we are running a STEM Networking meeting. You will meet STEM Ambassadors from a range of locally-based businesses and industries and find out how STEM Ambassadors can support STEM clubs, national schemes, curriculum and careers.
National Science & Engineering Week is only a few weeks away from 9-18 March. Visit the British Science Association website (www.nsew.org.uk) to register your event, download activity packs and quizzes, order FREE promotional materials, enter competitions, win prizes and apply for an event award. STEM Ambassadors are available to support school events during NSEW. To find out more contact Sian Ashton at ambassadors@see-science.co.uk.
If you're looking to inspire pupils in mathematics this year, the Jaguar Cars Maths in Motion Challenge may be worth considering. It aims to help raise standards of achievement across an age range of 9-16 through showing students that maths is fun! Students involved in the challenge are eligible for the CREST Bronze Award. This means that provided you register your students with your CREST Local Coordinator, enquiries@see-science.co.uk, at the beginning of the project, and your students complete a CREST Bronze profile form throughout the challenge collating their worksheets and calculations, their hard work can be recognised with the CREST Awards.
Enter a team for this exciting project linked to the London 2012 Olympics; the launch date is Monday 27 February 2012. STEM Challenge 10 will form part of the much larger Cisco 'Out of the blocks Maths and Science Series 2012' project. More information about the project at www.mathsandscience2012.co.uk/.
And… if you're planning a project of any kind, and need an extra pair of hands and links with the real world, contact See Science and ask for a STEM Ambassador to come and help. Email ambassadors@see-science.co.uk or go to http://networking.stemnet.org.uk/ and click on 'REQUEST A STEM AMBASSADOR'. This on-line request system is now up and running…
Welsh Schools in pole position!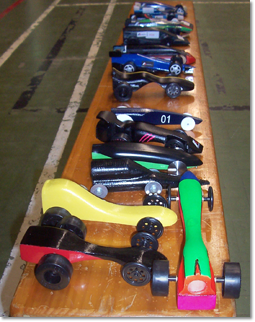 West and North Wales will be strongly represented at the UK finals of the F1 Challenge at the Big Bang in Birmingham, following the Wales regional finals in Swansea and Bangor. The winners in F1 and Bloodhound classes, and the Rookie Team go on to the Big Bang in March. Teams from schools in St. Davids, St Asaph, Bangor, Ammanford, Neath and Rhyl will be there in full force.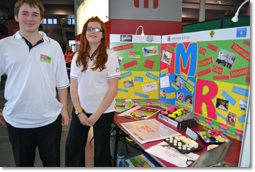 F1 winners in Swansea, Motion Racing, will also be flying the flag for Monmouth at the finals. Miles Isted s'Jacob, one of the founder members of the team at Ysgol Dewi Sant in Pembrokeshire, has since moved to Monmouth Comprehensive School. He's still part of the team and keeps in touch via internet links and social media. Not only was their car the fastest F1 challenger in Swansea, but the team also won the award for Innovative Thinking, for their work on the car's wheels.
Super-slick Team Fast Lane from Ysgol Friars in Bangor presented as all-round professionals, winning the F1 class in North Wales.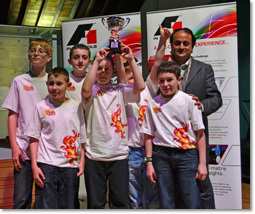 The Bloodhound class winners were Speedy Sixes from Ysgol Glan Clwyd and Team Burn from Amman Valley Comprehensive School. Team Burn also won the award for the Best Identity, with their in-school designed and printed logos, stand and marketing items.
Rookie team winners came from Cefn Saeson School in Neath and Rhyl High School.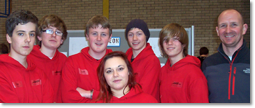 Teams really went all-out to impress this year on every level. The moustachioed Six Main Men from Connah's Quay High School deserve a special mention for their best team identity in North Wales, as does the Maelor School for combating technical problems to win the prize for perseverance in the face of adversity.
Other awards in Swansea were presented to Barry Comprehensive School (Tata Steel prize for the best use of CAD, and best engineered car), Lliswerry Comprehensive School (best marketing and sponsorship), and Pen Y Bryn Special School (perseverance in the face of adversity). The judges – including several STEM Ambassadors – said they were very impressed with the high standard of all the cars.
Swansea schools win technology award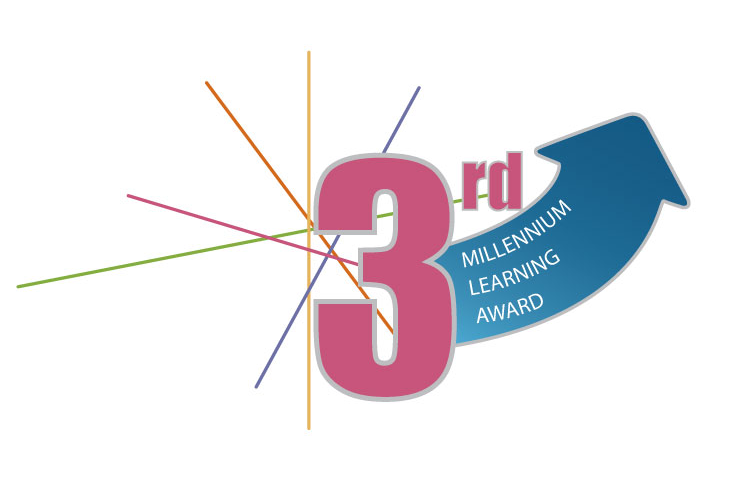 Gowerton Comprehensive has won the school a top UK award for harnessing technology to help boost learning.
Teachers are using cameras and computer technology to record cooking and science lessons live so that pupils can revisit them on their computers at home or even on their mobile phones.
The pioneering work has helped Gowerton become the first secondary school in Wales – and one of just 15 schools in the UK – to win a prestigious Third Millennium learning award. Casllwchwr Primary School in Swansea has also become the first Welsh primary school to receive the honour.
Gowerton Comprehensive Headteacher Peter Harrison said: "It is a delight to see how staff and pupils have embraced these tools and it has added a whole new dimension to lessons and home work".
A council spokeswoman said: "At Casllwchwr teachers and children are using iPods, iPads and Apple Macs in the classroom to enable pupils to do everything from reading and writing e-books to posting blogs and films they have made".
Head teacher Simon Pridham said: "We were delighted to win the award and are proud to be the first Welsh primary school to do so. We are only one of eight primary schools from across the entire UK to receive the accolade and have also been shortlisted for a UK primary school impact award."
They will find out if they have won in March. The Third Millennium award is presented by the National Association of Advisors for Computers in Education. For more details go to www.naace.co.uk/thirdmillenniumlearningaward.
Steel session for STEM students at Ysgol y Strade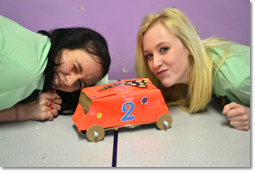 BTEC Students at Ysgol Gyfun y Strade tried their hands at car design as part of a project looking at the steel manufacturing industry.
Two members of staff from Tata Steel – both STEM Ambassadors, who give up their time to help inspire school students – ran a morning session looking at the materials which go into steel making, and how these are used to create products such as cans for processed food. They also challenged the students to make a model car, from oddments of card, paper, wood and metal, which had to carry weights of at least 300g.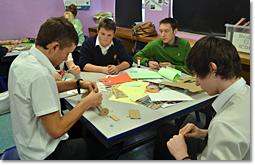 Nicola Bennett, packaging recycling communications manager, says she enjoys the positive reaction she gets from students: "In this case it was good to engage these youngsters for a whole morning, using our life experience as well as our industry experience".
Thomas Baynes, a quality technologist with Tata Steel in Port Talbot says he gets a real buzz out of being a STEM Ambassador: "I like the moment when you're with the students and they suddenly get things… understand them!"
Teacher Bethan Murphy says the project produced an amazing reaction from the students. She says it helps to have a visitor explaining the real world applications for subjects they study. Mrs. Murphy says the students will use the experience to help with their latest assignment, creating an information poster for a simulated community day at Tata Steel in Port Talbot.
Some of the students' designs were sturdy enough to take weights of 4kg, despite their flimsy appearance.
Royal Society Partnership Grants

Have you got an idea for a novel and dynamic project involving science or technology? Looking for ways in which to introduce your students to the real life world of scientists or engineers? Need some funding to help your ideas along? Why not try for a Royal Society Partnership Grant!
Twice a year the Royal Society offers grants of up to £3,000 to schools in the UK to enable students to work on a project in partnership with a real live scientist or engineer.
Schools in Wales which have been successful in recent years include Pencoed Comprehensive School, Bridgend; Ysgol Ardudwy, Harlech; St Julian's High School, Newport; Abersychan School, Pontypool and Monmouth School.
The grant can be used to purchase items of specialised equipment and materials which would not normally be available in schools, and so can help provide exciting enrichment opportunities outside the normal curriculum. At the same time it offers students (and teachers) a valuable insight into the work of the partner scientist/engineer, and can really help to raise aspirations amongst those involved.
The current round of funding will close on 24 February 2012, so you might just have time to get in an application. If not, why not use the time until the next application date to indulge in some wide ranging thinking? Is there a project idea you've always wanted to get off the ground? This could be your chance to see it happen! Check out the Royal Society's website to find out more information. http://royalsociety.org/education/partnership.
If you don't already have links with a relevant scientist or engineer, why not contact the STEM Ambassador programme managed by See Science? This is a brokerage service which may be able to match your request with an expert working in the field covered by your planned project. Follow this link to find out more. www.see-science.co.uk/stem-ambassadors.html.
Since 2000, the Royal Society Partnership Scheme has awarded over £1.1 million to 660 schools across the UK. Maybe your school could one of them in 2012!
Fun day at Cardiff University School of Computer Science & Informatics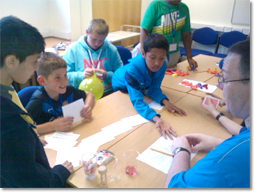 We started the day by putting a mixture of year 7 to 9 pupils from Fitzalan School in teams. The teams then played the XP Game which is used by developers in industry to learn skills of Agile Development. The teams had to estimate and plan a set of tasks to try and earn the most points. They then had only three minutes to carry out the tasks which involved sorting cards, blowing up balloons, making paper hats, throwing dice and doing sums. The pupils learnt team working, problem solving, planning and estimation skills whilst playing this team game.
In the lab the pupils were learning how to write in the programming language Python by moving a small robot around the maze on the screen in order to fire at the red target. The pupils were instructing the robot to move left, right, down or up, building up a sequence of moves to complete the task. The pupils were required to plan out the path of the robot and then provide the instructions. During the activities and over lunch the pupils from Fitzalan met current students from the school. In addition to programming the pupils were learning problem solving and planning skills during a fun day at Cardiff University School of Computer Science & Informatics.
Helen Phillips – Cardiff University & STEM Ambassador
Melissa Smith – Fitzalan School
Ffynone House School are Top of the Bench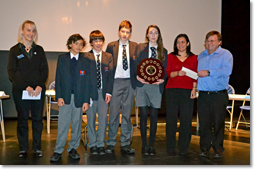 Congratulations to Ffynone House School from Swansea who took the title Top of the Bench at the Royal Society of Chemistry's South Wales West final – but it was a close-run event. The team from Dyffryn Taf School in Whitland were neck and neck with the Ffynone House quartet in the final, which ended all square. It took a tie-break anagram to find a winner. Ffynone House School now go on to represent the region in the UK finals of the competition.
Commiserations to the beaten finalists from Dyffryn Taf, who contributed to an exciting final. Both schools had won the trophy in previous years. Congratulations too, to the beaten semi finalists from Christ College Brecon and from Bishopston School in Swansea.
Pictured are the teams facing up for the final round, and the winning team, with teacher Hanan Khaleel and Dr Dayna Mason from the RSC.
How you can help us
You can help us by telling us about STEM activities you have organised and provide us with an insight into what the pupils gained from the experience by filling in our online feedback form. All feedback forms will be entered into a prize draw each term.
Activities
Grants/Bursaries/Awards
Teacher Awards
Competitions
Events
Think, Learn, Challenge training course
ESIS Conference Centre, 24 February
Our next training course is How to assess science enquiries; two lively, interactive days for Key Stages 2 and 3 teachers to develop skills in assessing science enquiries. More…
Smarter UK – free neuroscience workshops: 2-4 April, 30 April
Science Made Simple, working with Graphic Science and the Wellcome Trust are delighted to be able to offer free neuroscience workshops in South Wales. More…
Glamorgan Mathematics Revision Conferences: 2-5 April
More…
Enterprising Science
Apply now for this free Science, Maths and Enterprise two-part programme from BP. More…
Smarter UK – free neuroscience workshops: 1-4 May
Science Made Simple, working with Graphic Science and the Wellcome Trust are delighted to be able to offer free neuroscience workshops in South Wales. More…
Learning Skills for Science
The Waterton Technology Centre, Bridgend, 1 May and 26 June
The Quay Hotel, Deganwy, 3 May and 28 June
Free 2 day course, including teacher cover. More…
Enterprising Science
Apply now for this free Science, Maths and Enterprise two-part programme from BP. More…
NPL Water Rocket Challenge schools competition: 20 June, 1.30-4.30 pm
Aim for the sky in our annual Water Rocket Challenge, which sees hundreds of participants, from school teams to adults, battling it out to become champion. More… www.npl.co.uk/educate-explore/water-rocket-challenge/
Smarter UK – free neuroscience workshops: 6 July, 9-11 July, 16-20 July
Science Made Simple, working with Graphic Science and the Wellcome Trust are delighted to be able to offer free neuroscience workshops in South Wales. More…
Resources
Courses/CPD