STEM Newsletter for secondary schools in Wales
April 2016
The monthly e-newsletter that's an essential source of information and inspiration for teachers – and anyone with an interest in STEM (Science, Technology, Engineering and Maths) engagement – across Wales.
Contents
Ask a STEM Ambassador to visit your school
A STEM Ambassador's involvement can engage and enthuse both students and teachers. If you are interested in asking a STEM Ambassador to visit your school you can make your request here or contact See Science directly at ambassadors@see-science.co.uk.
Give us your Ambassador feedback
If an Ambassador has visited your school, or if you have met an Ambassador at an enrichment activity, we would be very grateful if you could fill in our teacher feedback form. Please encourage colleagues to respond.
Teacher information pages
Events, competitions, grants and resources are regularly added to our teacher information web pages. You can check them out by following these links:
STEM Opportunities for teachers and pupils
CREST Awards update

Registration for CREST Awards in Wales is FREE for Welsh pupils until March 2017.
Have your pupils taken part in any of the following: Small Piece Trust STEM Day, IET Faraday Challenge Days, Practical Action Challenges, BP Ultimate Challenge, The Bright Ideas Challenge, TALENT 2030, RSA Global experiment…? If so the pupils may be able to register for a Discovery or Bronze CREST Award at no cost. Contact crest@see-science.co.uk to find out more.
The British Science Association will be piloting the new Discovery CREST Award for KS3 pupils in Wales. If you would like your school to host one of the pilot challenge days contact Maria.Rossini@britishscienceassociation.org to find out more.
Apps for Good

Apps for Good is a linked scheme with CREST Awards; students will submit for CREST Bronze automatically through their apps for good forms.
Open to UK primary and secondary schools, FE colleges
Flexible course framework that can be delivered to students 10-18 within curriculum time, as a club or within timetabled enrichment
Any level of teacher experience or subject knowledge
Free for non-fee paying UK schools
More details here.
Polli:Nation

Polli:Nation is a UK-wide initiative supporting pupils from 260 schools turn their school grounds and other local walk-to spaces into pollinator-friendly habitats. Schools are encouraged to survey their patch using the new OPAL Polli:Nation survey (available April 2016), make improvements for pollinators on their patch and see how well it has worked using the OPAL survey.
This project is for both primary and secondary schools and has lots of potential for CREST Awards. Contact crest@see-science.co.uk.
Go Construct

Go Construct is an industry-wide initiative that aims to attract, inform and retain a talented workforce for the Construction and Built Environment sector. Register for resources and download construction challenges and enter your pupils for Bronze and Silver CREST Awards.
National Science + Engineering Competition

If your pupils have carried out a CREST Award you can enter their project for the National Science + Engineering Competition. This is open to all 11-18 year olds living in the UK and in full-time education. The deadline is Monday 31 October 2016.
Smallpeice Trust STEM Days
Introduce your students to the exciting world of engineering by booking an in-school Smallpeice Trust STEM Day for Years 6-11 – perfect for bringing science, technology, engineering and maths subjects to life. A Smallpeice educator will come to your school to hold a STEM Day workshop for up to 60 students. Depending on the course you've booked, the session will run for a full or half-day around normal school hours.
Pupils taking part can register for a Discovery CREST Award (FREE to Welsh students)
Most of the STEM Days are FREE thanks to sponsorship of our corporate partners.
Back to topSpring 2016 Science planner for teachers

As part of the Welsh Government science campaign Learning Wales has worked with science providers and organisations in Wales to produce a series of planners for each school term. The latest Spring 2016 Science planner for teachers includes information on resources, events and competitions.
Welsh Teacher of Physics Award
The IOP are seeking nominations for the 2016 award. Nomination papers here. Deadline for submissions is 13 May 2016.
People Like Me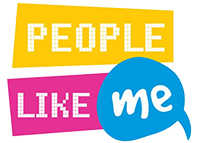 The People Like Me pack is a revolutionary approach to engaging girls with careers in Science, Technology, Engineering and Maths (STEM). People Like Me uses the natural tendency of girls to articulate their self-identity using adjectives, to show them that people like them are happy and successful working in careers in STEM.
This pack equips teachers and STEM Ambassadors with materials that can show girls from a diverse range of backgrounds that, if they continue with at least one STEM subject post-16, they are likely to have better prospects and more career choice. Ideal activity during National Women in Engineering Day on 23 June.
Science Enhancement Experience (SEE) – STEM Challenges
STEM Challenges are designed to facilitate learning, team working and encourage pupils' curiosity to find out how and why things work. By taking part in the challenges, pupils develop their problem solving, communication and innovation skills. All secondary pupils who complete a STEM Challenge can register for a Discovery CREST Award.
Science Enhancement Experience (SEE) resources have been produced thanks to generous support from the Welsh Government's National Science Academy. Secondary schools in Wales are able to book ONE STEM Challenge FREE. Places are limited so early booking is recommended.
There is a choice of three challenges for teachers to book:

Emergency Communication Challenge
Space Challenge
Marble Roller Coaster Challenge

Dates:

West Wales: 25-30 April
North East Wales: 27 June – 1 July
North West Wales: week beginning 11 July
To register interest email enquiries@see-science.co.uk.
Back to topSTEM Challenge Teacher CPD – FREE
STEM Challenge CPD is available FREE to schools in Wales with funding from Welsh Government National Science Academy. The CPD, delivered by See Science, will provide teachers with training on how to use the toolkit and run a suite of science challenges with KS3 pupils. Teachers will be linked with industrial partners to provide an insight into the real-world of work through the STEM Ambassadors programme.
Each teacher attending the CPD will receive a toolkit to tailor the delivery of the STEM challenges to their pupils. In addition, the toolkit contains information on setting up and running a STEM Club together with eight STEM Club fun and interactive activities. To book a place, email enquiries@see-science.co.uk.
The Vikings are partying too!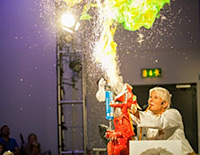 Join Scientific Sue on this most historical and creative journey of discovery. Sue's fire and icy fog breathing dragons are celebrating the hatching of their latest baby – but there is just one problem; this little dragon doesn't have any wings yet.
Available FREE to all primary and secondary (Year 7) schools in Wales in 2016 with funding from Welsh Government National Science Academy.
West Wales: June 20-24
North West Wales: July 4-8
To book, email See Science at enquiries@see-science.co.uk – schools will need to book for half day per show.
Tomorrow's Engineers EEP Robotics Challenge 2016/2017. For KS3 students. Teamwork, robots, design, research, fun and loads of LEGO® are all part of the mix, as are real-world challenges, teacher support and some great prizes. Selected schools get LEGO® MINDSTORMS® Education EV3 resources, regional teacher training, online support and tutorials and input form STEM Ambassadors and volunteers. Register an interest here. Closing date 4 July 2016.
International Images for Science Competition 2016. The Royal Photographic Society's (RPS) International Images for Science Competition 2016 asks entrants to take a visually appealing picture that tells a science story. The top 100 entries will be chosen by an expert panel and will be exhibited, first at the British Science Festival in Swansea in September 2016 and then across the UK. Free to enter, register here and upload your images to the web site. Closing date: 1 May 2016.
New Intermediate Biology Olympiad. The Royal Society of Biology new Intermediate Biology Olympiad is now open for teachers to register their students (Y12). The Intermediate Biology Olympiad will take place on Wednesday 22 June 2016.
Back to topCaerphilly students win Best Animation Film Award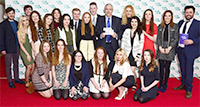 Pupils from Rhymney Comprehensive School have received a national award at the Into Film Awards 2016, which was held in London's Leicester Square Odeon Cinema – a red carpet event!
Students won the Best Animation (13 and over) award at the 2016 Into Film Awards with their film Flow.
"Winning this award feels like a real platform for the future. I've applied to study English and Media at university and I'll definitely do more filmmaking", said 17-year-old Carys Shepherd.
Mark Williams, a teacher at Rhymney Comprehensive School added, "We wanted our students to use this project as an opportunity to develop their skills and their confidence to apply to university. Making the film and winning the award has shown them that the world of film is open to you even if you come from a small town in South Wales."
The film is an abstract exploration of sensation and emotion through the use of poetry and associated images. Using animation, time-lapse, film and photography, 'Flow' is a collage of ideas from 13 writers. The pupils made the film in collaboration with the University of South Wales and Winding Snake Productions.
Welsh actor Michael Sheen, who was also on this year's judging panel, said: "It's been a real pleasure to be one of this year's judges for the Into Film Awards. The films are of such high quality and it's really exciting to see young people with so much talent receiving such fantastic support in their creative efforts. Everyone wins. A real success story all round. It's absolutely fantastic to see so much talent coming from Wales. I mean we know there's plenty of talent in Wales, but it's great to see it on display and being recognised."
The winners will be offered mentoring and professional support to help develop their involvement with the film industry.
Back to topEngineering Young Futures at Ysgol Glan-y-Môr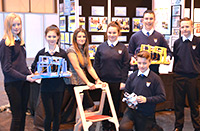 A small Carmarthenshire school has scooped two major STEM Awards at the NEC Big Bang Event. Burry Port's Ysgol Glan-y-Môr beat off strong competition from across the UK to win the Young Engineers School of the Year – and 14-year-old pupil Charlie Hall won the prestigious Broadcom Award.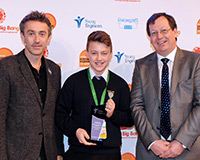 Charlie, whose ambition is to be a biometric engineer, will join two others in a Young Engineers Team GB which will visit Intel ISEF in Phoenix Arizona – a major STEM conference – in May. Charlie was also a member of the winning School of the Year team, who not only impressed the judges with the range of their STEM activities, but were also the youngest team to represent their school at the finals.
The awards this week are the culmination of 18 months' hard work which has seen the school reach the finals of five national STEM competitions; taking first place in three of them.
The STEM journey started back in spring 2015 when two of the school's entries for TeenTech reached the Award Finals at the Royal Society in London; the only school from Wales to be represented at the finals. A sensor guidance system for wheelchairs entry from the 'A Brains' Charlie Hall, Bradley Webb and Lewis Ellar, won the transport category. Then in December 2015 a team from the school won the Regional Lego League Competition and went on to represent South Wales at the British and Irish Finals at Loughborough University. For this competition the pupils had to use a combination of engineering and computer programming skills to build and program a robot to carry out a series of set tasks.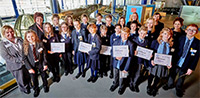 In March this year the school scooped two of the three team prizes for the Alu D&T Challenge. Jasmine Palmer, Rhiannon Sturgess-Jacob, Jasmine Peters and Jessie Leigh Craig, all aged 14, won the single person vehicle category with their design for a combination of recumbent bike and small car. Charlie Hall this time worked with Ben Harris and Rhys Rowlands, also all aged 14, to win the creative garden building category with their living leaf roof design. A third team from the school also took the runner-up prize in this category.
In addition to the school taking part in the Young Engineers School of the Year Competition at the NEC last week, two teams also reached the finals of the National Science and Engineering Competition which was also judged at the Big Bang Event.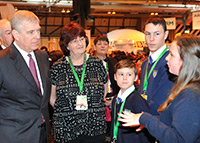 The achievements of the school has been recognised by both Huw Lewis, Minister for Education and Skills for Wales, who visited the school recently, and HRH The Duke of York, who met Ysgol Glan-y-Môr pupils at the TeenTech Awards last June, at Buckingham Palace in November and last week at the Big Bang event, where he was very enthusiastic and complementary about their achievements.
Winning these prestigious awards marks another huge step forward for Ysgol Glan-y-Môr; three years ago the school sat close to the bottom of the Welsh Government Banding table with just 30% of its pupils achieving five A* to C grades including English and Maths at G.C.S.E. Last year the school had doubled that figure to 60% and are targeting an even slightly higher figure for this summer.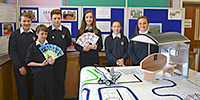 Head teacher Paul Jones said: "What Glan y Môr has achieved has been nothing short of extraordinary. The commitment and quality from both staff and pupils has been truly amazing. The school now sits at the very top in terms of STEM schools within the United Kingdom. The Governing Body along with the parents are incredibly proud our all our young learners. It is truly an exciting time to be part of the Glan y Môr Learning community"
The school proudly showed off all its awards and examples of its STEM work at the South Wales Big Bang (organised by EESW/STEM Cymru) at Swansea University.
Back to topSTEM Clubs Week 2016 winners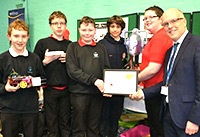 February's second annual STEM Clubs Week was a great success. The week is a celebration of all the amazing extra-curricular activity going on at schools across the country giving students a chance to engage with STEM in a relaxed and fun environment.
In the schools competition the prize for 'Best use of a STEM Ambassador in a STEM Club' was won by Ysgol Penweddig and Penglais Comprehensive School whose students take part in Aberystwyth Robotics Club (pictured) on a weekly basis. Between eight and ten STEM Ambassadors support the Club regularly, providing a variety of advice and support with their projects and to enthuse them about STEM careers and opportunities.
If you would like to engage with a STEM Club, then why not take a look on STEMNetworking at the STEM Ambassador requests featuring the word 'club'.
The BBC micro:bit is here!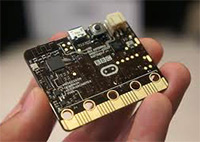 The long-awaited BBC Micro:bit has now started arriving at schools up and down the country. The micro:bit is a pocket-sized computer that can be coded, customised and controlled to bring digital ideas, games and apps to life. Measuring 4cm by 5cm and designed to be fun and easy to use, the micro:bit can create anything from games and animations to scrolling stories at school, at home and on the go – all that is needed is imagination and creativity!
Teachers of Computer Science in schools across the UK received their micro:bits in February and now Year 7 students and their equivalents (aged 11-12) will start receiving their very own individual micro:bits from 22 March.
The IET education team has been working in four main areas for this project:
All of these events aim to promote this coding device and encourage its use both in school and at home, as the students will be able to keep their coding device and take it home to carry on the learning with their parents. More details here.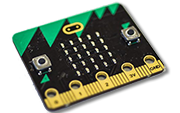 The BBC Micro:bit gives students a tangible, engaging and enjoyable experience to begin their coding journey. With a variety of programming languages available, from languages similar to Scratch (drag-and-drop) to Python, it provides a platform which is accessible for all but also allows students to explore a succession of coding techniques.
A Micro-meet is an informal and enjoyable gathering of those curious about teaching and learning using the BBC Micro:bit. Anyone can share great ideas they are thinking of trying or trialed in their classrooms, a teaching resource they love, a great website linked to the Micro:bit, a classroom activity – whatever you like!
During the Micro-Meet Technocamps will provide a teacher CPD training session which will introduce a wide variety of activities suitable to introducing students to their new BBC micro:bit, as well as providing resources to help support their coding journey.
You can come along to chat, listen, or meet new people. Or if you want to present you can sign up to do a 2-7 minute micro-presentation in a format of your choice. You do not have to present but please sign up and let us know if you are a willing talker or listener.
3 May 2016 5pm, Tea and coffee from 4.30pm
Cardiff School of Physics and Astronomy, The Parade, Cardiff CF24 3AA
Sign up at this eventbrite link.