Welcome to the STEM Newsletter for Secondary Schools in Wales
An essential source of information for teachers and anyone with an interest in STEM (Science, Technology, Engineering and Maths) engagement across Wales.
Read inspiring stories, discover new opportunities and find out how a STEM Ambassador's visit to your school can engage and enthuse both students and teachers. There are details of current events, competitions, grants, CPD, awards and more at our teacher information pages.
Contents
Give us your Ambassador feedback - and win a M&S Gift Hamper
We are delighted to announce that this month Hayley Evans from Alun School has won the M&S Gift.
We would be very grateful if you could fill in our teacher feedback form if an Ambassador has visited your school or you have met an Ambassador at an enrichment activity. Please encourage colleagues to respond. Each half term we will provide one teacher who has provided feedback with a M&S Gift Hamper.
STEM Club update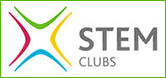 Ideas, activities and competitions that will bring practical and real-life contexts to your Science, Design and Technology, and Maths clubs:
You can request an Ambassador to visit your club here.
Teacher information pages
Events, competitions, grants and resources are regularly added to our teacher information web pages. You can check them out by following these links:
Science at the Senedd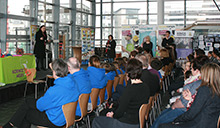 On Monday 16 March The Senedd was bustling with scientists and experiments as pupils demonstrated their knowledge of science at the launch of British Science Week (BSW) in Wales. Primary school children exhibited and explained some of their science work to AM Eluded Parrott, who sponsored and launched the event, told the children that they should never stop asking why, and added: "This is my favourite event of the year".
Pupils visited the interactive stands to try hands-on activities provided by Techniquest, Royal Society of Chemistry, Royal Society for the Protection of Birds, Code club, National Museums of Wales, Technocamps, Free Range Learning, Astro Cymru, ASE and the British Science Association.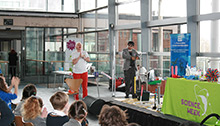 Some helped Susan McGrath, the presenter of Science2Life, with an interactive science show about rockets and forces by finding out which rockets flew the furthest and why.
This year's annual robotics competition winners are Sir Thomas Picton School, Pembrokeshire, who demonstrated their 'flying' robotic product of the future. The teams spent around five months preparing their robots before the competition and reached a standard that far surpassed our expectations. The students gave a fascinating talk about how they went about the competition and overcame the various challenges to gain success. You can find more about the competition and winners here.
The launch of British Science Week in Wales was arranged by the British Science Association through See Science. Many thanks to the pupils and staff from: Romilly Primary School, Rhws Primary School, Cadoxton Primary School, Barry Island Primary School, Ysgol Pencae, Ysgol Treganna, Gwaun Meisgyn Primary school, Sir Thomas Picton School, and Kings Monkton for making the launch such a special event.
"Can I just say thank you for organising a great day, they absolutely loved it and it was a brilliant way to launch British Science Week. When I asked the children to sum it up in one quote, they said that it was lovely just to do science all day, something they don't get to do very often." Trish Beer Rhws Primary School.
Back to topExciting free CPD – down on the farm!

Motivational, bilingual CPD days to engage your learners through dairy farming – Farm visits/experts from the industry – develop classroom activities focused on the LNF – improve your learners' literacy and numeracy skills – gain credits at Level 4 – Open up the world of www.foodafactoflife.org.uk. Delivered by TLC! under contract to DairyCo. To book or for further details please email heather@thinklearnchallenge.com or call 029 20865570.
CPD Days in Wales:
28 April: Down on the farm – What's cooking from the dairy? (one-day course) Foundation Phase teachers and trainees (YR2) – Bilingual from Gelli Aur College Farm, Coleg Sir Gar, Carmarthen.
1 May: Down on the farm – You are what you eat! (one-day course) KS2 teachers and trainees (Y3-6) – English medium from Pencoed Campus, Bridgend College.
Engineering, building wind turbines… and key skills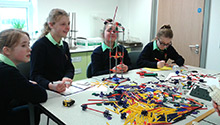 A Young Engineers challenge helped KS3 pupils in Llanelli develop some useful work skills last term. Pupils from Ysgol y Strade took part in a Wind Turbine project arranged by BaseWales, the new enterprise and employability service in West Wales.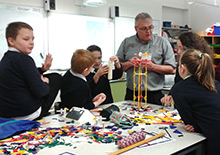 Teacher Hilary Cotterell said: "It was an excellent activity covering all aspects of STEM subjects. It was enjoyable, inspiring and topical and pupils were engaged, communicating, designing and problem-solving."
BaseWales director Liz James, who delivered the challenge on behalf of Young Engineers, says that thanks to sponsorship from Schaeffler UK Ltd they have been able to take activities devised by the Young Engineers charity, out to KS2 and KS3 pupils in Llanelli: "Enterprise and employability is not just about business education, it is about building transferable skills relevant and useful for the working world".
Back to topSolar eclipse at Ysgol Bro Gwaun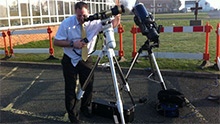 All 600 staff and students from Ysgol Bro Gwaun turned out to watch the partial solar eclipse at the end of the spring term. Head of Science Rob Woodman is a lead educator with the National Space Academy and arranged telescopes, solar glasses and pinhole cameras outside the school for everyone to get the most from the experience.
He also took a series of photos of the event. The sky was almost cloudless in Pembrokeshire for the duration of the eclipse.
No squashed tomatoes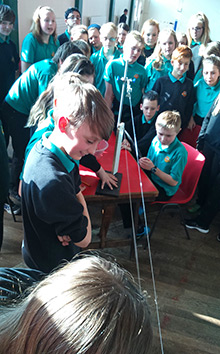 Year 7 pupils at Ysgol Bro Gwaun in Fishguard earned a CREST Discovery Award after taking part in a day-long STEM experience designing contraptions for transporting tomatoes.
The students were offered a choice of construction kit materials and recycled plastics, string and lab equipment to design their models. These were then tested to see which design could deliver the most tomatoes in the shortest time.
The winning team moved all the available tomatoes quicker than any of the others, by an innovative use of a roll of sticky tape. The day, which was held as part of National Science Week, was supported by sixth form pupils who helped with trials and testing of the models.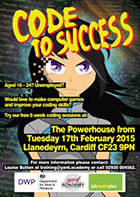 Yards Apart Community Learning Ltd are running a JCP funded programme, Code to Success, designed to give young people aged 16-24 who aren't employed or in school or training a taster in coding and computer game creation.
The two cohorts have been taught the basic logic behind coding and computer game creation. We have also worked on some of those tricky employability skills such as CVs, LinkedIn profiles and how to manage social media platforms for employability.
This exciting project has been based in Butetown and then in Llanederyn in Cardiff. The project has been a big success, with participants starting on work experience placements at IT companies, going on to interviews and with several moving into employment.
The participants have had the opportunity to learn about the digital industry and how they can help plug the massive skills gap in the digital industry within Wales.
Yards Apart Community Learning is building on the success of the coding clubs run in Corpus Christi High School in Cardiff and we are aiming to make these experiences available to everyone. To check out what the young people at Corpus Christi have done have a look at this video.
If you would like any more information please contact Louise Button, Regional Coordinator via email louise@yard.academy or call 02920 004562.
Relive Festival Fun in the GwyddonLe on the Maes!


Where else can you touch marine animals, test digital microscope, and create an ideal Eisteddfod field using Minecraft? Where else but the GwyddonLe!
The GwyddonLe on the Eisteddfod field offers a wide range of activities for children and young people to learn more about science, technology, engineering and mathematics. By testing different activities, you can learn about the exciting opportunities available in these subjects.
"The Senses" is the theme of this year's activities, and the many exhibitors that we have promised a feast for the eyes, the ears, nose, fingers, and mouth! There will be an opportunity to create your own 3D model using a 3D Printer … see how clean your hands are … visit Raspberry-Pi sensible … create colorful paint out of rocks and minerals … program a Raspberry Pi in Welsh … building out of Lego … and many more! As well as lots of activities to entertain, there will be a full schedule of events and presentations on the platform, and a chance to get a coffee and a break. Remember to call in!
Gwyddonle is sponsored by Swansea University.
Back to topThe annual Aberystwyth University Science Fair – British Science Week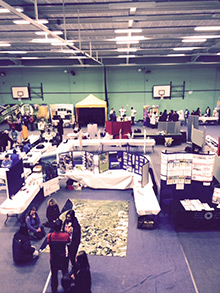 More than 1,400 school pupils from 25 schools in Ceredigion, Powys and Gwynedd enjoyed hands-on science exhibitions at the Aberystwyth University Science Fair which is organised by the University's Centre for Widening Participation and Social Inclusion (CWPSI).
Attendees had the chance to take part in demonstrations and activities, including hands-on encounters with animals, understanding volcanoes and earthquakes, meet robots and a host of other exciting student led stands.
Roger Morel, Science Project Officer said: "The Science Fair is about showing the excellent scientific work that is being done at Aberystwyth University and the surrounding area. Its purpose is to widen the knowledge of science among school pupils and the general public, inspire them and show them how important it is in all our lives."
Debra Croft, CWPSI Manager, said: "We could not do this without the enthusiasm, professionalism and knowledge of the Institutes and Departments – both staff and students. The transferrable skills learnt and deployed by our students, with this demanding audience of young people, are breath-taking and innovative."