Welcome to the STEM Newsletter for Secondary Schools in Wales
Contents
There are larger versions of the photos in this newsletter - click the small photo to view.
Find out more about what's happening, competitions, new educational resources, events, new rounds of grants and more…
Links to See Science teacher information pages

New events, competitions, grants and resources have just been added to our teacher information web pages. You can check them out by following these links:
Gopher Science Lab comes to Wales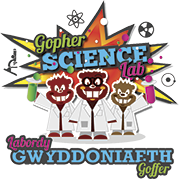 Research shows that most primary students enjoy science at school, yet very few aspire to become scientists and their interest in science often fades. The Gopher Science Lab will help change this. The Lab is a new transition phase initiative in Wales sponsored by the Welsh Government through the National Science Academy.
250 resources kits are being developed for use by secondary schools and their feeder primary schools. These kits contain seven easy-to-run thought provoking and exciting hands-on practical activities and three longer classroom activities for curriculum enhancement.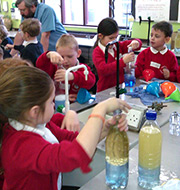 During the summer and autumn terms school clusters (minimum of three primary schools and one secondary school) will be able to apply for a FREE Gopher Science Lab or attend a CPD on the Gopher programme and familiarisation with the kits. All schools attending either the Gopher Science Lab or CPD will also be provided with a fully resourced kit FREE.
Secondary schools in the programme will then host Gopher Science Lab events by inviting their feeder primary schools to take part in exciting experiments in the lab where secondary pupils will engage the primary pupils with the activities.
As well as gaining valuable experience, the secondary pupils will make an important contribution to the day by passing on their enthusiasm to the younger children. This will help support transition.
The benefits will be felt well beyond the children who attend the lab sessions: the primary schools will be supplied with equipment to perform these experiments back in their classrooms.
To find out more email enquiries@see-science.co.uk.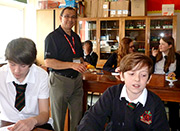 Pupils from Oakdale Comprehensive School and their feeder primary schools found out from local organisations and industries about how chemistry is used in their work. The pupils met staff from the RSPB, SDC Technologies, South Wales Fire & Rescue and Ark Pharmaceutical Consulting Ltd.
The aim of Chemistry at Work is to show young people the roles that chemistry and the chemical sciences play in their everyday lives. By doing this, we hope to highlight the positive aspects of chemistry as a rewarding and wealth-creating activity which is central to our way of life. The events help students understand the importance of chemistry to society, and perhaps encourage them to consider chemistry as a career or as a subject worth studying further.
Dr Mo Misra, Project Consultant SDC Technologies, commented that it was: "An excellent and rewarding day at Oakdale. Great to see the enthusiasm from the year 6 and 7 kids as they saw how Chemistry affected and interacted with their lives every day. I hope that some of them will be inspired to take on chemistry and improve our lives in the future!"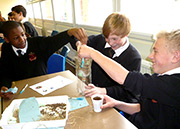 Tim Wort, RSPB's Swyddog Ieuenctid ac Addysg / Youth and Education Officer, said: "RSPB Cymru had a great day at Oakdale Comprehensive School explaining the chemistry behind the reed beds at the local RSPB reserve at Newport. We challenged the pupils to have a go at our water purification experiment – with some great results! We were impressed by all the students and their approach to our scientific experiment – a real credit to their schools. It was really great being part of the day and part of National Science and Engineering Week!"
If your school is interested in running a Chemistry at Work Day, please contact us at enquiries@see-science.co.uk.
Back to topCelebrating Success at Dyffryn Taf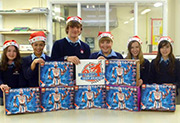 Dyffryn Taf School in Whitland is one of just twenty five schools in the UK chosen to receive £3,000 worth of Hi-Tec LEGO® MINDSTORMS® Education EV3 STEM (science, technology, engineering and maths) as part of a pilot for the Elite Engineering Programme (EEP).
Dyffryn Taf was selected as one of the winning schools after their 60 second stop motion animation movie received over 9,000 views on YouTube. A group of talented girls in Year 9 made the movie, which is entitled 'Celebrating Success at Dyffryn Taf' and features two LEGO characters taking a whirlwind tour of the school.
Deputy Headteacher Mark Ford said: "We have a great deal of talent at Dyffryn Taf and this competition provided us with an opportunity to celebrate it". The staff and students would like to thank all their supporters who helped them win the competition by viewing their movie on YouTube and leaving such positive comments.
Photo: the team that made the movie with their £3,000 worth of LEGO® MINDSTORMS®
Back to topWelcoming the springtime at Ysgol Botwnnog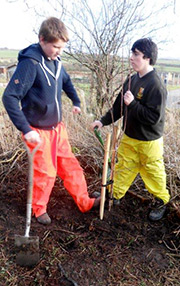 Spring has sprung across Wales, and at Ysgol Botwnnog on the Llŷn Peninsula the school's Garden Club is preparing for the new season by germinating seeds and clearing raised beds for this season's crops. The lunchtime club has recently been successful in getting a grant from the Edina Trust, which they have used to buy young trees, tools and seeds.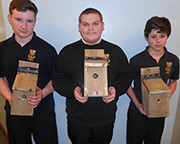 Evergreen trees have recently been cleared from the area, and a range of saplings planted along a fence to provide more shelter for the garden. Wildlife is being encouraged by maintaining a pond, and new nest boxes and feeders are being set up to attract more birds.
Geraint Hughes, Deputy Head at the school and leader of the Garden Club, is keen to foster an interest amongst KS3 pupils. He hopes that this will encourage more pupils to further their studies at KS4, as the school offers a BTEC qualification incorporating agricultural skills. Not many schools can boast a farm on site, but Ysgol Botwnnog pupils can gain first-hand experience of farming as the school has its own small flock of sheep!
Back to topDiscovering the EcoSciences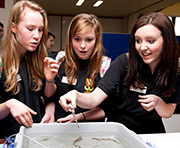 For the fifth year running, year 10 pupils from schools across North Wales took part in EcoScience Discovery Days at Bangor University. Starting with an informative presentation by Professor Chris Freeman on 'The Peat Bog Timebomb', followed by an illustrated talk on 'Marvellous Microbes' by Dr James McDonald, the students then spent time taking an active part in a wide range of hands-on laboratory experiments.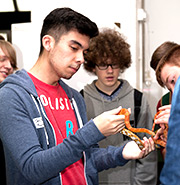 Devised by the College of Natural Sciences together with the College of Physical and Applied Sciences, the activities focused on the very relevant topic of sustainability and other environmental issues in science. These ranged from a demonstration showing how wetlands can be used to filter and treat sewage, to using a hand-held heat sensor to evaluate the insulating properties of different biocomposite materials, insights into zoology and biomedical sciences, and even an investigation on how long it would take larder beetles to completely decompose a dead mouse! The days concluded with a treat for all the senses – an exciting 'Flash Bang' chemistry demonstration by Dr Lorrie Murphy from Bangor University's Chemistry Department.
The EcoScience Discovery Days, which form part of the Bangor Science Festival (now in its fourth year), were attended by over 260 pupils and coincided with the UK-wide National Science and Engineering Week, showcasing the latest in Science, Technology and Engineering.
Photos: © 2014 Mary Davies Photography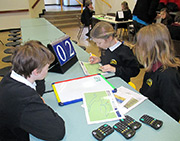 Can we predict whether a striker will score a penalty from video footage and statistics of previous attempts? How accurately can we work out the distance travelled by a rally driver on a stage of the Wales Rally GB?
Key Stage 3 pupils have been working together on these and other challenges during the 'We are the Champions' workshop, developed and delivered by Techniquest Glyndŵr, and available to schools across North Wales now. Funded by the Welsh Government's Numeracy Employer Engagement Programme, the workshops are one aspect of a wide-ranging project to bring the world of numeracy to life, showing learners the links between the classroom and the working world, developing their numeracy skills and providing them with greater confidence with numbers.
Across the programme as a whole, Techniquest Glyndŵr are offering schools in North Wales a wide range of FREE services, activities and resources, including a touring show, links to employers, CPD for teachers, and numeracy resources. There are also online videos featuring the programme's employer partners as they open their doors to highlight the numeracy skills involved in their work.
Other free workshops for schools include Animal Planet for KS3 (using numeracy skills to create the perfect home for animals) and TechniFest (suitable for KS3 and 4, a fast-paced musical workshop developing skills in data-handling and teamwork, while finding out how numeracy is important in the music industry).
These free services are being offered on a first come first served basis, with a great response from schools who have received activities to date. "Teamwork, thinking skills, communication, practical 'hands-on' numeracy and problem solving. No improvements, it was great! I am looking forward to the next day. Thank you." Alison Milton – Ysgol Uwchradd Tywyn
For further information and details on how your school can become involved in the programme contact Techniquest Glyndŵr: info@tqg.org.uk or 01978 293400.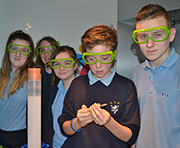 There's been brilliant feedback from the Lab in a Lorry tour in Wales, which has already visited a dozen schools and reached nearly two and a half thousand KS3 pupils.
Teachers say it has been an excellent opportunity for pupils to use equipment not generally available, and to meet all the enthusiastic volunteers who have helped to run the sessions. One teacher commented on how useful it was to have women volunteers, acting as role models for the girls!
Pupils have described the experience as excellent, brilliant, and really interesting. One student said: "Science is boring – but this was great!" and another commented: "I would have paid to do that".
The mobile physics laboratory offers pupils the chance to explore aspects of science through a range of hands-on experiments, including investigating light scattering, resonance and medical optoelectronics.
Pictured are a group of pupils from Sir Thomas Picton School in Pembrokeshire exploring light scattering.
Back to topCelebrating science skills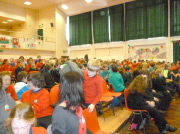 About 150 pupils from Ysgol Bro Gwaun and feeder primary schools joined together in a day of science celebration. The pupils had been working on group projects at their individual schools and came together at Ysgol Bro Gwaun to display their work and share their experiences.
The different ways in which the pupils chose to do their presentations – and explain the science involved – were as varied as the projects themselves. There was video, animation, human bar charts, photographs, competitions and even a rap – complete with drums. Pupils had explored topics such as how best to dry clothes, electrical circuits and their uses, electronics and automation, solar panels and nuclear power.
The activities were all part of a Primary Science Teaching Trust project which aims to support scientific enquiry and the transition between primary and secondary schools. The project was organised by the STEMNET contractors for Wales, See Science/Gweld Gwyddoniaeth. Teachers from the Bro Gwaun family of primary schools were invited to attend a two-day CPD (continuing professional development) course with teachers from Ysgol Bro Gwaun in December, and were given a toolkit and support from a STEM Ambassador to see the project through. Ysgol Bro Gwaun was chosen to pilot the scheme because of the close working relationship between the secondary school and the primary teachers. Evaluations from the teachers will be used to develop and improve the project.
Back to topOffering advice on careers in STEM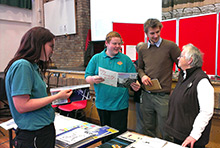 Several STEM Ambassadors took part in a careers fair held at Ysgol Bro Gwaun, Fishguard in the spring term. People with experience in a range of careers offered advice to students at various stages in their school careers. Some were choosing post 16 courses, others looking at what courses they might pursue at university in future.
Some students had come looking for ideas of what careers they might aim for, others were looking for help in deciding which precise route to pursue.
Photo: students discussing some career options with STEM Ambassadors Robbie Rickman and Fran Barker
TeenTech Cymru supports science and technology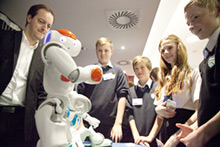 TeenTech runs lively one-day events to help young teenagers see the wide range of career possibilities in Science, Engineering and Technology. We are an award winning, industry-led initiative, founded in 2008 by Maggie Philbin and Chris Dodson to help the 'X Factor' generation understand their true potential and the real opportunities available in the contemporary STEM workplace. In 2010 TeenTech won the Best Engineering Event in Science and Engineering Week award and in 2011 was the only UK organisation to receive a Google RISE award.
We are pleased to announce TeenTech will be holding several events in Wales this year, with the support of the Welsh Government, Airbus and working in conjunction with local businesses and organisations including: Technocamps, Glyndwr University, Techniquest, Swansea University, Aberystwyth University, Bangor University and the University of Glamorgan.
14 May at Liberty Stadium Swansea
21 May at Glyndwr University Wrexham
Email Anna@teentechevent.com for further details.
We are also proud to be working in conjunction with Digital Wales 2014 on 9 and 10 June. We are asking young people across Wales to attend the conference and have their say on the digital skills they need for the modern workplace. Find out more at business.wales.gov.uk/digital2014.