Welcome to the STEM Newsletter for
Secondary Schools in Wales
Find out more about what's happening, competitions, new educational resources, events, new rounds of grants and more…
If you're planning a project of any kind or an event at your school and need speakers, workshops, links with the real world, or an extra pair of hands, contact See Science and request for a STEM Ambassador to come and help. The STEM Ambassadors Programme is FREE to schools. Email ambassadors@see-science.co.uk or go to http://networking.stemnet.org.uk and click on 'REQUEST A STEM AMBASSADOR'.
Don't forget to fill in our teacher feedback form if a STEM Ambassador has visited your school.
Are you looking to inspire your students about science, technology, engineering and maths? Then look no further than The Big Bang Near Me… to check out what's happening in Wales on 3 July at the University of Glamorgan.
There are larger versions of some (but not all) of the photos in this newsletter - click the small photo to view.
Welsh student reaches final of British Biology Olympiad 2013

4,200 students took part in the first round of the British Biology Olympiad in January. The 155 students with the highest scores were invited to take part in the more demanding second round, a fantastic achievement which reflects the depth and breadth of their biological knowledge.
As a result, sixteen students have been selected to compete for one of the four places in the UK team which will travel to the International Biology Olympiad in Switzerland this summer. They will undergo demanding tests of their practical skills at the University of Reading next month. The finalists include Samantha Chan from Cardiff Sixth Form College; congratulation and good luck in the final!
The finals will take place at the University of Reading next month. Well done to the students for reaching the final of this year's British Biology Olympiad and a huge thank you to all other students who contributed to this year's record number of participants. The Society of Biology and the UKBC volunteers were both delighted and impressed with the number of students who competed and the high standard of academic ability demonstrated by these students.
Back to topCREST recognises outstanding schools and teachers

If you registered 20 CREST Awards or more for your students during the 2011/2012 academic year, you should have received a teacher certificate in early January. School certificates were sent to head teachers, and in the accompanying letter we named all teachers at the school who had supported students with their CREST project work. We also gave head teachers the opportunity to put the CREST participation logo on their school website, which a number of schools have taken up! We hope this new development enables you to share your CREST success and achievements with the other STEM departments in your school, and even the whole school community.
The CREST school participation certificate was sent to over 300 schools across the UK and from those schools we recognised nearly 300 CREST teachers. This highlighted that fact that in most schools doing CREST, there is usually just one teacher supporting students with their projects! We hope this new development encourages other teachers to consider doing CREST alongside their STEM colleagues. A number of CREST teachers were really pleased to receive their own CREST certificate and will use it as partial evidence for CPD.
Congratulations to all the Welsh schools who received recognition of the CREST projects undertaken.
Back to top Links to See Science information pages
Because there are now so many STEM stories in the monthly newsletter it's no longer possible to include abbreviated lists of activities, resources, competitions, grants, cpd opportunities and events in the body of the newsletter.
New items are continually being added to these web pages – check them out by following these links:
Back to topThe Future's Green – STEM in Energy Event at Bangor University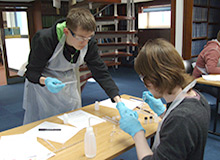 Year 12 students of STEM subjects across North West Wales had the opportunity to take part in Careers Wales' STEM in Energy event at the School of Electrical Engineering, Bangor University on 21 March.
Three practical workshops were on offer in the morning: Institute of Physics (IOP) 'So what's all the fuss about the Higgs Bosun?'; Royal Society of Chemistry (RSC) 'Spectroscopy in a Suitcase'; and a robotics workshop by Techniquest Glyndwr.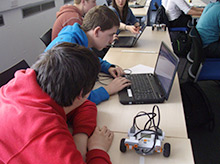 During the afternoon session, groups of the students met up with employers from the Green Energy sector, including First Hydro, National Grid, Horizon and the National Skills Academy for Nuclear (NSAN), enabling them to find out about the opportunities available, and skills needed, for future employment. Other contributors to this session included Coleg Menai, Technocamps, Bangor University School of Ocean Sciences, IOP and RSC.
Later in the afternoon there was an open invitation for pupils from years 7 to 13 to come with parents/guardians to meet the employers and other contributors and to find out more about opportunities within the local Green Energy sector.
In all, sixth formers from five schools took part in this most informative and worthwhile day: Ysgol John Bright, Ysgol David Hughes, Ysgol Dyffryn Nantlle, Ysgol Dyffryn Ogwen and Ysgol Emrys ap Iwan.
Back to topSusan speaks their language!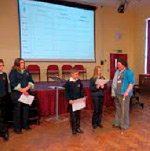 Ambassador Susan Jones visited Ysgol Y Strade in Llanelli as part of the project 'STEM and Languages in Business and Industry'. Susan is pictured in her highly engaging and motivational workshop, which was deemed a great success by all who attended.
Susan's professional expertise in engineering has enabled her to follow a career path which encompassed non-technical roles and business support in Tata Steel. She is also fluent in both French and Welsh, and gave the pupils an opportunity to meet a true 'polymath'!
A sample of the pupils' feedback:
"Now I can name a number of STEM careers that would benefit from understanding another language."

100% agreed

"Now, I can see how what I learn in school can help me with my career in the future."

94% agreed

"Did you enjoy the session?"

100% said Yes!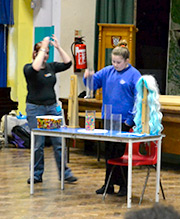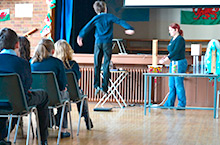 KS3 pupils in West Wales have been considering where their maths knowledge could take them after a visit from Science Made Simple.
The Maths Apps presentation illustrated how mathematics is used across a range of jobs from hairdressing to medical physics, sports science and computer gaming. Presenter Ezzy Pearson involved students in demonstrations as she explored the value of using estimation, graphs, mathematical modelling and probability, using mental arithmetic along the way.
The visits were sponsored by the Welsh Government through the National Science Academy.
Photos: A student at Ysgol Dyffryn Taf leaps from a pressure plate to help demonstrate the value of graphs
A student from The Greenhill School helps with a demonstration about estimating volumes.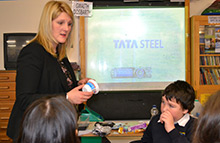 STEM Ambassador Nicola Bennett has been helping Carmarthenshire teenagers get to grips with recycling. She's been visiting schools with a workshop about packaging, which focuses on what can – and can't – be recycled in the county.
The pupils are asked to consider the purpose of different types of packaging, and to think about the various materials used to protect and preserve food and other everyday items. They also learn about the properties of various materials, and how they are recycled.
Photo: Nicola, from Tata Steel, emphasises the importance of rinsing items before putting them out for recycling.
Back to topStudents help save special squirrels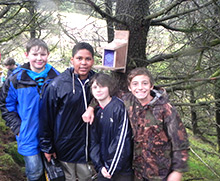 School pupils in Carmarthenshire are helping to protect a small population of red squirrels near their school. The pupils from Amman Valley Comprehensive School have been carrying out research work, and helping improve habitat for the squirrels, which were discovered in private woodland several years ago.
DNA analysis has shown that these squirrels are descended from the original UK red squirrel, unlike some others in the UK which have interbred with the introduced European red squirrel. Carmarthenshire red squirrels have blonde tails unlike red squirrels found in England and Scotland, which have developed the red tail typical of the European species. Teacher Dr Gareth Holmes says the squirrels are thought to have survived in this particular conifer plantation because of the way felling is carried out there, to leave the canopy intact.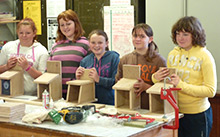 The Amman Valley students have been working in support of an existing project run by Dr Jenny MacPherson, of the Vincent Wildlife Trust, and Huw Denman, the forest manager. Year 8 pupils made squirrel feeders and nest boxes during their summer activity week. Older pupils raised money in school to buy Lodgepole Pine and Norway Spruce, and have been planting the trees to improve the mix of conifer in the woodland, and improve food supply for the squirrels. Sixth formers are also helping with research into the population size and genetic make-up of the squirrels.
Plans are underway for the students to raise awareness of the plight of red squirrels, and it's hoped to install a camera in the nest boxes to aid further research.
Dr. Holmes says it's a valuable project through which students have gained a variety of skills and practical experience.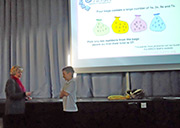 What use is maths? That was the question posed by STEM Ambassador Helen Hughes to pupils at Ysgol Dewi Sant in St Davids recently. She asked Year 7 and Year 8 pupils to think about whether people they knew would have to use maths, and if so how. Many of the students came to the conclusion that everyone needs maths at some level in order to live their lives. The pupils and their teachers were also challenge to work out the maths in a card trick.
Back to topMaths Olympian…in Year 8!
A Year 8 pupil from Ysgol Dyffryn Taf in Whitland is off to Trinity College, Cambridge at Easter, to train for the Maths Olympics!
Harvey Yau from Whitland is an exceptional student and is already studying for his Maths A Level. Dyffryn Taf's Head Of Maths Steve Earles says Harvey has attracted the attention of Professor Peter Neumann, Emeritus Professor at Queens College Oxford, who is helping develop his talent, and Harvey will be taking his A level maths exams this summer.
Harvey has already undertaken some training with the British team for the Maths Olympiad, and is one of just 20 students from across the UK selected to take part in the Easter Camp at Cambridge. He hopes to be selected to take part in the International Mathematical Olympiad, which this year takes place in Santa Marta, Columbia in July.
Back to topArkwright Engineering Scholarships inspire Year 11 students into careers in engineering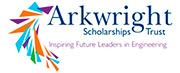 Man of few words, Matthew. Quietly confident. Knowing he was keen to get into engineering when he leaves school, Matthew's mum found out about the Arkwright Engineering Scholarship – thought it might give him a chance to get some good industry experience and place him ahead of the game when applying for university (good idea, mum).
The Arkwright Engineering Scholarship is one of the most prestigious scholarship schemes in the UK, inspiring future leaders in engineering and related areas of design. The Scholarships support students through their A Levels and encourages them to pursue engineering or related areas of design at university or through a high-quality apprenticeship. Interestingly, of the 1200-or-so applications from across the UK this year, only 31 came from Wales.
The selection process is rigorous: application in October of Yr11, aptitude paper and interview with problem-solving activities throughout Spring. Successful applicants and their schools receive substantial financial rewards to support them through the two year scholarship. Scholars have access to mentoring and advice from past Arkwright Scholars, other professional engineers and Arkwright's Liaison Officers; added to this are opportunities to engage with enrichment activities including industry experience days and links with a sponsoring organisation. Scholars are eligible then to apply for an Undergraduate Scholarship which supports a select group through university.
Matthew couldn't apply for the Scholarship without his teacher – at The Maelor School in Wrexham – affiliating for free to the scheme. Once done, a representative from the Arkwright Scholarships Trust can visit the school to tell the candidate and teachers more about what is involved.
"Fair dos to him, he did all the work himself" said Acting Head of Technology Paul Jones at the Maelor School. "He got us to affiliate and now we can put more students through the application process in the future."
At the time of meeting him, Matthew had completed the two-hour aptitude paper and was waiting to hear if he had passed. "I will" he said. "No problem".
He did. He now faces a tough 20 minute interview at Lancaster University which will decide if he will be offered a Scholarship and matches to a Sponsoring Organisation. Good luck to you, sir. And very good idea, Mum.
Rhys Palfrey from St. Cyres Comprehensive School, Penarth was awarded an Arkwright Engineering Scholarship in 2011. Rhys says "At school I enjoy the freedom in Technology classes to model and create my own piece of work – to be rewarded for this interest with an Arkwright Engineering Scholarship is fantastic".
More information about the Arkwright Scholarship at www.arkwright.org.uk, or contact Emma Golbourn: egolbourn@arkwright.org.uk or 01926 333210.
Back to topRobotics Club with Lego Mindstorms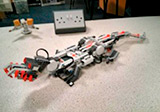 We're delighted that Technocamps will be lending Y Pant a full Lego Mindstorm robotics kit for their upcoming competition! The club to develop a robot for the competition will run on Mondays after school and will be open to anyone in years 7, 8 and 9. The aim of the competition is to create a robot that can do something to help people.
The competition can be developed using any device and the Lego kit is just one. We have Raspberry Pi computers in school too and will be looking into Arduino devices as well. The school can enter different teams into the competition but to make sure we have nice balanced teams – every team MUST have at least one girl and one boy. The first session was after school on Monday 18 March.
Back to topYoung Scientists become world record breakers!
It's not every day that you get the chance to be a world record breaker, so when the Science department at Howells School got the call it was all hands to the pump to get ourselves and the students into the Guinness Book of World Records. The Girls Day School Trust (GDST) was 140 years old in 2012 and to celebrate they invited schools within the trust to pull together to break the world record for the greatest number of students taking part in the same practical science lesson in a multi-venue event.
The same lesson took place in 26 different venues across the UK on 13 November 2012 starting at precisely 11am and finishing an hour later, all under the close scrutiny of clipboard wielding official adjudicators. 2,215 student investigators from year 7 and Year 6 yet were not the least daunted by their task; they were asked to measure acceleration due to gravity 'g' using two techniques armed only with a yo-yo, a bean bag, a ruler and a stop watch.
It wasn't long before the intrepid scientists at Howells were carefully measuring the period of oscillations of a simple pendulum by using the yo-yo. Laptops with spreadsheets were used to process data but the students savoured an early taste of some tricky A-level physics! The laptops enabled them to scrutinise their data, identify anomalies and hone their technique. The students also timed the dropping of bean bags over a known height and fed this data into their laptops.
The young investigators displayed a scientific maturity beyond their years to arrive at an admittedly fair spread of results for 'g' but with an encouraging degree of accuracy on the whole. I'd like to thank Ceri and Allessio for coming to Howells to help us adjudicate; we all really enjoyed the day and in January received official confirmation that the even has been validated as an official Guinness World Records.
Back to topIET Faraday Challenge Days – Welsh schools in top 5

Delivered in 45 schools free of charge by the IET, the Faraday Challenge Days are one-day STEM activities designed for six teams of six students aged 12-13 years. There are an additional 12 extra dates held at IET Academic Partner universities across the UK.
IET Faraday Challenge Days give students the opportunity to research, design and make prototype solutions to genuinely tough engineering problems. At each event teams compete to win a prize for themselves and a trophy for their school. The event is set up and run by our team of STEM professionals to give you the time to focus on your students. It is an unbeatable opportunity to switch your students on to the subject you love.
Congratulations to pupils from Chepstow Comprehensive School and Ysgol Bro Pedr who are currently in 4th and 5th place.
In the summer term of each year the IET launches the application round for UK schools to host a Faraday Challenge Day in the following academic year. The application round is usually open for approximately 4 weeks. The next opportunity to apply to host a Faraday Challenge Day will be in the summer term of 2013.
More…http://faraday.theiet.org/stem-activity-days/faraday-challenge-days/index.cfm
Back to topThe answer is – do it all at once!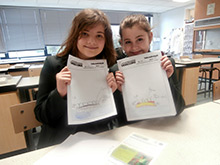 I don't know if you've noticed, but there seems to be a lot to do for this STEM enrichment business! Clubs, crest awards, competitions, cross curricular work, careers links – the possibilities are endless and when are you going to fit it all in? During the night?
Well it is a worry, but it's good to hear from schools that are finding ways to enrich the curriculum without taking on a heap of work. The science department at Ysgol Maes Garmon in Mold is a good example; teachers and students have worked together to develop a nice, simple way to get a few things done at once.
In the first place the department wanted to set up a lunchtime science club for Yr7 and 8 students. Initial hurdles to overcome were finding projects that could fit into the timeslot (projects already produced through the medium of Welsh much preferred), sharing the workload and keeping momentum through the year.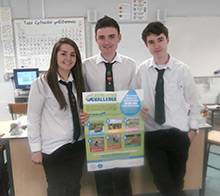 Head of Science at the school, Lesley Howells asked her local STEMNET supporter to come in with a few ideas to create a plan before the launching the club in September and from there something more than just a club has grown.
Finding project ideas: the STEMNET supporter provided links to the STEM Clubs Network, where schools throughout the UK have shared (over 500!) of their own clubs activities for other schools to pick up ideas and adapt to their own requirements. The British Association's CREST Award site has lots of pick-up-and-run projects and outline ideas and the Institute of Physics Marvin and Milo series is packed with short experiments, perfect for club time.
Sharing the workload: last summer, eight Yr 12 students were registered as STEM Ambassadors to help run the club, to take some of the load off the teachers, to create student mentors and to support the volunteering requirement in Welsh Bacc. As STEM Ambassadors in Yr 13 the students have joined a scheme which places them in a relationship with people already in careers. It has also given them material for university application. Students interviewed during a club session said they had all been asked to talk about their STEM Ambassador activities in their university interviews and this really seemed to give them confidence.
Keeping momentum: the Yr 13 students have picked the activities each week and, with the support of the department's technician, have set up some great experiments. After a few weeks they have embarked on a more in-depth project over several sessions for which club attendees will receive CREST Bronze Awards. They have chosen to do Practical Action's Floating Garden Challenge – one of the charity's crest linked schools projects, which is downloadable from the website and available fully in Welsh and English.
So with just one club, meeting for 25 mins every Tuesday, Ysgol Maes Garmon has created a whole suite of STEM enrichment opportunities, bringing together a good cross-section of the school in enjoying their delight in science.
The STEMNET Supporter visited the club in one of the school's most hectic weeks, with the whole school ringing with the stops and whoops of Eisteddfod rehearsal.
Back to topF1 in Schools Challenge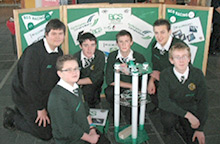 A team of Barry Comprehensive School students triumphed in the recent South Wales Regional Finals of the F1 in Schools Challenge by taking overall victory in the Formula 1 Class. The team, named 'BCS Racing', comprising of Jon Scott, James Cosgrove, Gareth Crapnell, Stefanos Grigorio, Alex Parker and Jack McCabe also won the fastest car award with the time 1.826 seconds on a 20 meter test track.
The team now progress to the UK National finals of this global competition with their win in the F1 class at the Auto Sport International Show. The winners of the UK National competition will progress to the world championship in Singapore.
Congratulations also go to the Welsh team winners at F1 in Schools™ UK National Finals 2013, held at the end of March at the Big Bang Young Scientists and Engineers Fair at ExCeL, London. 'The Best Team Marketing Award' was presented to Falcon F1 from Connah's Quay High School and the 'Judges Discretionary Award' went to Unknown from Pen Y Dre High School.
Back to topThe Big Bang @EESW Success!

Schools interested in attending The Big Bang Near Me… on 3 July 2013 at the University of Glamorgan can register on line or contact. For more details contact Isobel.Brown@careerswalesgyrfacymru.com. There is support for transport for schools that work with the University of Glamorgan's Widening Participation team.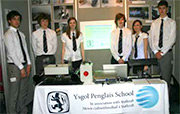 This year for the first time the Engineering education scheme Wales extended its Annual Presentation Day to involve The Big Bang @ EESW in collaboration with Careers Wales. The event was held at Venue Cymru on 4 March 2013 and over 150 Year 12 students participated in The Big Bang competition, and the five teams selected to go through to The Big Bang Fair 2014 were Penglais School, Holywell High School, John Summers High School, Ysgol Friars Team 1 and Ysgol Friars Team 2.
The event also hosted the EESW F1 Primary Jaguar 3D north Wales regional competition, where 34 teams took part and raced their cars. The 1st Place Overall Winner was Ysgol Bryn Hedydd – Team BH Blaze and 2nd Place went to Ysgol Deganwy – Ysgol Deganwy Racing Team. Ysgol Bro Gwydir was also nominated the Best Rookie Team.
An exciting rock guitar show by the talented Dr Mark Lewney and presentation by Wing Commander Andy Green, driver of the Bloodhound SSC project also attracted over 650 visitors from primary and secondary schools across north Wales.
The large exhibition included universities such as Glyndŵr, Bangor and Swansea University's STRIP Interactive which gave students insight into studying Engineering at a higher level. Companies such as Airbus, Magnox, JCB and RWE npower also demonstrated some of the fantastic careers on offer in Wales.
The Rt Hon. David Jones, MP, Secretary of State for Wales opened the event and said that it was delightful to see some of the work on display from Welsh students. The day ended with a presentation of certificates by Antoinette Sandbach, AM for North Wales. Awards were sponsored by Airbus UK, Energy Island Programme, IMechE, JCB, RWE npower renewables, Siemens Healthcare Diagnostics and the Welsh Government. The full list of award winners is at www.stemcymru.org.uk/category/news.