Welcome to the STEM Newsletter for
Secondary Schools in Wales
Find out more about events happening in the summer term, competitions, new educational resources, events near you and new rounds of grants and more…
With the Olympic Games fast approaching why not enter a team of KS3 pupils for this exciting project linked to the London 2012 Olympics; the closing date is Tuesday 15 May 2012. STEM Challenge 10 will form part of the much larger Cisco 'Out of the blocks Maths and Science Series 2012' project. More information about the project at www.mathsandscience2012.co.uk.
And… if you're planning a project of any kind, and need an extra pair of hands and links with the real world, contact See Science and request for a STEM Ambassador to come and help. The STEM Ambassadors Programme is FREE to schools. Email ambassadors@see-science.co.uk or go to http://networking.stemnet.org.uk/ and click on 'REQUEST A STEM AMBASSADOR'.
Language skills and STEM join forces!
See Science and CILT Cymru the National Centre for Languages are joining forces on an exciting new programme.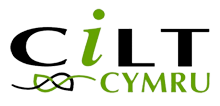 In the coming months both organisations will pilot a scheme in which STEM Ambassadors from industry will visit secondary schools in Wales to emphasise the need for language skills within a career in Science, Technology, Engineering and Maths.
In the initial phase (summer 2012) Ysgol Gyfun Glantaf in Cardiff, Cwrt Sart Comprehensive School in Neath and Hartridge High School in Newport will receive a STEM Ambassador visit.
Sian Ashton, STEM Ambassador Coordinator at See Science explains: "Each Ambassador will explain how having language skills has supported and enhanced their chosen career. They will illustrate that in a global workplace, the transfer of information and communication with business and research partners cannot be avoided."
Pupils will hear how cultures, ethics, politics and different languages are something that employees will come across and need to understand, appreciate and cope with during the course of their chosen profession.
CILT Cymru Director, Ceri James echoes the view that MFL and Science can lead to a successful career, saying: "Engineers for example, are very likely to travel the world and to work within multinational companies, so a skill-set which includes both scientific and linguistic skills would fit the bill perfectly for a prospective employer…"
Following evaluation of these visits it is hoped that the scheme will be expanded allowing further schools to tap into this opportunity. Sian says: "We are hoping this will be the first of several successful collaborative initiatives with CILT Cymru".
Welsh winners in the National Science and Engineering Competition 2012
Following a glittering ceremony at The NEC, Birmingham, the winners of the UK Young Engineers and UK Young Scientist of The Year were announced.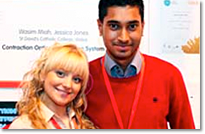 The winners, Wasim Miah and Jessia Jones – St David's Catholic College (Young Engineers of The Year) – were presented their awards by David Willets Minister of State for Universities and Science. Wasimi and Jessica achieved this prestigious award after taking part in an EESW project in conjunction with Huntleigh Healthcare Ltd. Carwyn Davies – Ysgol Gyfun Llanbedr Pont Steffan – achieved Highly Commended in The NSEC Intermediate Engineering and Technology Award.
Congratulations to all winners, finalists, and everyone who took part. The judges have reported that this year was the highest quality projects they have seen so far – and all of the winners should be incredibly proud of their achievements.
STEM Ambassadors support St Teilo's School Assemblies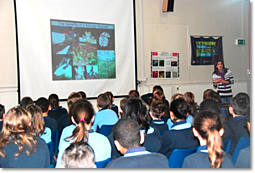 Many activities took place during National Science and Engineering Week. One enterprising school St Teilo's School requested a STEM Ambassador to attend for a 30 minute presentation at their assembly. Thanks to Ambassadors Eleanor Sherrard-Smith, Michael Harbottle and David Hendry who attended the school.
We had marvellous feedback from Natalie Neil the teacher, sending a huge vote of thanks and lots of great photos that we will use. Here is Elaine presenting her research on parasite migration!
The Design and Technology Association Excellence Awards 2012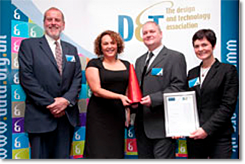 Brilliant UK D&T teachers came together at the Institute of Engineering Technology, London, for the Design and Technology Association Excellence Awards.
Well done to Rhys Evans from Ysgol Dinas Bran, secondary school in North East Wales, who won the JDF Teacher of the Year Award.
Rhys does considerable work with NGfL Cymru and the Welsh Assembly and, importantly, shares his good practice with D&T colleagues. He is a highly respected and innovative teacher.
James Dyson Foundation Executive, Danya Walker presented Rhys with his cyclone trophy. The James Dyson Foundation funds the award.
Robotics inspires pupils and teaching
Robotics has opened up a world of creative learning. Rhys Evans is Head of Design and Technology at Ysgol Dinas Bran in North East Wales has been looking for a way: "…to put the 'wow' factor that I felt as a kid into design and technology for my students. Robotics has been around in education for a long time but until now there has not been a system that allows the flexibility and adaptability that I have found in the VEX Robotics Design System, a program that just launched in the UK and fully integrates robotics into the curriculum instead of simply proscribing it."
The VEX Robotics Competition provides students with an exciting, non-traditional opportunity to test their engineering knowledge and interact with peers on regional, national and international levels. The team-based competitions not only challenge students' STEM skills, but also teach them critical life skills such as teamwork, project management and problem solving.
The team at Ysgol Dinas Bran has been busy getting to grips with the design mechanics and designing the robot that entered the championship. The project has generated a real buzz around the school and we have had students from across the school and in all age groups asking to be involved, which is a real testament to the competition and the way it engages a whole range of students.
F1 in Schools Success at National Event
On the same day that our National Rugby team picked up the Grand Slam, an F1 in Schools team from Ysgol Friars, called Team Fast Lane, have also achieved huge success. Team Fast Lane, are the new Welsh National Champions of the F1 in Schools competition 2011/12. On the 16/17 March Team Fast Lane attended the F1 in Schools National Final which was held in conjunction with the Big Bang Fair 2012.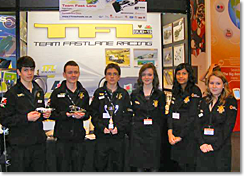 The team at Ysgol Friars consists of 6 pupils (left to right in photo): John Foden Shroff (Manufacturing Engineer); Tomos Owen (Graphic Designer); Aron Griffith (Team Manager); Isabel Griffith (Resources Manager); Masuma Begum (Graphic Designer); Emily Owens (Design Engineer).
Team Fast Lane picked up the awards for 'Best Engineered car' and 'Best use of Solid works'. The team were also nominated for two other awards. As a result of the team's efforts, they were also picked to represent Wales at the International F1 in Schools Final. Over the two day event, the team were required to present, discuss and race their winning car. The team was asked to give a 10minute verbal presentation to F1 engineers, discuss the engineering principles behind their ideas, race their car and present their work to the public of the Big Bang Fair.
Team Fast Lane would like to thank all sponsors and partners for their support in the build-up to the national event. These are: Ysgol Friars, Ysgol Friars P.T.A; Krypton Cloth Ltd; Bangor University; Plus Display; Magnesium Elektron; Gwynedd Smart Repair; Recognition Express; Welsh Slate and Chem-Tool Ltd. A special thank you must go to Mr Wyn Griffith (Bangor University) who helped the team develop their CAD skills that allowed them to produce work of an exceptional quality.
The founder and chairman of the competition Mr Andrew Denford said that 'our car was of exceptional quality and that Mr Bernie Ecclestone would love it'. What the team have achieved here is outstanding and it epitomises what we set out to achieve within schools – well done. Representing Wales at the F1 in Schools International is an amazing achievement that we are all proud to be a part of. Without team work and a drive to succeed, this would not have been possible. We aim to be the first Welsh team crowned F1 in Schools World champions.
Activities
Grants/Bursaries/Awards
Teacher Awards
Competitions
Events
April 2012
'Be Amazed by Apps'. Thursday 26 April 4.45-6.30pm. Ysgol Maes yr Yrfa, Cefneithin, Llanelli. Alessio Bernardelli, Times Educational Supplement, will demonstrate some fascinating apps that are available to download and use in the classroom and focus on the effective use of ICT to enhance teaching and learning. More…
Smarter UK – free neuroscience workshops. 30 April. Science Made Simple, working with Graphic Science and the Wellcome Trust are delighted to be able to offer free neuroscience workshops in South Wales. More…
Enterprising Science. Apply now for this free Science, Maths and Enterprise two-part programme from BP. More…
Bangor Physics Conference. 19 June, Trefenai, Bangor. More…
Science CPD Learning Skills for Science course. 24 June, Waterton Technology Centre, Bridgend
Big Bang Cymru 2012. 28 June, Liberty Stadium, Swansea. Registration for the Big Bang Cymru 2012 – 28 June, is now open! Wales' premier STEM event is now accepting registrations from schools and colleges. More…
NPL Water Rocket Challenge schools competition. Wednesday 20 June, 1.30-4.30 pm. Aim for the sky in our annual Water Rocket Challenge, which sees hundreds of participants, from school teams to adults, battling it out to become champion. More…
Oxfam Water Week. 2-6 July (closing date 1 June). Get involved in 2012 and give your pupils the opportunity to learn about global issues, develop skills and values as active global citizens, and make a difference to the world. By taking part your school is in with a chance to be one of Oxfam's Water Week Champion schools. More…
Smarter UK – free neuroscience workshops. 6 July, 9-11 July, 16-20 July. Science Made Simple, working with Graphic Science and the Wellcome Trust are delighted to be able to offer free neuroscience workshops in South Wales. More…
Resources
For a full list of resources available for secondary schools, see the Resources page on the See-Science website.
Courses/CPD