STEM Newsletter for primary schools in Wales
September 2016
The e-newsletter that's an essential source of information and inspiration for teachers – and anyone with an interest in STEM (Science, Technology, Engineering and Maths) engagement – across Wales.
Contents
Ask a STEM Ambassador to visit your school
A STEM Ambassador's involvement can engage and enthuse both students and teachers. If you are interested in asking a STEM Ambassador to visit your school you can make your request here or contact See Science directly at ambassadors@see-science.co.uk.
Give us your Ambassador feedback
If an Ambassador has visited your school, or if you have met an Ambassador at an enrichment activity, we would be very grateful if you could fill in our teacher feedback form. Please encourage colleagues to respond.
Teacher information pages
Events, competitions, grants and resources are regularly added to our teacher information web pages. You can check them out by following these links:
STEM Opportunities for teachers and pupils
FREE STEM Challenges for the autumn term – book now!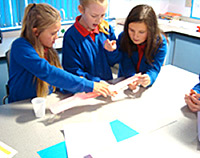 Schools are invited to take in a STEM Challenge during the autumn term. The Challenges require all of the skills involved a real-work challenge: teamwork, design, construction, problem solving, communication, research – and fun!
The half-day STEM Challenges aimed at Years 5 and 6 are designed to support learning and encourage pupils' curiosity to find out how and why things work. The resources were produced thanks to the generous support from the Welsh Government's National Science Academy. Schools in Wales are able to book ONE STEM Challenge for a class of pupils FREE. Places are limited so early booking is recommended.
There are three STEM Challenges:
Emergency Communication Challenge
Space Challenge
Marble Roller Coaster Challenge
To book one of these or to register interest, email enquiries@see-science.co.uk.
Inspire an interest in human and other animals with… cake?

The Physiological Society invites students to tap into Great British Bake Off fever through science baking! Back for its third year The Bio-Bodies Bake Off, or #BioBakes for short, is winging its way into kitchens and science classrooms near you!
Schools need to produce a bake, savoury or sweet, representing physiology, the science of how your body works. They must print off the #BioBakes entrance form, fill it in, and take a photo of the cake with it. Then it needs submitting on the website. You can use the #hashtag #BioBakes on twitter and Instagram. More details here…
Dark Sky Wales
To help ease you back into the academic year Dark Sky Wales would like to make you an exclusive offer! Reduced from £370 a day to just £250 Dark Sky Wales Planetarium Experience can be enthralling and Inspiring your students this term. From the comfort of your own school hall visit the planets, learn the stories of the ancients and understand our place in the Universe, the planetariums out of this world experience can really set the tone for the coming years learning.
Book your visit soon as with prices this low places won't last long. For more information or to make a booking contact Allan – allan.darkskywales@gmail.com.
Apps for Good

Apps for Good is a linked scheme with CREST Awards; students will submit for CREST Bronze automatically through their apps for good forms.
Open to UK primary and secondary schools, FE colleges
Flexible course framework that can be delivered to students 10-18 within curriculum time, as a club or within timetabled enrichment
Any level of teacher experience or subject knowledge
Free for non-fee paying UK schools.
Back to topThe Science of Dragons Roadshow
Viking history, legend and dragon lore inspired Cressida's How to Train Your Dragon series and just like Cressida's stories, Scientific Sue aims to transport her audiences back in time to a fictional world where Vikings ruled and dragons roamed.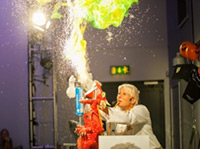 This innovative and interactive show explores how dragons can be captured using a crossbow, trained and then used to defeat the enemy tribe; The Meatheads!
Scientific Sue needs lots of volunteers to help her investigate and explore the science of how dragons fly and then, using some of the science behind the different dragon fire types (steam, icy fog, explosive gases, flammable liquids and of course big flames)`.
Available FREE to all primary (Year 6) schools in Wales in 2016 thanks to funding from Welsh Government National Science Academy. To book email See Science at enquiries@see-science.co.uk.
"The teachers enjoyed the show as much as the children …. brilliantly put together and thoroughly engaging." Ysgol Deganwy May 2016
"Just wanted to thank you again for an amazing show this morning. Having spoken to the pupils last lesson the feedback is very positive, they loved it!" Ysgol Gyfun Gartholwg June 2016
Curriculum Links: Science*, & Engineering plus History, Literacy and Story Telling. The science can focus on: chemical reactions, combustion, states of matter, flight, buoyancy, forces, energy, digestion, and respiration, tests for oxygen, carbon dioxide and hydrogen.
Connecting Classrooms course: Teaching critical thinking and problem solving
Connecting Classrooms is offering a new course for teachers in Wales to develop their practice in relation to teaching the core skills of critical thinking and problem solving. The training package helps teachers anticipate changes to the Welsh curriculum by following the recommendation in Successful Futures to embed the Wider Skills across all Key Stages. Book places here.
Teacher CPD – Into Film's training offer
Into Film's bilingual programme offers a range of strategies that support teachers and group leaders in achieving effective, memorable learning through and about film. We specialise in training teachers in raising literacy attainment through film and film as a tool for curricular attainment via filmmaking and animation activities. Over the next few weeks, we have sessions coming up in all regions of Wales, from Bangor to Blaenau Gwent. Find out more and book your place for free today here.
Cracking Ideas resources
Teaching and learning resources from the UK Intellectual Property Office. The lesson plans provide clearly structured curriculum-linked sessions to help you explain and explore IP with your pupils across a range of subjects. They're free to use in schools, and are designed for primary and secondary schools. More details here.
TeenTech City of Tomorrow
The TeenTech City of Tomorrow activity & competition initiative offers students in Key Stages 2 and 3 (8-14 year olds) the opportunity to create their vision of the future. In this city there are no limits, no ideas are too big and everything is smarter, kinder and safer than before. Register your interest here.
Pumpkins Against Poverty – Great Harvest project
An exciting set of cross curricular activities for pupils aged 7-11 years to explore the difference that growing pumpkins can make to the lives of people living in flood prone regions of Bangladesh. The activities include exploring the life cycle of a pumpkin, making seed packets and pumpkin snacks. More here…
CLEAPSS – ASE Primary Competition 2016
This year's CLEAPSS – ASE Primary Competition is all about improving biodiversity around the school or local area. This year the primary competition is bigger and better than ever! We know that primary schools do great work improving their local environment. Through the competition, we are keen to help you get outside and celebrate working with nature.
The CLEAPSS Bunny wants to know…"will you help improve biodiversity in your school or local area?"
Download the competition details here. Entry is open until 25 October.
Biology Week 2016
Saturday 8 – Sunday 16 October
Biology Week showcases the important and amazing world of the biosciences, getting everyone from children to professional biologists involved in fun and interesting life science activities. Find out what's happening near you or organise your own activity
Effective STEM Engagement
National Museum of Wales Cardiff. Saturday 19 November 10am – 2.30pm

Inspirational lectures and workshops for Primary and Secondary Teachers that aim to address the address the new science and technology curriculum.
Join Professor Averil Macdonald OBE to discuss the myths and facts about why girls do and don't choose STEM and find out about a new approach to show that STEM is for 'People Like Me'.
Bring science to life for your students with practical science demonstrations from Wendy Sadler—Science Made Simple – that are accessible to all and learn how they can help develop higher thinking skills in your classroom.
Workshops include:
Practical Primary Science—Louise Stubberfield, Wellcome Trust
Wriggling through Numeracy & Literacy— National Museum Cardiff
A Literacy Approach to Science—Glen Gilchrist CSCJES
Splendiferous Science—Techniquest
Accessing Real Science—Sue Diment, Cardiff University
Coding for Science—Laura Roberts, Technocamps
Book a FREE place and your workshop choices here. For further info, please contact cerianangharad@ase.org.uk or 07870 351212
Back to topBritish Science Festival – Swansea University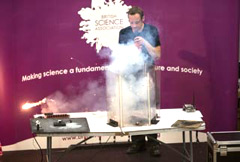 Europe's longest standing national event, the four-day British Science Festival, organised by the British Science Association and Swansea University, was held at the University's Singleton Park campus from Tuesday 6 to Friday 9 September.
The festival was followed by a family fringe weekend featuring an array of activities, workshops and hands-on family fun at the National Waterfront Museum and surrounding venues.
Thousands of visitors experienced an exciting range of talks, debates, performances, tours and workshops on campus and across the city from morning into the night. Hundreds of leading scientists from all around the world came together to showcase the latest in science and technology in the free public events which were open to everyone.
Academics from the university talked about the healing role of maggots, the relationship between sleep, dreaming and memory, the study of demonology and the story behind the £3 billion underground machine which is unlocking the secrets of the universe. Alumnus Lyn Evans talked about his 47 years at CERN after graduating from Swansea with a PhD in Physics. Honorary Fellow George Abbey was also in conversation discussing his work at NASA.
The British Science Festival is an event designed to inspire everyone about how extraordinary science is and how pervasive it is in our lives. It has provided a fabulous opportunity to put Swansea University and its work on the world stage.