Welcome to the STEM Newsletter for Primary Schools in Wales
An essential source of information for teachers and anyone with an interest in STEM (Science, Technology, Engineering and Maths) engagement across Wales.
Read inspiring stories, discover new opportunities and find out how a STEM Ambassador's visit to your school can engage and enthuse both students and teachers. There are details of current events, competitions, grants, CPD, awards and more at our teacher information pages.
Give us your Ambassador feedback
We would be very grateful if you could fill in our teacher feedback form if an Ambassador has visited your school or you have met an Ambassador at an enrichment activity. Please encourage colleagues to respond.
STEM Ambassador requests
Interested in asking a STEM Ambassador to visit your school? You can make your request here or contact See Science directly at ambassadors@see-science.co.uk.
Teacher information pages
Events, competitions, grants and resources are regularly added to our teacher information web pages. You can check them out by following these links:
STEM Opportunities for teachers and pupils
Changes to the CREST Star Programme
The current online membership system will no longer exist as a payment platform as of summer 2015.
The British Science Association (BSA) will not be accepting new CREST Star members as of Monday 20 July.
Members that joined since April 2015 will be automatically refunded and will be offered BSA membership.
All the activities will be freely available on the main BSA website.
BSA will still be working on new resources and promoting CREST Star as a key part of the BSA's Education work.
If you have any enquiries about these changes please contact creststar@britishscienceassociation.org.

CREST Star Investigators is a UK-wide award scheme that enables children to solve scientific problems through practical investigation. The activities focus on thinking about, talking about, and doing science. They are designed to be used primarily outside of class time (e.g. in a science club), though some are suitable for use in the classroom. You can find out how to run a CREST Star Club at your school here.
Practical Action STEM Plastics Challenge
Suitable for KS2 and KS3. It's packed with practical science investigations based around plastics, and an enterprise challenge to design and make a quality product for UK or Nepal market. More details here. There is a linked video competition – deadline for entries is 18 Dec 2015.
ASE Regional Conference: Creativity in Science Education
21 November, 10am-3.00pm. National Museum of Wales, Cardiff
For primary and secondary science teachers, teacher trainees, science communicators and other interested professionals. Explore exciting and innovative ways of exploring creativity in science in and out of the classroom. The day features inspirational talks and hands-on workshops aimed at developing confidence in teaching science and providing plenty of ideas for your lessons. Contact cerianangharad@ase.org.uk / 029 205 73240: book places here.
Back to topWelsh Government – Focus On Science
Look out for the latest resources from the Welsh Government to support the Focus on Science Campaign. A new Autumn Term planner with details of many exciting STEM based events, activities and competitions is available here.
The Focus on Science campaign aims to highlight the importance of science and scientific study to everyday life, and promote STEM based careers. You can support or contribute to the Focus on Science campaign by emailing Sara.Thomas@Wales.gsi.gov.uk.
The Big Bang UK Young Scientists & Engineers Fair 2016

The Big Bang UK Young Scientists & Engineers Fair is the largest celebration of science, technology, engineering and maths (STEM) for young people in the UK. Its aim is to show young people (primarily aged 7-19) the exciting and rewarding opportunities out there for them with the right experience and qualifications.
The Fair will take place over four days from Wednesday 16th Saturday 19th March 2016 at the NEC, Birmingham. It is an award-winning combination of exciting theatre shows, interactive workshops and exhibits, together with careers information provided by a wide range of people who are working in the field. It is led by EngineeringUK and is made possible by the efforts of almost 200 organisations working together to help young people see science and engineering in a new light. Registration coming soon –  watch this page.
The Big Bang @ School

Excite your pupils with engineering and maths, and inspire them to consider science or engineering careers with The Big Bang @ School.
Running a Big Bang Fair at your school can help you to show pupils how their science, maths and design and technology subjects apply to real world of work, and how what they learn in the classroom directly translates into skills that employers need.
Activities available through The Big Bang @ School toolkit are curriculum linked, helping you to fulfil curriculum requirements and embed learnings from the Fair into lessons.
The Big Bang @ School is part of the wider Big Bang programme, led by EngineeringUK in partnership with over 200 organisations.
Looking for funding? The Biochemical Society Scientific Outreach Grants
The Biochemical Society has grants of up to £1,000 available to help fund activities that communicate the excitement of molecular bioscience, or more general biology, to young people and the community. Our activities library has some ideas you could use, including downloadable activity cards, useful links, and details of past activities for inspiration. The deadline for the next round of applications is 25 September 2015. More details here.
Back to topPrimary Science Teaching Trust Celebration Day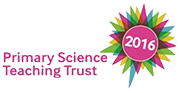 Teachers from the Monmouth Comprehensive School and their feeder primary schools (Cross Ash Primary School, Raglan Primary School, Trellech Primary School, Osbaston Primary School, Llandogo Primary School, Overmonnow Primary School, Usk Primary School and Kymin View Primary School) have been part of an exciting project funded by the PSTT (Primary Science Teaching Trust) to support Scientific Enquiry and the transition between primary and secondary schools in Wales.
After the celebration event Catherine Jones, Headteacher, Osbaston Primary School, thanked the See Science team for organising the project: "…the celebration event was a triumph for the five schools involved and enjoyable for all teachers and pupils that took part."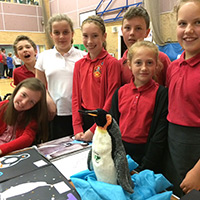 The teachers from the cluster schools attended a two-day Continuing Professional Development (CPD) course where they found out how to improve pupils' science skills and develop interactive learning. During the CPD the teachers collaborated to developed ideas around the theme of penguins and the Antarctica to produce a project which would improve pupils' science skills and knowledge which they then apply in an investigation in the classroom. The schools collaborated with STEM (Science Technology Engineering & Mathematics) Ambassadors during this process.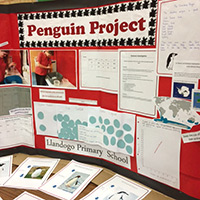 Once completed, the teachers and pupils presented their pupil's work at a final celebration at the secondary school.
"I really enjoyed hearing from the children and their teachers about their Penguin Projects. The Trust is very pleased to support this sort of activity for primary schools to engage in meaningful learning. It was amazing to see the range of science and mathematics activities which came from the main theme. The children were all very enthusiastic and spoke knowledgeably about the experiments they had done and what found out about penguins and life in the Antarctic. They all clearly benefitted from the experience and the support the See Science team were able to give their schools." Paul Denley, Primary Science Teaching Trust.
The schools would like to thank the United Kingdom Antarctic Heritage Trust (UKAHT) for providing all the pupils that attended the celebration event with a wonderful pupil's pack, stamps, postcards and pencils from the UKAHT's Port Lockroy team, together with poster and photos that made a fabulous display.
Find out more about the PSTT (Primary Science Teaching Trust), the PSQM (Primary Science Quality Mark) or the Primary Science Teacher Awards 2015 (deadline Monday 14 September) here. Details about the
Back to topPrimary school wins award for teaching children about the environment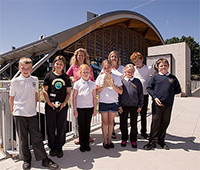 A primary school from Pembrokeshire has beaten off competition from around the UK to win an award for the way it teaches children about the environment. Coastlands CP School at St Ishmaels near Haverfordwest has won a £2,500 runner-up prize in the WWF Green Ambassador Awards.
The judges were impressed by a number of projects run at the school to encourage children's interest in green issues, including:
Building an outdoor classroom in local woodland
A community 'litter pick'
Growing fruit and vegetables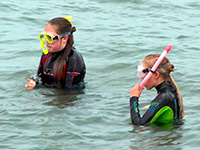 The youngsters also have the chance to go on 'snorkel safaris' – guided swims in the sea (photo: ITV News). Up to half of children in Pembrokeshire say they never swim in the sea, despite the county's coastline being one of the best places in Europe to see marine wildlife.
After going on the snorkel safari, Coastlands school pupil Aran Lock said: "I like the experience and having my friends there and when it's really clear, it's just like stepping into a new world." Jane Davidson, WWF Ambassador said: "I think the kids are getting an extraordinary experience to see life other than their own, life they haven't imagined, in the rock pools or under the sea and an idea of where they fit in this huge universe and planet of ours."
Back to topGreen Energy scores highly at Ysgol Y Bannau
Dr Aled Davies came to Ysgol Y Bannau to give two green energy presentations with KS2. The PowerPoint presentations were levelled perfectly at the age ranges of the classes and delivered through the medium of Welsh to a very high standard. Each presentations was followed by a lively question & answer session.
The students thoroughly enjoyed the presentations, which inspired them to subsequently create their own PowerPoints on a variety of green energy topics.
"The solar panels and wind turbine models were fabulous!"
"The PowerPoint was interesting – we could understand it and it was full of information."

"Many thanks to Aled. The students have written thank you letters in Welsh to him at his home address."

Richard Morris (Yr 5 class teacher)