Welcome to the STEM Newsletter for
Primary Schools in Wales
Find out more about what's happening in the autumn term, competitions, new educational resources, events, new rounds of grants and more…
It is not too early to start planning your activities for National Science and Engineering Week; why not attend one of the information sessions run by the British Science Association in October. You could also arrange for a STEM Ambassador to visit your school to support the activities. To find out more email ambassadors@see-science.co.uk

Next year, the Big Bang UK Young Scientists and Engineers Fair 2013 is from 14-16 March 2013 at London ExCeL. The Fair is a free event for all 7-19 year-olds, their teachers and families – with school and college groups invited on Thursday 14 and Friday 15 March and the public welcomed on Saturday 16 March. Book a place at www.thebigbangfair.co.uk/addactivity.
If you're planning a project of any kind or an event at your school and need speakers, workshops, links with the real world, or an extra pair of hands, contact See Science and request for a STEM Ambassador to come and help. The STEM Ambassadors Programme is FREE to schools. Email ambassadors@see-science.co.uk or go to http://networking.stemnet.org.uk and click on 'REQUEST A STEM AMBASSADOR'.
Great Bug Hunt Winners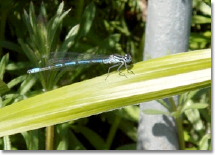 The winners of this year's Great Bug Hunt competition have been announced.
The Association for Science Education's learning resource site www.schoolscience.co.uk teamed up for a second year with The Bug Man Martin Rapley to take science learning out of the classroom and bring it to life in the outdoors.
Children taking part in the competition spent their time exploring habitats before recording their observations in photos, pictures and poems.
Marianne Cutler, ASE's Director of Professional and Curriculum Innovation, said: "The Great Bug Hunt competition is a brilliant way of bringing science to life for children and shows you can go on a journey of discovery in your own backyard. Not only does the competition do a great job of capturing children's imagination, it also fits in well with the science curriculum. Using the natural environment when teaching is an important part of science education and something the ASE strongly advocates through its Outdoor Science Working Group."
Gwenfô Church Primary School in Wales won the top prize, a bug day at their school where they get to come close up with creepy crawlies such as scorpions and tarantulas. Gwenfô Church Primary School used the bug hunt theme for their annual science week.
In addition, a prize was also awarded by The Biotechnology and Biological Sciences Research Council for the best photographic entry as chosen by their entomologists, Ian Bedford, Gavin Hatt and Anna Jordan. The photo of a damselfly (pictured above) came third and was taken by pupils at Gwenfô Church Primary School.
The school's Science Co-ordinator, Jen Ford said: "We went to the school grounds and some of the habitats in the immediate vicinity. During the week each class looked for bugs in a different habitat. By the end of the week, we had looked in seven different habitats, the meadow, vegetable garden, the forest schools area, the church yard, the orchard field and the village pond and stream. We found over 40 different types of bugs and had a fantastic time."
Go West!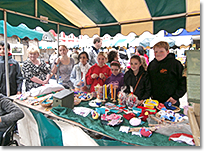 Pembrokeshire Young Entrepreneurs Fair showcases the business and enterprise projects undertaken by primary and secondary schools across Pembrokeshire. This year the event took place in Haverfordwest from 20–23 June.
Around 40 schools enter their projects that have to be designed and produced by the pupils. The enterprising youth of the County trade their products to the public and are judged for a wide range of prizes. The projects are evaluated for quality, sustainability, originality, business expertise and teamwork. Judges could also nominate special category awards.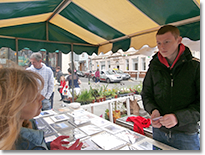 It is a very popular event sponsored by Murco Oil and organised by Youth Enterprise Officer Wendy Harris.
STEM Ambassadors supported the event both as judges and attendees: Helen Hughes; Geoffrey Irlam; Paula Holt; Mair Lewis.
I was enthused to visit on the Saturday and was really impressed by the effort of the pupils and their ability to sell their products!
In these photos, pupils from Holy Name School are shown with their stall, and Glyn Rainer, aspiring photographer from Ysgol Preseli, explains his methodology in photographing water. For one image Glyn took 100 photos of droplets melting from ice cubes until he obtained the perfect shot.
Links to See Science news pages
Because there are now so many STEM stories in the monthly newsletter it's no longer possible to include abbreviated lists of activities, resources, competitions, grants, CPD opportunities and events in the body of the newsletter.
But don't forget that new items are continually being added to these web pages – you can check them out by following these links:
Schools help Siemens in Bloom in Llanberis
Wednesday, 4 July 2012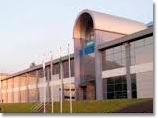 Siemens Healthcare Diagnostics Products Ltd, based at the foot of Snowdon in Llanberis, has participated in 'Siemens in Bloom' with the help of local school children.
The event was hosted by the recently formed 'Green Team' and management at Siemens Llanberis as part of an initiative to forge links with the local community and in particular schools in the locality.
Two local schools, Ysgol Dolbadarn and Ysgol Gymuned Penisarwaun, participated with pupils aged between 6-8 years old. The groups came on site to design and plant flower beds for a prominent position in the front of the Siemens building. Unfortunately, due to unseasonably poor weather, the planting session was postponed to a less rainy day. However the groups received some Siemens promotional material and information about what Siemens does at Llanberis.
The outcome was that the children designed four flower beds using their creativity including 'Croeso' with Dolbadarn castle in the background, a very colourful ladybird and an 'S' for Siemens.
The Siemens site's managing director, Ed Farrell, presented book tokens as a thank-you to both schools and said: "This has been a great opportunity to get involved with the local community as part of our green initiatives. I was very impressed with the quality of the designs. The children are welcome to come back to site to see their designs planted."
The Siemens facility in Llanberis manufactures and distributes IMMULITE® reagents used on blood analysers in hospitals and clinics worldwide to aid the diagnosis of medical conditions.
Brightsparks create robust resources that are available in Welsh!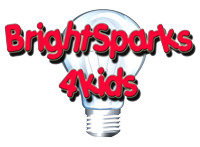 Brightsparks4kids, based in Wrexham, was created to help both teachers & children enjoy building 'Simple Circuits'. The aim was to look at all the previous failings when teaching Electricity and improve on them. The task was to design a Classroom Kit that was fun to use, engaging for children and was strong & durable which would therefore last year after year.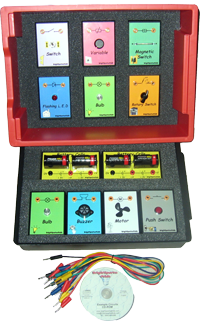 After speaking to many teachers and science co-ordinators, asking them what they felt was necessary and what were the failings, we set to work. We knew the kit had to remove past classroom hazards associated with teaching Electricity. For example, the easy-to-remove glass bulbs were now replaced by shatterproof bulb covers. The tricky crocodile clips were replaced by a much easier 'plug & socket' style connection. The result was finished and a very exciting, simple to use, hard wearing kit. The 'Electricity Starter Kit' was complete.
The kit, which includes Battery Units, Bulb Units, Switch Unit, Push Switch, Buzzer & Motor, is unique. Each unit has the component name, circuit symbols and a familiar picture and is bright and colourful. The units are very robust and are housed in sealed plastic ABS enclosures with non-slip feet. The whole kit is housed in the Gratnells Classroom Tray System for ease of storage. A Simple Circuits Examples CD accompanies the product.
After trialling the kit in various schools, the feedback was excellent. The scope of the kit was huge from early years through to all key stages. We also had superb feedback from special needs teachers who reported the kits were so straightforward to use with children who have fine and gross motor control difficulties.
We then came up with the unique idea of translating the kit into Welsh, as we believe there are limited Welsh Science Resources available. We therefore contacted a local Welsh primary school for support and they thought the concept was fantastic – and after trialling the kit placed an immediate order. Since then we have designed further kits which include a Solar Eco Kit and a larger version of the electricity kit, 'The Electricity Starter Kit+' and will continue to add more exciting products to our range.
For more information on our Electricity Starter Kits please contact us: www.brightsparks4kids.com, info@brightsparks4kids.com or 0845 349 0066.