Welcome to the STEM Newsletter for Primary Schools in Wales
An essential source of information for teachers and anyone with an interest in STEM (Science, Technology, Engineering and Maths) engagement across Wales.
Read inspiring stories, discover new opportunities and find out how a STEM Ambassador's visit to your school can engage and enthuse both students and teachers. There are details of current events, competitions, grants, CPD, awards and more at our teacher information pages.
Contents
Give us your Ambassador feedback
We would be very grateful if you could fill in our teacher feedback form if an Ambassador has visited your school or you have met an Ambassador at an enrichment activity. Please encourage colleagues to respond.
STEM Ambassador requests
Interested in asking a STEM Ambassador to visit your school? You can make your request here or contact See Science directly at ambassadors@see-science.co.uk.
Teacher information pages
Events, competitions, grants and resources are regularly added to our teacher information web pages. You can check them out by following these links:
STEM Opportunities for teachers and pupils
ASE Conference – Creativity in Science
21 November, 10am-3pm. National Museum of Wales, Cardiff

For primary and secondary science teachers, teacher trainees, science communicators and other interested professionals. Explore exciting and innovative ways of exploring creativity in science in and out of the classroom. The day features inspirational talks and hands-on workshops aimed at developing confidence in teaching science and providing plenty of ideas for your lessons.
Contact cerianangharad@ase.org.uk 029 205 73240. Book places here.
British Science Week 11-20 March 2016: new website, new funding opportunities

Visit the new British Science Week website. The site offers resources for planning and organising events and activities for British Science Week.
You can register events, apply for grants and request a FREE marketing pack, as well as find out about opportunities for getting involved in citizen science activities and some of our flagship events.
Kick Start grants: up to £300 for your school to run an activity during British Science Week; or Kick Start More grant: up to £700 for your school to host a science event or activity which involves your students and the local community.
Pumpkins Against Poverty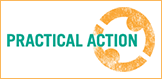 Pumpkins Against Poverty is Practical Action's latest cross-curricular STEM and Geography resource for primary schools.
Based on our work with flood affected communities in Bangladesh, the pupil activities include exploring the lifecycle of pumpkins, designing and making seed packet and maths activities.
The materials to deliver the project are freely available here.
Hour of Code

The Hour of Code (December 7-13) is a global movement reaching tens of millions of students in 180+ countries. Anyone, anywhere can organise an Hour of Code event. One-hour tutorials are available in over 30 languages. No experience needed. Ages 4 to 104.
Into Space Film making Competition
The project includes free activities for young people aged 5–19 on a space and exploration theme, including a filmmaking competition that offers the chance for six lucky entrants to have their winning entries screened in orbit around the Earth for Tim Peake during his mission to the International Space Station!
More information about the competition and various activities here.
Astro Science Challenge

The Astro Science Challenge is an interactive space adventure free to all UK schools, home educators and families. Children aged 7-11 will work to become space agents as they take part in missions created in partnership with leading science organisations.
Run by Unlimited Space Agency, the project launches on 19 October 2015 for seven weeks and leads up to Tim Peake's mission to the International Space Station. Children will be inspired in science, maths and English through online film, story and classroom activities, with free lesson plans provided for teachers.
Big Bang Pembrokeshire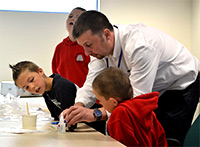 Scores of children from primary and secondary schools took part in the first Big Bang Near Me at Pembroke Dock. The Bridge Innovation Centre offered a range of activities for pupils to try including F1 in schools, Lego robotics, Crumble computer coding. There were presentations on physics and the rock guitar, the Bloodhound SSC, thermal imaging, bioluminescence, and a night sky planetarium show. There was also an opportunity for secondary pupils to enter their work for the National Science and Engineering Competition
In an F1 taster workshop, James Kitson from F1 in schools sponsor Denford demonstrated CAD/CAM equipment used in making the model cars. Pupils were able to watch the body of the car being 'carved' by one machine, and wheels being created on a 3D printer. James helped students put together a model car from the kit and they were then raced down the 24 metre F1 track. He says he is hoping more schools will be able to get involved in F1 in schools now that simple guides to the processes involved are available for teachers online.
Photo: James Kitson from Denford helps pupils prepare a model car in an F1 workshop
Back to topSan Sior pupils catch the coding bug
Coding – the art of designing and developing computer programs – is an increasingly essential skill in the modern world. In accordance with recent changes in the national curriculum, San Sior is helping pupils to get a head start by introducing them to the fundamentals of coding and programming, using creative learning tools to explore the many useful things that can be done through applying simple computing languages.
We recently took delivery of 30 'Codebug' devices, kindly donated by electronics and technology distributor Farnell element14. These hand-held devices are designed to give young children a foundation in digital literacy through play and exploration. Activities include creating simple animations and conducting experiments, with step-by-step instructions and a range of difficulty levels to allow pupils to learn at their own pace.
Codebug was developed specifically as a learning aid for young children, and features an attractive, child-friendly design resembling a little green 'bug' – hence the name – with push buttons representing the eyes, six touch-sensitive 'legs' and a display of LED lights on the stomach, allowing pupils to create simple animations. Pupils interact with the coding language by dragging-and dropping a selection of 'blocks' onto an online workspace, encouraging trial and error and discovery.
Once children have got the hang of the basics, they can move on to more complex projects by connecting the device to a wide range of sensors, buzzers and switches using crocodile clips and wires, promoting core skills that will help to prepare them for the more advanced computing techniques they will be expected to study when they move on to secondary school.
Back to topTop of the class for inspirational woodland teaching

Pencoed School in Bridgend and Ferryside School V.C.P School near Carmarthen have won Gold and Silver respectively in the Royal Forestry Society's 2015 Excellence in Forestry Schools Awards.
They beat off stiff competition from across Wales to impress judges – Sue Williams who heads up the Education, Learning and Sector Skills Team for Natural Resources Wales, and Phil Tanner, Education Manager of the Royal Forestry Society (RFS).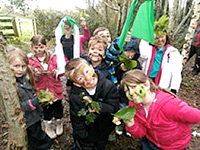 Pencoed School has around 570 pupils and has its own woodland which was planted 24 years ago by students and staff as a resource for learning opportunities not just for the students attending the school but the whole community.
Judge Phil Tanner said: "This inspirational work to ensure that Pencoed School is more than just a school is supported by both the school staff and the parents of the children. Leading the school's engagement programme is local resident Julie Jenkins whose enthusiastic approach to providing outdoor learning opportunities is at the heart of the school's success."
Head teacher Ms Sarjeant said: "At Pencoed Primary School we strive to promote family involvement and to support and create partnerships with the families in our school. Using our Forest School Area for this has been a key aspect of our development this year. Showing the value of using woodland areas for all aspects of learning has inspired and motivated many of our families to get outside and enjoy nature!
"The award will help us promote this resource further and ensure it is sustained for future generations. I am thrilled that the hard work and dedication of all involved has been recognised."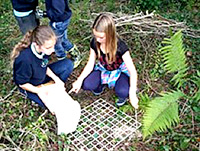 Silver Award winner Ferryside V.C.P School has formed a partnership with a local woodland co-operative. This gives the children the opportunity to visit a woodland within their local community that is managed by coppice rotations for the production of charcoal, helping them to understand and appreciate woodlands within their local community. Project work has increased their knowledge of woodlands on a global scale where they learn about the value of the world's forests.
Judge Phil Tanner says: "Projects on ash dieback and the wood processing cycle demonstrate the importance Ferryside School placed on pupils being aware of the importance of trees and wood products within their daily life. The value of Ferryside's woodland education is evident within the school and the local community. Winning silver in the RFS Excellence in Forestry schools award provides Ferryside with the recognition that their efforts to provide first class woodland based outdoor learning deserve!"
Headteacher Jayne Davies said: "I feel immensely proud of our success in this highly-esteemed national competition and grateful to all the staff, pupils, governors and members of the local community who have worked so diligently during the past year to establish Panteg Woodland in Ferryside as an inspirational learning tool. Physical, practical, hands-on experience in the beautiful outdoors has led to a positive improvement in pupils' enthusiasm for learning and has impacted upon cognitive skills, raising standards in all areas of the curriculum. The outstanding work undertaken as a whole school has raised awareness of the natural world on a local and global level."
There were also three Highly Commended Schools: Builth Wells High School; Portfield School, Haverfordwest; St Christopher's School, Wrexham.
Back to topLaunching Countryside Classroom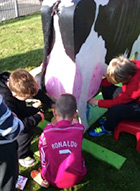 On 2 October a new website, Countryside Classroom, was launched to put food, farming and the environment on the curriculum. The NFU, community gardeners, EggSeeds, the RSPB, Communities First and others came together at Ysgol Coed y Gof, Cardiff, for a morning of activities including making butter, milking a (wooden) cow, making seed bombs, identifying birds and sowing winter salads.
The website is designed specifically for teachers and brings together for the first time resources on food, farming and countryside, including classroom materials, case studies and access to experts, supported by inspiring blog features.