Welcome to the STEM Newsletter for
Primary Schools in Wales
Find out more about what's happening, competitions, new educational resources, events, new rounds of grants and more…
There are larger versions of some (but not all) of the photos in this newsletter - click the small photo to view.
Back to top Links to See Science teacher information pages
New items are continually being added to our teacher information web pages – you can check them out by following these links:
Back to topKey impacts of STEMNET's programmes
We are very grateful to all the teachers in Wales and their pupils who are supporting the evaluation process.
STEMNET is carrying out a long-term independent evaluation on all its programmes. The results of the first year of the 2011–2015 research cycle have now been received and are extremely positive regarding the success of our programmes and their impact in schools. The findings of this interim report were highlighted in a parliamentary event at the House of Commons on 9 October 2013. You can find out more here.
Independent evaluation of our programmes by the National Foundation for Educational Research (NFER) has shown that they work. The results show a positive impact on teachers and the employers who allow their staff to volunteer, as well as the STEM Ambassadors themselves.
"The evidence from this first year of the evaluation demonstrates the highly successful performance of STEMNET's operations and programmes and its range of impressive achievements."
"Pupils who take part in activities with STEM Ambassadors… have more positive attitudes and greater understanding of the importance of STEM subjects to everyday life and their real world applications. These pupils are also more interested in pursuing STEM subjects further." (NFER)
Back to topGary the Musical Clown is back in Wales

Gary will be travelling around Wales for five weeks offering FREE workshops to primary schools, supported by funding from the National Science Academy. Gary and his son Scott will visit schools to provide hands-on, fun science interactive workshops.
Gary will provide 2 x 45-minute workshops each for up to 30 pupils in a classroom.
For KS1 - fun workshops on shapes/volumes/adding up in 2/5/10 and using times tables
For KS2 - fun games on times tables, and the teachers will choose which table they would like.
Dates and areas:
w/c 13 January 2014 – Bridgend area
w/c 10 March 2014 – Mid Wales
w/c 28 April 2014 – Newport / Cardiff / Valleys
w/c 20 October 2014 – West Wales
w/c 12 January 2015 – North Wales / North Coast
If you would like Gary to visit your school, please email enquiries@see-science.co.uk giving your contact details, name of school with postcode, and three preferred dates in order of preference. Use the title 'Gary the Clown Workshops in Wales' in the email. We will then get back to you to arrange the visit.
If you would like more information about Gary the Clown visit www.garytheclown.co.uk.
Back to topTeaching Awards 2013 winner – UK Panel
Cogan Nursery School – The Award for Outstanding School Team of the Year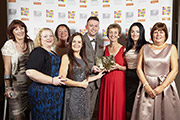 A seven-strong teaching team at Cogan Nursery School is doing remarkable things to advance young children's learning and involve their families in education. They have embraced a vast array of new technologies while valuing the importance of play and communication.
"Everyday something new, everyday a new adventure" is the result, according to one enthusiastic parent who added: "We take learning home". Another said: "There are no barriers, this place is interactive".
Cogan Nursery is a state school for 100 three and four year olds in the small coastal town of Penarth in the Vale of Glamorgan. "It is a friendly, loving, warm nursery and my daughter loves it", says Maria Stimpson, one of seven parents who nominated the school for Outstanding School Team of the Year.
Teaching Awards judges found it was "buzzing with an enthusiasm for learning"; children and parents were round a campfire during one early morning visit.
Cogan Nursery is leading the field in its application of ICT. It has a YouTube channel and uses social media like Twitter to keep parents in close touch with progress at school. In the classrooms children use cameras, ipads and tablets as a natural part of learning to read, write, talk and count.
Judges also recognised the school's excellent practice in the teaching of Welsh and the use of English as a second language. It is 'way ahead' in its provision for ethnic minorities, has a community shop and is a training school for student teachers.
Nina Ward, the chair of governors, told judges that the school had been on 'a huge journey' since Pauline Rowland, the former deputy head, was appointed headteacher six years ago. "The nursery had a shake-up for the better and has grown from strength to strength."
Pauline Rowland told judges she was certain that the team ethos was down to their 'togetherness'; they had always had the ambition to be the best – she just gave them 'a gentle push'.
The team has forged a unique place in the lives of children and families. The judges said: "The staff take their role as educators to another level. They reach out to parents and make their experience as special as their children's."
Politicians, teachers, scientists and engineers gathered at Pembrokeshire College this month to celebrate a scheme that's been helping to enthuse children and young people in STEM since 2005. The Dragon LNG Darwin Experience is an educational programme offering primary and secondary students the chance to take part in field based activities and hands-on workshops.
Dragon LNG has been providing around 90% of the funding for the scheme since its inception, with other core partners – the Darwin Centre, Pembrokeshire County Council and Pembrokeshire College – providing expertise and resources.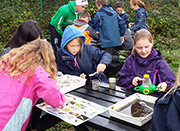 Dragon LNG produced a short film about the scheme, featuring pupils and staff from several primary schools taking part in field study trips with Darwin Centre staff Marten Lewis and Sam Williams, to beaches and rivers around Pembrokeshire.
General Manager Dragon LNG Colin Orr Burns said it was particularly rewarding to see pupils who had been through the scheme at primary school in the early years, now coming back doing A-level science.
Photo: pupils from Narberth School exploring pond life
Back to topMynydd Cynffig Infants – Craft Computer Club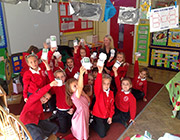 'Imagine having to write everything down on paper before you go to sleep otherwise you'd forget it, even your name…and then you have to read it as soon as you wake up otherwise your mind is empty.'
This is how we started to talk about memory and the file storage of a computer at Mynydd Cynffig Infants. I asked our group of 6-year-olds to pretend that unless they had something written down they wouldn't remember it. This, of course, was a source of much amusement to them. By the way, it still amazes me, that they're only 6 years old. They don't perceive things by varying levels of difficulty, just varying levels of interest/fun.

This approach serves as a really fun way to talk about computers, have them role play and learn some high level concepts around the way computers 'bootstrap'.
The pixel heart picture is from the Craft Computer Kit. It is a black and white numbered grid in which each number corresponds to a colour (eg 1 = red). The children spend around 15 minutes colouring in the grid.
The pupils think it's magic – which is a great jumping off point to explain: it's not magic, but the way computers work, which is just as exciting!