Welcome to the STEM Newsletter for
Primary Schools in Wales
World's Biggest Coffee Morning
Contents
Brace's Bread has teamed up with Macmillan Cancer Support to launch a new schools initiative to support the charity's renowned World's Biggest Coffee Morning.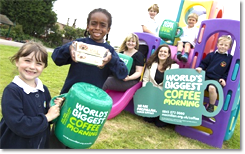 Running to coincide with Macmillan's, Welsh family bakers Brace's and Macmillan are inviting all schools in South Wales to register to hold their own coffee morning on or around that day. Although coffee is optional, the competition invites schoolchildren to design a new flavour Welsh cake (other than Brace's popular Raspberry jam and traditional fruit varieties) or a bread, or even to come up with a new product, that Brace's will consider creating.
The deadline for entries is 21 October, when the school's entry donation of an amount of their choice will also be due. Brace's will award £100 to the winning school, and also invite the winner and their classmates for a tour of the bakery in Crumlin, Newport, where everyone will be given a goodie bag and a packet of Brace's delicious Welsh cakes. The winner will also be photographed with Gold commonwealth winning boxer Jamie Arthur, who has become an ambassador for Macmillan Cancer Support in South Wales.
One school in St Mellons, Cardiff, has already signed up to host a Brace's coffee morning. Rosemary James, Headteacher at St Mellons Church in Wales Primary School says "Macmillan Cancer Support touches our hearts and families and is a very worthwhile cause. The surrounding community are great supporters of our coffee morning and help to make it a great success. We are also excited about working on the Brace's competition".
Picture: St Mellons Church in Wales Primary School pupils, Head of Communications Lydia Whitfield,
Macmillan Cardiff Fundraising Manager Rebecca Parke
School's Madagascar project wins national environmental award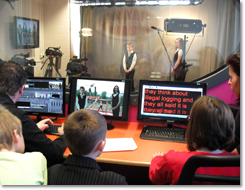 A Welsh primary school has won a national environment award for its work on the tropical island of Madagascar. Castle Park Primary School in Caldicot, Monmouthshire, topped 21,000 entries to be named overall winner of the Total Green School Awards. The competition for five to 11-year-olds is run by the Young People's Trust for the Environment (YPTE) and aims to generate interest in the environment and raise awareness of the need for sustainable energy sources.
Castle Park Primary's Madagascar project saw the children mount an investigation into the island and its rainforests. The pupils came to know and love the African nation's wildlife and made a huge patchwork flag of 48 separate pieces. In addition, the youngsters also raised well over £1,000 through a range of fundraising activities for charity.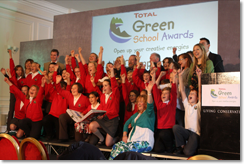 Thirty of the 43 children who took part in the project last week represented the school at a special awards ceremony at London Zoo. All of the national finalists received a cheque for £1,000, presented by YPTE presidents Dermot O'Leary and Naomi Wilkinson. Sue Wilsher, a teacher at Castle Park Primary, said: "The children are over the moon to have won their award and to have attended the national final in London – it was an unforgettable day."
Peter Littlewood, director of the YPTE, was amazed by the children's knowledge of their adopted country. "They have become true experts and have put so much effort into their work on Madagascar," he said. "In addition to all the other aspects of their fascinating project, the flag they have made is absolutely stunning. These young people and the tens of thousands of others like them who have taken part in the awards should give us all hope. Within a generation, our planet is going to be in the hands of young adults who are much more attuned to environmental issues and who will know how to pass on a better world to their children than the one they are inheriting from us."
UK Energy Minister Charles Hendry added: "I find it remarkable how much children know about the environment and where we get our energy from. These awards are a fantastic initiative, rewarding young people across the country for their passion for the environment."
The YPTE is a registered charity that was established in 1982 and aims to inspire and encourage young people's understanding of the environment.
Pupil Meghan Armstrong wins birthday card design contest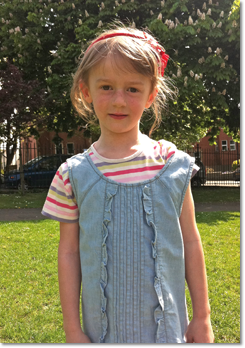 A five-year-old primary school pupil has won a competition to design a birthday card to mark a national company's 40th anniversary. Meghan Armstrong who attends Cogan Primary School, Penarth, was crowned the winner in the four to seven-year-old category by print company Danwood Wales. The firm, part of the wider Danwood Group, launched the competition earlier this year to challenge children to pick up their pencils.
Meghan was said to have impressed judges with her "innovative design" and "creative use of colours". Her winning design will be showcased on Danwood's online gallery and she has also won tickets to enjoy a day out at a theme park.
Anne Bowsher, headteacher of Cogan Primary School, said: "We are delighted for Meghan to have won this competition prize. Meghan worked really hard on her design and this competition is a great way to encourage children to be creative and we are delighted that one of the three winners was from our school."
Richard Corkhill, Divisional director of Danwood Wales said: "The response we have had has been fantastic and the quality of entries we received made it difficult to choose a winner. Meghan's imaginative design caught the eye of the judges and we are delighted to announce her as overall winner."
Source WalesOnline – Simon Gaskell, South Wales Echo
How you can help us
You can help us by telling us about STEM activities you have organised and provide us with an insight into what the pupils gained from the experience by filling in our online feedback form. All feedback forms will be entered into a prize draw each term.
Activities
Timezones
We have three shows for infants including our very popular physics show 'Mega Mechanics', and for juniors we have 'Robokids' which covers the whole science curriculum in 1 hour. We also have 'Time & Tides' for KS2 which covers the Science of Cardiff Bay, as well as EYFS shows and much more. For more information…
Speakers for Schools
Speakers for Schools brings enthusiastic, knowledgeable, and authoritative speakers that are leading their field into state schools and colleges, free of charge. For more information…
FREE experiment kits for all UK schools
Following the success of the Great Plant Hunt and Survival Rivals in 2009, In the Zone will provide a physiology-related science experiment for every UK child of school age. For more information…
Find the best science presenter for school assemblies and special events
SciEnts brings the very best educational science entertainment shows and presentations direct to your school, venue or event. For more information…
ESA kids (European Space Agency)
Has fun resources for primary aged pupils. For more information…
The Bug Club
The Bug Club is for youngsters (5-15 approx.) interested in insects and other minibeasts. Bug Clubbers receive a colourful and exciting magazine six times a year and a variety of other benefits. For more information…
Conker Tree Science
Your school can join real researchers finding out what's happening to our conker trees. For more information…
Grants/Bursaries/Awards
Royal Society Partnership Grant Scheme Next closing date: 4 November 2011
The Partnership Grants scheme provides grants of up to £3,000 for science projects run at a primary or secondary school or college in partnership with a professional scientist or engineer. For more information…
Institute of Physics School Grants Scheme Next closing date: 1 November 2011
The Science and Technology Facilities Council (formerly PPARC and CCLRC) and the Institute of Physics have set up a small grants scheme designed specifically for schools and colleges. The aim of the scheme is to provide schools with grants of up to £500 for projects or events linked to the teaching or promotion of physics. For more information…
Teacher Awards
The Goldsmiths' Grant for Teachers Closing date1 December 2011
Provide teachers and head teachers with an opportunity to take time out from the classroom in order to undertake an original project of their choice, in the UK or abroad, aimed at enhancing their personal and professional development. The grant, of up to £5,000, covers the cost of accommodation, tuition fees and supply cover. For more information…
Competitions
The Great Bug Hunt 2012 Competition
"The Great Bug Hunt competition is a fun and fascinating way to introduce children to the weird and wacky world of mini beasts. So grab a bug net and awaken their sense of discovery and adventure in the great outdoors." Kate Humble For more information…
Big Question Competition
Discuss "the issues" surrounding any of the topics on SciberBrain with your students. Three cash prizes of £100 will be awarded for the 3 most interesting questions sent via the feedback page by 1 Feb 2012. For more information…
Events
Garytheclown w/c 14 Nov 2011 Caerphilly, w/c 21 Nov 2011 Monmouth
Garytheclown is visiting South Wales on the following weeks and hopes that teachers may be interested in booking Gary for a 'science day' with Gary the MusicalClown. For more information…
It's a STEM Christmas Cracker- Harry Ramsden's Cardiff Bay 7 December, 5pm -7pm
A networking event for teachers and STEM Ambassadors.
An opportunity to
find out how to enrich and enhance the curriculum in school
ask questions.
gain free resources available and a Christmas goody bag
meet STEM Ambassadors and find out how to get involved in the STEM Ambassador programme.
ASE Cymru South West Section Event, Gower College, Swansea 12 December 4.30pm - 6.00pm
A pyrotechnics- watch and wonder with Ewen McLaughlin at Gower College, Swansea Old experiments with a new twist – suitable for primary and seconday teachers including methane bottle rocket and luminal. For more information…