Welcome to the STEM Newsletter for
Primary Schools in Wales
Contents
Find out more about events happening in the summer term, competitions, new educational resources, events near you and new rounds of grants and more…
And… if you're planning a project of any kind, and need an extra pair of hands and links with the real world, contact See Science and request for a STEM Ambassador to come and help. The STEM Ambassadors Programme is FREE to schools. Email ambassadors@see-science.co.uk or go to http://networking.stemnet.org.uk and click on 'REQUEST A STEM AMBASSADOR'.
Ysgol Gynradd Gymraeg Evan James UK winner of the World Wildlife Fund's Earth Hour community competition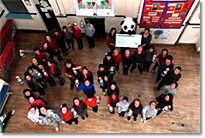 Ysgol Gynradd Gymraeg Evan James lead the UK-wide Earth Hour in celebration of their outstanding environmental achievements. They were the first to switch off the lights for WWF's Earth Hour to show they want to create a brighter future for the planet.
The primary school entered a short-story competition by WWF and Earth Hour 2012's official partner More Than, offering communities the chance to lead the UK switch off and win a £1,000 grant towards organising the special event on the night.
Headteacher Moira Greaney said: "Winning WWF's Earth Hour Community Competition is a fantastic result. We're really proud of the work we do every day to teach children the importance of taking care of our planet and hope we'll be able to inspire others in our local community and across the UK too."
RHS Young School Gardener of the Year 2012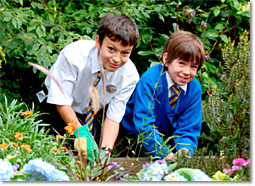 The RHS is searching the UK for the best young grower in the land. Aimed at gardeners up to the age of 16, the RHS Young School Gardener of the Year 2012 annual competition is free to enter. The RHS Young School Gardener of the Year competition will be launched at the RHS Flower Show, Cardiff on Friday 20 April as part of the National Gardening Week celebrations.
Do you know a great young gardener?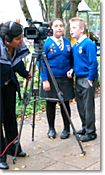 To enter this competition, aimed at pupils in a school registered to the RHS Campaign for School Gardening, an adult can nominate a young person by completing an entry form. The RHS chooses the four best entrants from four age group categories, who each receive digital cameras to make short films demonstrating why they're such exemplary gardeners. An overall winner will be selected by a judging panel who will view the films. Final judges include Lizzie Balmforth, Curator of RHS Garden Harlow Carr and Peter Seabrook broadcaster and Gardening Editor on The Sun.
Age categories
1. Aged 5–7 KS1, except Scotland Primary 1 & 2
2. Aged 7–11 KS2, except Scotland Primary 3–6
3. Aged 11–14 KS3, except Scotland Secondary 1 & 2
4. Aged 14–16 KS4, except Scotland Secondary 3 & 4
How to enter
An adult (over 18) needs to nominate a young person (see definition of young person in the terms and conditions) by completing and returning the entry form to us by 5pm Friday18 May. Follow this link for details, entry form and terms & conditions.
Amazing Films created by Welsh Schools for World Book Day
Turnip Starfish worked with the Welsh Books Council to run a competition for World Book Day 2011.
The winning schools Cross Ash Primary and Ysgol y Gader received a workshop from Turnip Starfish. Turnip Starfish helped the young people bring the winning storyboard to life!
To visit their films go to www.turnipstarfish.com/News/WorldBookDayAnimationNews2012.html.
Roath School Design in RHS Show Cardiff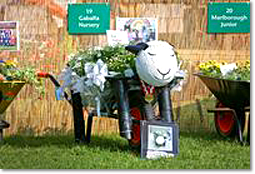 The RHS Show Cardiff returned to the parklands of Cardiff Castle and the Schools Wheelbarrow competition was more popular than ever, with 60 colourful, imaginative entries, including Lakeside Primary School, Roath, who are hoping to race ahead to win Gold!
This year's theme is Olympic based and entitled 'Sports and Shoots'. The Lakeside children involved took their inspiration for this year's entry from the famous Olympic Torch as it makes its way around the British Isles. Their wheelbarrow features a glimpse of a flower from each of the home nations surrounding an Olympic Torch made from chicken wire and carrier bags.
Beth Warwick runs the Gardening Club at Lakeside Primary, and she said: "The pupils of the Gardening Club are all really excited about this year's wheelbarrow competition. After a lot of discussion and debate, the children came up with the idea of making their own Olympic Torch. They wanted their entry to represent Great Britain so they divided the wheelbarrow into four and planted thistles for Scotland, shamrocks for Ireland, roses for England and daffodils for Wales. We didn't enter last year so this year the children were keen to show off their new gardening skills!"
How you can help us
You can help us by telling us about STEM activities you have organised and provide us with an insight into what the pupils gained from the experience by filling in our online feedback form. All feedback forms will be entered into a prize draw each term.
Activities
Grants/Bursaries/Awards
Teacher Awards
Do you know a teacher at that deserves a pat on the back? Why not nominate them for an IOP Teachers Award? There is no denying that teachers contribute an immense amount to society, however sometimes do not achieve the recognition they deserve. More…
Competitions
Events
June 2012
The Science Museum is on tour across the UK. Mon 11 June, Llandudno Venue Cymru, Thu 14 June, Cardiff St David's, Sat 16 June, Swansea Grand Theatre. More…
Big Bang Cymru 2012. 28 June, Liberty Stadium, Swansea. Registration for the Big Bang Cymru 2012 – 28 June, is now open! Wales' premier STEM event is now accepting registrations from schools and colleges. More…
NPL Water Rocket Challenge schools competition. Wednesday 20 June, 1.30-4.30 pm. Aim for the sky in our annual Water Rocket Challenge, which sees hundreds of participants, from school teams to adults, battling it out to become champion. More…
July 2012
Oxfam Water Week. 2-6 July (closing date 1 June). Get involved in 2012 and give your pupils the opportunity to learn about global issues, develop skills and values as active global citizens, and make a difference to the world. By taking part your school is in with a chance to be one of Oxfam's Water Week Champion schools. More…
Resources
For a full list of resources available for secondary schools, see the Resources page on the See-Science website.
Courses/CPD
The Earth Science Education Unit (ESEU) offers a range of 'no fee teacher CPD' interactive workshops which aim to inspire confidence, motivate teachers and students in teaching Earth Science. For more details go to www.earthscienceeducation.com or contact eseu@keele.ac.uk.
Primary Engineer. Design and Technology for primary teachers delivered through Primary Liaison incorporating the practical application of science, mathematics, literacy and ICT. For more details of courses go to www.primaryengineer.com/.