STEM Newsletter for primary schools in Wales
June 2016
The monthly e-newsletter that's an essential source of information and inspiration for teachers – and anyone with an interest in STEM (Science, Technology, Engineering and Maths) engagement – across Wales.
Contents
Ask a STEM Ambassador to visit your school
A STEM Ambassador's involvement can engage and enthuse both students and teachers. If you are interested in asking a STEM Ambassador to visit your school you can make your request here or contact See Science directly at ambassadors@see-science.co.uk.
Give us your Ambassador feedback
If an Ambassador has visited your school, or if you have met an Ambassador at an enrichment activity, we would be very grateful if you could fill in our teacher feedback form. Please encourage colleagues to respond.
Teacher information pages
Events, competitions, grants and resources are regularly added to our teacher information web pages. You can check them out by following these links:
STEM Opportunities for teachers and pupils
FREE STEM Challenges for the autumn term – book now!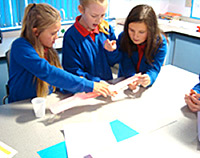 Schools are invited to take in a STEM Challenge during the autumn term. The Challenges require all of the skills involved a real-work challenge: teamwork, design, construction, problem solving, communication, research – and fun!
The half-day STEM Challenges aimed at Years 5 and 6 are designed to support learning and encourage pupils' curiosity to find out how and why things work. The resources were produced thanks to the generous support from the Welsh Government's National Science Academy. Schools in Wales are able to book ONE STEM Challenge for a class of pupils FREE. Places are limited so early booking is recommended.
There are three STEM Challenges:
Emergency Communication Challenge
Space Challenge
Marble Roller Coaster Challenge
To book one of these or to register interest, email enquiries@see-science.co.uk.
Day visits to the Centre for Alternative Technology
A day visit to CAT will inform, inspire and enable school groups about sustainable living. The Centre for Alternative Technology has been at the forefront of environmental education for over 40 years, with special attention being placed on STEM subjects. Our tuition is based on fulfilling the Education for Sustainable Development (ESD) with Global Citizenship for Wales. CAT offers bursaries for Welsh schools in STEM subjects and often has funded CPD courses and other exciting opportunities for teachers and pupils.
'It was a really valuable day that allowed them to see their STEM subjects working alongside their Bacc, this is a fantastic step forward for us.' Eirias High School Conwy – funded visit 2015.
The Science of Dragons Roadshow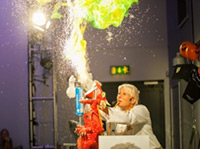 Viking history, legend and dragon lore inspired Cressida's How to Train Your Dragon series and just like Cressida's stories, Sue aims to transport her audiences back in time to a fictional world where Vikings ruled and dragons roamed. This innovative and interactive show explores how dragons can be captured using a crossbow, trained and then used to defeat the enemy tribe; The Meatheads!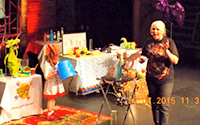 Scientific Sue needs lots of volunteers to help her investigate and explore the science of how dragons fly and then, using some of the science behind the different dragon fire types (steam, icy fog, explosive gases, flammable liquids and of course big flames.
Available FREE to all secondary (Year 7) schools in Wales in 2016 thanks to funding from Welsh Government National Science Academy. Shows (half-day) on the following dates: West Wales, June 20-24; North West Wales, July 4-8.
To book email See Science at enquiries@see-science.co.uk.
Curriculum Links: Science*, & Engineering plus History, Literacy and Story Telling. The science can focus on: chemical reactions, combustion, states of matter, flight, buoyancy, forces, energy, digestion, and respiration, tests for oxygen, carbon dioxide and hydrogen.
Back to topFocus on Science FREE Resources

The Welsh Government 'Focus on Science' campaign aims to highlight the importance of science, both as a school subject and in relation to possible future careers for young people in Wales.
You can download the campaign resources pack here which includes posters, templates, infographics and termly planners.
The campaign has also produced videos as a useful resource for teachers to promote the importance of science as a subject. These short video clips capture some of the key messages that science is fun, that the skills and knowledge gained in science lessons are directly relevant to many jobs and industries, and that science really can pave the way to a stimulating and financially rewarding career.
As part of the Welsh Government parental engagement campaign 'Education begins at home' this animation encourages young people to pursue a variety of careers within science.
Smallpeice Trust STEM Days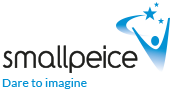 Introduce your students to the exciting world of engineering by booking an in-school Smallpeice Trust STEM Day for Years 6-11 – perfect for bringing science, technology, engineering and maths subjects to life. A Smallpeice educator will come to your school to hold a STEM Day workshop for up to 60 students. Depending on the course you've booked, the session will run for a full or half-day around normal school hours.
Pupils taking part can register for a Discovery CREST Award (FREE to Welsh students). Most of the STEM Days are FREE thanks to sponsorship of our corporate partners.
Connecting Classrooms course: Teaching critical thinking and problem solving
Connecting Classrooms is offering a new course for teachers in Wales to develop their practice in relation to teaching the core skills of critical thinking and problem solving. The training package helps teachers anticipate changes to the Welsh curriculum by following the recommendation in Successful Futures to embed the Wider Skills across all Key Stages. Book places here.
Back to topUsing school grounds to teach science

Dawn Thomas will be presenting a 'Nature Days' workshop at Knelston County Primary School on Wednesday 22 June at 4pm – an ASE Cymru/Wales South West Wales Section Event
Science has the potential to spark the imagination of every child. It can fit into most topics and dovetails easily into nearly every one of the literacy and numeracy framework elements. However, children are still rolling cars down ramps in their classrooms and not outside!
During this workshop teachers will have the opportunity to:
Understand how to use school grounds as a resource for undertaking a range of investigations
Look at the equipment required to undertake these investigations and how to use instruments you have at school, or make them in school with pupils
Acquire ideas on how a science investigation can be undertaken within the context of a history topic (eg Egypt)
Understand how to use the resource of your school grounds to enhance the teaching and learning of science at all levels, for example to teach skills required in fieldwork.
All teachers from both primary and secondary schools are welcome to attend. The event is provided free of charge for ASE members but non-members are asked to make a contribution of £4. Book here.
Teacher CPD – Into Film's training offer
Into Film's bilingual programme offers a range of strategies that support teachers and group leaders in achieving effective, memorable learning through and about film. We specialise in training teachers in raising literacy attainment through film and film as a tool for curricular attainment via filmmaking and animation activities. Over the next few weeks, we have sessions coming up in all regions of Wales, from Bangor to Blaenau Gwent. Find out more and book your place for free today here.
Big Ideas Wales. You can never be too young to be an entrepreneur! The Fiver Challenge is Young Enterprise's nationwide challenge for primary schools, aimed to inspire creativity and develop enterprising attitudes and behaviours in young people. Find out when it starts, how it works and how you can get your young people involved.
The TeenTech City of Tomorrow activity & competition initiative offers students in Key Stages 2 and 3 (8-14 year olds) the opportunity to create their vision of the future. In this city there are no limits, no ideas are too big and everything is smarter, kinder and safer than before. Register your interest here.
The Great Bug Hunt. As spring approaches, search the habitats around you for bugs of all descriptions. Research, record, draw, paint, photograph and enter your results in the Great Bug Hunt for primary schools. Entry to the 2016 Competition is open until 17 June 2016
CLEAPSS – ASE Primary Competition 2016. This year's competition is all about improving biodiversity around the school or local area. Entry is open until 25 October 2016.
National Women in Engineering Day. 23 June 2016. NWED is an opportunity to focus attention on the great opportunities for women in engineering. STEM Ambassadors and schools are encouraged to organise their own events in support of the day, using the NWED logo, website and supporting resources. Resources for primary and secondary aged pupils are available here. Competitions for KS1 and 2 pupils available. If you would like to request a STEM Ambassador to support your day contact ambassadors@see-science.co.uk.
STEM Challenge Teacher CPD – FREE. 12 July North Wales. Available FREE to schools in Wales with funding from Welsh Government National Science Academy. The CPD, delivered by See Science, will provide teachers with training on how to use the toolkit and run a suite of science challenges with KS3 pupils. Teachers will be linked with industrial partners to provide an insight into the real-world of work through the STEM Ambassadors programme. Each teacher attending the CPD will receive a toolkit to tailor the delivery of the STEM challenges to their pupils. In addition, the toolkit contains information on setting up and running a STEM Club together with eight STEM Club fun and interactive activities. To book a place, email enquiries@see-science.co.uk.
Smallpeice Trust Summer Engineering Experience Course. 11-13 July. Cardiff University. Smallpeice Trust provide full supervision for all courses and staff are fully trained, DBS checked and qualified in first aid. Year 9 students will design and make a real working project with the help of young engineers who do it for a living. Put your lateral thinking to the test, solving problems and finding the best solutions to deliver your project on time and on budget. You might even set your sights on the perfect career for you. Each and every course will end with a brilliant presentation dinner, where you can mingle with industry experts and high profile guest speakers. All pupils taking part can register for a Bronze CREST Award (no charge to Welsh students). Book here or contact info@smallpeicetrust.org.uk / 01926 333 200.
Back to topSuper Scientist Awards 2016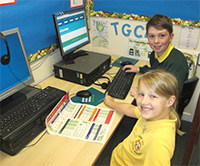 One hundred and forty schools across the UK are to be awarded Super Scientist Certificates on behalf of Amgueddfa Cymru – National Museum Wales in recognition for their contribution to the Spring Bulbs – Climate Change Investigation. Huge Congratulations to all these schools! Photo: Ysgol Esgob Morgan entering data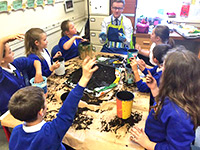 A big 'thank you' to every one of the 4,907 pupils who helped this year for working so hard planting, observing, measuring and recording – they really are Super Scientists! Each one will receive a certificate and Super Scientist pencil. Photo: Ysgol Bryn Coch planting their bulbs
Super Scientist Winners 2016: Ysgol Pentrefoelas – Wales; Biggar Primary – Scotland; Carnforth Primary – England. Each will receive a class trip of fun-packed nature activities.
Welsh Runners-up: Ysgol Nant y Coed – Wales; Severn Primary – Wales
Many thanks to the Edina Trust for funding this project.
Penny Tomkins
Bring research alive with the Royal Society's Partnership Grants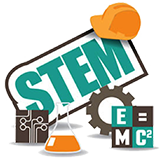 The Royal Society Partnership Grants offer up to £3,000 to UK schools or colleges to give pupils aged 5-18 the chance to get involved in science, technology, engineering and mathematics (STEM) projects. The Partnership Grants deliver a better understanding of the latest developments in STEM. This scheme can also benefit your school or college by allowing you to change the perceptions of those working in STEM professions.
The grant can be used to buy the equipment needed to run a STEM investigation project in partnership with a STEM professional.
Applications are made jointly by two project partners: the school partner – any teacher or support staff at the school; and the STEM partner – a person currently working in a STEM-related profession
The deadline for applications is 1 August 2016 – apply here.
Back to topCultivation Street is back for 2016
Cultivation Street is an initiative, founded by TV gardener David Domoney to encourage communities and schools to revitalise their streets and green spaces. Sign up to be a part of the campaign and you can enter your school into the Cultivation Street Awards to win £2,000 in National Gardening Gift Vouchers! There are three prizes available within the school award: 1st prize: £2,000; 2nd prize: £1,000; 3rd prize: £500.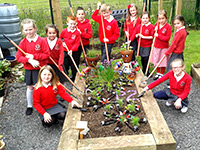 The awards will go to the schools that have best involved children to create an inspirational school garden. The garden can be edible or ornamental and new or well-established. The schools should also be able demonstrate that they are teaching children how to garden and interact with nature. The award is open to any school in the UK.
Last year's winner was Ballycraigy Primary School in County Antrim, Northern Ireland (one of our School Gardening Team of the year finalists from last year!) whose impressive growing and wildlife projects bowled the judges over. You can read more about the winners here. To find out more and to apply for a free Cultivation Street Email Starter Pack containing tips and guidance for greening up your school, click here.
Tim Peake Primary Project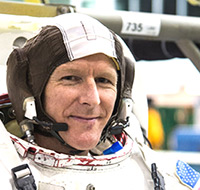 ESERO-UK, the UK Space Education Office, have created an exciting project for UK primary schools to get involved. Join the ESERO-UK Tim Peake Primary Project to connect your school with British astronaut Tim Peake's mission to the International Space Station (ISS) – and use space to increase the engagement of primary school children with science, numeracy and literacy.
The ESERO-UK network of space ambassadors will help schools take part in a range of space activities that have been created to support Tim's mission to the ISS. These activities will also include professional development for teachers that will be available locally.
Online application here.
Back to topAsthma Aware KS1 Education Scheme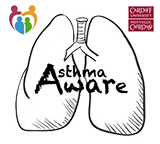 Cardiff University Paediatric Society have recently launched their new Asthma Aware scheme. The scheme aims to reach out to all primary schools across Cardiff and surrounding areas to teach KS1 children about what asthma is and what to do if someone has an asthma attack.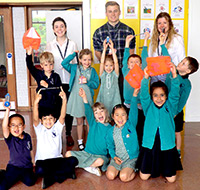 With one in eleven children having asthma, the scheme is proving vital to educate younger children about the condition. The scheme has three main aims: understanding what asthma is, recognising an asthma attack and knowing what to do if someone has an asthma attack. The scheme is a 30-minute session using interactive activities, a presentation and quizzes, which aim to ultimately reduce the preventable deaths from asthma that happen each year.
The Asthma Aware programme was designed by Caitlin Peers and Rhys Hughes, two medical students from Cardiff University and has so far been trialled in KS1 classes as Lakeside Primary School in Cardiff. The feedback was fantastic and so the team at Cardiff University is hoping to massively expand the scheme over the summer, encouraging all local primary schools to get involved.
For any schools interested in getting involved with the scheme or wanting more information please contact Cardiff University Paediatric Society via cupspresident@gmail.com.