Welcome to the STEM Newsletter for Primary Schools in Wales
An essential source of information for teachers and anyone with an interest in STEM (Science, Technology, Engineering and Maths) engagement across Wales.
Read inspiring stories, discover new opportunities and find out how a STEM Ambassador's visit to your school can engage and enthuse both students and teachers. There are details of current events, competitions, grants, CPD, awards and more at our teacher information pages.
Give us your Ambassador feedback - and win a M&S Gift Hamper
We would be very grateful if you could fill in our teacher feedback form if an Ambassador has visited your school or you have met an Ambassador at an enrichment activity. Please encourage colleagues to respond. Each half term we will provide one teacher who has provided feedback with a M&S Gift Hamper.
DVLA Coding for Success event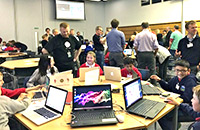 DVLA STEM Ambassadors facilitated a superb event at the Richard Ley Development Centre Swansea on Tuesday 12 May. The DVLA's IT department has a strong STEM Ambassador expertise which has spearheaded the establishment and facilitation of Code Clubs at primary schools in Swansea.
STEM Ambassadors Mark Jones, Karen Stephens, Meirion Steele, Andrew Phillips, Viv Richards and Huw Williams have led the pupil groups as IT programme mentors, introducing KS2 pupils to coding skills and use of current IT technology in gaming.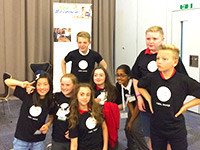 The success was celebrated in a day of presentations and interactive demonstrations from the school clubs. The event was attended by representatives from business and industry (including BT) council leaders, governors and teachers from local schools.
Craig Thomas, Regional Officer for Code Club and Sian Ashton for See Science presented awards, while lead host STEM Ambassador Mark Jones spoke about the dedication and hard work that his team had delivered to support the Code Club initiative. Pupils taking part in the Code Clubs were rewarded by the DVLA with bespoke tee shirts (as worn by Ysgol Gynradd Tycroes in this photo).
Plans are in place to expand and build on the success of this initiative.
Maths counts at Marlborough School Art Week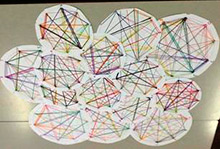 On Tuesday 19 May STEM Ambassador Dr Claudia Medrano visited Marlborough Primary School in Cardiff as part of the Arts Week. Claudia has a PhD in Mathematics and is a Maths Tutor.

This may seem a strange intervention for a STEM Ambassador, but there are many aspects of the Arts world that can be related to Maths: perspective, shape, ratio (Vitruvian Man!) to name a few. Claudia and the teacher devised a super session where the children took part of the decimal expansion of Pi and drew colourful networks from it.
Teacher information pages
Events, competitions, grants and resources are regularly added to our teacher information web pages. You can check them out by following these links:
Evaluation Findings – STEMNET's Operations and Impacts 2011-2015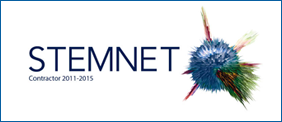 The NFER (National Foundation for Educational Research) conducted the research with stakeholders, including:
Over 17,000 pupil surveys returned
Nearly 800 teachers interviewed
Over 6,000 STEM Ambassador surveys returned
29 employers interviewed
Here are some of the Key Findings from the evaluation.
Young People
9 out of 10 pupils (93%) had increased knowledge and understanding of STEM subjects after involvement with STEMNET's programmes, according to teachers.
9 out of 10 (89%) teachers said STEM Clubs increased pupils' increased awareness of the importance and real-world applications of STEM as well as transferable skills.
Three-quarters of pupils rated their experiences both with STEM Ambassadors and STEM Clubs highly
More than half (61%) of the pupils studying science agreed with the statement that after involvement with STEMNET programmes 'I know more about why science is important for everyday life'.
Amongst pupils who took part in STEM activities through STEMNET's programmes 8 out of 10 (80%) wished to continue study in science, amongst pupils without access to STEM activities the figures was less than 6 out of 10 (59%).
"Speaking to STEM Ambassadors, seeing what careers they have and what apprenticeships you might take and what careers you could take after that it's really opened my interest for it. It's shown me how interesting it would be if I took a STEM career. Having these subjects means you get a better career." (Pupil)
Teachers
Two-thirds (62%) of teachers interviewed said that it would not have been at all possible to deliver STEM activities, or only to a small extent, without the support provided by the STEM Ambassadors Programme.
Nearly 8 out of 10 (77%) found the Schools' STEM Advisory Network useful in making them more aware of the range of STEM enrichment and enhancement opportunities they could engage with.
More than 8 out of 10 said that they intended to use the STEM Ambassadors Programme (83%), run a STEM Club (82%) or access STEM information and advice via STEMNET in the future.
8 out of 10 (82%) teachers increased their understanding of the benefits of STEM enrichment and enhancement activities through the STEM Clubs Programme. The same number increased their use of real life contexts in teaching. (87%).
STEM Opportunities for teachers: TIPS
Bringing the world of industry into the classroom

Over the next 10 years, the UK requires over 87,000 new engineers and technicians every year…
"Change the way we think, change the way the work, change the way we do things… to be involved in something like that is pretty fantastic." Leigh Carnes, Operations Director, Manufacturing Technology Centre
TIPS (Teacher Industrial Partners' Scheme)
The TIPS scheme enables teachers of science design and technology, computing and maths to attend a two-week placement with a local employer. TIPS connects teachers with companies so that they can expand their knowledge of engineering and technology careers and then bring this to the classroom.
So how can you get involved in this scheme? Find out more here about how you can be part of this opportunity.
Back to topSteve the Weather at Llandogo Primary
Steve Hoselitz delivered a stunning workshop on weather systems at Llandogo Primary in Powys, demonstrating some amazing activities that he has developed: The Cloud Wheel; Water Cycle; DIY Wind Vane and Weather Time. Steve made such an impact that he has visited Raglan and Crickhowell primary schools with the same workshop.
Mark Watson, Science Coordinator at Llandogo, said: "I am writing to thank you for helping me get in touch with Mr Hoselitz one of your STEM Ambassadors. He has just finished visiting our school, helping us run a very exciting day about 'weather'. Mr Hoselitz was a pleasure to have in the school and it was wonderful having his support and enthusiasm for the subject. All the children had a wonderful day."