Welcome to the STEM Newsletter for
Primary Schools in Wales
Find out more about what's happening, competitions, new educational resources, events, new rounds of grants and more…
There are larger versions of some (but not all) of the photos in this newsletter - click the small photo to view.
Teachmeets share STEM Club ideas
Have you ever been to a TeachMeet? Teachers, activity providers and STEM Ambassadors from across North Wales took part in two STEM Club-focused TeachMeets at Ysgol Uwchradd Eirias, Colwyn Bay and Ysgol Rhiwabon on 15 and 16 May.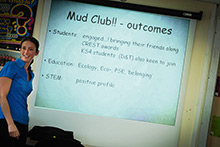 Through short and snappy presentations, participants shared experiences of running STEM Clubs activities ranging from cooking, Eco Clubs, gardening, building greenhouses, astronomy and designing solar powered racing boats.
In addition to the teachers' presentations, a wide range of activity providers gave a brief overview of how they could support school STEM Clubs. These included representatives from the Royal Academy of Engineering, Techniquest Glyndŵr, STEM Cymru, Green Power, the Institution of Engineering and Technology (IET) Faraday Resources, and Glyndŵr University's Computing Department. STEM Ambassadors also gave an insight into their work and how they could support and enthuse students in STEM Clubs.
The TeachMeet format ensured a lively and dynamic atmosphere for sharing ideas, asking questions and making new contacts. When's the next one? 20 June Merthyr Tydfil!
Back to topWheelbarrow Competition 2013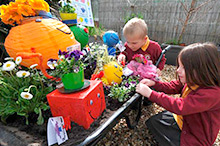 The concentration on their faces says it all as they put the finishing touches to their floral display. These pupils from Radyr Primary School are just one of more than 60 schools in Cardiff, Caerphilly and the Vale that took part in the Wheelbarrow Competition 2013 at Cardiff's prestigious RHS Flower Show on 19-21 April 2013.
Inspired by the very first Cardiff Children's Literature Festival which took place in the city last month, local schools were challenged to create a wheelbarrow under the title 'Wheely Good Read' for the show, which is now in its ninth year. Visitors to the show were able to vote on their favourite wheelbarrow, and the winning schools will receive gardening vouchers for their schools to continue their horticultural interests.
The voting
A fantastic 47 entries competed in 2013 for their share of the 6,774 public votes, with prizes for 1st (£100), 2nd (£75) and 3rd (£50) of gardening vouchers going to:
1st – Moorland Primary

2nd – Coed Glas Primary

3rd – Ty Gwyn Special School

It is just one of the ways of getting young people interested and involved in the biggest gardening event in Cardiff's calendar. And the RHS' director general, Sue Biggs, is delighted to see so many young people taking part. "I feel that gardening has almost skipped a generation", she says. "We run lots of schemes in schools and one of our most popular is Get Your Grown Up Gardening. We are actually seeing, in certain cases, young people teaching their parents how to garden. In the 1980s and 90s, it felt like gardening was not really be taught, but there is a real swing back again and children are starting to learn that potatoes come from the soil and not McDonalds. Gardening is a great outdoor activity with many benefits and it is great to see it becoming popular again. It is great for well-being and teaching children how to grow their own."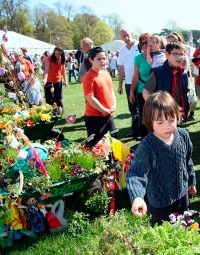 The pupils at Radyr are just one example of how schools are getting involved in that revival. They have created a wheelbarrow with two Flowerpot Men reading Mr Men books, because they have been reading the books in class. The Mr Men characters are made out of recycled materials, with plants/flowers growing out of their hats and bodies, and there will be a big Mr Tickle hanging off the side of the wheelbarrow.
Teaching assistant Lisa Greenwood, who has been helping the children with their creation, believes there are major benefits in getting the children involved in outdoor activities. "There is a big push in the curriculum to get children outside and learning more, so this is the perfect activity", she says. "The Year One and Two pupils at the school have been involved and one of the big advantages is getting them to work together on a project. They can learn so much from just doing simple tasks. Some of them will never have planted flowers before nor done much in the garden and because they are reading the books in school, it extends their learning. "Last we grew our own fruit and vegetables and that was a great success."
Another local school taking part is Heronsbridge School, from Bridgend, who have designed a wild woodland garden in collaboration with award-winning garden designer Anthea Guthrie. The Artful Bodger's Garden is inspired by the beautiful woodland around the Vale of Glamorgan special school, where lawyer turned garden designer Anthea has taught for the past five years. The woodland garden highlights the ancient craft of 'bodging', where the bodger would buy a stand of trees from the landowner and cut and make chair legs and other forestry products.
This year's competition was sponsored by Legal & General. The voting took place at the show in Bute Park on 19 – 21 April.
Back to top Links to See Science information pages
Because there are now so many STEM stories in the monthly newsletter it's no longer possible to include abbreviated lists of activities, resources, competitions, grants, cpd opportunities and events in the body of the newsletter.
New items are continually being added to these web pages – check them out by following these links: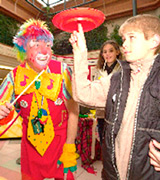 Gary has been travelling around Wales offering free workshops to primary and secondary schools in Wales, supported by the National Science Academy. Gary and his son Scott have visited schools to provide hands-on fun science interactive workshops on 'FORCES'. These include each child playing on circus toys (plate spinning, using Diabolise, & wheel balancing) and also making a moving toy. Following the workshops, materials are provided to enable teachers to run an activity/club activity and/or participate in CREST awards. The overall aim is to enhance the understanding of science in the home, school and everyday life through school workshops and STEM projects. Gary's workshops are designed for pupils of all abilities, particularly those with low ability and special needs.
If you would like more information about Gary the Clown visit www.garytheclown.co.uk
Back to topSt Gabriel's R.C Primary School Code Club starts in Newport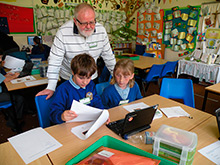 Code Club was started just over 1 year ago and is a nationwide network of free volunteer-led after-school coding clubs to teach children aged 9-11 the skills required to write computer code. There are now over 750 Code Clubs across the UK, of which nearly 30 are in Wales. St Gabriel's RC Primary School started in late April 2013 and is the first in Newport run by STEM Ambassador and Code Club volunteer Gordon Cameron. The availability of computer resources means that the Club is limited to 16 children and, as a result of an initial presentation about what the Club would be doing, applications to join were heavily oversubscribed.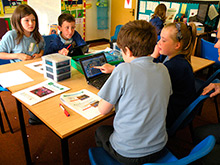 The Club activities start with prepared projects; however, the children are encouraged to use their enthusiasm and inventiveness to create games that are more elaborate and personal to them.
"Scratch is fun. I've already done projects at home – made a game and added it to the Internet; without Code Club I couldn't have done this and had so much fun."

DM – Code Club member

"It's really fun and I enjoy going to Code Club. I like finding out and trying new things."

KF – Code Club member

"It's good from a teacher's point of view as it enables the pupils to develop new skills, find their way around a computer, learn to program a computer and engage in problem solving."

Lorraine Williams – Class Teacher

"Code Club provides pupils with the opportunity to be introduced to programming by adults who have an expertise and skill in that area of IT. Our pupils have been very keen to continue their learning after the club in school by downloading the software and working on projects at home."

Claire Russell – Headteacher

"It is very rewarding when you see the spark of understanding in the children's eyes. They are all keen to get started every week and always reluctant to leave."

Gordon Cameron – Code Club volunteer
Code Club is rapidly expanding but relies on volunteers being able to give an amount of time to go into schools and then help the school to recognise the benefits of these clubs.
Back to topNSEW comes to the West Wales coast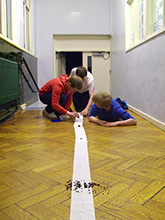 National Science and Engineering Week was celebrated along the west coast of Wales with a range of activities for pupils, students and the wider community, many of which were supported by grants from the Welsh Government through the National Science Academy.
Clear skies and a waxing crescent moon were the backdrop for an evening of stargazing and astronomy activities at Ysgol Uwchradd Tywyn. Staff and students from Aberystwyth University's Physics Department gave 30 minute planetarium shows inside their inflatable Stardome, and were ready outside with their high definition telescopes to point out constellations and Jupiter's moons. The school's yr 10 GCSE Astronomy students were also on hand to organise and explain various astronomy activities. Part way through the evening they laid out a 'Loo Roll Solar System' down the corridor, using fruits of different sizes at particular numbers of sheets of toilet tissue away from the 'Sun', to demonstrate the relative sizes and positions of the planets.
Pupils from 34 primary and secondary schools in West Wales enjoyed a visit to Aberystwyth University's Science Fair based in the Sport Cage on the Penglais campus. This annual event, organised by the University's Centre for Widening Participation and Social Inclusion, is a chance for University students and staff, and other local organisations, to present aspects of their work and research to local pupils in an accessible, fun and hands-on way. Over three days the hall was buzzing with excitement as pupils tried their hands at activities such as: cracking the RNA code; making custard balls; and watching in amazement as a giant vortex cannon sent powder rings above their heads. Was anyone brave enough to get close to that albino python?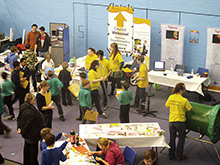 Ysgol Penybryn, Tywyn hosted a very successful afterschool 'Healthy Living Fair' inviting parents and governors to find out more about diet, fitness and general well being. Leading up to the event, staff and pupils had been working on these themes in school, and on the day itself were ready, along with local health and leisure professionals, to demonstrate and explain different aspects of the topics.
In every corner of the classrooms their hard work was evident with displays of work on the body, teeth, healthy diet and the importance of keeping active. The food stalls were particularly popular, especially the fruit kebabs and the bicycle-powered smoothie maker!
Other events planned in the area were: a Science and Technology Discovery Day at the Talyllyn Railway, Tywyn for primary and secondary pupils; and a visit to the new Ysgol Craig y Deryn currently under construction in Llanegryn, to allow pupils who will be attending the school from September 2013 to find out how sustainable technologies are being used to build their new school.
Back to topDiscovering our place in the universe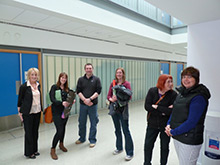 In conjunction with See Science Wales, Mark Bailey and Libby McKearney from Armagh Observatory delivered two one-day primary-sector teacher training courses in Wales during May 2013. 15 teachers attended Glyndŵr University, St Asaph on 14 May and after the course had a special tour of the OpTIC Facility which is involved in polishing the very precise mirrors for the Extremely Large Telescope Project, plus tours of other R&D areas such as the Centre of Solar Energy Research.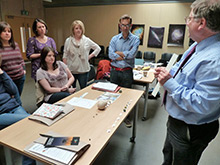 Day 2 in South Wales took place on 16 May at the ACE2 Centre, Aberthaw, Barry with 10 people in attendance. Hopefully course participants have gained more background knowledge of astronomy and have some new ideas on fitting it into the curriculum. The European Universe Awareness programme (EU-UNAWE) follows broadly the same ethos as UNAWE, namely to use the beauty and grandeur of the Universe to inspire young children and encourage them to develop an interest in science and technology. It has the further aim to introduce children to the idea of global citizenship and tolerance at a crucial stage of their development, and thereby to demonstrate that they are part of a wider international community.