Welcome to the STEM Newsletter for
Primary Schools in Wales
Find out more about what's happening in the summer term, competitions, new educational resources, events, new rounds of grants and more….
Are you running activities at your school during D&T Week from 25 to 29 June, if so why not contact us and request a STEM Ambassador to support these events?
This year the Big Bang Cymru 2012 on 28 June is at the Liberty Stadium, Swansea. This is Wales' premier STEM event and is now accepting registrations from schools and colleges. Enter your student STEM projects into the National Science & Engineering Competition (NSEC)/ Young Engineer for Britain and the regional finals for CREST. Eligible projects include student course work or projects completed during lunch time/ after school clubs. Some students may also have projects that they have completed in their own time.
If you're planning a project of any kind or an event at your school and need speakers, workshops, links with the real world, or an extra pair of hands, contact See Science and request for a STEM Ambassador to come and help. The STEM Ambassadors Programme is FREE to schools. Email ambassadors@see-science.co.uk or go to http://networking.stemnet.org.uk and click on 'REQUEST A STEM AMBASSADOR'.
Science of Cooking Masterclass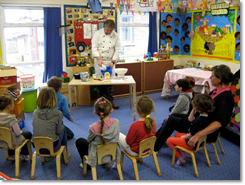 Challenging Heston Blumenthal with some competition was Ambassador Anthony Rhodes.
Here Anthony is holding a 'Science of Cooking' Masterclass for the young science club pupils of Machynlleth County Primary School. Anthony demonstrated a popular theme 'Cooking with Cup Cakes' and even managed to include his specialist subject as a Rocket Scientist making rockets using baking powder!
Katarina, the teacher who organises the Holiday Club, commented: "The children really enjoyed Anthony's visit and we did take photos. Many thanks for ensuring this type of activity is possible for a setting such as ours!" Machynlleth is a rural primary school with 230 pupils enrolled.
Links to See Science news pages
Because there are now so many STEM stories in the monthly newsletter it's no longer possible to include abbreviated lists of activities, resources, competitions, grants, cpd opportunities and events in the body of the newsletter.
But new items are continually being added to these web pages – you can check them out by following these links:
Plascrug Primary School wins competition, taking pupils back to nature
Pupils of Plascrug Primary School, Aberystwyth, have an exciting term ahead of them. Having entered a competition named 'Know your Mini Beasts!' through playground equipment provider, Playforce, the school has been crowned winner.
The competition involved pupils rearranging a selection of letters, D Y I L A B D R, to name a common mini-beast. By successfully answering with LADYBIRD, the school was entered into a random prize draw and has now won a Mini-beast Exploration Table. The table comprises a rotating inspection tray holding six petri dishes that can be viewed at approximately twice life size through three magnifying lenses. A desktop area is also incorporated in the design for children to complete drawings of nature life, such as ladybirds, woodlice and leaves.
Mrs Sweeney, deputy head of Plascrug Primary School, said: "Our pupils are thrilled at the news of winning this fabulous resource. Children of all ages can enjoy investigating the world of mini-beasts. The table will certainly enrich their learning experience in the outdoor environment; learning opportunities are now endless."
Dr Colin MacAdam, managing director of Playforce, confirmed: "We congratulate Plascrug Primary School and hope the children take much joy out of our mini-beast exploration table. Experiential outdoor play is crucial for a child's emotional, social and educational development. Through active play and discovery we hope that the mini-beast table allows pupils' curiosity of the natural world to flourish. It is our goal to create outdoor spaces that truly support learning."
Science Fun at the Urdd Festival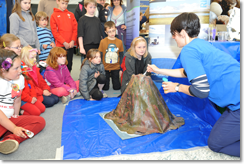 Swansea University science provision was at its best at the 2012 Urdd Eisteddfod, in the GwyddonLe pavilion on the maes. The naturalist Iolo Williams who has travelled the world will officially opened GwyddonLe followed by a question and answer session with former Swansea University student and television presenter, Nia Parry.
Bloodhound, the famous vehicle hoping to break the world land speed record and reach 1,000 miles per hour in 2013, was at the GwyddonLe this year. Researchers from Swansea University's College of Engineering have contributed to the aerodynamic design of Bloodhound and a video telling the story of its construction will be there throughout the week.
Academic staff and postgraduate students from the departments of Engineering, Physics, Biosciences, Mathematics, Geography and Medicine at Swansea University hosted fun and interactive activities every day. Swansea, Aberystwyth and Bangor Universities' Computer Science Departments (Technocamps) encouraged visitors to control computerized robots amongst other things….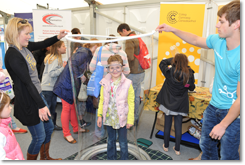 In addition, a range of external bodies offered activities in GwyddonLe including Techniquest, the Botanical Garden, the Coleg Cymraeg Cenedlaethol, Llanbadarn Lake Railway, First Hydro, Mad Science and many more.
Aled Siôn, Director of the Urdd National Eisteddfod said: "The GwyddonLe is considered one of the main attractions of the Eisteddfod and all kinds of interactive activities will be held there during the week, based on the theme of 'Energetic World.' As an organisation we are very grateful to Swansea University for their constant support and guidance in the field of science on the maes. They bring their expertise, and offer innovative contributions to children and young people who come to enjoy the festival."
There was something new to do in the science pavilion every day, including all kinds of scientific craft activities, experiments with windmills, an opportunity to present the weather with an interactive green screen, not to forget the chance to see volcano's erupt.
Bloodhound top dog on Eisteddfod maes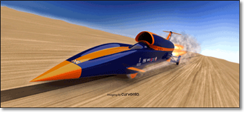 Bloodhound is the famous vehicle hoping to break the world land speed record and reach 1,000 miles per hour in 2013. Bloodhound will travel at five times the speed of a Formula One car and is powered by a Eurojet EJ200 engine and measures 12.8 meters in length and weighs 6.4 tonnes.
Image courtesy of the Bloodhound SSC project.
Originators: Curventa and Siemens.
Researchers from Swansea University's College of Engineering have contributed to the aerodynamic design of Bloodhound and a video telling the story of its construction which they shared with the visitors to the GwyddonLe.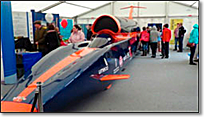 Bloodhound has been designed to inspire more young people to take up engineering, science, technology and mathematics (STEM) subjects, thereby engaging a whole new generation of science and engineering talent.
Researchers from Swansea University have spent a large amount of time over the past few years visiting schools across Wales with the aim of educating pupils about the Bloodhound project.
Dr. Ben Evans, Research Assistant at Swansea's School of Engineering and member of the Bloodhound SSC design team, said: "It has been a pleasure to be a part of such an iconic project and being able to showcase it at one of Europe's biggest youth festival is wonderful. If we can use the Bloodhound Project to show people how exciting engineering can be and lead more people to study STEM subjects then we will have achieved our goal."
For more go to www.bloodhoundssc.com/education.cfm.