STEM Newsletter for primary schools in Wales
January 2017
The newsletter that's an essential source of information and inspiration for teachers – and anyone with an interest in STEM (Science, Technology, Engineering and Maths) engagement – across Wales.
Contents
Ask a STEM Ambassador to visit your school
A STEM Ambassador's involvement can engage and enthuse both students and teachers. If you are interested in asking a STEM Ambassador to visit your school you can make your request here or contact See Science directly at ambassadors@see-science.co.uk.
Give us your Ambassador feedback
If an Ambassador has visited your school, or if you have met an Ambassador at an enrichment activity, we would be very grateful if you could fill in our teacher feedback form. Please encourage colleagues to respond.
Teacher information pages
Events, competitions, grants and resources are regularly added to our teacher information web pages. You can check them out by following these links:
Primary School STEM Week success
Oldcastle Primary in Bridgend and Whitchurch Primary Cardiff were supported by many STEM Ambassadors during their November STEM weeks.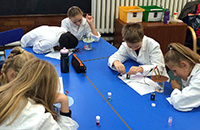 Among the sessions at Oldcastle were: Alun Armstrong for Engineering bridge models, Mark Smith Astronomy and Physics, Luke Griffiths (British Airways) Spectrum Technologies and Aberthaw Power arranged site visits. I attended with a chemistry workshop. Teachers had arranged a well hosted visit, older pupils allocated roles as helpers for each Ambassador. Head Teacher Jeremy Thomson said: "Children loved the variety of sessions that were offered and it was satisfying to see children enjoying learning in a stimulating environment. I can't thank enough all those who gave up their time to make this such an enjoyable experience for the children."
Whitchurch Primary STEM Week hosted nine STEM Ambassadors with activities ranging from 'How the medals were made for the Olympics' to 'Sleep patterns, bridges, aerospace and fuel cars'. Teacher Sophie Davies commented: "I would have all the Ambassadors back in an instant, they were the real difference which made the week a success".
Ysgol Y Castell Science Club find out what makes a sheep tick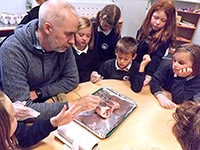 Ysgol Y Castell in Caerphilly run a Science Club each week. Teacher Lowri Jones hosted STEM Ambassador Dr Rob Orford, Principal Scientist at Public Health England. Rob introduced the pupils to heart structure and function. Pupils had the opportunity to examine a sheep's dissected heart – using disposable gloves! Rob's session was handled sensitively and informatively. Teacher Lowri Jones said that this was: "a huge support in her aims to excite the pupils in the wonders of science".
STEM Opportunities for teachers and pupils
Science made Simple subsidised workshops

Book your students a new year treat to enthuse them in STEM (science, technology, engineering and maths) – Science made Simple have some highly subsidised shows and workshops available for primary schools in Wales.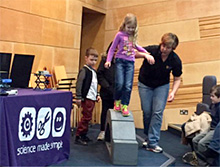 These include an interactive science show 'Who Wants to be a Superhero?' – where students find out how scientists and engineers are making superhero powers a reality, and an exciting 3D space and astronomy shows followed by a workshop where students can learn about the universe and what it is like to be an astronaut.
Experienced presenters will bring all the equipment needed with them. Just provide a venue and some students, and let Science made Simple inspire them in STEM and STEM careers.
"Both the staff and pupils thoroughly enjoyed watching the shows and taking part; it was a very welcome addition to our Science Day which provided and opportunity to present science to the children in an exciting way." Thomas Jolyffe, primary school teacher.
Click here for more information about the shows and how to reserve your date.
North Wales schools book a free visit to CAT!

Bursary fund for North Welsh schools and colleges booking STEM tuition in 2016/2017. A great opportunity for teachers in North Wales to apply for a subsidised visit to CAT for bursaries contributing towards travel, tuition and entry.
Upper KS2 Year 6 also qualify for the bursary – more here…
FREE Registration for CREST Awards for pupils in Wales
Schools in Wales are able to register their pupils for Discovery and Bronze CREST Awards for free thanks to funding from the Welsh Government through the National Science Academy. For more details, email enquiries@see-science.co.uk.
New CREST Wales resources
New CREST Wales resources have gone up online thanks to the funding from the Welsh Government through the National Science Academy. These resources are for teacher of KS3 pupils to run Discovery CREST Awards. www.britishscienceassociation.org/new-welsh-resources. If your school would like to be part of the pilot for the next set of CREST resources, please contact crest@see-science.co.uk.
Sustainable Solutions is a CREST Discovery Day activity that challenges students to work as a team in order to create a start-up business tackling the issues of climate change in their community. This may be through the creation of an app, an invention or a communications campaign. The resources provide teachers with a step-by-step guide to running a Discovery Day and is suitable to run with a single class or science club, or across a whole year group. Available in both English and Welsh, 'Sustainable Solutions' helps to develop your student's skills such as self-management skills, team-work, problem-solving and communication. Head to www.crestawards.org/sustainable-solutions/ (English) or www.crestawards.org/atebion-cynaliadwy/ (welsh) to take a look!
If your school would like to be part of the pilot for the next set of CREST resources, please contact crest@see-science.co.uk.
Back to topThe Science of Dragons Roadshow
Science2Life has been awarded, in partnership with See Science, funding from the Welsh Government to deliver the Science of Dragons Show in primary and secondary schools across Wales until March 2018.
Scientific Sue needs lots of volunteers to help her investigate and explore the science of how dragons fly and then, using some of the science behind the different dragon fire types (steam, icy fog, explosive gases, flammable liquids and of course big flames).
Available FREE to all primary (Year 6) schools in Wales in 2017 thanks to funding from Welsh Government National Science Academy. Contact See Science if you would like the show to visit your school during the Spring Term 2017. To book email enquiries@see-science.co.uk.
The Into Film: Into Space & Home Competition

Building on the success of Into Film: Into Space and celebrating the imaginative work conducted on European Space Agency (ESA) astronaut Tim Peake's Principia mission on the International Space Station (ISS), Into Film have teamed up with the UK Space Agency again to deliver an exciting new filmmaking competition for 5-19 year-olds, Into Space & Home. Budding young filmmakers can enter this out-of-this-world competition by creating short films inspired by space exploration and Tim's stellar mission, so grab your phones, tablets, iPads, or cameras and start filming your space-inspired shorts!
The Into Film: Into Space & Home Competition is organised into 12 and Under and 13 and Over age categories. Three entries will be shortlisted for each age category, and all entrants will receive a certificate and be entered into a lottery for the chance to attend a special UK Space Agency event.
The deadline for completed submissions is 31 January 2017.
Go to www.intofilm.org/space-home for more information, inspiration and details on how to enter.
The Great Bug Hunt

The 2017 Great Bug Hunt for primary schools has been announced with June 16 2017 the closing date for entries.
A Great Competition for Primary Schools to encourage pupils to get outside to learn more about living things and their habitats and to use the outdoor classroom. Download the pdf poster here.
Win £200 worth of vouchers!
Do you have a classroom display you're really proud of? We want you to shout about it, enter our competition and you might be our winner! Read more…
Science4Society Week Competition 2017: Design an 'Eco-home Explainer'
This is an opportunity for young people to apply their creativity, curiosity and imagination to design an 'Eco-home Explainer' – an educational domestic energy display. An organisation that will be part of the judging panel will take up the design, produce the Eco-Home Explainer and use it at their events.
There are three categories of entry; Year 5-6, Year 7-9 and Year 10-13.
An organisation that will be part of the judging panel will take up the best design, produce the Eco-Home Explainer and use it at their events. Closing date 10 Feb 2017. Read more…
Mission X: train like an astronaut
Carry out PE and science challenges to learn about keeping healthy in the context of space exploration.
Mission X uses the excitement of space exploration to inspire students to learn more about nutrition, exercise, science and space exploration. Schools who register for the challenge will receive invitations to a range of additional space outreach activities.
The activities in this resource are designed for students aged 8 -14 but can be adapted to older and younger age groups. They can also be used for afterschool clubs and informal learning events. Read more…
PA Raspberry Pi competition 2016-2017

The new PA Raspberry Pi competition challenges teams of children and young people to invent under the theme of 'Innovation for All'. The first 100 teams to enter will receive a free Raspberry Pi computer starter pack to help with their innovation projects. The challenge culminates in a day of science and engineering discovery and an 'Oscar' style awards ceremony and is open to academic years 4-13. Applications in either English or Welsh are welcomed and resources regarding the competition are available in both languages. Contact RaspberryPi for more information.
Deadline for submissions is 15 March 2017.
The Crunch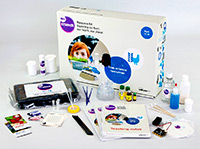 The Crunch, created by the Wellcome Trust, aims to get children thinking about how our food, our health and our planet are all interconnected. Examining our relationships with food, and exploring cutting edge research, so that we can eat in ways that can keep our planet and ourselves healthy.
There are curriculum linked activities for children of all ages and plays which can be performed in school and which explore many issues around food security, sustainability and healthy eating.
Dig into The Crunch kits with your class this term. The kits have amazing resources for every age group to explore the links between our food our health and our planet. You will also find the resources and plays for 4-11 year olds which have been translated into Welsh. Read more…
FREE Principia Space Diaries & Resources: be like Tim Peake!

The Principia Space Diary is back. Once again thousands of school children have the chance to become space experts as they learn about British European Space Agency astronaut Tim Peake's historic space mission.
The Space Diary programme aims to empower children and engage them in Science, Technology, Engineering and Maths (STEM) learning by giving them the chance to create and personalise their very own book while they follow Tim's mission.
All lesson plans are differentiated for P1-5 (KS1 and KS2) for teachers in England, Wales, Scotland and Northern Ireland and extension activities provide extra challenges for those who need them. Download the first chapter of the Principia Space Diary here.
Teachers and home-school parents in the UK can pre-register from today in order to access the entire online programme for free when the materials are released on 30 January, 2017. Download the Principia Classroom Kit here.
Teachers also have the option to pre-order printed copies of the Space Diary to be delivered to their schools. Those who pre-order by 16 January 2017 will get £1 copies of the Space Diaries to ensure that all children have access to physical copies.
Rolls-Royce Science Prize

The Rolls-Royce Science Prize is open to all teachers of science from all schools and colleges in the UK and Republic of Ireland in three age categories: 3-11, 11-16 and 16-19. Every year Rolls Royce gives £120,000 worth of cash prizes for you to invest in science education in your schools. It is a great continuing professional development opportunity for you and your staff. Find out how to enter here.
Practical Action Workshop ASE Meeting
18 January, 4.30 pm. Lab 2 Trefenai, School of Education, Normal Site, Bangor University
Practical Action uses technology to challenge poverty in developing countries to enable poor communities to build on their skills and knowledge to produce sustainable and practical solutions. This workshop will look at the Educational Resources available which focus on a whole range of global issues including energy, climate change and disaster risk reduction.
These popular free resources for primary and secondary include lesson plans, PowerPoints, activities, posters, challenges, images, videos and games all set within a global context. We will also trial some of the popular STEM challenges perfect for KS2 and KS3 science; whole school activities or STEM Clubs. STEM careers material will also be available. There will also be an opportunity for discussion and networking.
Book here.
How to hack your home
13 March. Reardon Smith Theatre, National Museum Cardiff, Cathays Park CF10 3NP
School groups: 1.30 – 2.30pm. Free but places must be booked in advance
Families: 6.30 – 7.30pm. Price: £10.00 – £12.00
In this interactive family show inspired by the Royal Institution's world-famous Christmas Lectures electrical engineer Danielle George will show you how to use your imagination to take control of the devices we use every day. With live experiments, find out how to take control of the devices you use every day and achieve extraordinary things. This is tinkering for the 21st century!
For more information, and to book tickets, click here.