Welcome to the STEM Newsletter for Primary Schools in Wales
An essential source of information for teachers and anyone with an interest in STEM (Science, Technology, Engineering and Maths) engagement across Wales.
Read inspiring stories, discover new opportunities and find out how a STEM Ambassador's visit to your school can engage and enthuse both students and teachers. There are details of current events, competitions, grants, CPD, awards and more at our teacher information pages.
Give us your Ambassador feedback
We would be very grateful if you could fill in our teacher feedback form if an Ambassador has visited your school or you have met an Ambassador at an enrichment activity. Please encourage colleagues to respond.
STEM Ambassador requests
Interested in asking a STEM Ambassador to visit your school? You can make your request here or contact See Science directly at ambassadors@see-science.co.uk.
Teacher information pages
Events, competitions, grants and resources are regularly added to our teacher information web pages. You can check them out by following these links:
STEM Opportunities for teachers and pupils
Dates for your diary
Royal Institution Grants
The Royal Institution is offering UK state schools and FE Colleges grants of up to £500 to host a STEM enrichment activity for their teachers and students.
The scheme is funded by the Causeway Foundation. It is designed to integrate STEM activities such as shows, talks and workshops into school practice and to support teachers' professional development. Successful applicants will receive £500 towards any activity listed on the STEM Directories held before the end of July 2016. More information here or email stemdirectories@ri.ac.uk. Closing date: 7 February 2016.
Primary and secondary STEM Challenges
STEM Challenges are available FREE to all primary (year 5&6) and secondary (KS3) schools in Wales in 2016 with funding from Welsh Government National Science Academy. Secondary pupils participating in the challenge will be registered for a CREST Discovery Award. To register interest, email enquiries@see-science.co.uk.
South Wales: until March 2016
West Wales: 25-30 April 2016
North East Wales: 27 June – 1 July 2016
North West Wales: tbc
Back to topThe Vikings are partying too!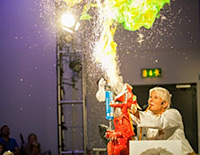 Join Scientific Sue on this most historical and creative journey of discovery. Sue's fire and icy fog breathing dragons are celebrating the hatching of their latest baby – but there is just one problem; this little dragon doesn't have any wings yet.
Available FREE to all primary and secondary (Year 7) schools in Wales in 2016 with funding from Welsh Government National Science Academy.
North East Wales: May 10-13
South Wales: June 13-17
West Wales: June 20-24
North West Wales: July 4-8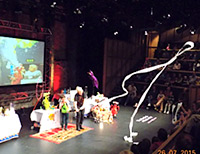 Scientific Sue will need lots of volunteers to help her investigate and explore the science of how dragons fly and then, using some of the science behind the different dragon fire types (steam, icy fog, explosive gases, flammable liquids and of course big flames and tornado type fire!) plus dragon's disgusting digestion processes. She hopes to engineer a way which will allow the baby dragon to fly and join in with the celebrations!
The science can focus on: chemical reactions, combustion, states of matter, flight, buoyancy, forces, energy, digestion, and respiration, tests for oxygen, carbon dioxide and hydrogen. Length of performance: 1 hour
To book, email See Science at enquiries@see-science.co.uk – schools will need to book for half day per show.
PA Raspberry Pi 2015/2016 competition now open
This year we are challenging students to use the Raspberry Pi to drive innovation in sport and leisure. From creating wearable performance-monitoring technology through to developing a crowd-control app for use in stadiums, your imagination really is the limit!
If you would like to discover more about the competition please register your interest here and we will be in touch soon to let you know how to sign up.
The Centre for Alternative Technology
Thomas Howell Educational fund for North WALES offer to schools and colleges is now widening its remit to cover FREE STEM tuition and entry costs to all pupils students age 11-18 (including year 6). Many activities can be delivered bi-lingually if required. Please contact Gabrielle Ashton on 01654 705984 or education@cat.org.uk to book your FREE visit to CAT now.
Funding available for CPD – A wealth of STEM relevant content in our recently devised and accepted teacher training course via the Global Learning Programme. Encourage your pupils to explore the possibilities of zero carbon emissions. Activities, resources and global context. Funds to cover the course can be applied for from GLP. Contact us at education@cat.org.uk or more information here.
Pumpkins Against Poverty
Pumpkins Against Poverty is Practical Action's latest cross-curricular STEM and Geography resource for primary schools. Based on our work with flood affected communities in Bangladesh, the pupil activities include exploring the lifecycle of pumpkins, designing and making seed packet and maths activities.
The materials to deliver the project are available FREE here.
Into Space film-making competition
The Into Space project includes free activities for young people aged 5–19 on a space and exploration theme, including a filmmaking competition that offers the chance for six lucky entrants to have their winning entries screened in orbit around the Earth for Tim Peake during his mission to the International Space Station! This competition will close at midday on Monday 15 February 2016.
More information about the competition and various activities here.
Back to topMarble Rollercoaster Challenge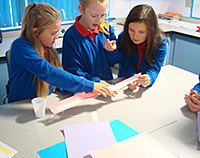 Abertillery Comprehensive School hosted nine local primary schools as part of their transition morning. The Year 6 pupils took part in the primary Marble Roller Coaster Challenge and were ably assisted by Year 7 pupils; they worked in teams to complete three forces based challenges. The pupils were challenged to think about the importance of speed, gravity and friction. They created a card tower and used that knowledge to create their own Marble Run and looked at why gravity and G-Force is essential as part of the design.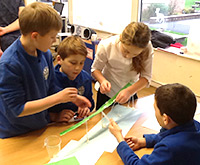 The two winning teams were Rose Heyworth Millennium School and Blaenycwm Primary School. All the pupils enjoyed the hands-on challenge and are looking forward to their move to the secondary school next year.
"The primary pupils worked in teams with members of Year 7 to tackle the challenge which they all really enjoyed. Their Marble Roller Coasters designs were ingenious, creative and resourceful. It was certainly a successful event and I would like to thank See Science for the quality of delivery." Mr Williams (Abertillery Comprehensive School)
Both primary (Year 5&6) and secondary (KS3) challenge workshops are available FREE of charge. To register interest email enquiries@see-science.co.uk
Photos: Pupils in workshop held at Abertillery Comprehensive School; Pupils in workshop held at Llangattock Primary School
Vale of Glamorgan headteacher shortlisted for $1m prize
Janet Hayward of Cadoxton Primary School, Barry, has made it into the top 50 shortlist for the $1m international Varkey Foundation Global Teacher Prize.
The accolade is widely referred to as the Nobel Prize for teaching and is the largest prize of its kind. Ms Hayward is one of three UK teachers to have been shortlisted. In her nomination, she was described as being known "for her enthusiasm in inspiring pupils to learn in new ways". One of her schools was among the early users of wi-fi in the classroom, winning a national technology award, while her current school is a test case for solar powered computers and has eight screens in every classroom.
Ms Hayward said if she won, she would put the prize towards a community cafe: "It's not for me personally. The big hope is that the prize would come to the school and fund a community cafe that we're looking to build for the Cadoxton community" she told BBC Radio Wales.
Since 2012, Ms Hayward has chaired the National Digital Learning Council and in 2014 she received an OBE for services to education. Sunny Varkey, founder of the Varkey Foundation, said the thousands of nominations and applications received was "testimony to the achievements' of teachers".
Back to topThornhill Primary School first Welsh school to win an Ashden Award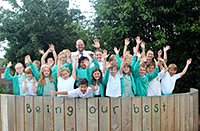 Thornhill Primary School in Cardiff is the first Welsh school to win an Ashden Sustainable School Award. The judges were impressed by the school's willingness to trial new ideas and share the results with others. Their determination to reduce carbon emissions to the absolute minimum is shared by a crack squad of young eco-warriors who keep energy wastage to a minimum with their spot checks on whether lights and appliances have been left on in the classroom.
Now in its 15th year, the Ashden Awards champion practical, local energy solutions that cut carbon, reduce poverty and improve people's lives in the UK and developing countries. This is the first year that the School Awards have been celebrated in a separate ceremony which also highlighted the achievements of schools participating in Ashden's LESS CO2 programme.
Picture: Thornhill Eco Club with Head Teacher and Eco Co-ordinator. (Article – Primary Times)
Pencoed Primary School wins woodland classroom award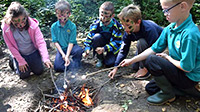 Pencoed Primary School in Bridgend has won an award for making its local woodland into a classroom for pupils. The school planted the woodland 24 years ago, since when become an 'integral part of pupils' learning'. The school beat others across the UK to receive an Excellence in Forestry Schools gold award from education charity the Royal Forestry Society.
Ferryside VCP School in Carmarthenshire won a silver award for its outdoor educational class work.