Welcome to the STEM Newsletter for Primary Schools in Wales
An essential source of information for teachers and anyone with an interest in STEM (Science, Technology, Engineering and Maths) engagement across Wales.
Read inspiring stories, discover new opportunities and find out how a STEM Ambassador's visit to your school can engage and enthuse both students and teachers. There are details of current events, competitions, grants, CPD, awards and more at our teacher information pages.
Contents
There are larger versions of some photos in this newsletter - click the small photo to view.
British Science Week, 13-22 March 2015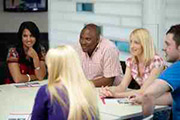 British Science Week (BSW, formerly National Science & Engineering Week (NSEW)) is a ten-day programme of science, technology, engineering and maths events and activities across the UK aimed at people of all ages.
Schools can organise an event or activity, and the British Science

Association helps organisers plan by providing free activity and support resources. Don't forget you can also request a STEM Ambassador to help with your Science Week events – click here.
For great projects, advice, resources and opportunities to win fantastic prizes follow this link and find out details about: Activity Packs; BSW goodies;case studies; Citizen science projects; Demo Day; Event Awards; Find a presenter; How to guides; quizzes.
Outreach Fund Small Grants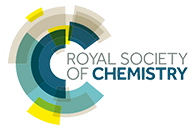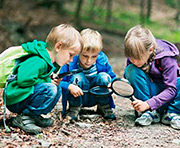 Outreach Fund Small Grants of up to £2,000 are available for projects that raise awareness of the place of chemistry in people's everyday lives, especially those not already interested in chemistry, and/or develop the science communication skills of people who are already highly trained in chemistry. More details here – deal opportunity to link visit with British Science Week. Closing date 31 January 2015.
Maths in the Museum CPD Events
National Museum of Wales sites across Wales – see below for dates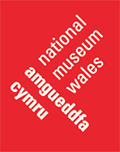 See Science is offering FREE CPD events on behalf of the National Museum of Wales focusing on ways to bring the Literacy and Numeracy Framework alive outside the classroom environment. During each day Alessio Bernardelli will provide a workshop to encourage teachers to identify opportunities to develop numerical reasoning in a range of real life situations and across different areas of the curriculum.
There will also be an opportunity to use a new innovative bilingual skills-based maths toolkit based on the collections across the National Museums of Wales. The toolkit will include resources to use in teaching the Numeracy Framework, supporting the development of skills and the transition from primary to secondary school-based learning. A resource pack will also be provided for all teachers who attend.
This teacher CPD event will provide an informal and dynamic opportunity for teachers to meet each other and local STEM Ambasadors to exchange thoughts and views, and share ideas.
Book your place: 13 January Llanberis; 20 January Cardiff; 27 January St Fagans (just outside Cardiff); 30 January Swansea; 3 February Llandysul; 6 February Caerleon; 11 February Big Pit, Blaenavon
Or contact enquiries@see-science.co.uk – telephone 02920 344727
Back to topLinks to teacher information pages
New events, competitions, grants and resources are regularly added to our teacher information web pages. You can check them out by following these links:
Back to topRun on Sun Competition Gallery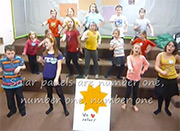 Schools across the country have been submitting their creative ideas to win solar panels.
The Year 6 members of the Llantilio Pertholey Church in Wales Primary School eco-committee wrote a song about solar panels completely unsupervised and then taught it to the younger members of the committee. See their inspiring video contributions here and here.
Inspirational astronomy workshops for teachers in mid Wales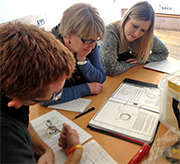 Inspire, Inform, Enable – the motto of the Centre for Alternative Technology in Machynlleth (Mid Wales) and the aim of the Cardiff School of Physics and Astronomy outreach department. This is why the Inspiring Science Education and Universe in the Classroom projects joined together on 3 December 2014 to run parallel CPD sessions for primary and secondary teachers at the centre which is based in Machynlleth, Mid Wales.
During the session primary teachers from nine schools across mid Wales were given a variety of astronomy education tools to take back to their classrooms. These included a Universe in a Box hands-on toolkit, an Earth Ball, several activity books and access to the Las Cumbres Observatory Global Telescope Network (LCOGT).
Secondary teachers were introduced Chromoscope, Multiwavelength Universe, Star in a Box, as well as software such as Stellarium (free) and Logger Pro ( (free to members of Inspiring Science Education). All attending teachers and educators were also provided with an introduction to the National Schools' Observatory from Dr Chris Leigh, and also the STEM Ambassador programme which is co-ordinated in Wales by See Science.
The sessions were well attended and the location of the venue not only provided an opportunity for schools from the rural areas across Mid Wales to attend, but it also reminded us all just how stunning the Welsh countryside can be!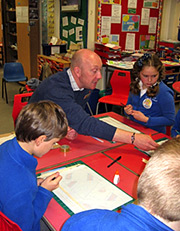 A fantastic day was had at Llangattock Primary School as the Year 5/6 pupils elevated themselves in the 'Art of Flight'
STEM Ambassador Dean Mosley led the Year 5/6 children through the instruction and construction phase as the children skilfully began their journey into flight technology. As an avid Model Flyer himself and member of the Monmouth & Raglan Model Aero Club, Dean was able to convey his own passions for flight across to inspire the children.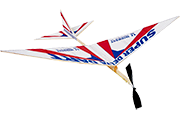 The Dart that the children were constructing is a simple rubber powered aircraft with a wingspan of 30cm; it is made from balsa wood and light weight paper to form its skin. It was first derived from an American design. This model by its design makes it suitable for flying in sports halls or outdoors on good calm dry days. This model can be built by nine year olds (under supervision) and upwards.
Head teacher Hayley Smith commented: "What an excellent opportunity it had been for the pupils to experience building and flying their own planes. We were even fortunate with the weather and were able to fly them outside!"