Welcome to the STEM Newsletter for Primary Schools in Wales
Find out more about what's happening, competitions, new educational resources, events, new rounds of grants and more…
There are larger versions of some (but not all) of the photos in this newsletter - click the small photo to view.
Back to top Links to See Science teacher information pages

Lots of new events have just been posted - and new items are continually being added to our other teacher information web pages. You can check them out by following these links:
Back to topGary the Musical Clown is back in Wales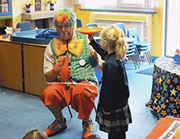 Gary the Musical Clown will be travelling around Wales offering FREE workshops to primary schools, supported by funding from the National Science Academy. Gary and his son Scott will visit schools to provide hands-on, fun science interactive workshops.
Gary will provide 2 x 45-minute workshops each for up to 30 pupils in a classroom.
For KS1 – fun workshops on shapes / volumes / adding up in 2/5/10 and using times tables
For KS2 – fun games on times tables, and the teachers will choose which table they would like.
"The children had great fun laughing at his amazing tricks and enjoyed the activities." Mr D. Taylor, Headteacher.
Dates and areas:
w/c 10 March 2014 – Mid Wales
w/c 28 April 2014 – Newport / Cardiff / Valleys
w/c 12 January 2015 – North Wales / North Coast
If you would like Gary to visit your school, please email enquiries@see-science.co.uk giving your contact details, name of school with postcode, and three preferred dates in order of preference. Use the title 'Gary the Clown Workshops in Wales' in the email. We will then get back to you to arrange the visit.
Back to topGopher Science Lab comes to Wales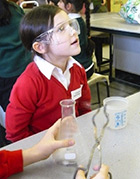 Research shows that most primary students enjoy science at school, yet very few aspire to become scientists and their interest in science often fades. The Gopher Science Lab will help change this. The Lab is a new transition phase initiative in Wales sponsored by the Welsh Government through the National Science Academy.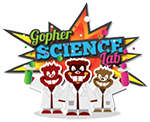 250 resources kits are being developed for use by secondary schools and their feeder primary schools These kits contain seven easy-to-run thought provoking and exciting hands-on practical activities and three longer classroom activities for curriculum enhancement.
School clusters (minimum of three primary schools and one secondary school) will be able to apply for a FREE one-day CPD on the Gofer programme and familiarisation with the kits. All schools attending will also be provided with a fully resourced kit FREE.
Secondary schools in the programme will then host events by inviting their feeder primary schools to take part in exciting experiments in the lab where secondary pupils will engage the primary pupils with the activities.
As well as gaining valuable experience, the secondary pupils will make an important contribution to the day by passing on their enthusiasm to the younger children. This will help support transition.
The benefits will be felt well beyond the children who attend the lab sessions: the primary schools will be supplied with equipment to perform these experiments back in their classrooms.
To find out more email enquiries@see-science.co.uk.
Back to topInspiring science in the classroom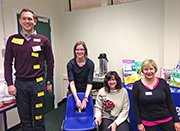 Ysgol Bro Gwaun hosted the first Primary Science Teaching Trust CPD event in Wales.
Teachers from Ysgol Bro Gwaun and their feeder primary schools spent two days exploring how to improve learning through the development of science enquiry skills and scientific knowledge. They also investigated ways of recording children's work and discussed practical suggestions for teaching science. During the CPD, the teachers started to develop a transition phase programme by sharing, planning and exchanging good practice, relating the science curriculum to the real world context and the world of work.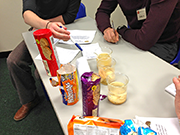 Teachers from the clusters and STEM Ambassadors will plan classroom activities together with support from See Science and primary science writer Anne Goldsworthy. The STEM Ambassadors aim to excite young people about STEM, give teachers a unique perspective on how the STEM curriculum can be demonstrated in the world of work, encourage young people to consider STEM careers and qualifications and develop other employability skills including confidence, team-work, presentation and creativity.
The course will culminate in the pupils from the schools having a celebration day where they will present their individual project.
A few comments from the teachers:
"Very beneficial – lots of ideas which should be useful back in the classroom … especially links with STEM Ambassadors."
"…STEM Ambassadors will be very useful"
"A great chance to work alongside colleagues for the common benefit of pupils within our family of schools; some interesting resources and techniques which I will definitely aid my teaching."
"I have personally been up skilled …will definitely be teaching these skills to my year 6. I feel more confident to use different approaches. Meeting and discussing with the STEM Ambassadors the future project was particularly useful."
Back to topScience and Energy demonstrations from RSC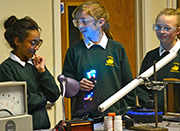 Children from primary and secondary schools in South West Wales took part in a series of demonstrations as part of a Science and Energy lecture from the Royal Society of Chemistry.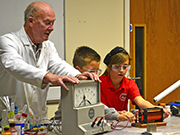 Dr Neville Jones of the South West Wales local branch led the experiments. He explained the different types of energy, such as kinetic, thermal, magnetic, and chemical, and gave examples of how they can be transformed. The various points were illustrated when pupils took part in the experiments.
The lectures have been well received by pupils from KS2 and KS3 over the years. They've taken place at various locations in Carmarthenshire, Ceredigion and Pembrokeshire. Further sessions are planned for Fishguard and Carmarthen during the summer term, and in Brecon next October. More details here.
Photo 1: Pupils from Ysgol Dyffryn Amman take part in experiments creating light.
Photo 2: Pupils from Ysgol Ty Croes take part in an experiment on electromagnetism with Dr. Neville Jones.