Welcome to the STEM Newsletter for
Primary Schools in Wales
Find out more about what's happening, competitions, new educational resources, events, new rounds of grants and more…
Are you running activities at your school during National Science & Engineering Week from 15-24 March? If so, it is not too early to contact us and request a STEM Ambassador to support these events. Find out about the NSEW grant scheme for Wales of £200 for schools in challenging circumstances – closing date 11 January – to support activities during NSEW. This year's theme is Invention & Discovery.
Are you looking to inspire your students about science, technology, engineering and maths? Then look no further than The Big Bang Near Me… to check out what's happening in Wales.
If you're planning a project of any kind or an event at your school and need speakers, workshops, links with the real world, or an extra pair of hands, contact See Science and request for a STEM Ambassador to come and help. The STEM Ambassadors Programme is FREE to schools. Email ambassadors@see-science.co.uk or go to http://networking.stemnet.org.uk and click on 'REQUEST A STEM AMBASSADOR'.
Don't forget to fill in our teacher feedback form if a STEM Ambassador has visited your school.
NSEW grant scheme for Wales
Funding available to engage and reach out with National Science & Engineering Week.
£200/£350 – easy application – free support – Closing 11 Jan 2013.
What is the grant scheme for Wales?
The British Science Association has received funding from the Welsh Government to distribute grants to Welsh schools and organisations to run events and activities to during National Science & Engineering Week (NSEW). We are offering a £200 grant to schools and £350 to organisations.
Are you eligible?
All schools and organisations based in Wales can apply. Preference will be given to certain schools and event types. Selection preferences can be found online at www.britishscienceassociation.org/welshgrant.
Four-step application
Look at our free online resources to help with activity planning.
Fill in the online form before the closing date, 11 Jan 2013.
If you need help, contact Liz Terry, Regional Officer for Wales on 029 2080 1644 or wales@britishscienceassociation.org.
For further updates about the grant and resources for NSEW, please sign up to www.britishscienceassociation.org/user/register?type=event-organiser.
Links to See Science news pages
Because there are now so many STEM stories in the monthly newsletter it's no longer possible to include abbreviated lists of activities, resources, competitions, grants, CPD opportunities and events in the body of the newsletter.
Don't forget that new items are continually being added to these web pages – you can check them out by following these links:
CREST Awards in Wales Grants 2012/13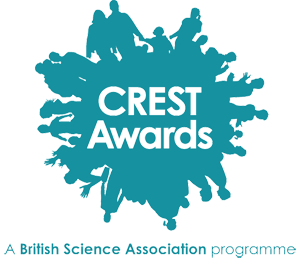 Schools and colleges can apply for a grant of up to £250 to support CREST. All schools and colleges in Wales are eligible to apply. The application form captures information regarding the type of school, but applications will be assessed only on how the money is proposed to be used.
The CREST Award programme is run by the British Science Association, which is being funded by the Welsh Government – through the National Science Academy – to coordinate and increase activities in Welsh schools.
Deadlines
The 1st round deadline will be 21 January and successful applicants accepted will be informed before 31 January
The 2nd round deadline will be Monday 18 March and successful applicants accepted will be informed before 30 March
After-school extras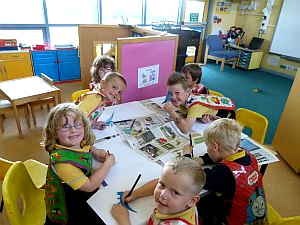 One of the biggest after-school programmes in Wales has been launched at Ysgol Bro Dewi – the primary school in Britain's smallest city, St Davids.
Xtra@brodewi aims to enrich pupils' education by giving every child the opportunity to enjoy a huge variety of after-school clubs – free of charge – every day. So far it's averaging an attendance of 97%!
Pembrokeshire County Council's cabinet member for education and the Welsh language, Huw George says: "This is a ground-breaking education, enrichment and recreation programme – led by the pupils, parents and teachers themselves."
Xtra@brodewi has three zones – Learning, Skills and Chill. In a typical week, the clubs available include the Mighty Maths Challenge, Flashy Photography, the Mad Science Club, Wacky Welsh, Radical Adventure Reading, Sing and Perform, Crazy Computers, Radio Bro Dewi, Pilates for Kids, Urdd, and F1 Enterprise. There's also Dance, Outdoor schools, Dragon Sports, Pyramid clubs for supporting self-esteem, study support – and the opportunity to complete homework. Younger children (in reception and years 1 and 2) can enjoy story time in English and Welsh, Number fun, Art and Craft, Active time, Urdd Bach, and Beginners' Cookery, with Gardening and Gymnastics for years 2 and 3.
Pupils were actively involved in setting up the programme, suggesting clubs, names and designing leaflets. The clubs are optional and children can go as much or as little as they like – but they are encouraged to attend as much as they can.
Headteacher Sharon Osborne said the feedback from pupils, parents and teachers had been very positive. She says: "It's designed specifically to improve wellbeing of pupils, and improve their confidence in learning and emotional resilience. One of the most important aspects is that it allows the school to give equal opportunities to all pupils."
According to Alastair Birch, out of school hours learning coordinator for Pembrokeshire County Council, Xtra@brodewi is made up of the best practice from across the UK. "It extends opportunities for more able and talented pupils, promotes community focus and links to parents and key partners. It also ensures teachers have more time for core lesson time preparation during the day."
Emily's mission accomplished!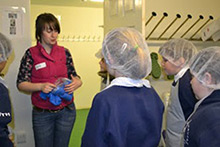 Following an intensive amount of planning and work, Ambassador Emily Davies accomplished the task of hosting Broadhaven Primary school at the Capestone Poultry Farm. The Farm business and a clip of the pupils visit to the Farm was featured on S4C programme Ffermio on Monday 3 December.
Children from Broadhaven Primary School in Pembrokeshire have been experiencing a taste of life on a poultry farm thanks to STEM Ambassador Emily Davies. Emily works at Capestone Organic Farm, which is set in 350 acres in the Pembrokeshire Coast National Park, and arranged the visits so that children would get a better understanding of how food is produced.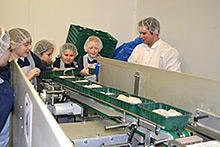 Beef and lamb is produced at the farm, but the emphasis for the visits by local schoolchildren in the past few weeks has been on the poultry production. There has been a tradition of raising turkeys at the family farm since the 1920s, but around 15 years ago they started producing organic chickens too. The poultry flocks are raised from day old chicks, which meant there was plenty to interest the pupils. The children were able to handle some of the chicks, in their cosy shed (which is heated to around 30 degrees!). They also visited one of the turkey sheds, where thousands of free range birds were sheltering from torrential rain. The children learnt about the importance of keeping hands and boots clean around the birds, to prevent spread of any infections.
The children were also able to visit the processing plant on the farm and see how the poultry is prepared and packed for sale. There was a contrast in temperature as they saw fridges and freezers with temperatures as low as minus 18 degrees, and an opportunity to see some impressive machinery.
Helen Hughes
Flying high at Ysgol Esgob Morgan with Mohamed Latif and Kayleigh Jones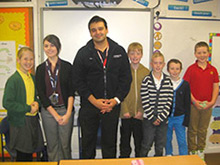 How many people can you fit in a plane wing? How dark it is inside a plane wing? How much did Concorde stretch by when it flew? These are just three of the questions our children asked one of our STEM Ambassadors, Mohamed last week. After half term we're working with Mark, our other STEM Ambassador, making rockets! The excitement and energy STEM has brought to school really has taken off already!
At Ysgol Esgob Morgan we like to develop an exciting and innovative curriculum offering for all children. We see the value that Science and Maths have and how they can really take children into exciting and fast paced careers.
Our children already have a passion for Maths and Science, having taken part in a major Mathematics competition and coming first winning a laptop for the school and Amazon vouchers for themselves, but we wanted to take this passion and build on it using links with the community and industry.
This is where I found myself reading all about STEMNET and how it can offer industry experts the chance to work with schools and schools the chance to work the innovators of our economy.
I made contact with Sian via email and gave her a few details about our school and what we were hoping to get out of the project, she did the rest!
Within three days I had received two emails with details of our two STEM Ambassadors.
After making initial contact we met with Mohamed; he came and gave a talk to each of our classes and offered them the chance to ask him any questions. He's coming back to host a teacher, support staff and governor maths quiz before Christmas! Next week we're welcoming Mark to school; he's coming to work with year 4 building rockets! I think I'm as excited as the children are!
What better way to take a passion for Science and Maths and grow it further by welcoming in experts in their field who have used their love for the subjects to take them places and into careers!
We'd like to thank our STEM Ambassadors and STEMNET for supporting us with this. It's a central part of the Curriculum Enrichment & Wellbeing agenda we have at Ysgol Esgob Morgan.
Richard Hatwood & Lorraine Dalton. Mathematics Subject Leaders
Stargazing at Coed y Brenin
Deep in a forest somewhere in North Wales – Thursday 20 December 2012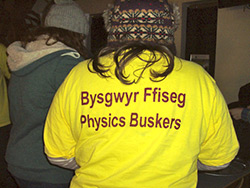 If you went down to the woods that night … you were sure of a BIG surprise, as at the Coed y Brenin Forest Park near Dolgellau, Forestry Commission Wales was hosting Stargazing sessions led by members of the University of Aberystwyth's Physics Department.
As well as bringing along a range of high definition telescopes, the lecturers and undergraduates set up their portable Stardome in the visitor centre's cafe, in which the students presented a conducted tour of our Solar system and beyond. Open to all, the evening attracted a wide range of eager stargazers of all ages, including a pupil from Ysgol y Gader, Dolgellau and a group of Yr 11 GCSE Astronomy students from Ysgol Uwchradd Tywyn.
Another highlight of the evening was an illustrated talk by Dr Huw Morgan of Aberystwyth University, who outlined his ground-breaking research into tornadoes emerging from the surface of the sun. Huw mesmerised the fascinated audience with video clips of tornadoes taken by a telescope on the Solar Dynamic Observatory satellite, pointing out that some of the tornadoes were several times the size of the Earth!
As for the stargazing… well, as is often the case, the cloud cover was rather dense and only one star was spotted, albeit fleetingly. However, the evening proved to be a great opportunity for the local school pupils to meet, and chat with, the university students – several of whom are STEM Ambassadors – about their plans for future studies and careers once GCSEs were over!
For more information about how to arrange your own stargazing event go to www.bbc.co.uk/programmes/b019h4g8.
BrightSparks4Kids Primary Controller Kits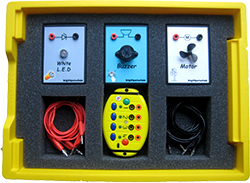 Brightsparks4kids, who specialise in educational classroom resources, have designed a new easy to use Primary Controller Kit. The kits are aimed at teaching Sequence & Control with an easy to use 'hands on' approach that is functional and engaging for primary children. Two new exciting kits are currently available: the 'Primary Control Starter Kit' and the 'Primary Traffic Lights Kit'.
All kits use a hand controller unit which enables children to easily programme and sequence the four independent output channels with up to 64 steps in real time! These outputs can be used with motors, bulbs, buzzers, LEDs and solenoids, and really bring children's circuits and models to life. All connections are made simple by 'plug in leads' that are strong and durable enough for the classroom environment.
Classroom management is also made easy, with kits housed in Gratnells trays. All kits come complete with controller unit, output components, connecting leads and a programming example booklet.
Steve Jones, owner of BrightSparks4kids, comments: "After the success of our Electricity Starter Kit we were approached by many teachers asking for us to design an economical control kit for children. Using the same great functionality of our existing kits, we gladly took up the challenge."
For more information on these kits and other engaging primary resources please contact info@brightsparks4kids.com.