Welcome to the STEM Newsletter for
Primary Schools in Wales
Contents
Happy New Year! Hope you all had a good Christmas break.
Many of you will be starting to prepare for National Science & Engineering Week (NSEW) which this year will be held between 9-18 March. To support your events visit the British Science Association website (www.nsew.org.uk) to register your event, download activity packs and quizzes, order FREE promotional materials, enter competitions, win prizes and apply for an event award. Last year's event winner was Tre Uchaf Primary school, Loughor, Swansea.
STEM Ambassadors are available to support school events including those during NSEW to find out more contact Sian Ashton on ambassadors@see-science.co.uk or go to http://networking.stemnet.org.uk/ and click on REQUEST A STEM AMBASSADOR. We have had requests from STEM Ambassadors who are interested in linking up with Welsh medium schools.
Mad Science® brings "Awe and Wonder" to South Wales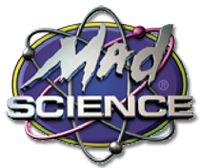 Mad Science® is on a mission to spark the imagination and curiosity of children by providing them with fun, interactive and educational programs that instil a clear understanding of what science is really about and how it affects their world. Mad Science has been introducing children to the wonderful world of science for over 20 years now and is the world's leader in fun, engaging hands-on science.
This winter, Mad Science has arrived in South Wales. Based in Swansea since the beginning of November, Mad Science is working with schools thoughout the area to help schools bring the awe and wonder back to science education.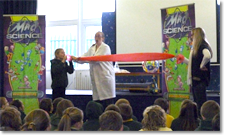 "The Mad Scientist definitely demonstrated awe and wonder leaving our pupils energized to discover more! A fun filled morning which was thoroughly enjoyed by both pupils and staff. We look forward to teaming up with them again." Mrs Woozley Science Leader/Deputy Headteacher.
Mad Science South Wales are already running eight After School Programmes in schools throughout Swansea, allowing children to take part in hands-on discovery a different area of science every week for six weeks or eight weeks. Children become mini Mad Scientists while learning about the magic of magnets, tantalizing taste buds, sonic sounds or all about lights and colour.
"I enjoy science and seeing all the fun experiments just makes me want to find out more." Rhys Y6.
Mad Science is currently offering a free whole school assembly and after school programmes to schools throughout Swansea, Cardiff, Neath, and Bridgend as an introductory offer. The show is a fun-packed 30 minutes of science discovery that the whole school (including the teachers!) are guaranteed to love!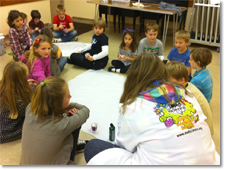 Mad Science has developed a huge range of innovative, interactive programmes for schools which inspire, educate and entertain all children aged 3 -11 years old. Our workshops, after school programmes and science days are age-appropriate, exciting and hands-on and are a fantastic way to enrich science at your school. Lasting anything from half an hour to a whole day and covering a broad range of topics, your Mad Science experience is guaranteed to both engage your class and, of course, spark imaginative learning!
Mad Science is not only a great way to get your students excited and engaged with science learning, they can cater their programmes to the foundation phase and national curriculum and provide teachers pre and post materials with their in school workshops to make it easy to teachers to use the buzz created by Mad Science to extend the learning.
Contact Mad Science South Wales to request information, book a free school assembly or see how they can help bring the 'awe and wonder' to your school in the New Year. 01792 348205 info@madsciencesouthwales.co.uk.
"I wish all our science lessons were that much fun!" Ethan Y3.
Brace's Bakery school presentation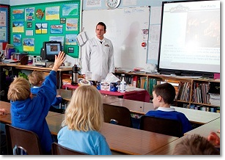 On Tuesday 15 November, the Year 2 class at Kings Monkton School were visited by Lyn Jones from Brace's Bakery.
We were treated to a super presentation, which started with fun facts such as 'people have been eating bread since the stone age about 10,000 years ago' and how the sandwich got its name.
Mr Jones showed the class some wheat and then the grains that are ground to make flour. The children were fascinated by this as many did not know that this was where flour came from.
Two children were then picked to assist Mr Jones in a dough making demonstration. They had to wash their hands with antibacterial spray and wear the hats that the workers in the factory wear. The other children watched intently as flour, salt, sugar, water and yeast were added to a bowl and mixed up to make the dough. The assistants were asked to punch the dough twice, fold it and press it down, while the rest of the children were taught the chant 'punch, punch, fold, push'.
We put the dough on the sunny windowsill and Mr Jones promised the children that something interesting would happen if we left it for a short time. Some photographs were shown the children of the first bakery, a building in the garden of a terraced house, complete with horses and carts waiting to deliver the bread. Then we fast forwarded to the modern white bread bakery factory (there are two factories, one each for white and brown). An interesting video showed us the production line bread making of today. One and a half loaves per minute are produced, before being packaged and crated and sent to a fleet of lorries to be delivered to the supermarkets.
After the video we looked at the dough and the children were amazed to see that it had doubled in size!
Mr Jones gave each child a loaf of bread to take home as well as a fun pack which included colouring pencils and a CD. There was enough bread for all the staff to have one as well! He explained it had been made that morning and delivered straight to his van and it certainly tasted fresh. We cooked the dough we made and all the children had a slice before they went home. All the children and staff involved gave a very positive feedback. Mr Jones related well to the children and made sure his presentation was at their level. A very big thank you.
While we were in school on Tuesday, the factory made 84,000 loaves of bread, about 200 a minute!
Mrs Thomas, Year 2 teacher. Photo: Lyn Jones presenting to school pupils
If you would like further information or would wish to make a booking to arrange for Brace's School Visitor to visit your school, please email lyn.jones@bracesbakery.co.uk.
How you can help us
You can help us by telling us about STEM activities you have organised and provide us with an insight into what the pupils gained from the experience by filling in our online feedback form. All feedback forms will be entered into a prize draw each term.
Activities
Mission X: Train like an Astronaut
An international challenge for students that brings the excitement of space exploration to learning about a healthy lifestyle. More…
'Survival': a free mobile game to raise awareness about the world's most endangered animals
Immersive, interactive and educational, 'Survival' is a great way to encourage children's curiosity for the natural world. At home, in the classroom or on-the-go, kids and adults alike will have a whale of a time as they race against the clock to tap, pinch, drag, scroll and swipe their way through a series of mini-games whilst learning about the world's endangered species. More…
Dark Sky Wales
Dark Sky Wales is a team of enthusiastic educators and astronomers. Our range of exciting workshops and strong industrial partnerships enforce one simple aim: to inspire young minds. More…
Grants/Bursaries/Awards
Schools Grant Scheme
The Schools Grant Scheme is an IOP/STFC funded scheme which aims to provide schools with grants of up to £500 for projects or events linked to the teaching or promotion of physics. Projects linked to astronomy, space and particle physics are particularly encouraged. More…
Institute of Physics in Wales funding opportunity
The Institute in Wales's grant scheme is designed to give financial support of up to £1,000 to individuals and organisations running physics-based events and activities in Wales. More…
Teacher Awards
Anthony Waterhouse Fellowship
The Anthony Waterhouse Fellowship is worth £2,500 over two years and provides an opportunity for teachers to access funds to help them develop a dormant or nascent idea that will be useful in the classroom. More…
RSC Education Awards
The RSC honours teachers for their dedication to inspiring the next generation of chemists. Each year the RSC honours teachers who have made a significant, high quality contribution to the teaching of the chemical sciences by awarding the Schools Education Award. If you know someone who is inspiring their students and sparking a lifelong interest in the chemical sciences through their teaching award their excellence and dedication by nominating them. More…
Competitions
NSEW School Competition – The Great Global Adventure
This out-of-the-box poster competition is a simple way to take part in National Science & Engineering Week, either as homework or a class project. The British Science Association is launching an ideas challenge for 5–14 year-olds asking them to invent a multi-terrain global racer that uses renewable power. Pupils will need to invent one method of transportation that can carry themselves and two friends across a range of challenging terrains in their global adventure! More…
Cosmic Futures Competition
With tips and advice from experts, you are challenged to create your own article, poster or photo essay that tells the general public that: The British Space Industry is going places. You will need to create an exciting and interesting poster, article or photo-essay that best describes how the British are at the forefront of Space science. More… www.cosmonline.co.uk/cosmic-futures
Woodland Trust
This is a good website with activities and competitions, suitable for children under 13. More…
Events
January 2012
Think, Learn, Challenge training course
ESIS Conference Centre 25 January
Our next training course is How to assess science enquiries; two lively, interactive days for Key Stages 2 and 3 teachers to develop skills in assessing science enquiries. More…
February 2012
Think, Learn, Challenge training course
ESIS Conference Centre, 24 February
Our next training course is How to assess science enquiries; two lively, interactive days for Key Stages 2 and 3 teachers to develop skills in assessing science enquiries. More…
March 2012
National Science and Engineering Week
9-18 March 2012
Why all schools should register their NSEW events and activities… all schools who register events will be entered into our fantastic prize draw. We have some great prizes this year from a range of generous sponsors including Lego Education, Timstar. More…
June 2012
NPL Water Rocket Challenge schools competition
Wednesday 20 June, 1.30-4.30 pm
Aim for the sky in our annual Water Rocket Challenge, which sees hundreds of participants, from school teams to adults, battling it out to become champion. For more details go to www.npl.co.uk/educate-explore/water-rocket-challenge/
Resources
Practical Action D&T Activities
Our new website aims to be a one stop shop for sustainability resources across all D and T material areas and age ranges. For starter activities, ranging from exploring products through to sustainability terms and definitions, visit our new site. More… http://practicalaction.org/d-t-starter-activities?dm_i=6WS,MNK3,2QTKV4,1U1LQ,1
Try CC4G now, free
CC4G is a club designed for girls. Discover the exciting ways technology is used in music, sport, fashion and more through games and challenges. More…
Courses/CPD
The European Hands-On Universe Project
The European Hands-On Universe project is offering new 5-day training sessions on 'Bringing Frontline interactive astronomy to the classroom' and 2-day seminars on radio astronomy to all interested teachers. More… www.faulkes-telescope.com/EUHOU