STEM Newsletter for primary schools in Wales
February 2016
The monthly e-newsletter that's an essential source of information and inspiration for teachers – and anyone with an interest in STEM (Science, Technology, Engineering and Maths) engagement – across Wales.
Ask a STEM Ambassador to visit your school
A STEM Ambassador's involvement can engage and enthuse both students and teachers. If you are interested in asking a STEM Ambassador to visit your school you can make your request here or contact See Science directly at ambassadors@see-science.co.uk.
Give us your Ambassador feedback
If an Ambassador has visited your school, or if you have met an Ambassador at an enrichment activity, we would be very grateful if you could fill in our teacher feedback form. Please encourage colleagues to respond.
Teacher information pages
Events, competitions, grants and resources are regularly added to our teacher information web pages. You can check them out by following these links:
STEM Opportunities for teachers and pupils
Science Enhancement Experience (SEE) – STEM Challenges
The half-day STEM Challenges aimed at Years 5 and 6 are designed to facilitate learning, team working and encourage pupils' curiosity to find out how and why things work. During the challenge the pupils develop their problem solving, communication and innovation skills. Science Enhancement Experience (SEE) resources were produced thanks to the generous support from the Welsh Government's National Science Academy. Schools in Wales are able to book ONE STEM Challenge for a class of pupils FREE. Places are limited so early booking is recommended.
There is a choice of three challenges for teachers to book:

Electricity Challenge
Space Challenge
Marble Roller Coaster Challenge

Dates:

South Wales: until March 2016
West Wales: 25-30 April 2016
North East Wales: 27 June – 1 July 2016
North West Wales: tbc
To register interest email enquiries@see-science.co.uk.
Back to topSTEM Challenge Teacher CPD – FREE
STEM Challenge CPD is available FREE to schools in Wales with funding from Welsh Government National Science Academy. The CPD, delivered by See Science, will provide teachers with training on how to use the toolkit and run a suite of science challenges with KS3 pupils. Teachers will be linked with industrial partners to provide an insight into the real-world of work through the STEM Ambassadors programme.
Each teacher attending the CPD will receive a toolkit to tailor the delivery of the STEM challenges to their pupils. In addition, the toolkit contains information on setting up and running a STEM Club together with eight STEM Club fun and interactive activities. To book a place, email enquiries@see-science.co.uk.
Dates:
Monday 29 February 4:30 – 6:30 pm, Cardiff
Wednesday 16 March 4:30 – 6:30 pm, Swansea
Tuesday 22 March 4:30 – 6:30 pm, Cardiff
Turn your pupils into space biologists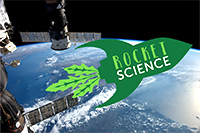 Two kilograms of rocket seeds are now on board the International Space Station. The British Astronaut Tim Peake is asking schools to sign up to this space experiment to grow the seeds when he returns to the UK.
Find out more and apply for a teaching pack and seeds here.
The Vikings are partying too!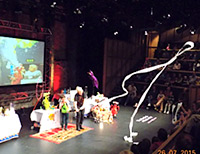 Join Scientific Sue on this most historical and creative journey of discovery. Sue's fire and icy fog breathing dragons are celebrating the hatching of their latest baby – but there is just one problem; this little dragon doesn't have any wings yet.
Available FREE to all primary and secondary (Year 7) schools in Wales in 2016 with funding from Welsh Government National Science Academy.
North East Wales: May 10-13
South Wales: June 13-17
West Wales: June 20-24
North West Wales: July 4-8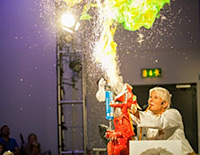 Scientific Sue will need lots of volunteers to help her investigate and explore the science of how dragons fly and then, using some of the science behind the different dragon fire types (steam, icy fog, explosive gases, flammable liquids and of course big flames and tornado type fire!) plus dragon's disgusting digestion processes. She hopes to engineer a way which will allow the baby dragon to fly and join in with the celebrations!
The science can focus on: chemical reactions, combustion, states of matter, flight, buoyancy, forces, energy, digestion, and respiration, tests for oxygen, carbon dioxide and hydrogen. Length of performance: 1 hour
To book, email See Science at enquiries@see-science.co.uk – schools will need to book for half day per show.
Back to topSpring 2016 Science planner for teachers

As part of the Welsh Government science campaign Learning Wales has worked with science providers and organisations in Wales to produce a series of planners for each school term. The latest Spring 2016 Science planner for teachers includes information on resources, events and competitions.
Bee Scene
Discover whether your local green space is good for bees or not by downloading the new resources here. This resource can help promote an understanding of the interdependence between bumblebees and wildflowers and support the development of observational skills and the use of keys.
Connecting Classrooms course: Teaching critical thinking and problem solving
Connecting Classrooms is offering a new course for teachers in Wales to develop their practice in relation to teaching the core skills of critical thinking and problem solving. The training package helps teachers anticipate changes to the Welsh curriculum by following the recommendation in Successful Futures to embed the Wider Skills across all Key Stages. Book places here.
Back to topBritish Science Week: 11-20 March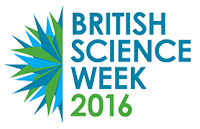 Science in Spaces Activity Packs (Primary and Secondary) are available for free online. This year the theme is all about the different spaces where science can be found and done, with a focus on 5 different types of space: open space, outer space, digital space, built space and personal space.
Demo Day 2016: Thursday 17 March. Thank you to those that have pledged so far, and to those who haven't yet, you can still pledge here. Keep checking the British Science Week website for the most up to date information.
Competitions
New Pinhole Photography competition for 11 to 14s. Build a pinhole camera and send in your pictures to win a prize! The Light and Pinhole Camera resource and Build a Pinhole Camera video areavailable. More details and how to enter here.
Focus on Science Competition. A science competition through the medium of Welsh, £500 worth of Bright Sparks Prizes to be won for your school. More information here. Closing date 1 March 2016.
The Biochemical Society Scientific Outreach Grants are open!
The Biochemical Society has grants of up to £1,000 available to help fund activities that communicate the excitement of molecular bioscience, or more general biology, to young people and the community. The deadline for the next round of applications is 29 April 2016.

Age 4-11 – ages 4-11 need to have a "science focus", without the emphasis on biology
Age 11-14 – support for biology within a balanced science curriculum
Age 14-18 – support for biology, with increasing emphasis on molecular biology
Post-18 – support for biomolecular sciences in their own right.

Gopher Science Lab Grants now available
Gopher Science Lab supports students' transition from primary to secondary school with peer to peer learning across age groups. Grants are now available to enable UK schools to run a Gopher Science Lab day followed by sharing their experience via a teacher led twilight training session for other teachers. The deadline to apply is 31 March 2016.
Global Citizenship Workshops 2016. 16 March, Liberty Stadium, Swansea. This event will give primary schools and secondary schools the opportunity to see the importance of building an international dimension into the education of young people in Wales through British Council projects and other international programmes. More details and register here.
The Big Bang Fair. 16-19 March. NEC, Birmingham. Timed to coincide with British Science Week, the Big Bang Fair will once again throw open its doors to thousands of students, teachers and STEM Ambassadors.
Treasures: Adventures in Archaeology. 26 January – 30 October 2016. National Museum of Wales. The exhibition tells the stories behind great archaeological discoveries from the ancient civilizations of Egypt, Greece, Rome, Pre-Columbian America and Rapa Nui (Easter Island), some of which have never been seen in Wales before. Book here.
Minister sees Lead Creative Schools in action at Ysgol Ty Coch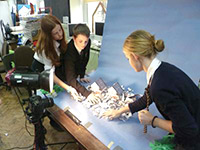 On 8 February the Minister for Education and Skills visited Ysgol Tŷ Coch to see a Lead Creative School project in action.
The Lead Creative Schools Scheme aims to promote new ways of working, with innovative and bespoke programmes of learning designed to improve the quality of teaching and learning. It's about you, the school, and the particular learning challenges that you might be facing. The Lead Creative Schools Scheme works with you to provide the creative people, skills and resources that are needed to help you address these challenges.
The application window for year 2 of the programme is currently open and will run until 29 February – apply here.
Back to topBlaenymaes Primary gets up close with Astronaut Tim Peake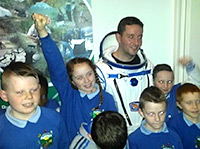 Astronaut Tim Peake connected with hundreds of children across the UK on 2 February 2016 when he video-called planet Earth from space in a moment that will go down in history. The event, which took place at Liverpool World Museum, was attended by a select few classes from schools around the UK who had won the chance to be there.
Among them was Blaenymaes Primary School from Swansea, who had a blast from start to finish. The School entered a competition run by the Times Educational Supplement (TES) which asked school children to submit questions on Twitter that they would like to ask Tim Peake. The TES had more than 4,000 entries for the Cosmic Classroom Competition from across the UK.
Major Tim, who is currently in space on the International Space Station (ISS), came live on-screen to the school children who waited eagerly for him to show them some pretty impressive experiments. Tim Peake became the first British Astronaut to walk in space in January 2016. Tim linked up with the children, teachers and presenter Dr Kevin Fong at around 14:30 GMT with a signal that was bounced from space, to Alabama, USA and then over to Liverpool World Museum.
Some of the lucky school children at the event were able to ask Major Tim the questions that won them their trip to this once in a lifetime event, which included "What's your favourite button on the international space station?" Tim was impressed with this one and said, "What a great question! I've never been asked that before, which is rare." He then floated over to a hatch behind him and continued, "This is one great button – this button actually opens up the door to outer space. This is called an air-lock here and through this air-lock we can send experiments into space. I love pressing this button."
Another question was, 'Is there a possibility of an asteroid or space junk hitting the ISS?" Tim said, "Actually we do get hit by small particles every day although sometimes they are bigger than others. When we do a spacewalk we have to be careful where we put our hands because there will often be dents where small micro meteorites have hit us. There are very clever people down on earth tracking space matter, so if we are ever in any danger, the ISS will simply move out of the way."
When Tim signed off after his 20 minute chat he had this to say: "I've had an absolutely fantastic time talking to you this afternoon; all I can say is thank you so much for joining in. Thanks for the great support. Continue to have fun, enjoy your studying and remember to just do what you really enjoy doing."
Tim and his crew are due to return to planet Earth in June 2016.
Article from The Wave: Read more here.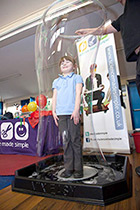 Children in selected primary schools across Wales have taken part in special 'Bubbles and Balloons' shows set up by the Welsh Government's 'Education begins at Home' campaign.
The focus was on science and children took part in fun and interactive science experiments, designed to engage children to show how science can be fun and educational.
Go to the 'Education Begins at Home' facebook page, under the video section you will find fun, science experiments children can do at home.
What makes it rain?
The wet and windy weather has been a major talking point of the winter months, but have you ever stopped to think what causes the weather? STEM Ambassador Bruce Moffett has – he's a biometeorologist looking at how biology directly impacts – and controls – the weather.
Dr Moffett, who works in Pembrokeshire, is a leading authority on bio-precipitation – the study of clouds and how they form rain. He has recently contributed to a paper published in the one of the world's leading journals Proceedings of the National Academy of Sciences of the United States of America (PNAS).
In the simplest of terms, he explains that rain in temperate regions is created by the formation of ice in clouds. What people generally don't know is that the pure water in clouds doesn't freeze at 0°C, but at around -36°C. So how can the ice be formed to make the rain? It's because of tiny particles (or ice nuclei) being picked up into the air which promote freezing at higher temperatures, so causing rain. The PNAS published paper shows sea spray is a source of these rain-making particles.
Dr Moffett has measured particles in air sampled from aircraft above the ocean, and also from a lab experiment using his own unique instrument which he says is portable enough to use in a classroom. He says children enjoy gathering lichens, seaweed, and moss, and then see how these influence the freezing temperature of water. He says despite all his research he still finds it weird to see water still liquid at -12°C.
Dr Moffett's work could influence the way we deal with climate change. The rain-making particles also have the power to influence the reflective properties of clouds, which in turn affects global temperatures.
Dr Moffett will be giving a talk on biometeorology in Fishguard during National Science Week – more info here.