Welcome to the STEM Newsletter for Primary Schools in Wales
An essential source of information for teachers and anyone with an interest in STEM (Science, Technology, Engineering and Maths) engagement across Wales.
Read inspiring stories, discover new opportunities and find out how a STEM Ambassador's visit to your school can engage and enthuse both students and teachers. There are details of current events, competitions, grants, CPD, awards and more at our teacher information pages.
Chance to win a M&S Gift Hamper
We would be very grateful if you could fill in our teacher feedback form if an Ambassador has visited your school or you have met an Ambassador at an enrichment activity. Please encourage colleagues to respond. Each half term we will provide one teacher who has provided feedback with a M&S Gift Hamper.
British Science Week (BSW)
13-22 March 2015

This year Demo Day falls on Thursday 19 March 2015! We want teachers and technicians across the UK to pledge to take part in Demo Day and to put their school on the map. Pledging is quick and simple with only basic details being required to join the science demo movement.
Demo Day is an annual campaign supported by the Gatsby Charitable Foundation to inspire secondary school teachers and technicians to explore new concepts, provoke discussions and generate excitement through running science demonstrations. By pledging to take part you will be part of a free prize draw with prizes kindly donated by Tim Star, including a wifi microscope!
Demo Day also provides inspiration with a variety of resources including the new Demo Insights resource, Demo: The Movie and a whole range of great online video resources at www.getsetdemo.org
BSW School Poster Competition
This year's theme is 'Science on your doorstep'. The school competition asks students to look around them and produce a poster about any aspect of science that happens in or around where they live. Open to any students from reception to Year 9. Deadline Friday 17 April.
Numerical Reasoning with SIG-24
CollaboratEd has recently worked with SIG-24, a group of 11 schools headed by Janet Hayward, Headteacher at Cadoxton Primary School to trial their Numerical Reasoning resource pack. The schools' Year 4 and 5 learners tried a few challenges from the pack while the CollaboratEd team worked with the teachers to develop numerical reasoning.
This group of schools is already doing a lot to develop reasoning across the curriculum and the learners' presentations summarising the work done so far were quite inspiring.
All groups took a keen interest in the activities and worked extremely well with children they had not met before this event. Although some tasks were challenging, learners came up with remarkable solutions and the quality of work was worthy of top GCSE grades. One headteacher remarked that: "pupils will often exceed expectations, if we just give them the opportunity".
The resource pack has now been tested it with a large number of learners and schools, and feedback has been very positive:
"An excellent course! I particularly enjoyed using technology to aid reasoning."

Jonathan Desmond

"Great delivery, and a good pace when getting to grips with the iPads. Excited to get started back at school!"

Scott Howells

"Really enjoyed exploring the apps in the afternoon session and linking them to numerical reasoning."

Jane Goldsworthy

"I enjoyed using the iPad features as I feel they could be incorporated into my class teaching to engage learners."

Hayley Makie
You can find out more about CollaboratEd's Numerical Reasoning Resource Pack and training and book a place to our next training events here.
Back to topLinks to teacher information pages
New events, competitions, grants and resources are regularly added to our teacher information web pages. You can check them out by following these links:
Primary school Ambassador engagement project
The initiative to encourage STEM Ambassador visits to primary schools has been gaining a lot of momentum over the last three months. Our Ambassadors have visited primary schools throughout Wales, delivering workshops, talks and activity sessions to many enthusiastic audiences. Here are brief accounts of four of these visits.
From Galileo to space exploration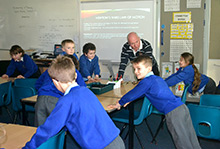 A science session on Forces at Tavernspite Primary School took Year 4 pupils into the realms of space exploration and energy for the future.
The children were so interested in the illustrated talk from STEM Ambassador Mark Smith that the session had to be extended because of all their questions. Mark, a physicist working on nuclear fusion, took the children on a journey which ranged from Galileo's discoveries in the early 1600s to watching images of astronauts on the moon. He also had the pupils up on their feet testing Isaac Newton's Laws of Motion.
Investigating water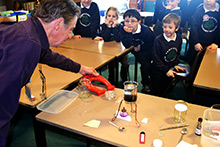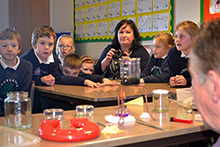 Children at Templeton Primary School have been exploring the properties of water with a visit from STEM Ambassador David Ramsey. The children handled ice, thought about why rain falls as drops, and explored the water cycle with the aid of some food colouring and heat.
They were amazed to see how water bulged above the top of a bowl, rather than overflowing, when it was just overfilled. They were also impressed to see a paperclip floating on the top of the bulge, being pulled across by a magnet.
Skin Deep at Fairfield Primary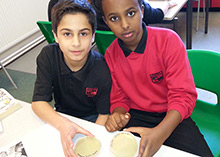 At Fairfield Primary, Dr Simone Cuff presented a 'Skin Deep' session on Microbiology. Taking a great deal of time to prepare agar plates for the pupils, Simone was so well received by the teachers and pupils that teacher Julie Dharamshi commented: "The children loved Dr Cuff's activity and she came back today to do it all again with year 5!"
Bryntirion Primary School Transition Day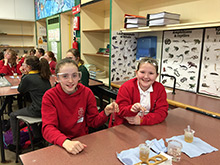 See Science's Sian Ashton ran a Primary School Transition Day at Bryntirion School earlier this month, presenting six practical sessions on the test for Diabetes in an Elephant!
Pupils particularly loved the Benedicts Reagent test – a simple experiment but with instant results. They kept Sian on her toes with some challenging questions – especially on copper complexes!
At this and other recent Ambassador primary school visits, the feedback from teachers strongly agreed that Ambassador activities are highly engaging and memorable for young pupils. If you want to know more about the contribution an Ambassador could make at your school contact Sian at sian.ashton@see-science.co.uk or on 02920 344727.
Pearson Teaching Awards / Qualified for Life – Focus on Science

Welsh Government Education Minister Huw Lewis has encouraged teachers across Wales to nominate colleagues and teams in their schools for a prestigious Pearson Teaching Award 2015.
Often described as the 'Oscars of Teaching', the Pearson Teaching Awards recognise and celebrate the outstanding work of exceptional teachers across the UK. Winners are selected by a panel of judges for Silver Teaching Awards, which are announced on 'Thank a Teacher' day each year. All Silver Award winners are then considered for a Gold Award which will be announced at a star-studded Pearson Teaching Awards Gala UK Ceremony, held in London in October and filmed and broadcast on BBC2.
This year, thanks to the Welsh Government, a new category will be introduced: Science Teacher of the Year. This coincides with a high profile Welsh Government campaign 'Qualified for Life – Focus on Science' which aims to encourage more young people to study science and consider a career based around science skills.
Huw Lewis said: "One of the best things about being Education Minister is meeting extremely talented, committed and conscientious teachers on a regular basis. I want exceptional teachers in Wales to be celebrated for the great things that they are doing in our schools. That's why I would strongly encourage teachers to nominate colleagues or teams in their schools that they feel are deserving of a Pearson Teaching Award.
"I'm so pleased that we were successful in securing a new category – Science Teacher of the Year. Our 'Qualified for Life: Focus on Science' campaign is all about spreading the message that science is fun, that the skills and knowledge gained in science lessons are directly relevant to many jobs and industries, and that science really can pave the way to a stimulating and financially rewarding career. I'm sure the nominees in this particular category, wherever they come from, will share these sentiments."
The closing date for nominations for the 2015 Pearson Teaching Awards is 27 March 2015. There's more information on the Awards here – and about Qualified for Life: Focus on Science here.