Welcome to the STEM Newsletter for Primary Schools in Wales
Contents
There are larger versions of some (but not all) of the photos in this newsletter - click the small photo to view.
Find out more about what's happening, competitions, new educational resources, events, new rounds of grants and more…
Links to See Science teacher information pages

New events, competitions, grants and resources have just been added to our teacher information web pages. You can check them out by following these links: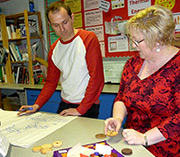 Science Enquiry is a Primary Science Teaching Trust project. It supports scientific enquiry and the transition between primary and secondary schools in Wales through improvement in learning by working in collaboration with secondary schools and their feeder primary schools. The cluster schools, St Cyres Comprehensive School, Cogan PS, Fairfield PS, Much Junior school, St. Andrew's Major C/W Primary School and Llandough Primary School, attended a Continuing Professional Development (CPD) course. The aim is to facilitate the integration of STEM across the curriculum and phases, improve knowledge and understanding of each other, aid the transition between year 6 and 7 and improve the confidence of (non-science specialist) Year 6 teachers.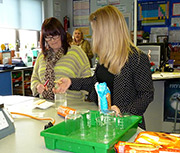 The first year is a pilot. Evaluations from the teachers will be used to develop and improve the project. A toolkit has been developed that can be used by both primary and secondary teachers to support teachers after the end of the project to ensure sustainability.
During the CPD, the teachers started to develop a transition phase programme by sharing, planning and exchanging good practice, relating the science curriculum to the real world context and the world of work.
Teachers from the clusters and STEM Ambassadors are planning classroom activities together with support from See Science. The STEM Ambassadors aim to excite young people about STEM, give teachers a unique perspective on how the STEM curriculum can be demonstrated in the world of work, encourage young people to consider STEM careers and qualifications and develop other employability skills including confidence, team-work, presentation and creativity.
The initiative will culminate in the pupils coming to a celebration day where they will present their individual projects.
Find out more about the Primary Science Teaching Trust and how they can support teachers at www.pstt.org.uk.
Back to topGopher Science Lab comes to Wales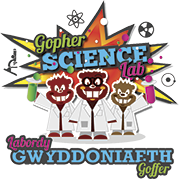 Gopher Science Lab is developing 250 resources kits for use by secondary schools and their feeder primary schools. These kits contain seven easy-to-run thought provoking and exciting hands-on practical activities and three longer classroom activities for curriculum enhancement.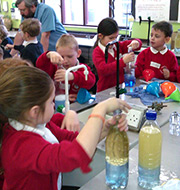 During the summer and autumn terms school clusters (minimum of three primary schools and one secondary school) will be able to apply for a FREE Gopher Science Lab or attend a CPD on the Gopher programme and familiarisation with the kits. All schools attending either the Gopher Science Lab or CPD will also be provided with a fully resourced kit FREE.
Secondary schools in the programme will then host Gopher Science Lab events by inviting their feeder primary schools to take part in exciting experiments in the lab where secondary pupils will engage the primary pupils with the activities.
As well as gaining valuable experience, the secondary pupils will make an important contribution to the day by passing on their enthusiasm to the younger children. This will help support transition.
The benefits will be felt well beyond the children who attend the lab sessions: the primary schools will be supplied with equipment to perform these experiments back in their classrooms.
To find out more email enquiries@see-science.co.uk.
Back to topNSEW 'In the year 2114' competition

National Science & Engineering Week are asking students of all ages to think about what the world will be like in 100 years and to share a vision of a development they think will have come into practice. This can be a new product, a scientific, technological or medical advancement or a design to help deal with demands on natural resources.
The closing date is 18 April 2014. Submissions to the 'In the year 2114' competition can include posters, collages, graphic designs or photos of models. All submissions should include a description of the idea and how it will improve society. So why not get your school involved?
Back to topGary the Musical Clown is back in Wales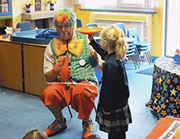 Gary the Musical Clown will be travelling around Wales offering FREE workshops to primary schools, supported by funding from the National Science Academy. Gary and his son Scott will visit schools to provide hands-on, fun science interactive workshops. They offer 2 x 45-minute workshops each for up to 30 pupils in a classroom.
For KS1 – fun workshops on shapes / volumes / adding up in 2/5/10 and using times tables
For KS2 – fun games on times tables, and the teachers will choose which table they would like.
"The children had great fun laughing at his amazing tricks and enjoyed the activities." Mr D. Taylor, Headteacher.
Dates and areas:
w/c 28 April 2014 – Newport / Cardiff / Valleys
w/c 12 January 2015 – North Wales / North Coast
If you would like Gary to visit your school, please email enquiries@see-science.co.uk giving your contact details, name of school with postcode, and three preferred dates in order of preference. Use the title 'Gary the Clown Workshops in Wales' in the email. We will then get back to you to arrange the visit.