STEM Newsletter for primary schools in Wales
April 2016
The monthly e-newsletter that's an essential source of information and inspiration for teachers – and anyone with an interest in STEM (Science, Technology, Engineering and Maths) engagement – across Wales.
Ask a STEM Ambassador to visit your school
A STEM Ambassador's involvement can engage and enthuse both students and teachers. If you are interested in asking a STEM Ambassador to visit your school you can make your request here or contact See Science directly at ambassadors@see-science.co.uk.
Give us your Ambassador feedback
If an Ambassador has visited your school, or if you have met an Ambassador at an enrichment activity, we would be very grateful if you could fill in our teacher feedback form. Please encourage colleagues to respond.
Teacher information pages
Events, competitions, grants and resources are regularly added to our teacher information web pages. You can check them out by following these links:
STEM Opportunities for teachers and pupils
Smallpeice Trust STEM Days
Introduce your students to the exciting world of engineering by booking an in-school Smallpeice Trust STEM Day for Years 6-11 – perfect for bringing science, technology, engineering and maths subjects to life. A Smallpeice educator will come to your school to hold a STEM Day workshop for up to 60 students. Depending on the course you've booked, the session will run for a full or half-day around normal school hours.
Pupils taking part can register for a Discovery CREST Award (FREE to Welsh students)
Most of the STEM Days are FREE thanks to sponsorship of our corporate partners.
Back to topSpring 2016 Science planner for teachers

As part of the Welsh Government science campaign Learning Wales has worked with science providers and organisations in Wales to produce a series of planners for each school term. The latest Spring 2016 Science planner for teachers includes information on resources, events and competitions.
Connecting Classrooms course: Teaching critical thinking and problem solving
Connecting Classrooms is offering a new course for teachers in Wales to develop their practice in relation to teaching the core skills of critical thinking and problem solving. The training package helps teachers anticipate changes to the Welsh curriculum by following the recommendation in Successful Futures to embed the Wider Skills across all Key Stages. Book places here.
Polli:Nation
Polli:Nation is a UK-wide initiative supporting pupils from 260 schools turn their school grounds and other local walk-to spaces into pollinator-friendly habitats. Schools are encouraged to survey their patch using the new OPAL Polli:Nation survey (available April 2016), make improvements for pollinators on their patch and see how well it has worked using the OPAL survey. This project is for both primary and secondary schools and has lots of potential for CREST Awards. Contact crest@see-science.co.uk.
Science Enhancement Experience (SEE) – STEM Challenges
The half-day STEM Challenges aimed at Years 5 and 6 are designed to facilitate learning, team working and encourage pupils' curiosity to find out how and why things work. During the challenge the pupils develop their problem solving, communication and innovation skills. Science Enhancement Experience (SEE) resources were produced thanks to the generous support from the Welsh Government's National Science Academy. Schools in Wales are able to book ONE STEM Challenge for a class of pupils FREE. Places are limited so early booking is recommended.
There is a choice of three challenges for teachers to book:

Electricity Challenge
Space Challenge
Marble Roller Coaster Challenge

Dates:

West Wales: 25-30 April
North East Wales: 27 June – 1 July
North West Wales: week beginning 11 July
To register interest email enquiries@see-science.co.uk.
Back to topSTEM Challenge Teacher CPD – FREE
STEM Challenge CPD is available FREE to schools in Wales with funding from Welsh Government National Science Academy. The CPD, delivered by See Science, will provide teachers with training on how to use the toolkit and run a suite of science challenges with KS3 pupils. Teachers will be linked with industrial partners to provide an insight into the real-world of work through the STEM Ambassadors programme.
Each teacher attending the CPD will receive a toolkit to tailor the delivery of the STEM challenges to their pupils. In addition, the toolkit contains information on setting up and running a STEM Club together with eight STEM Club fun and interactive activities. To book a place, email enquiries@see-science.co.uk.
The Vikings are partying too!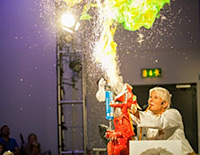 Join Scientific Sue on this most historical and creative journey of discovery. Sue's fire and icy fog breathing dragons are celebrating the hatching of their latest baby – but there is just one problem; this little dragon doesn't have any wings yet.
Available FREE to all primary and secondary (Year 7) schools in Wales in 2016 with funding from Welsh Government National Science Academy.
West Wales: June 20-24
North West Wales: July 4-8
To book, email See Science at enquiries@see-science.co.uk – schools will need to book for half day per show.
Competitions
The Great Bug Hunt. As spring approaches, search the habitats around you for bugs of all descriptions. Research, record, draw, paint, photograph and enter your results in the Great Bug Hunt for primary schools. Entry to the 2016 Competition is open until 17 June 2016
CLEAPSS – ASE Primary Competition 2016. This year's competition is all about improving biodiversity around the school or local area. Entry is open until 25 October 2016.
Dates for your diary
National Women in Engineering Day. 23 June 2016. NWED is an opportunity to focus attention on the great opportunities for women in engineering. STEM Ambassadors and schools are encouraged to organise their own events in support of the day, using the NWED logo, website and supporting resources. Resources for primary and secondary aged pupils are available here. Competitions for KS1 and 2 pupils available. If you would like to request a STEM Ambassador to support your day contact ambassadors@see-science.co.uk.
Treasures: Adventures in Archaeology. 26 January – 30 October 2016. National Museum of Wales. The exhibition tells the stories behind great archaeological discoveries from the ancient civilizations of Egypt, Greece, Rome, Pre-Columbian America and Rapa Nui (Easter Island), some of which have never been seen in Wales before. Book here.
Political Animals wins Film Award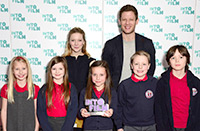 Cyfarthfa Park Primary School and Winding Snake have won the 2016 Into Film Award for Best Animation (12 and under), with their hilarious short, Political Animals. To make the film, primary age children were interviewed about politics and politicians, and were then asked to draw themselves as an animal with backgrounds. Each person animated their animal to the best answers given in the interviews, with some really funny results.
Welsh actress Morfydd Clark presented the award to the pupils at the red carpet event in London's Leicester Square, alongside actor James Norton. Pupils Sam and Owen said: "It was amazing seeing our film on the big screen". Merierid Parry, their teacher said: "It was a wonderful project – the children were really engrossed in it and worked so well as a team – it was lovely to see… we're thrilled with the result."
Apps for Good at Raglan Primary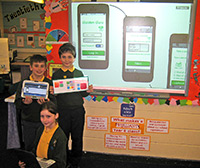 A teacher at Raglan VC Primary School tells about her experience of integrating Apps for Good into the curriculum/
"We initially introduced a class of 29 Year 6 pupils to Apps for Good. Our decision was based on the fact that our Year 6 children would definitely all have had experience of apps in their own free-time and they would also have the maturity required to understand and follow the process behind the development of these apps.
"At Raglan VC Primary School, we are committed to ensuring that any and all ICT skills development is meaningful and relevant to the current and future needs of the children. In this sense, Apps for Good is highly relevant to the interest and needs of the young people in our school.
"When choosing how to integrate Apps for Good into the curriculum, we started the programme at a timely educational point within Wales. The introduction of the Literacy and Numeracy Framework (LNF) requires all schools to ensure that they are developing cross curricular Literacy and Numeracy skills, through distinct year group strands, in addition to the orders set out in the existing English and Maths curriculum. The Apps for Good programme proved to be an excellent means of developing a cross curricular project which covered a number of different Literacy and Numeracy skills within the LNF. These included the development of oracy skills, through group discussion and formal presentations; writing skills, as the children made use of a number of different techniques to gather, organise and present their ideas; and Numeracy skills linked to developing scoring systems for their game-based apps or even calculating how much they might charge if they sold the app with consideration for the profit they might make!

"Ultimately, I choose to integrate the Apps for Good programme into an extended unit of work in English focused on the children developing their own persuasive presentations. This allowed me to work through the suggested programme of skills and ideas development within Apps for Good, whilst also directly teaching the required English language and ICT skills."
More details on how your school can get involved in Apps for Good here.
Science Week comes to Cardiff's Marlborough Primary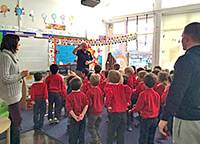 At Marlborough Primary, STEM Ambassador Mark Smith was booked to present Forces to KS2 pupils. The school was holding a Science Week, supported by many STEM Ambassadors, including the team from Atkins and Parsons Brinkerhoff. To Mark's surprise the last session of the day was the Reception class, and he had to quickly adjust his presentation to match their level of knowledge (1 term at school). He made an excellentimpression and answered many unusual questions. Teachers commented that the class hadn't been this excited since Santa Claus visited!
Talgarth Primary pupils benefit from generous donation
Pupils from Talgarth Primary School received £500 from PCI Pharma Services to help run a series of activities for British Science Week.
PCI Pharma Services, who have sites in Hay on Wye and Talgarth, were approached to help fund workshops, resources and community events.
The donation enabled Deputy Head Sam Toone to run a series of fascinating, entertaining and engaging activities during British Science Week which raised the profile of science in the school to parents and pupils. The Science Week was a great success with the pupils benefitting from the exciting activities.
PCI Pharma Services, Managing Director Colin White met three Year 6 pupils, who form part of the school council. Colin was very impressed to hear the number of activities currently going on at the school and is really looking forward to finding out about this year's planned 'Space' themed events.
Heidi Purnell, who works for See Science and co-ordinates STEM activities throughout South Powys, helped arrange the partnership between PCI Pharma Services and Talgarth Primary. Heidi commented, "I have been working with both Talgarth and PCI over the last few years, and it seemed an obvious solution. PCI Pharma Services is such a large local employer offering careers in Science and Technology – so who better to help influence scientists of the future!"
Both Sam Toone and Heidi Purnell would like to thank PCI Pharma Services for their generous donation.