Welcome to the STEM Newsletter for Primary Schools in Wales
An essential source of information for teachers and anyone with an interest in STEM (Science, Technology, Engineering and Maths) engagement across Wales.
Read inspiring stories, discover new opportunities and find out how a STEM Ambassador's visit to your school can engage and enthuse both students and teachers. There are details of current events, competitions, grants, CPD, awards and more at our teacher information pages.
Contents
Give us your Ambassador feedback - and win a M&S Gift Hamper
We are delighted to announce that this month Hayley Evans from Alun School has won the M&S Gift.
We would be very grateful if you could fill in our teacher feedback form if an Ambassador has visited your school or you have met an Ambassador at an enrichment activity. Please encourage colleagues to respond. Each half term we will provide one teacher who has provided feedback with a M&S Gift Hamper.
PSTT Primary Science Teacher Award scheme 2015
Primary Science Teacher Awards recognise innovative and creative work that contributes to science development in school and engages children in the excitement and wonder of science. They are open to full-time and part-time primary school teachers. Each winner receives £500 for their school and £1,000 for themselves – plus a certificate. Further details and nomination form here.
Please contact sue.williams@pstt.org.uk if you have any queries. Closing date for nominations is Monday 14 September 2015.
Teacher information pages
Events, competitions, grants and resources are regularly added to our teacher information web pages. You can check them out by following these links:
Science at the Senedd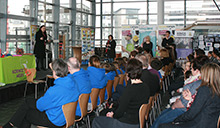 On Monday 16 March The Senedd was bustling with scientists and experiments as pupils demonstrated their knowledge of science at the launch of British Science Week (BSW) in Wales. Primary school children exhibited and explained some of their science work to AM Eluded Parrott, who sponsored and launched the event, told the children that they should never stop asking why, and added: "This is my favourite event of the year".
Pupils visited the interactive stands to try hands-on activities provided by Techniquest, Royal Society of Chemistry, Royal Society for the Protection of Birds, Code club, National Museums of Wales, Technocamps, Free Range Learning, Astro Cymru, ASE and the British Science Association.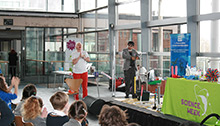 Some helped Susan McGrath, the presenter of Science2Life, with an interactive science show about rockets and forces by finding out which rockets flew the furthest and why.
This year's annual robotics competition winners are Sir Thomas Picton School, Pembrokeshire, who demonstrated their 'flying' robotic product of the future. The teams spent around five months preparing their robots before the competition and reached a standard that far surpassed our expectations. The students gave a fascinating talk about how they went about the competition and overcame the various challenges to gain success. You can find more about the competition and winners here.
The launch of British Science Week in Wales was arranged by the British Science Association through See Science. Many thanks to the pupils and staff from: Romilly Primary School, Rhws Primary School, Cadoxton Primary School, Barry Island Primary School, Ysgol Pencae, Ysgol Treganna, Gwaun Meisgyn Primary school, Sir Thomas Picton School, and Kings Monkton for making the launch such a special event.
"Can I just say thank you for organising a great day, they absolutely loved it and it was a brilliant way to launch British Science Week. When I asked the children to sum it up in one quote, they said that it was lovely just to do science all day, something they don't get to do very often." Trish Beer Rhws Primary School.
Pupils at Ysgol Glannau Gwaun had a Gopher Science Lab day during National Science Week. Year 5 and 6 pupils helped to set up a range of experiments which investigated aspects of biology and spent time in groups working their way through them. Later in the day, younger pupils explored the temporary biology lab. Almost all the pupils said they were surprised by how well a shark can smell, compared to themselves, and they enjoyed using balloons to test their lung capacity.
The day was arranged through See Science with STEM Ambassador Helen Hughes leading the experiments.
Thanks to generous support from the Biochemical Society, the Society of Biology is able to offer grants which will enable up to 60 schools across the UK to host either:
A Gopher Science Lab day at their school, or
A Gopher Science Lab day followed by hosting and leading a training session for surrounding schools.
More information here. The deadline for applications is 25 May 2015.
Exciting Free CPD – Down on the farm!

Motivational, bilingual CPD days to engage your learners through dairy farming – Farm visits/experts from the industry – develop classroom activities focused on the LNF – improve your learners' literacy and numeracy skills – gain credits at Level 4 – Open up the world of www.foodafactoflife.org.uk. Delivered by TLC! under contract to DairyCo. To book or for further details please email heather@thinklearnchallenge.com or call 029 20865570.
CPD Days in Wales:
Down on the farm – You are what you eat! (One day course) KS2 teachers and trainees (Y3-6) – English medium from Pencoed Campus, Bridgend College on 1 May.
Down on the farm – What's cooking from the dairy? (One day course) Foundation Phase teachers and trainees (YR-2) – Bilingual from Gelli Aur College Farm, Coleg Sir Gar, Carmarthen on 28 April.
Back to topFun filled Science Week!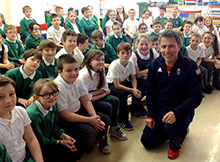 St Mary's CIW Primary School, Brynmawr held a packed Science Week this March. The week kicked off with a mobile Planetarium from Dark Sky Wales, paid for in part by a British Science Week grant.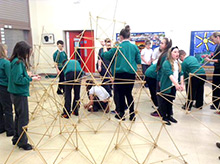 The activities didn't stop there, as the pupils learnt about healthy diets and lifestyle and were very lucky to receive a talk by STEM Ambassador Ross Hall. Ross, a Sports Psychologist, told the pupils all about his experiences working with top athletes. He also gave a behind the scenes insight into the Beijing and London Olympics, which sparked lots of interesting questions.
To conclude the week pupils built bridges with Costain STEM Ambassadors Hannah Lewis and Phil Baker and raced to build a tetrahedron large enough to reach the ceiling! Head teacher Darren Jones said: "The week has gone extremely well, the feedback from the staff and parent's has been great, plus there has been a real buzz around the school. We certainly intend planning another Science Week for next March as this one has been excellent."
How far has it travelled?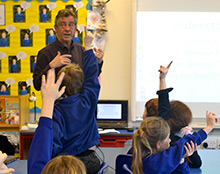 Pupils at Tavernspite Primary School have been exploring sustainability and biodiversity with the help of STEM Ambassador and environmental science student David Ramsey. David asked the children to consider how humans impact on their environment, and how scarce resources can affect people's attitudes to their neighbours. The children also examined packaging from assorted goods to find out where items were made and how far they had travelled to reach Wales. This event was part of the Primary Science Education Project that has supported STEM Ambassador visits to primary schools across Wales.
Back to topWatch out! Wildlife detectives at work at Penmaenpool
Snowdonia National Park's Signal Box at Penmaenpool, Gwynedd was the venue for a 'Wildlife Detectives Day' on 21 March. The event, which was Part of British Science Week, gave locals and visitors the chance to: make plaster casts of animal footprints; follow a wildlife detectives trail; construct outdoor artworks from natural materials; discover the different ways in which squirrels, dormice and other woodland creatures open up nuts and seeds; check out what's inside an owl pellet; and get up close to the birds of prey displayed by a local bird handler. All this in addition to the nature displays, telescope and binoculars on offer inside the Signal Box itself.
The event was well attended by pupils from local schools and their families, who enjoyed taking part in the activities in the bright spring sunshine.
The day was made possible through a grant from the British Science Association and co-ordinated by the National Park's warden service, with help from volunteers from the North Wales Wildlife Trust, RSPB and two local STEM Ambassadors.
Relive Festival Fun in the GwyddonLe on the Maes!


Where else can you touch marine animals, test digital microscope, and create an ideal Eisteddfod field using Minecraft? Where else but the GwyddonLe!
The GwyddonLe on the Eisteddfod field offers a wide range of activities for children and young people to learn more about science, technology, engineering and mathematics. By testing different activities, you can learn about the exciting opportunities available in these subjects.
"The Senses" is the theme of this year's activities, and the many exhibitors that we have promised a feast for the eyes, the ears, nose, fingers, and mouth! There will be an opportunity to create your own 3D model using a 3D Printer … see how clean your hands are … visit Raspberry-Pi sensible … create colorful paint out of rocks and minerals … program a Raspberry Pi in Welsh … building out of Lego … and many more! As well as lots of activities to entertain, there will be a full schedule of events and presentations on the platform, and a chance to get a coffee and a break. Remember to call in!
Gwyddonle is sponsored by Swansea University.
Back to topThe annual Aberystwyth University Science Fair – British Science Week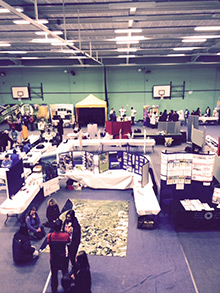 More than 1,400 school pupils from 25 schools in Ceredigion, Powys and Gwynedd enjoyed hands-on science exhibitions at the Aberystwyth University Science Fair which is organised by the University's Centre for Widening Participation and Social Inclusion (CWPSI).
Attendees had the chance to take part in demonstrations and activities, including hands-on encounters with animals, understanding volcanoes and earthquakes, meet robots and a host of other exciting student led stands.
Roger Morel, Science Project Officer said: "The Science Fair is about showing the excellent scientific work that is being done at Aberystwyth University and the surrounding area. Its purpose is to widen the knowledge of science among school pupils and the general public, inspire them and show them how important it is in all our lives."
Debra Croft, CWPSI Manager, said: "We could not do this without the enthusiasm, professionalism and knowledge of the Institutes and Departments – both staff and students. The transferrable skills learnt and deployed by our students, with this demanding audience of young people, are breath-taking and innovative."