Welcome to the STEM Newsletter for Primary Schools in Wales
Contents
There are larger versions of the photos in this newsletter - click the small photo to view.
Find out more about what's happening, competitions, new educational resources, events, new rounds of grants and more…
Links to See Science teacher information pages

New events, competitions, grants and resources have just been added to our teacher information web pages. You can check them out by following these links:
Back to topGopher Science Lab comes to Wales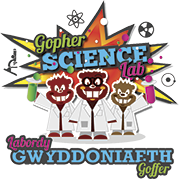 Gopher Science Lab is developing 250 resources kits for use by secondary schools and their feeder primary schools. These kits contain seven easy-to-run thought provoking and exciting hands-on practical activities and three longer classroom activities for curriculum enhancement.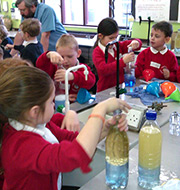 During the summer and autumn terms school clusters (minimum of three primary schools and one secondary school) will be able to apply for a FREE Gopher Science Lab or attend a CPD on the Gopher programme and familiarisation with the kits. All schools attending either the Gopher Science Lab or CPD will also be provided with a fully resourced kit FREE.
Secondary schools in the programme will then host Gopher Science Lab events by inviting their feeder primary schools to take part in exciting experiments in the lab where secondary pupils will engage the primary pupils with the activities.
As well as gaining valuable experience, the secondary pupils will make an important contribution to the day by passing on their enthusiasm to the younger children. This will help support transition.
The benefits will be felt well beyond the children who attend the lab sessions: the primary schools will be supplied with equipment to perform these experiments back in their classrooms.
To find out more email enquiries@see-science.co.uk.
Back to topCREST Star Investigators

We are delighted to announce that, with funding from the Welsh Government through the National Science Academy, a selection of the CREST Star Investigators activities are being produced in Welsh and will soon be available online. You can also find out how to run a CREST Star Club at your school at www.britishscienceassociation.org/creststar.
CREST Star Investigators is now available as a new online membership scheme. Registration costs just £40 with an annual renewal fee of £20 payable after the first 12 months.
Free CREST Star membership expires in July 2014. Don't forget that the CREST Star online scheme is still offering schools who have bought CREST Star packs anytime since 2008 free membership of the new online scheme. All these schools need to do is sign up at www.britishscienceassociation.org/creststar/register before 31 July 2014.
Back to topScience Week celebrations at Crickhowell Primary School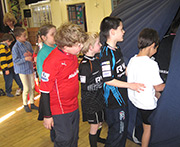 Pupils at Crickhowell Primary School have been getting hands on with Science and Maths to celebrate National Science and Engineering Week. Teacher Rob Francis has been working with See Science and has received grant funding from the British Association of Science to provide pupils with a busy week of Science activities, Maths workshops and a mobile planetarium.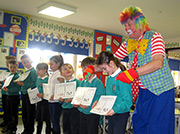 The week kicked off with a visit from Gary the Clown. Gary and his son Scott provided a fun-filled Maths workshop for pupils in Y2 and Y5, activities included a domino times-table game and a maths magic trick.
During the week, STEM Ambassadors Wayne Jones and Mark Smith also provided interactive Space and Astronomy themed talks to all the classes, while the hall became a Planetarium for the day thanks to Dark Sky Wales.
Harri Purnell in Year 6 said: "It was interesting and a fun way to learn about astronomy, I really enjoyed the talks and the mobile planetarium was amazing!"
Jon Wright Head teacher was also enthusiastic: "The visit by the STEM Ambassadors has been a fantastic aspect of our Science Week. Workshops on the solar system and space exploration caught the children's imagination and, I am sure, have helped further develop their interest in science. The highlight for most of the pupils though, has to be the mobile planetarium, which brought the wonders of the night sky into our school hall; something that the pupils will never forget!"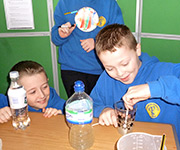 Pupils demonstrated their knowledge of science at the launch of National Science and Engineering Week (NSEW) Wales and the Gopher Science Labs in Wales.
The Senedd was bustling with scientists and experiments… primary school children exhibited and explained some of their work; Wales' greatest Victorian scientist was there; there were Gopher workshops; and Gary the Musical Clown.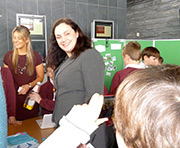 AM Eluned Parrott (photo, right), launching the week, told the children that they should never stop asking why. "This is my favourite event of the year", she told the pupils.
Theatr Na n'Og created a science lesson for the children, from the Victorian explorer and scientist Alfred Russel Wallace, who developed his own theory of evolution at the same time as Charles Darwin. There was also a chance for them to take part in a physics workshop and take a tour of the Senedd building.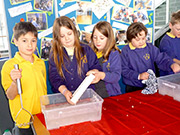 The launch of National Science and Engineering Week in Wales and Gopher Science Labs in Wales was arranged by the British Science Association and the Society of Biology through See Science. Learned societies and organisations, including the Institute of Physics, the Royal Society of Chemistry, Science Made Simple, Cardiff University to name a few, offered activities for the pupils. Many thanks to the pupils and staff from St Paul Primary School, Romilly Primary School, Rhws Primary School, Cadoxton Primary School, Barry Island Primary School, Ysgol Pencae, St. Michael's School and Kings Monkton for making the launch such a special event.
Back to topCelebrating science skills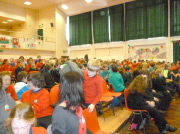 About 150 pupils from Ysgol Bro Gwaun and feeder primary schools joined together in a day of science celebration. The pupils had been working on group projects at their individual schools and came together at Ysgol Bro Gwaun to display their work and share their experiences.
The different ways in which the pupils chose to do their presentations – and explain the science involved – were as varied as the projects themselves. There was video, animation, human bar charts, photographs, competitions and even a rap – complete with drums. Pupils had explored topics such as how best to dry clothes, electrical circuits and their uses, electronics and automation, solar panels and nuclear power.
The activities were all part of a Primary Science Teaching Trust project which aims to support scientific enquiry and the transition between primary and secondary schools. The project was organised by the STEMNET contractors for Wales, See Science/Gweld Gwyddoniaeth. Teachers from the Bro Gwaun family of primary schools were invited to attend a two-day CPD (continuing professional development) course with teachers from Ysgol Bro Gwaun in December, and were given a toolkit and support from a STEM Ambassador to see the project through. Ysgol Bro Gwaun was chosen to pilot the scheme because of the close working relationship between the secondary school and the primary teachers. Evaluations from the teachers will be used to develop and improve the project.
Back to topGary the Musical Clown is back in Wales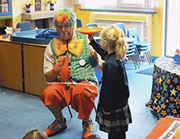 Gary the Musical Clown will be travelling around Wales offering FREE workshops to primary schools, supported by funding from the National Science Academy. Gary and his son Scott will visit schools to provide hands-on, fun science interactive workshops. They offer 2 x 45-minute workshops each for up to 30 pupils in a classroom.
For KS1 – fun workshops on shapes / volumes / adding up in 2/5/10 and using times tables
For KS2 – fun games on times tables, and the teachers will choose which table they would like.
"The children had great fun laughing at his amazing tricks and enjoyed the activities." Mr D. Taylor, Headteacher.
Dates and areas:
w/c 12 January 2015 – North Wales / North Coast
If you would like Gary to visit your school, please email enquiries@see-science.co.uk giving your contact details, name of school with postcode, and three preferred dates in order of preference. Use the title 'Gary the Clown Workshops in Wales' in the email. We will then get back to you to arrange the visit.