Welcome to the STEM Newsletter for
Primary Schools in Wales
Find out more about what's happening, competitions, new educational resources, events, new rounds of grants and more…
If you're planning a project of any kind or an event at your school and need speakers, workshops, links with the real world, or an extra pair of hands, contact See Science and request for a STEM Ambassador to come and help. The STEM Ambassadors Programme is FREE to schools. Email ambassadors@see-science.co.uk or go to http://networking.stemnet.org.uk and click on 'REQUEST A STEM AMBASSADOR'.
Don't forget to fill in our teacher feedback form if a STEM Ambassador has visited your school.
Are you looking to inspire your students about science, technology, engineering and maths? Then look no further than The Big Bang Near Me… to check out what's happening in Wales on 3 July at the University of Glamorgan.
Experiments, drama, history, and a Dalek – all help launch Science Week!
Science fact and science fiction; past, present and future all came together at the launch of National Science and Engineering Week Wales.
The Senedd was bustling with scientists and experiments…primary school children demonstrated and explained some of their work; Wales' greatest Victorian scientist was there; there were workshops; and a full-size yellow Dalek.
AM Eluned Parrott, launching the week, told the children that they should never stop asking why. "The day we stop asking why is when we stop learning about the world…and stop inventing", she said.
Theatr Na n'Og created a science lesson for the children, from the Victorian explorer and scientist Alfred Russel Wallace, who developed his own theory of evolution at the same time as Charles Darwin. There was also a chance for them to take part in a bug workshop, and take a tour of the Senedd building.
The launch of National Science and Engineering Week in Wales was arranged by the British Science Association through See Science, with support from the Institute of Physics and the Royal Society of Chemistry.
Many thanks to the pupils and staff from St Paul primary School, Lansdowne Primary School, Romilly Primary School, Rhws Primary School, Cadoxton Primary School, Barry Island Primary School, Ysgol Pencae and Kings Monkton for making the launch such a special event.
To view larger versions of the photos, click on the small image.
Back to topLinks to See Science news pages
Because there are now so many STEM stories in the monthly newsletter it's no longer possible to include abbreviated lists of activities, resources, competitions, grants, CPD opportunities and events in the body of the newsletter.
Don't forget that new items are continually being added to these web pages – you can check them out by following these links:
Back to topAr Daith / On Tour 'You Should Ask Wallace'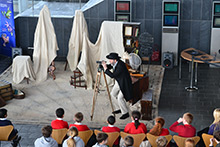 With its first performance at the National Assembly of Wales in Cardiff, the one man show 'You Should Ask Wallace' by Theatr na nÓg, is embarking on a tour around the globe. Sponsored by the National Science Academy and organised by See Science, the show, celebrates the life of one of the 19th century's most remarkable Welsh intellectuals – Alfred Russel Wallace (1823-1913).
The tour has already visited St Pauls Primary, Lansdowne Primary, St Phillip Evans Primary, Romilly Primary, Rhoose Primary, Cadoxton Primary, Barry Island Primary, Kings Monkton School, Ysgol Pencae, St Cyres School, Pontypridd High School, St Josephs RC High School, Ysgol Glan Clwyd, Ysgol Maes Garmon, Ysgol Plas Coch, Ysgol I D Hooson, St Brigids School and Hawarden High School.
Ioan Hefin, is the star of ' You Should Ask Wallace' and he is delighted with the response the drama has received so far: "The tour is going extremely well and we have received a warm welcome at all the venues. The children have responded well and we have had endless questions from the pupils which goes to prove that the show has had an impact on the young audiences." He added: "The show wasn't created specifically for the younger generation, but one way or another, it works. There is something about the story of Alfred Russel Wallace that captures the imagination of anyone who has thought of going on an adventure or on a mission to find something new, or has endeavoured to visit a new and dangerous place. Alfred Russel Wallace was the first Indiana Jones!"
Ioan explains that he is delighted to take on such a role. "I am overjoyed trying to re create the story of the life of Alfred Russel Wallace. It is an honour for an actor to undertake a giant of the dramatical world. This is my giant! To me, Alfred Russel Wallace means more to me than having the opportunity of playing Hamlet, Vanya or Caesar."
'You Should Ask Wallace' will go on tour around schools in south and north Wales, before venturing to theatres across Wales, England, Rio de Janeiro and Singapore at the end of 2013.
Back to top'Discovering Our Place in the Universe'
Tuesday 14 May 2013, 9.15am-3.15pm. Glyndwr University Conf Services, St Asaph Business Park, St Asaph LL17 0DJ
Thursday 16 May 2013, 9.15am-3.15pm
ACE2 Centre, Aberthaw Power Station,The Leys, Aberthaw, Barry CF62 4ZW

EU-UNAWE (Universe Awareness) UK is part of a European educational project with its UK centre based at Armagh Observatory. We aim to use the beauty and splendour of the Universe to inspire young children (4 to 11 year olds) and especially those from an underprivileged background to become more interested in STEM subjects (Science, Technology, Engineering and Mathematics). We also aim to broaden their minds and stimulate a sense of belonging to a wider international European and worldwide community.
The course is aimed at practising primary teachers and this is the first time it has been offered to teachers in Wales. We have a limit of 16 places and therefore it is important that you contact as soon as possible.
The course may be cancelled if fewer than 12 people apply. Only one applicant per school please and ideally the Science/WAU co-ordinator teaching the upper age group should apply.
If required, the Armagh Observatory will supply sub cover for you (a flat rate of £160) and lunch will be provided. If you wish to attend please reply to me, Libby MacKearney, at Lmk@arm.ac.uk. I would be grateful if you would copy the following text into your reply:
I wish to attend the EU-UNAWE course on:
Tuesday 14 May 2013, 9.15-3.15   Glyndwr University Conf Services Centre, St Asaph Business Park, St Asaph LL17 0DJ 
OR
Thursday 16 May 2013 in ACE2 Centre, Aberthaw Power Station,The Leys, Aberthaw, Barry CF62 4ZW
Your full name (for certificate)
Your preferred email address
Your school name and full address
Whether you are the Science Co-ordinator and the Key Stage/Class that you normally teach
If you have any special dietary requirements.
I will acknowledge all replies on Monday 29 April to confirm your place and will attach the sub cover form for claiming back the £160. We reimburse this after you attend (to the school bank details that you supply on the sub cover form). Please let me know at any point if you are then unable to attend and I can contact any teachers still on a waiting list.
Back to topThe Big Bang @EESW Success!

Schools interested in attending The Big Bang Near Me… on 3 July 2013 at the University of Glamorgan can register on line or contact. For more details contact Isobel.Brown@careerswalesgyrfacymru.com. There is support for transport for schools that work with the University of Glamorgan's Widening Participation team.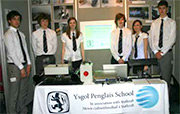 This year for the first time the Engineering education scheme Wales extended its Annual Presentation Day to involve The Big Bang @ EESW in collaboration with Careers Wales. The event was held at Venue Cymru on 4 March 2013 and over 150 Year 12 students participated in The Big Bang competition, and the five teams selected to go through to The Big Bang Fair 2014 were Penglais School, Holywell High School, John Summers High School, Ysgol Friars Team 1 and Ysgol Friars Team 2.
The event also hosted the EESW F1 Primary Jaguar 3D north Wales regional competition, where 34 teams took part and raced their cars. The 1st Place Overall Winner was Ysgol Bryn Hedydd – Team BH Blaze and 2nd Place went to Ysgol Deganwy – Ysgol Deganwy Racing Team. Ysgol Bro Gwydir was also nominated the Best Rookie Team.
An exciting rock guitar show by the talented Dr Mark Lewney and presentation by Wing Commander Andy Green, driver of the Bloodhound SSC project also attracted over 650 visitors from primary and secondary schools across north Wales.
The large exhibition included universities such as Glyndŵr, Bangor and Swansea University's STRIP Interactive which gave students insight into studying Engineering at a higher level. Companies such as Airbus, Magnox, JCB and RWE npower also demonstrated some of the fantastic careers on offer in Wales.
The Rt Hon. David Jones, MP, Secretary of State for Wales opened the event and said that it was delightful to see some of the work on display from Welsh students. The day ended with a presentation of certificates by Antoinette Sandbach, AM for North Wales. Awards were sponsored by Airbus UK, Energy Island Programme, IMechE, JCB, RWE npower renewables, Siemens Healthcare Diagnostics and the Welsh Government. The full list of award winners is at www.stemcymru.org.uk/category/news.
Back to topCardiff University funds 10 soldering workshops
Science Made Simple has 10 subsidised MadLab workshops for Key Stage 2 to offer for this Spring Term! MadLab is an interactive workshop aimed at Key Stage 2 pupils. It explores electronic engineering through a short talk and some great hands on activities in which participants make, and take home, their own electronic circuits.
Thanks to Cardiff University, the workshop (usually priced at £625+VAT) is now available for just £75+VAT to all primary schools in South Wales.
How to apply
If you are a primary school in South Wales you are eligible; to reserve your place on the list email info@sciencemadesimple.co.uk or call 02920 876 884. Places will be allocated on a first come first served basis.
Back to topYoung Scientists become world record breakers!
It's not every day that you get the chance to be a world record breaker, so when the Science department at Howells School got the call it was all hands to the pump to get ourselves and the students into the Guinness Book of World Records. The Girls Day School Trust (GDST) was 140 years old in 2012 and to celebrate they invited schools within the trust to pull together to break the world record for the greatest number of students taking part in the same practical science lesson in a multi-venue event.
The same lesson took place in 26 different venues across the UK on 13 November 2012 starting at precisely 11am and finishing an hour later, all under the close scrutiny of clipboard wielding official adjudicators. 2,215 student investigators from year 7 and Year 6 yet were not the least daunted by their task; they were asked to measure acceleration due to gravity 'g' using two techniques armed only with a yo-yo, a bean bag, a ruler and a stop watch.
It wasn't long before the intrepid scientists at Howells were carefully measuring the period of oscillations of a simple pendulum by using the yo-yo. Laptops with spreadsheets were used to process data but the students savoured an early taste of some tricky A-level physics! The laptops enabled them to scrutinise their data, identify anomalies and hone their technique. The students also timed the dropping of bean bags over a known height and fed this data into their laptops.
The young investigators displayed a scientific maturity beyond their years to arrive at an admittedly fair spread of results for 'g' but with an encouraging degree of accuracy on the whole. I'd like to thank Ceri and Allessio for coming to Howells to help us adjudicate; we all really enjoyed the day and in January received official confirmation that the even has been validated as an official Guinness World Records.
Back to topSpecial issue of 'Y Gwyddonydd' –  competition in the medium of Welsh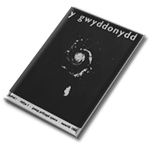 A special issue of 'Y Gwyddonydd' is being prepared to celebrate fifty years since its inception.
'Y Gwyddonydd' was a Welsh magazine that featured articles, reviews, and news items on scientific subjects. It was published between 1963 and 1996 by UWP. The magazine has been digitized by the Welsh Journals Online project at the National Library of Wales – copies are online here.
Competition for primary schools through the medium of Welsh, ages 5-11
Design new scientific invention for the future – there is a possibility that the picture will appear on the cover of the special issue of 'Y Gwyddonydd'.
Application should be sent to Professor Glyn O. Phillips, c/o See Science, 59 Charles Street, Cardiff CF10 2GD on paper or electronically to enquiries@see-science.co.uk by 12pm 3 May 2013. The winners will be announced at the Urdd National Eisteddfod Pembrokeshire and there will be an award ceremony during the National Eisteddfod 2013 in Denbighshire. There will be a monetary prize for the winner in each category.