Welcome to the STEM Newsletter
for Secondary Schools in Wales
Want to find out what's happening in STEM (Science, Technology, Engineering and Mathematics)? The See Science STEM Newsletter has information on educational opportunities, events, news, funding, grants, competitions, science schemes and more…
How you can help us
You can help us by telling us about STEM activities you have organised and provide us with an insight into what the pupils gained from the experience by filling in our online feedback form. All feedback forms will be entered into a prize draw each term.
Salters' Chemistry Festival Bangor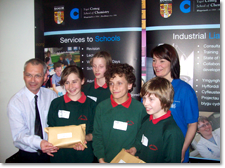 10 schools from North Wales region enjoyed an interesting fun-filled day of chemistry at the Salters' Festival of Chemistry at Bangor University on Tuesday, 12 April. Each school was represented by a team of four 11-13 year olds.
During the morning the teams took part in a competitive, hands-on, practical activity, "The Salters' Challenge – There's been a Murder!" in which they used their analytical chemistry skills. In the afternoon, they competed in the "University Challenge", a second practical activity chosen by the University. This was followed by a fun lecture, by Dr Lorrie Murphy and Mr Joseph Pettit involving chemical demonstrations, flashes and bangs. The day will ended with a prize giving at which all participants were given individual fun prizes and participation certificates and the winning teams will be awarded prizes for their schools.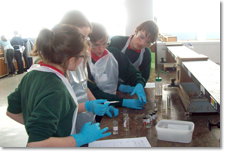 The Salters' Festivals of Chemistry are an initiative of The Salters' Institute, whose aim is to promote the appreciation of chemistry and related sciences among the young. The Festival at Bangor University is one of a series of fifty-three Festivals which are taking place at Universities throughout the UK and the Republic of Ireland between March and June.
Congratulations to the prize winners this year:
Salter's Challenge: 1st: Ysgol Tryfan, Bangor; 2nd St Gerard's School Trust, Bangor; 3rd: St Brigid's School, Denbigh
University Challenge: 1st Ysgol Tryfan, Bangor; 2nd: Ysgol Bryn Elian, Colwyn Bay; 3rd Ysgol Tryfan, Bangor.
Congratulations to Haberdashers Monmouth
Haberdashers Monmouth School for Girls voted Best at EESW Event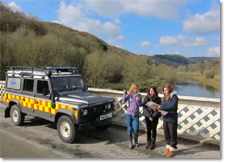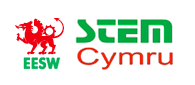 The Engineering Education Scheme of Wales competition took place on Monday 11 April at Celtic Manor, Newport. Sarah and Jess (Steph was at home in Hong Kong) presented their radio repeater project, which they have successfully installed in Penallt to aid Severn Area Rescue Association. No school is allowed to win more than one prize but the panel of judges nominated the HMSG team for no fewer than four separate awards. The girls were delighted when it was announced that they had won the most prestigious award, 'Best overall team performance', worth £500 and sponsored by General Dynamics. The other awards they were nominated for were: 'Best appreciation of safety issues', 'Most effective application of IT' and 'Most effective presentation of the chosen solution'.
The Engineering Education Scheme Wales enables teams of students from Year 12 to complete a six month real life project with an engineering company. HMSG has taken part in the scheme ten times and for the fourth year in a row has been mentored by engineers from Alcatel-Lucent and this year sponsorship of the project was provided by Graham Smith UK.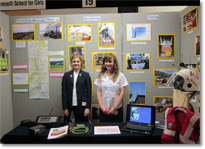 This year's EESW challenge was to project manage the planning, design and deployment of an antenna and radio repeater at Pelham Hall, Penallt, to improve coverage of the Wye Valley. The team of girls has gained valuable experience in sourcing materials and dealing with a range of commercial and professional bodies as well as local committee members. SARA has offered to take them out in a lifeboat on the River Severn during a practice session on the evening of 5 May as a reward for their work.
Congratulations to all the other award winners of EESW
Winners of other awards on the day were:
Best Innovative or adapted design – Rougemont School Team 1
Best appreciation of environmental issues – Llanishen High School Team 2
Best overall team performance – Haberdashers' School
Best application of engineering & technology – Morriston Comprehensive School
Institution of Mechanical Engineers – Whitchurch High School
Best engineering design – Howell's College Team 1
Most effective application of IT – Bassaleg School Team 2
Best energy appreciation – Howell's College Team 2
Most effective presentation of the chosen solution – St David's Catholic College Team 1
Best working model or prototype – Ysgol Gyfun Gwyr
Project with the most commercial potential – St David's Catholic College Team 2
Most innovative solution to the project – Cynffig Comprehensive School
Best appreciation of environmental issues – Holywell High Team 2
Best overall team performance – Coleg Llandrillo Team 2
Most innovation solution to a project – Ysgol John Bright
Best understanding of Engineering Principles – Denbigh High School
Big Bang London March 2011 London ICC Excel CENTRE


Many schools from Wales competed in the Big Bang in London on 10-12 March 2011 including: Cwmcarn High School, Amman Valley Comprehensive School, Milford Haven Comprehensive School, Ysgol Uwchradd Aberteifi, Ysgol Syr Thomas Jones Amlwch, Radyr Comprehensive School, Ysgol Botwnnog, and Ysgol Friars and it was great to see a good representation there.
Ysgol Friars, Bangor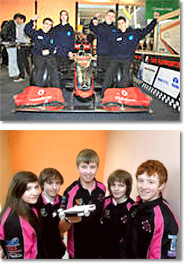 Ysgol Friars attended the F1 national final held at the London ICC Excel Centre during March. Our team here at Ysgol Friars came second nationally within the Bloodhound class (11-14yrs). This was an outstanding achievement. Our car was designed using solid works, tested in a virtual and physical wind tunnel. We produced many testing procedures that gave physical readings and ensured that we could design and make the fastest possible car. The team were credited with a testing procedure for recording wheel traction and resistance. Throughout the two day event our team performed exceptionally well. Coming second nationally is outstanding considering the money that some of the schools spent on their projects. Our budget was £410 in total.
Shaun Holdsworth
Ysgol Botwnnog off to Malaysia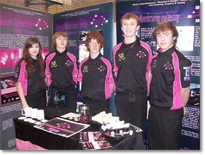 Following their success in the F1 Challenge in London pupils from Ysgol Botwnnog who designed and produced a miniature Formula 1 car, will get the chance to compete against the best in the world later this year in the Far East.
Members of the 'Fflam' team will be travelling to Malaysia and Singapore in September, to compete in the world final F1 competition.
The team, Steffan Jones, Lois Owen, Bedwyr Lloyd Williams, Floyd Hughes and Louis Dawson Jones, and their science teacher, Gwyn Meirion Jones, attended Big Bang 2011 at London's Excel Centre, to hear that they had come second out of 18 other regional finalists in the UK final. Mr Jones said: "It has been a marvellous achievement for everybody, especially the pupils". The competition encompasses many aspects of the pupils science work as well as Design and Technology, from designing of the car, creating a portfolio of the work, collecting sponsorship and marketing the project, and also holding presentations on the project.
Big Bang Cymru
Alberto Culver pledge support for this year's Big Bang Cymru

Swansea-headquartered manufacturer, Alberto Culver, has announced its support for Wales's largest science and careers fair organised by Careers Wales West.
Held at the National Waterfront Museum on 12 July, Big Bang Cymru will host hundreds of school children from across south Wales who will participate in various science and engineering-based workshops and demonstrations during the event. Alberto Culver, which has a purpose-built 180,000 sq ft plant in Swansea Enterprise Park, will be the headline sponsor for the second year running.
Big Bang Cymru aims to demonstrate how the study of science technology, engineering and mathematics can enhance the lives and future career prospects of today's young people. In addition to a host of interactive displays, the event will provide the opportunity for pupils to take part in experiments and simulators.
Alberto Culver's HR Plant Manager, Simon Cowlishaw, said: "We are really excited to be sponsoring Big Bang Cymru for the second year running. The Big Bang is an excellent way of encouraging more young people to take interest in the science and technology subjects which are currently undersubscribed. We hope to build on the success of last year's Big Bang and see more pupils than ever getting involved and enjoying all the activities on the day. As a local employer, we endeavour to support and encourage young people to think about a future career in one the STEM subjects. We hope that events, such as Big Bang Cymru, will open the eyes and minds of young people to the idea of a career in these industries."
Big Bang Cymru is one of 12 regional Big Bang fairs taking place across the UK in 2011 – it is expected to attract in excess of 400 pupils from the South Wales region. The event will also play host to the regional heat for the National Science & Engineering Competition, which is open to all 11-18 year olds who have completed a project or activity in any field of science, technology, engineering or mathematics. Finalists will have their own stand at the event to showcase their hard work and the winner will go through to the national final.
Big Bang Cymru is an event unlike any other and it promises to be a fantastic day that will hopefully inspire the youth of South Wales to pursue a career in this ever-evolving sector that is key to the future of Welsh industry."
National Science and Engineering Week
Famous Scientists' Day, Wednesday 16 March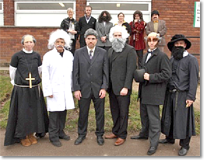 A day of fun and excitement was held at Ysgol Glan Clwyd when the Science Department staff dressed up as famous scientists. The pupils had to guess the names of the scientists by asking questions about the life and work of each one during the day. All the teachers held lessons on the life and work of the scientist during the day. The day was part of National Science and Engineering Week activities and a grant of £220 was received by the Welsh Assembly Government. The grant paid for the costumes and prizes for the pupils who had found further information about the scientists. Some of the scientists were better known, such as Marie Curie and Newton, than others, such as JJ Thomson and Tesla. A fantastic day, brilliant.
Tredegar Comprehensive – National Science and Engineering Week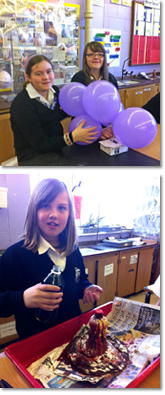 During National Science and Engineering week KS3 pupils at Tredegar Comprehensive School took part in the following fun and engaging activities using key skills, particularly communication and working with others.
Year 7 – Volcano Challenge – Make a volcano out of salt dough and then erupt the volcano, deciding what mixture to use.
Year 8 – Marshmallow Tower Challenge – Make the largest tower possible out of spaghetti and marshmallows. The tower must be able to support a crème egg.
Year 9 – Egg drop Challenge – Challenge you to come up with a way to cushion (or protect) a raw egg, so that when it is dropped, the egg won't break.
Lunchtime activities – Mentoes challenge, Lava lamps
All pupils involved enjoyed the activities greatly and cannot wait for Science Week 2012!
Mars Explorer Challenge
Scientists and engineers from Astrium are challenging students aged 8-16 to design a Mars Rover, using Bridget – an existing rover prototype – as inspiration. There are some great prizes on offer, including a visit from Bridget to the winning school, and a behind-the-scenes tour of Astrium. For more information, see www.esero.org.uk/news/mars-explorer-challenge. Deadline: 30th June.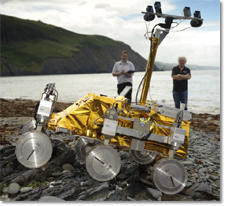 Bridget and other prototypes are tested in a range of locations. There is a Mars Yard at Astrium in Stevenage which has been designed to resemble the surface of Mars. This little bit of Mars on Earth is made up of special builder's sand. Bridget has also been tested in Tenerife, in a quarry in Sandy Bedfordshire and on the beaches of Wales!
The picture shows Bridget being tested on Clarach Beach, in Wales. Aberystwyth University's Professor David Barnes said the beach had a terrain similar to what is expected to be found on Mars.
The state-of-the-art robot is being tested by academics at Aberystwyth University, which is leading the development of a camera that will be used on Bridget's journey to the Red Planet in 2018.
Picture: Athena
Grants, Resources, Competitions and Projects
Cosmic Futures
A science communication competition which giving students the chance to use their writing, graphic design or photography skills to tell the world about space science. The competition is run in conjunction with the Metro newspaper. The top prize is the chance to create a full colour magazine, with tours of the Metro headquarters, the science museum and Greenwich observatory, as well as a heap of other prizes. For more information see www.cosmonline.co.uk/cosmic-futures. Deadline: 30 May.
CREST in Wales – Grant Awards
Secondary schools and colleges in Wales can apply for a grant up to £250 to support CREST Awards. All schools colleges in Wales are eligible to apply. To find out more email stempoint@see-science.co.uk.
STEM Challenge 6: The Cisco Website Challenge
The challenge is for students 11-14 years to make proposals for a website that will promote the Paralympian, Rachel Morris, raising her profile. Students will have to design the layout and content of the website and consider the use of social media and web-based technologies. www.stemchallenges.net/challenges/challenge-6/.
The BLOODHOUND SSC Special Leaders Award – deadline 30 May
Prizes include Gold 1K club membership and a visit to the 'Dog House' in Bristol where our car is being built! Register TODAY by filling the online registration form. www.leadersaward.com.
CREST Awards for 11-19 year olds – great new project ideas with 'pick up and run' resources
CREST is Britain's largest national award scheme for project work in the STEM subjects (Science, Technology, Engineering and Maths). www.britishscienceassociation.org.
Greenhouse in Space
Join the European Space Agency and ESA astronaut Paolo Nespoli on an exciting project to see how plants grow both on earth and in Space. Order your mini Greenhouse in Space ground kit FREE. www.esa.int.
I'm a Scientist, Get me out of Here! June
FREE to schools. This is an award winning project that gets students talking to real scientists, online, is funded by the Wellcome Trust. Suitable for years 9-13. For more info and to sign up click here http://imascientist.org.uk/for-teachers.
Copper is… on Film!
A video-making competition to highlight copper's hidden role in our daily lives for students aged 11-16, exploring. Closing date 31 May. Contact bryony.samuel@copperdev.org.uk.
Events
Institute of Engineering and Technology (IET) funded shows in Wales on 3, 4, 5 and 27 May
Science Made Simple is offering Cradle to Grave –a show KS3 and 4 subsidised engineering show. Cost is £75+vat to reach as many students as you can fit in your hall. To book contact 02920 876 884 or info@sciencemadesimple.co.uk. Please mention the IET when registering.
The Valleys Discovery Festival Come and Discover 14 – 21 May
The Valleys Discovery Festival welcomes its communities and visitors to this unique part of the world to celebrate the role the area has played in the way we live. See the world and discover the area through science, technology, nature, health, and heritage with over 40 events and activities ranging from space rock shows, fossil hunts, wonderful wildlife walks, and science. For more details go to http://valleysdiscoveryfestival.com/ or contact david.llywelyn@groundwork.org.uk or ring 01443 849963.
Eisteddfod yr Urdd, Swansea, 30 May-4 June
The GwyddonLe at this year's Urdd National Eisteddfod will showcase all sorts of scientific workshops. Full of interactive exhibitions, weird and wonderful science experiments and fringe activities. More… http://urdd.org/gwyddonle.
Young Engineer for Britain Competition – closing date 31 May
If you are creative, innovative and enterprising and interested in providing practical solutions to everyday problems and in turning ideas into products this competition is for you. FREE to enter and is open to students 12-19 years old. www.youngeng.org.
Bangor University 21 June
The 4th FREE Conference for all who teach physics Lectures include: 'Back to the Big Bang, the large Hadron Collider' by Dr Lyn Rees Evans FRS (CERN) and 'Physics at the interface with Biology' by Prof Dame Athene Donald FRS (Cambridge University) Booking is now open contact Andrea Fesmer at andrea.fesmer@talk21.com.
IOP: Medical Physics Course for AS Students, University Hospital Wales, Cardiff, 1 July
No Cost. Contact cerian@angharad.fslife.co.uk for further details.
Reach for the Stars at the University of Warwick Tuesday 5 July
ESERO – UK Space Education (the UK Space Education Office) is organising a dedicated Space Education Day as part of the inaugural UK Space Conference on specifically designed for primary and secondary teachers, the day will include a plethora of exciting space-related workshops, including plenary lectures. Dr. Lucie Green; a solar researcher based at the Mullard Space Science Laboratory at University College London will talk about 'Living in the Sun's atmosphere', Dr. Lewis Dartnell of the Centre for Planetary Sciences at UCL will talk about the 'Hunt for alien life' and Professor David Cullen of Cranfield University will give a lecture aimed at primary school teachers about the possibility of 'Life on Mars'. It is free for teachers to attend and you can book your place on the UK Space Education Day by contacting enquiries@nationalstemcentre.org.uk.
IOP's Summer Physics Update Course – University of Bristol, 8-10 July
The Institute of Physics would like to invite practising physics teachers to attend a three-day residential course, based at the University of Bristol's Physics department. More information at www.iop.org/update.
Big Bang Cymru, National Waterfront Museum Swansea, 12 July
Big Bang Cymru, one of twelve regional Big Bang fairs that take place across the UK, and is one of Wales's largest Science and Engineering events. For more details visit www.careerswaleswest.co.uk.