Welcome to the STEM Newsletter
for Primary Schools in Wales
Want to find out what's happening in STEM (Science, Technology, Engineering and Mathematics)? The See Science STEM Newsletter has information on educational opportunities, events, news, funding, grants, competitions, science schemes and more…
How you can help us
You can help us by telling us about STEM activities you have organised and provide us with an insight into what the pupils gained from the experience by filling in our online feedback form. All feedback forms will be entered into a prize draw each term.
Wales primary school team wins Primary Formula One Technology Challenge


It was a Welsh lock-out in the 2011 Primary F1 in Schools National Finals in March, with student teams from three Welsh schools taking all three podium places. Team X-Dream, a team of primary school students from Ysgol y Talwrn, Llangefni, celebrated winning the 2011 Primary Formula One in Schools Technology Challenge 2011, held at the Big Bang Science Fair, ICC Excel, London. This primary school version of the prestigious F1 in Schools initiative is now in its fourth year and is becoming increasingly popular with both school children and teachers.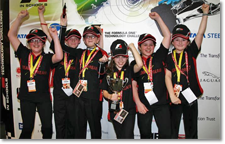 The winning school, Ysgol Y Talwrn, with only 36 pupils, was the smallest to reach the National Finals, and after competing for three consecutive years were delighted to finally take the title. The team comprises Alaw Williams, Team Leader, Owain Roberts, Design Engineer, Harri Williams, Manufacturing Engineer, Sara Hughes, Manufacturing Engineer, Hannah Henderson, Graphic Designer and Mari Hughes, Resource Manager.
Team X-Dream's Team Leader, Williams, said of winning, "It's so amazing, we're so lucky to be here and didn't expect to win". Mari Hughes added, "We're hoping to carry this on to secondary school and win again!" As part of the project the team were tasked with raising finance for the challenge, making £63 from selling their home made blackberry and apple jam, and over £1000 from a sponsored family bike ride. The team put tremendous effort into research for the project, including studying the aerodynamic shapes of F1 cars, visiting Santa Pod Raceway and being given a talk from Squadron Leader Egryn Huskisson from RAF Valley.
Runner Up to Team X-Dream was Need 4 Speed, a team from Ysgol Cae Top, Llangefni, who also won the Jaguar Best Engineered Car award with Team Dynamite from West Park Primary School, Port Talbot, in third place. The Innovative Thinking award was won by United Paradise from Richmond Park Primary School.
Andrew Denford, Founder and Chairman, Primary F1 in Schools said of the National Finals, "It's been a great competition this year, with the children showing an amazing level of engineering understanding, putting in plenty of creative thinking and working together so well to produce excellent teamwork. We're seeing very high standards of work from these youngsters and hope they will continue to participate through to the secondary level. I know from speaking with the tutors how valuable the project is for them and the benefits that they reap, so we hope that this stand of F1 in Schools will expand and go from strength to strength."
Primary F1 in Schools is an expansion of the core F1 in Schools programme for students aged 11 – 19 years, which was launched ten years ago and now operates in 36 countries worldwide. After a two-year pilot programme, the Primary F1 in Schools initiatives was taken to a national level and after a series of regional events the top 10 teams competed at these National Finals. The competition challenges students to design, manufacture and race a miniature compressed air-powered racing car, introducing them to engineering and the key STEM subjects in a very compelling and fun educational programme.
Full results of Primary F1 in Schools National Finals
UK Champions: Team X-Dream, Ysgol y Talwrn, Llangefni.
Runners Up and Best Engineered Car Award: Need 4 Speed, Ysgol Cae Top, Llangefni.
3rd place: Team Dynamite, West Park Primary School, Port Talbot;
Phoenix F1, Ysgol Cae Top, Upper Bangor.
Best Team Identity Award: Chad's Tigers, St. Chad's Primary School, Brighouse.
Fastest Car Award and Best Sponsorship and Marketing Award: Team Brent, West Winds Primary School, Newtownards, N Ireland.
Innovative Thinking Award: United Paradise, Richmond Park Primary School, Carmarthen.
From F1 in schools website Dated: 17 March
Congratulations to the winners of The Future is Wild Competition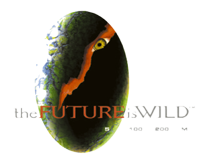 The overall winner The Future is Wild Competition is Tom Panter, aged 12 from The Cotswold School, Cheltenham.
Lower KS2 winners are:
Amber Jackson, aged 8, Penycae CP, Wrexham
Emily Ivory, Abbot's Hill School, Hemel Hempstead
Seren Owen, Penycae CP, Wrexham.
What will our Earth will look like in the future? Penycae juniors know the answer
"It is 100,000 years from now. Climate change has raised the temperature of the Earth. The ice caps are melting, and low-lying land has been flooded"…
…this was the story that the Future is Wild Competition began with KS2 and 3 pupils, inviting them to imagine – scientifically – how the world might be in a hundred thousand years. The competition ran throughout the UK and hearty congratulations go to two winners for lower KS2, Amber Jackson and Seren Owen from Penycae Junior School in Wrexham.
Pupils of Penycae learned about global warming through information, pictures and films on the competition website and each considered how animals and plants from the present day might evolve to survive in the changed conditions of the future. Amber and Seren imagined animals which would be adapted to more varied environments than today's – Seren's rainbow fish can fly in air and Amber's bird can swim underwater and walk on dry land – and each would cope well with sudden temperature changes. Clever.
Becky Fox, science coordinator at Penycae Juniors entered all Yr 3-6 pupils: "I was quite excited by this: it's so hard to find good science competitions that everyone can do and actually achieve something. The Future is Wild competition was easy to find by searching for science competitions on the internet and I'm delighted that two of our pupils were winners."
The Future is Wild competition was organised by the Association for Science Education and Schoolscience.co.uk. For current competitions, go to www.schoolscience.co.uk/competitions.cfm.
National Science and Engineering Week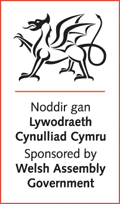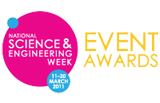 The Welsh Assembly Government (WAG) provided funds to help stimulate and support science, engineering and technology events and activities throughout Wales during NSEW from 11-20 March 2011. National Science & Engineering Week Event Awards support and promote high-quality events during NSEW, and provide case-studies of top events which take place each year. Best Primary School Event went to Tre Uchaf Primary School, Swansea: How many ways are there to communicate?
Science and Engineering Week at Tre Uchaf Primary school, Loughor, Swansea
"Our Theme – How many ways are there to communicate?"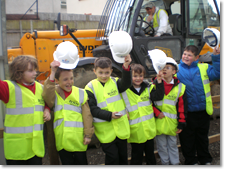 We wanted to involve our whole community in getting involved in communicating with us, to develop the science topic of "Communication" in our school. We involved pupils, staff, parents, our local comprehensive school, our local university, neighbouring builders and our Governors.
A wide variety of activities took place throughout the week, in order to excite the children and help them learn a range of skills and knowledge linked to the theme, including the topics of: forces, sound, senses and living things. Some examples: a Foundation Phase sound walk, an investigation about hearing in Year 2 and exploring visual impairments in Year 6.
All the children were invited to wear old white T shirts and collect as many science words as they could; the winning T-shirts received a prize. We invited all the children, staff and parents to enter the NSEW Science quiz and the NSEW competition to invent something new. Paper plane challenges were held at playtime. One of our governors came in and helped in class with our younger pupils, who were exploring sounds in our nature reserve.
We invited a variety of members of our community to come in and help us talk about and carry out science topics and activities: The Bovis builder's came to the Nursery and talked about how they use the equipment to find things out and make things. Two teachers from our local comprehensive school – Penyrheol, came in and carried out investigations on cars. Swansea University Bio scientist Professor Brain talked about "How do animals communicate?". XL Wales worked with two classes on "Robotics". We were very appreciative of the help they all gave us.
Children from our Junior Specialist Teaching Facility and their peers visited the building site to learn about how much science there is in building. Out Infant Specialist teaching Facility carried out lots of investigations, including the sounds that animals make.
Parents and carers came in after school to take part in numerous science challenges run by our pupils after school, such as "how many things can you feel and recognise blindfolded".
We began and ended the week with assemblies on Science, learning about Einstein as well as other things, sharing what we had been doing and announcing prize winners.
Two of our children were "roving reporters" throughout the week and photographed, filmed and interviewed all the various people and things that went on. We then made this in to a "movie" which we shared with the school.
At the end of the week all the children took part in a survey to find out their views on the amount they had learnt and how much they had enjoyed it – "a resounding success" was the outcome. We all thoroughly enjoyed taking part and look forward to next year's challenges!
Aileen Brindley – Science Coordinator/Deputy Head
NSEW – School pupils learn that pigeons are high-flyers!
Pupils have swapped Twitter for pigeons to learn more about some of the more unusual methods of communication in Wales.
Dolau Primary School in Llanharan, Pontyclun, used pigeon power to post a letter to 72-year-old pigeon club member Glenys Knight from Brynmenyn as part of National Science and Engineering Week. The children, who got to pet the pigeon and called him James, wrote a secret letter and attached it to the pigeon. The school's science coordinator, Tom Lewis, has since revealed to the Observer that the pupils sent Glenys a joke. He said: "They sent a message which read 'What do you give a sick pigeon? Tweetment'. Glenys rang the class later to tell them that she had received the message but pointed out that sick pigeons should also be given cod liver oil!"
All pupils at the school took part in the UK-wide event and activities included creating a morse code, learning about how animals communicate and creating a podcast for the school website. Mr Lewis said that the children had enjoyed the activities immensely. He said: "This is the first time we have taken part in Science Week for a while, and it's safe to say we'll be doing it again next year. "The children had a great time, especially with James the pigeon, and were all incredibly enthusiastic in taking part."
The UK-wide event aims to inspire pupils to learn more about science and engineering and has received the backing of the Welsh Assembly Government.
Small grants of up to £400 were offered to support schools with activities during National Science and Engineering Week, which ran between 11 -20 March.
Lesley Griffiths, Deputy Minister for Science, Innovation and Skills, said she was delighted at the range of innovative projects that schools have planned. She said: "National Science and Engineering Week provides a great opportunity to promote all aspects of science to people of all ages and I'm pleased that many of these activities also involve local communities, friends and families". More…
Mark Smith, Pontypridd Observer, 24 March 2011
NSEW – Llantwit Fardre pupils attend environmental science event
Children from a Taff Ely school have taken part in a science event in a bid to learn more about the earth and their environment. Pupils from Maesybryn Primary School, Llantwit Fardre, attended the event, organised by Dwr Cymru Welsh Water and Mid Glamorgan Education Business Partnership (EBP), at Welsh Water's education centre in Cilfynydd. It involved a series of science-based activities in which pupils learnt more about Welsh Water's "Dirty Dozen" campaign in a bid to give the students, aged nine to 11, a better understanding of their environment.
They took part in a total of five workshops, run by Welsh Water, Kenfig National Nature Reserve, Forestry Commission Wales, Keep Wales Tidy and Faulkes Telescope Project, undertaking experiments to see how science affects their everyday lives.
Welsh Water teacher Helga Lewis, who delivered the company's Dirty Dozen workshop, said: "Many people don't think about what they flush down the toilet and use their toilet as a bin, so this was a good chance to explain to pupils about our Dirty Dozen campaign and how important it is not to flush certain items down the toilet. As a result of taking part in our workshop, they may change habits now that could have a hugely positive environmental impact throughout their lives." More…
Sarah Bunney, Pontypridd Observer 31 March
NSEW – Pupils learn about science at Ysgol Bryn Deva in Connah's Quay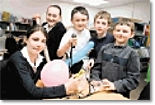 Pupils of Ysgol Bryn Deva took part in a number of experiments to learn about communication as part of National Science & Engineering Week. Youngsters took part in a braille trail, learnt about Morse Code and made up a dance to learn about sound waves. Year 5 teacher Faye Sullivan said: "All of the children had a great time. I'm not sure they even realised how much they learnt as they were so busy having fun. It was very educational and a great success."
Kathryn Quayle, Flintshire Chronicle, 31 March
NSEW – Pupils at Roseheyworth Millennium Primary School learn what it's like to be a construction surveyor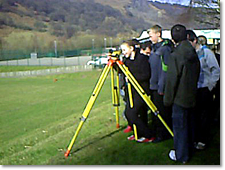 I would also like to say what a big hit NSEW week was with our children. The children enjoyed working with James and Scott of PM Consultants, an Abergavenny based team of construction surveyors. The opportunity of using GPS and laser levelling equipment was fantastic. The children then used a traditional 'Dumpy Level' and tried to see how close they could get to the GPS result for height difference.
The team have now gone on to design an observatory for the school. This may sound rather pretentious, but it is hoped that our newly forged link with Dr Paul Roach of The University of Glamorgan will help sustain the project. Parents have indicated a willingness to assist with the construction of the proposed structure.
Later in the week Carl Powell and Darren Richards of Blaenau Gwent engineering department came in and surveyed the playground which the school council hopes to develop in the near future.
The benefits clearly extended beyond the learning context provide for the pupils. It has opened minds and we look forward to the benefits this much appreciated finance has been able to bring.
NSEW – St Thomas Community Primary School celebrates science
St Thomas Community Primary School's action packed NSEW week included the following events:
A roadshow, attended by all KS2, called Space Hoppers, presented by Mark Brace and Jon Chase, based on a BBC children's programme and book by the same name. This roadshow explored the pupils' understanding of space.
During a Techniquest visit to the school three KS2 classes undertook the 'Crime Scene Investigation' challenge. The pupils learnt about how science plays a role in solving crimes.
The 'Bionic Ear' show at Swansea National Waterfront Museum.
Reception to Year 2 worked with XL Wales and used K'Nex to solve various engineering/scientific challenges, such as creating a circuit for a lighthouse, or building a home for a bear.
Our local police liaison officer visited the nursery to discuss his job and how Science plays a part.
Our Year 6 pupils took part in a transition event with the local secondary school where they undertook fun experiments, such as making slime and sparklers in the labs.
Two STEM ambassadors visited our school, one focussing on work with Year 6 on the Bloodhound project, which was already being undertaken before Science Week, and another who spoke to Year 3, 4 and 5 pupils about his role in preventing aeroplanes being struck by lightning.
Our Science Club presented two assemblies based on ideas taken from the NSEW Busking pack.
Our Year 5 pupils researched scientists with Welsh connections and learnt about people like Lyn Evans and Eddie Bowen, who is from Swansea and was the pioneer of radar in aeroplanes.
Using the NSEW quiz questions, our KS2 pupils undertook a science quiz in order to win points for their houses.
Classes also undertook their own separate investigations, using the NSEW resource packs. Staff commented at how useful and clear these packs were.
We certainly used it and were very grateful for it!
NSEW – Science Hat Parade at Casllwchwr Primary School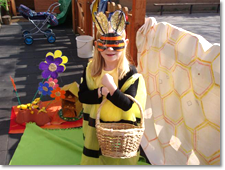 At Casllwchwr Primary School we had a number of events throughout the week. On Monday we had a 'Science' hat parade. The children researched the history of communication and designed a hat. It was incredible to watch, the effort that the children and parents had put in was fantastic. On Tuesday we had a STEM Ambassador from Swansea University to present to the Y5 and Y6. The children's enthusiasm and questions that they asked was excellent. Also on Tuesday we had a Music teacher and Loughor Brass Band in to discuss the science of sound – very interactive and great fun. Wednesday was a busy day – Rhys Phillips (STEM Ambassador) from EADS talking to upper KS2 about his research on lightning striking aircraft. Lower KS2 had an amazing afternoon with STEM Ambassadors from Swansea University working on parachutes and paper aeroplane to name a few of the activities. Thursday – another STEM Ambassador worked with Y6 presenting on the SSC Bloodhound project with hands on activities. A team from Swansea University worked with Y5 and Y6 on a project called Fuzzy Logic'. The week rounded off with 'Science Made Simple' with performances for the whole school from Nursery to Year 6. All in all we had an amazing week. The children are now in the process of evaluating the week on our school website.
Visit our website to see some of the ways we enjoyed NSEW.
Find out more about how STEM Ambassadors can support teaching in your school at www.stemnet.co.uk.
Mars Explorer Challenge
Scientists and engineers from Astrium are challenging students aged 8-16 to design a Mars Rover, using Bridget – an existing rover prototype – as inspiration. There are some great prizes on offer, including a visit from Bridget to the winning school, and a behind-the-scenes tour of Astrium. For more information, see www.esero.org.uk/news/mars-explorer-challenge. Deadline: 30th June.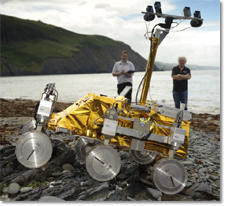 Bridget and other prototypes are tested in a range of locations. There is a Mars Yard at Astrium in Stevenage which has been designed to resemble the surface of Mars. This little bit of Mars on Earth is made up of special builder's sand. Bridget has also been tested in Tenerife, in a quarry in Sandy Bedfordshire and on the beaches of Wales!
The picture shows Bridget being tested on Clarach Beach, in Wales. Aberystwyth University's Professor David Barnes said the beach had a terrain similar to what is expected to be found on Mars.
The state-of-the-art robot is being tested by academics at Aberystwyth University, which is leading the development of a camera that will be used on Bridget's journey to the Red Planet in 2018.
Picture: Athena
Children get cooking as the Focus On Food bus drops in
PUPILS at one primary school have been cooking up some tasty treats. Gilfach Fargoed Primary School welcomed the Welsh Assembly Government's Focus On Food cooking bus all last week to find out more about healthy eating.
The cooking bus is a giant, hi-tech articulated lorry which opens out into a purpose-built kitchen and classroom. Qualified food technology teachers gave pupils, teachers and the community a taste of quality cooking.
All the pupils in the school from the youngest nursery age children to the Year 6 pupils have been aboard the cooking bus to engage in hands-on cooking, making a range of dishes such as fruit smoothies, dinca fala (Welsh apple cake) and Staffidopsomo (Greek raisin bread).
Parents showed their support during sessions and attended a cookery workshop.
Headteacher Christine Lewis said: "This has been a fantastic opportunity for all the pupils in our school. They have had hands-on cookery lessons while learning about healthy eating." More…
Catherine Davies, Rhymney Valley, 14 April
TES Schools Awards
Not even a royal wedding is as good at lifting the gloom as hearing about the inspirational work going on in our schools. While the economic downturn is squeezing budgets everywhere – and more cuts are on the way – schools across the UK are still managing to push the boundaries.
Now in their third year, the TES Schools Awards – or Tessas – aim to celebrate this work. This year's awards attracted a record number of entries, extolling the achievements of teachers, school leaders, support staff and pupils alike. If there is one principle underlying the awards it is that success is a team effort. It is rarely the product of one person acting alone. Having said that, one individual will receive the Lifetime Achievement award in recognition of a career devoted to education.
Congratulations to the following schools that have been shortlisted:
Primary School of the Year: Ysgol Glan Gele Infants, Abergele, Conwy.
Outstanding Community Partnership: Coed Eva Primary, Cwmbran, Torfaen.
Outstanding School Website: Ysgol Bryn Hedydd, Rhyl, Denbighshire.
Outstanding Sustainable School: St Christopher's School, Wrexham.
Resources, Competitions and Projects
CREST Star Investigators
Looking for projects for your STEM Club or new ideas for transition phase activities…
Are your pupils already engaged in STEM projects?
If so, consider the British Science Association's CREST Award programme. CREST Star Investigators is a UK-wide award scheme that enables children to solve scientific problems through practical investigation. The activities focus on thinking about, talking about, and doing science. They are designed to be used primarily outside of class time (e.g. in a science club), though some are suitable for use in the classroom. More…
Schoolscience has launched a new primary competition – The Great Bug Hunt 2011
For more details go to www.thegreatbughunt.com.
Greenpower inspiring young engineers
Greenpower promotes engineering as a rewarding career to anyone aged 9-25, while also focusing on sustainability, teamwork and the community. More…
Weather and climate resources for teachers, schools and students
The Metlink website is packed with activities and resources for primary and secondary students. More…
Rolls-Royce – Primary Resources
Explore the many different resources available FREE on their website. Activities are ideal for interactive whiteboards or individual computers. Teachers' notes and extension activities are available.
Primary upd8 – The Association for Science Education
Primary upd8 is a series of high-quality, engaging science activities for 5 to 11 year olds. Each activity is based on a current event or an everyday life. More …
The BLOODHOUND SSC Special Leaders Award – deadline 30 May
Prizes include Gold 1K club membership and a visit to the 'Dog House' in Bristol where our car is being built! Register TODAY by filling the online registration form.
Greenhouse in Space
Join the European Space Agency and ESA astronaut Paolo Nespoli on an exciting project to see how plants grow both on earth and in Space. Order your mini Greenhouse in Space ground kit FREE. More…
I'm a Scientist, Get me out of Here! June
FREE to schools. This is an award winning project that gets students talking to real scientists, online, is funded by the Wellcome Trust. Suitable for years 9-13. For more info and to sign up click here.
Events
The Valleys Discovery Festival Come and Discover 14 – 21 May
The Valleys Discovery Festival welcomes its communities and visitors to this unique part of the world to celebrate the role the area has played in the way we live. See the world and discover the area through science, technology, nature, health, and heritage with over 40 events and activities ranging from space rock shows, fossil hunts, wonderful wildlife walks, and science. For more details go to http://valleysdiscoveryfestival.com/ or contact david.llywelyn@groundwork.org.uk or ring 01443 849963.
Eisteddfod yr Urdd, Swansea, 30 May-4 June
The GwyddonLe at this year's Urdd National Eisteddfod will showcase all sorts of scientific workshops. Full of interactive exhibitions, weird and wonderful science experiments and fringe activities. More… http://urdd.org/gwyddonle
Primary Science Annual Conference, 13 June
The conference is at the National Science Learning Centre, York. This successful annual event is jointly organised by the National Science Learning Centre and the Association for Science Education. It brings together primary teachers, science subject leaders and teaching assistants who are interested in developing science within their schools. More…
Big Bang Cymru, National Waterfront Museum, Swansea, 12 July
Big Bang Cymru, is one of twelve regional Big Bang fairs that take place across the UK, and is one of Wales's largest Science and Engineering events. More…