Welcome to the STEM Newsletter
for Secondary Schools in Wales
Want to find out what's happening in STEM (Science, Technology, Engineering and Mathematics)? The See Science STEM Newsletter has information on educational opportunities, events, news, funding, grants, competitions, science schemes and more…
How you can help us
You can help us by telling us about STEM activities you have organised and provide us with an insight into what the pupils gained from the experience by filling in our online feedback form. All feedback forms will be entered into a prize draw each term.
Ysgol Brynrefail represents Wales in Royal Society of Chemistry competition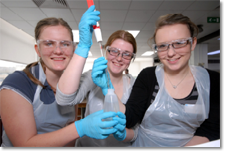 Congratulations to Ysgol Brynrefail for winning the regional heat of the Royal Society of Chemistry's Schools' Analyst competition held at Bangor University in April. The team of three year 12 students (Anna Haycock, Ceinwen Hughes and Elin Morgan) then went on to represent Wales in the national finals at Reading University on 21 June (the second year running the school has reached the finals!) There they faced quite a challenging analytical exercise using state of the art NMR/IR spectroscopy and, although they didn't finish in the top three, the students had a great experience and gained a real insight into university research facilities.
Photo: Bangor University
Budding young engineers from six schools in Cardiff researched, designed and built solutions to real problems at the School of Engineering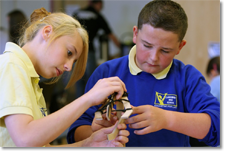 Cardiff University hosted the (Institution of Engineering and Technology) IET Faraday Engineering Challenge, with teams from: Llanederyn, Rumney, Llanrumney, Llanishan, Cathays and St. Martins High Schools all taking part.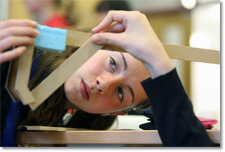 The event at the Cardiff School of Engineering was one of 50 Faraday engineering challenge days involving pupils from 300 schools across the UK, organised by the IET.
Six teams of six 12 to 13-year-olds were challenged to build a robotically controlled arm of the type used in keyhole surgery. The arm needed to be capable of picking up a ball and dropping it in a different place. The challenge days aim to encourage more young people to study and consider careers in science, technology, engineering and maths (STEM) by encouraging creativity, innovation and problem solving skills.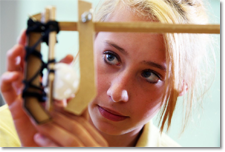 Gareth James, the IET's Head of Education, said "The Faraday programme is all about inspiring and attracting tomorrow's engineers. Engineering is often an invisible industry amongst young people. They also have preconceived negative ideas about what engineers look like and the jobs they do.
"Through these challenge days, made possible through the kind support of Google's Tides Foundation, and the entire Faraday programme we aim to encourage more young people to study STEM subjects and consider engineering as a possible career path."
Steve Watts, Cardiff School of Engineering said "The young people attending the challenge days experienced hands-on, practical events to challenge their perceptions and encourage them to appreciate engineering as an exciting, rewarding career path".
Photos: Michael Hall
The chemistry of success at Salters' Festival of Chemistry in partnership with The Royal Society of Chemistry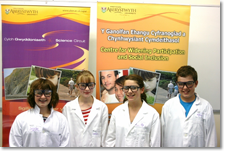 Ysgol Uwchradd Tywyn pupils Catherine Parry, Rose Cook, Jessica Morean and Robin Church (pictured left) proved they had the chemical elements for success at this year's Salters Festival of Chemistry, which was held recently at Aberystwyth University.
This year's Festival saw 44 students from 11 schools in the West and Mid- Wales taking on two practical challenges, the Salters' Challenge "There's been a Murder!", where they were called on to use their analytical chemistry skills, and the University Challenge "Cool it!", where they were required to investigate different chemical reactions.
The teams from Ysgol Uwchradd Tywyn were victorious in both challenges.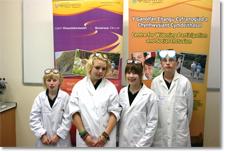 Second place in the Salters' Challenge went to the team from Welshpool High School, Sarah Price, Beata Malendowicz, Christian Ball and Tomos R Jones (pictured right), with third place going to Olly Hughes, Gareth Davies, Sarah Jones and Megan Morris from Llanfyllin High School.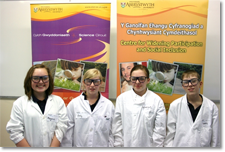 The runners up in the University Challenge were Megan Jones, Angharad Owen, Emily Carr and Tommy James came from Ysgol Uwchradd Tregaron (pictured left), with third place going to the team from Welshpool High School.
This year's festival also included a talk by the Royal Society of Chemistry's Wales representative Dr Dayna Mason.
The Salters' Festivals of Chemistry are an initiative of The Salters' Institute, whose aim is to promote the appreciation of chemistry and related sciences among the young. The Festival at Aberystwyth University was organised by the Centre for Widening Participation and Social Inclusion and held at the Institute of Biological, Environmental and Rural Sciences. It was one of a series of fifty-three Festivals that took place at Universities throughout the UK and the Republic of Ireland between March and June 2011.
Sport science, a winning combination!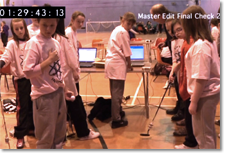 In March St Alban's RC High School organised a series of nine workshops over two days for local secondary schools. The workshops, which took place at Cwmbran Stadium, were funded by a grant from the National Science Academy of Wales.

What was the purpose of the workshops? Well quite simply, to inspire young people to explore the relationship between science and sport. The workshops were filmed and a DVD created and distributed to secondary schools in Wales.
Pupils from St Alban's RC High School exhibited the project at the Science in the Assembly in June. Now in its seventh year, Science and the Assembly has become established as a major annual forum, providing an excellent opportunity for the National Assembly Members to meet scientists from across Wales and to discuss topical scientific issues.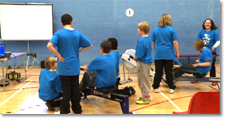 The project examined how sport is an exciting medium which captures the interest of young people. The introduction to the DVD shows how much more interested young people have in sport compared to science, and how prepared they are to get involved in sport even if they are not that good at it! It's not the same with science. So how can we create an interest in the science of sport, after all the two are so inextricably linked? The science is there whether you are measuring the speed of a sprinter to a hundredth of a second, designing the best possible racing bike to win in the Tour de France, or improving your putting in golf for a future Ryder Cup. The fact is that the science in the design of a pair of shoes will contribute to an athlete breaking the world 100m sprint record. Science can also help get your body to reach its peak performance using a carefully prepared diet and training regime. Science can make it easier for your coach to evaluate the significance of a training programme and can make it possible for a disabled person to participate in their favourite competitive sport.Can science make you a better sport person or is using science cheating? Watch the DVD before finally making your mind up. It's a tough call!
Hands on science in the GwyddonLe at the Urdd Eisteddfod Swansea 2011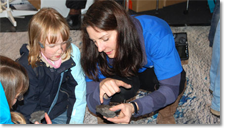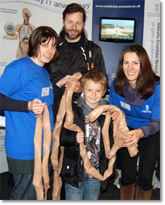 It's not all song and dance at the Eisteddfod! The GwyddonLe (Science Place) was once again a very popular tent at the Urdd Eisteddfod held this year at Felindre, Swansea over the May half term holiday.
During the week over 13,000 visitors were welcomed into the GwyddonLe which was sponsored by Swansea University and supported by several other companies and organisations including TATA, Zeiss and the Society for General Microbiology.
Throughout the week the GwyddonLe was a hive of activity with interactive displays, workshops and competitions ranging from Greenland icecaps and climate change, to smart materials and a scale model of the SSC Bloodhound, whose full scale counterpart will be taking part in the 1000 mph land speed record attempt in South Africa in 2012.
Young Forensic Scientists from Abertillery Comprehensive Solve 'Murder Mystery!'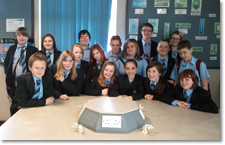 Pupils in years 7 - 9 at Abertillery Comprehensive School took part in a Forensic Science Competition this April, in which they had to solve a 'murder' by analysing samples taken from the victim and five suspects. The pupils had to use complex scientific techniques to discover the chemical composition of all the samples, before deciding who may have killed them.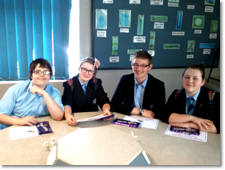 Three heats were held and the winning team from each, plus the highest runner up were then taken to the DNA Laboratory at Nantyglo School to take part in a Science Winners Championship. Everyone turned out to be super Forensic Detectives and were a credit to themselves and the school. All pupils were awarded certificates and prizes for participating. Pupils have also received a CREST Award Science Bronze Certificate.
Congratulations to Ellis Evans, Corey Mahoney, Craig Hughes and Sophie Morgan in year 9, who were the overall winners (photo right).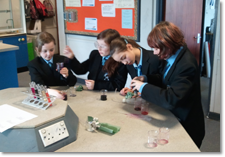 Well done to the Runners-up: Chloe Fitzjohn, Leah Fry, Leah Slimmon and Rebecca Hucker who came a very close second in a 'tie-breaker' in the final (photo left).
Well Done! to all 68 pupils who took part in both challenges.
Lisa Lock, Science Department, Abertillery Comprehensive School
Success at the Go4SET Challenge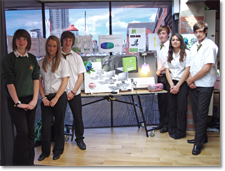 Teams from Amman Valley Comprehensive School, Ysgol Botwnog and Gowerton School were challenged to research, design and build prototype solutions that reduce the carbon footprint at their school.
The teams were assessed on their team working, their product in terms of commercial potential and environmental sustainability. The challenge aims to encourage young people to study and consider careers in science, technology, engineering and maths (STEM).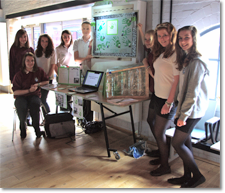 The team from Amman Valley Comprehensive School took the award for the Most Commercial Potential with their design to reduced energy consumption remotely by the use of an APP (photo top). Gowerton's Team, Environmental Drips, received the award for the Most Positive Impact on Sustainability and Environmental Issues with their design of converting kinetic energy from waste water flow into electricity. Gowerton's Team Vert (photo left) achieved the Teamwork Award, and Ysgol Botwnog was awarded the Best applied Engineering Solution.
Huw Hall Williams from the Engineering Education Scheme Wales said "The aim of Go4SET is to stimulate the interest of young people in Science, Technology, Engineering and Mathematics (STEM) subjects by providing a real, environmentally themed project".
Marconi Remembered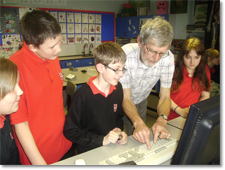 The Science Faculty of St Cyres School in the Vale of Glamorgan celebrated a local historical event in National Science and Engineering Week this year with the help of Barry Amateur Radio Society (B.A.R.S). This fitted well with the NSEW theme of communication as the event was the world's first radio transmission across water made by Marconi between Flat Holm Island in the Bristol Channel and Lavernock Point in Penarth in 1897. Members of B.A.R.S ran a day of hands-on activities for pupils from both the Penarth and Dinas Powys school sites and Cogan and Murch primary schools that demonstrated the advances in radio technology.
Also during the week, pupils were able to recreate Marconi's first broadcast by talking to each other across the airwaves between the school's two sites. They had the chance to operate specialist radio equipment and a satellite link was set up that allowed the pupils to communicate with people in Russia and other European countries, the USA, and Australia.
Unique radio call signs for the two school sites were registered for the event. Pupils were invited to take part in a competition to design a postcard showing these as it is usual for radio operators to send these cards when domestic and international radio contacts are made.
The Science Faculty and Barry Amateur Radio Society were rewarded for their innovative communication event by coming runner up in the NSEW 'Best Engineering Event' following a visit from a NSEW judge during the week. Well done!
Ysgol Brynrefail welcomes back cutting edge scientists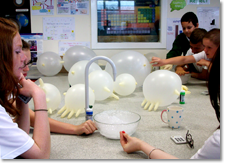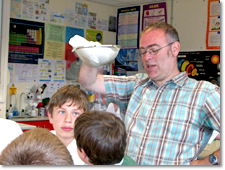 Two successful scientists, both former students at the school, made a return visit to Ysgol Brynrefail near Llanberis at the end of June. The scientists, who re-visited the school to record part of a programme, Straeon Bob Lliw for BBC Radio Cymru, were: Dr. Rheinallt Parri, a scientist in the field of neurology at Aston University researching into Alzheimer's disease, and Dr Dewi Lewis a computational chemist at University College, London.
Dr Dewi Lewis had the opportunity to meet current year 9 learners at the school as he led a 'hands-on' workshop on the properties of carbon dioxide, and its effects on the composition of the atmosphere. In addition Dr. Rheinallt Parri gave a brief presentation about his work into Alzheimer's research.
Looking for funding?
Funding is available to organisations with innovative IT related project ideas that can make a positive difference to disadvantaged and vulnerable groups in the UK, developing countries and around the world. The funding is available through the Nominet Trust. To apply complete and online eligibility questionnaire. The next closing date for applications is 9 am on 14 September 2011. www.nominettrust.org.uk/
Schools and colleges within the UK that wish to promote the teaching of physics are able to apply for a grant of up to £500 through the Institute of Physics. In particular, the Institute is looking to support projects linked to astronomy, space and particle physics. www.iop.org/about/grants/school/page_38824.html
The British Dragon Fly Society has announced the re-launch of the Peter Miller Memorial Fund. The fund is to support the creation of wildlife friendly ponds within school grounds or within the immediate area of a school for the sole use of school based groups.
The grant of up to £250 would contribute towards the cost of purchasing necessary equipment for pond construction and/or towards the cost of materials used in the course of the pond project. www.british-dragonflies.org.uk/content/grants
The Ford Britain Trust provides grants for the advancement of education. There are small grants for amounts up to £250 and large grants for amounts over £250 and usually up to a maximum of £3,000. In the past, the following project received funding: equipping a community gym to create greater independence for disadvantaged children and adults at Valley Kids in Rhonda Valley, South Wales. The application deadline for the small grants and large grants programme are the 1 September 2011. www.ford.co.uk/AboutFord/CorporateSocialResponsibility/FordBritainTrust
Awards of up to £30,000 are available under the Wellcome Trust's Peoples Awards for projects that encourage public debate and understanding of biomedical science. The next applications deadline is the 29 July 2011. www.wellcome.ac.uk
Organisations that work with young people have the opportunity to apply for grants through the Hilton Foundation. Organisations such as charities and other not for profit organisations can apply for grants ranging from a few hundred pounds up to £30,000 per year for up to 2 years that meet one of the Foundation's chosen areas of focus. The next closing date for applications is 2 August 2011. www.hilton-foundation.org.uk/application.htm
EDF Energy's Green Fund is now open to applications from community, non-profit, charitable and educational organisations across the UK. The Fund offers grants of up to £30,000 to help cover the cost of renewable energy technology that can be used to produce green energy from the sun, wind, water, wood and other renewable sources. The deadline for applications is the 31 August 2011. www.edfenergy.com/products-services/for-your-home/our-services/green-energy-fund.shtml
The Royal Society has announced that the next round of Partnership Grants will open for applications on the 5 September 2011. Through the scheme grants of between £250 and £3,000 will be available to support teachers, scientists and engineers help develop science projects. The aim is to make the teaching of science more interesting within primary and secondary schools. The Partnership grants scheme forms partnerships to allow teachers to increase their scientific knowledge and to give scientists and engineers the chance to develop their communication skills and engage with enquiring young minds. The deadline for applications will be 4 November 2011. http://royalsociety.org/Partnership/
Registered charities, schools and not-for-profit organisations wishing to encourage young people's interest either in the countryside and the environment, the arts or aiming to raise levels of literacy and numeracy can apply for funding to the Ernest Cook Trust (ECT). Trustees meet several times a year to consider applications. www.ernestcooktrust.org.uk/grants/index.html
BT has announced that the second round of its BT Rangers Awards for both schools and individuals is now open for applications. Through the awards, BT is looking for the most dedicated young internet teachers as well as schools who make special efforts to help bridge the digital divide between generations in their communities.
Applications for the awards must be submitted by 5pm on 24 October 2011. www.btplc.com
The Ambition AXA awards aim to search for and support the UK's most gifted and driven young people between the ages of 11 and 18 years of age to help them achieve their ambition. The deadline for entries is 14 October 2011. www.ambitionaxaawards.com/