Last updated: 11 September 2018
September 2018
---
October 2018
17th Annual Welsh Physics Teachers Conference Brecon. 3 October. Christ College, Brecon
This FREE day of presentations and workshops is a wonderful opportunity for teachers and technicians to take part in a wide variety of physics CPD activities. It is open to all teachers, technicians, newly qualified and trainee teachers.
Talks include: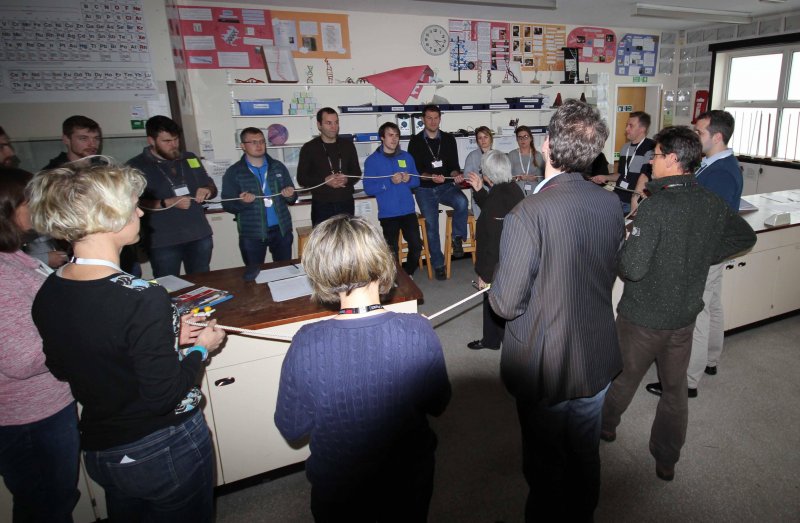 Dr Paul Hardaker CEO Institute of Physics London
Ben Ryan – Founder and CEO Ambionic,
Choice of 8 workshops including Curriculum workshop:
Gender Balance, Maths for Physics, Flipped Learning
Games and Puzzles and Fun Physics
More information and booking here.
Skills Cymru. Motorpoint Arena Cardiff. 10-11 October / Cymru Llandudno 17-18 October
The SkillsCymru FREE event will inspire and motivate young people to consider opportunities available across Wales. By attending, they will get the best possible start to their career, helping them to make informed decisions and enable them to visualise their career path.
Group visit. Our team are already talking to careers teachers and decision makers across Wales to arrange free group visits for students in Years 10, 11, 12 & 13. If you want to visit and have not received a call yet you can book online via the form below, email visitors@prospects.co.uk or call 01823 362800.
Evening opening. Families and individuals are welcome to attend and can visit at any time for free. We recommend attending the special open evenings, when exhibitors will be ready to answer any individual questions and queries from families and individuals.
More here.
Biology Week 6-14 October
Biology is an annual celebration of biology, with events for everyone.
There are many ways for schools and colleges to get involved including running quizzes and communicating science through art. There are downloadable guides to help secondary teachers plan, run and publicise their own events during the week. More information here
Rail Week 2018 – Engineering: Shaping The Future. 8-14 October

In support of the government campaign, Rail Week 2018 will be working together with the rest of the rail industry to bring rail engineering and projects closer to you.
Follow Rail Week on Facebook, Instagram or Twitter throughout 2018 to see how Rail and Engineering play an important role economically & socially in the UK and how you can find a career in Rail.
Rail Engineering is a core career within the rail industry among many other career options, and non-engineers working in rail will come into contact with engineering in some way or form throughout their career. Take a closer look at who Rail Engineers are at our People in Rail page.
STEM and the NEW Curriculum. ASE Cymru Conference
Saturday 13th October 2018,
10am - 2.30 pm Doors open 9.45am for registration
St Fagans National History Museum, Cardiff.
A one-day conference for primary and secondary teachers, learning professionals and scientists exploring the opportunities that the new curriculum will bring.
Tom Crick, Chair of the Science & Technology Area of Learning and Experience (AoLE) & NNEST, will join us for a panel discussion about the proposed changes to the curriculum.
Breakout sessions will give you an opportunity to discuss STEM in the new curriculum with other practitioners and learning professionals
Hands-on workshops will cover a range of topics including habitats, planning a mission to space, coding and even marine science. All of which aim to provide practical ideas for supporting teaching STEM in light of a changing curriculum.
For further info, please contact cerianangharad@ase.org.uk or 07870 351212.
To book a FREE place and your workshop choices go to:
https://asecymruconference2018.eventbrite.co.uk
Cardiopulmonary Resuscitation Training Day. Tuesday 16 October 2018

To mark the World-Wide Restart a Heart Day, the Welsh Ambulance Service Trust (WAST) will be coordinating a cardiopulmonary resuscitation training day for thousands of students across secondary schools in Wales.
If someone suffers a cardiac arrest, their chances of survival double if it happens in front of a bystander who immediately starts CPR before our arrival.
WAST would like to invite every secondary school to take part in a Restart a Heart Day to learn how to save a life!
November 2018
Tim Peake's Spacecraft is coming to Wales!
National Museum Cardiff is hosting Tim Peake's Soyuz spacecraft this autumn.

We watched as he broadcast live experiments, spacewalked and ran a Marathon on the International Space Station. Now we can see the capsule that returned Tim Peake to Earth as part of its UK Tour, thanks to the Science Museum Group's partnership with Samsung.
The Soyuz TMA-19M descent module and the spacesuit Tim wore on the Principia mission will be on display from November 2018 until February 2019.
Entry to the exhibition is FREE, but booking is essential. Online teaching resources will support visits at KS3 and KS4.
Teachers of students aged 13+ could also book for Space Descent VR with Tim Peake. Using Samsung Gear VR technology, it offers a 360° experience inside a Soyuz capsule from the pilot's seat, following Tim's journey back to Earth from the ISS. There is a cost per pupil.
For more information please see https://museum.wales/cardiff/learning/ks3_4/ or contact heather.jackson@museumwales.ac.uk.
The National Education Show. November 16. Cardiff City Hall

The National Education Show, returning to Cardiff City Hall for the second year, is Wales' biggest education conference. It aims to raise standards of education in Wales and bring a host of teachers, school staff and educational specialists under one roof for an all-day showcase and exhibition.
With over 50 seminars, 100 exhibitors and 4,000 visitors, the event is ideal for INSET days and teacher training days – covering a range of topics such as mental health, leadership, SEND and much more.
More seminar descriptions and speaker biogs here http://www.nationaleducationshow.com/seminars. For help or advice when booking, or to book a large group of people, call 02922 400382 or email info@nationaleducationshow.com.