Gopher Science Labs
Aim of the project
The Gopher Science Labs project supports transition from primary to secondary school with peer-to-peer learning across age groups.
Secondary students learn how to deliver the range of Gopher Science Lab activities to primary pupils. During this process the secondary students develop their skills in communication, innovation and increase their self-confidence.
Later, the primary pupils who attended the Gopher Science Lab day are encouraged to deliver their own training to pupils in their class or from younger year groups, so they too can develop their understanding and communication skills, with supervision from their teacher.
This process gives all participating students ownership of their learning and helps them gain confidence.
The Gopher Science Lab activities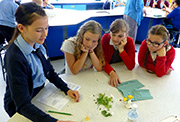 The Gopher Science Labs activities are simple hands-on science activities designed to build children's confidence and encourage their natural curiosity to find out how and why everyday things work.
Gopher Science Lab grants
The Royal Society of Biology has small grants open to UK schools to enable them to run a Gopher Science Lab event in their school. Two types of grants are available:
A Lab day only
A Lab day followed by a teacher-led twilight CPD training session for teachers from other schools to share experience gained during the school's own lab day.
The closing date for grant applications is 31 March 2016. Apply here.
Gopher Resource booklet
The Gopher Resource booklet contains 10 activities. Each activity includes teacher's notes which describe how to carry out the activity.
Right click here to download the resource booklet (1.5MB pdf).
Gopher Resource booklet is a transition phase initiative funded by the Welsh Government through the National Science Academy and delivered by the Royal Society of Biology.
See Science managed Gopher Science in Wales on behalf of the Royal Society of Biology.
For more details contact enquiries@see-science.co.uk.