See Science
A dynamic, independent educational and enrichment consultancy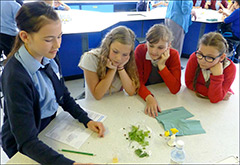 See Science is committed to supporting STEM (Science, Technology, Engineering and Mathematics) delivery across the whole of Wales to all to schools, FE colleges and HE Institutions.
We offer a range of products and services that support the teaching and learning of STEM subjects in Wales within a real world context.
STEM Learning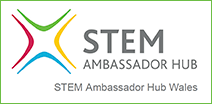 See Science is your STEM Learning contract holder to manage the Schools STEM Advisory Network and Local STEM Ambassador Hub Wales.
We keep schools in Wales informed about high-quality activities that they can access to enrich and enhance the STEM curriculum and enable them to use a range of STEM Ambassadors, so that teachers can incorporate into their teaching exemplary links to the world of work.
STEM Ambassador programme
See Science is the contract holder to manage the STEM Ambassador Hub Wales and the STEM Club programme for Wales.
We keep schools in Wales informed about high-quality activities that they can access to enrich and enhance the STEM curriculum. The STEM Ambassador programme enables schools and teachers to work with a range of STEM Ambassadors and incorporate exemplary links to the world of work into their teaching.
Anyone over the age of 17 with skills or interest in Science, Technology, Engineering and/or Mathematics (STEM) can register as a STEM Ambassador.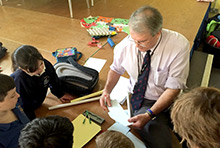 The most important quality for a STEM Ambassador is to be an enthusiastic and positive role model for STEM subjects and STEM-linked careers. STEM Ambassadors not only inspire young people; they also support teachers in the classroom by explaining current applications of STEM in industry or research. STEM Ambassadors are of all ages and backgrounds and represent more than 1,500 different employers.
How to request a STEM Ambassador visit
If your school is planning an event or a project, a STEM Ambassador may be able to provide support, ideas and other types of input. You can register with STEM Learning and request an Ambassador here or contact us directly at ambassadors@see-science.co.uk. We will add your request to the Schools requests web page and to the STEM Ambassador e-newsletter.
Teacher information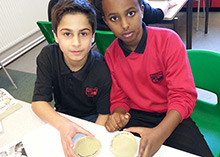 The dedicated teacher section of the See Science website includes pages on educational opportunities, events, resources, news, funding, grants, competitions, science schemes and more. We also send out regular e-newsletters to primary and secondary schools across Wales, in both English and Welsh.
Do you want to continue to receive the See Science teacher e-newsletters?
If you want to receive, or continue to receive, the See Science schools e-newsletters, please use this mailchimp subscriber form to complete or update your profile. Under the new privacy regulations which come into force on 25 May 2018 we will not be allowed to send out newsletters to you unless we, or STEM Learning, have your permission to do so.
The form allows you to specify whether you would like to receive the Secondary newsletter, the Primary newsletter, or both.
STEM Clubs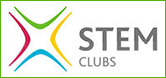 STEM Clubs are a powerful way to engage school students with STEM subjects and can be fun and fulfilling for both student and club leaders. See Science is the Regional STEM Club Contract Holder in Wales.
STEM Club case studies are six stories from schools where a STEM Club is firing enthusiasm and making a difference. Provided in downloadable pdf format.
CREST Awards

See Science is the Regional CREST Support Organisation (RCSO) Wales. We provide expert guidance throughout the scheme - and help you to register.
CREST registration process
All new CREST registrations should made through the my.crestawards.org platform.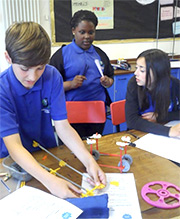 Give us your STEM Ambassador feedback
We would be very grateful if you could fill in our teacher feedback form if a STEM Ambassador has visited your school or you have met a STEM  Ambassador at an enrichment activity. Please encourage colleagues to respond.
Don't forget to follow us on
twitter
.
STEM Ambassadors in Wales: did you know?
After engaging with a STEM Ambassador 76% of pupils think science is important for everyday life.
55% of pupils say they enjoy science; this increases to 71% for pupils who have had contact with a STEM Ambassador and 80% for STEM Club members
87% of teachers report an increased awareness of STEM subjects and their real world applications amongst their students as a result of the STEM Ambassador programme.
Too often, girls are led by society to believe that STEM subjects are masculine subjects. Many girls as young as eight have lost interest in science as a career. STEM Ambassadors can help to challenge this misconception by acting as role models.